Taiwan's New Strength: Industrial PCs
For Adlink, R&D Paying Big Dividends
精華簡文
Source:CW
Many of Taiwan's PC makers are stuck in low-margin purgatory. Not Adlink Technology. Through its heavy investment in R&D, the industrial PC maker sells sophisticated products that generate solid returns.
For Adlink, R&D Paying Big Dividends
By Kuo-chen Lu
From CommonWealth Magazine (vol. 581 )


When people consider computers that are "Made in Taiwan," they probably think of business computers used in offices, desktop PCs used at home or notebook PCs people carry with them.

That conventional wisdom is being subverted by a company based in the Taipei suburb of Zhonghe – Adlink Techology Inc. Among the computers it manufactures are models installed in American missiles and Israeli tanks, enabling those weapons systems to shoot with great precision and consistently hit their targets.

Adlink's computers are also embedded in the arms of robots deployed by Japanese and Swedish companies, serving as the robots' eyes. They coordinate hand and eye movements, resulting in robots that can process goods and check quality at the same time.

While many other computer makers stumble along with gross margins in the low single digits, Adlink's arsenal of computers used in special fields such as the industrial, communications and military sectors generate margins of at least 40 percent.

"We have run (those margins) for the past 20 years, and I can tell you, the longer we go the higher they go," says Adlink Chairman Jim Liu.

So what kind of a company is this and how has Taiwan been able to gain a foothold in markets with the highest standards in the world?

A trip to Adlink headquarters reveals that company meetings are held in English and that it has offices in such industrial powerhouses as Germany and the United States. Also, more than half of the company's global workforce of 1,300 people consists of foreign nationals from Germany, the United States, Singapore and India, and one of its biggest institutional investors is a foreign company – test and measuring instrument vendor Keysight Technologies Inc. (a spin-off of Agilent Technologies Inc.).

Founded in 1995, Adlink is recognized as Taiwan's strongest supplier of industrial PCs used for measurement and vision control. Taiwan's Industrial Technology Research Institute (ITRI) was so impressed with Adlink's vision technology that it joined with the company in developing vision-guided robotics systems.

Liu graduated from National Tsing Hua University with a master's degree in computer and decision sciences and worked as a manager of the Market Intelligence & Consulting Institute, a division of the Institute for Information Industry. When he founded Adlink, the company got its start making analog to digital signal controllers and measurement control systems, which quickly became its core competencies.

One of Adlink's products that have been around since the company was established and is still marketed around the globe is an industrial measurement computer used on automated production lines. Able to measure temperatures, when the computer detects that a production line's temperature has exceeded a pre-set limit – 100 degrees Celsius, for example – it immediately shuts the line down and restarts the line when the temperature falls to, say, 85 degrees.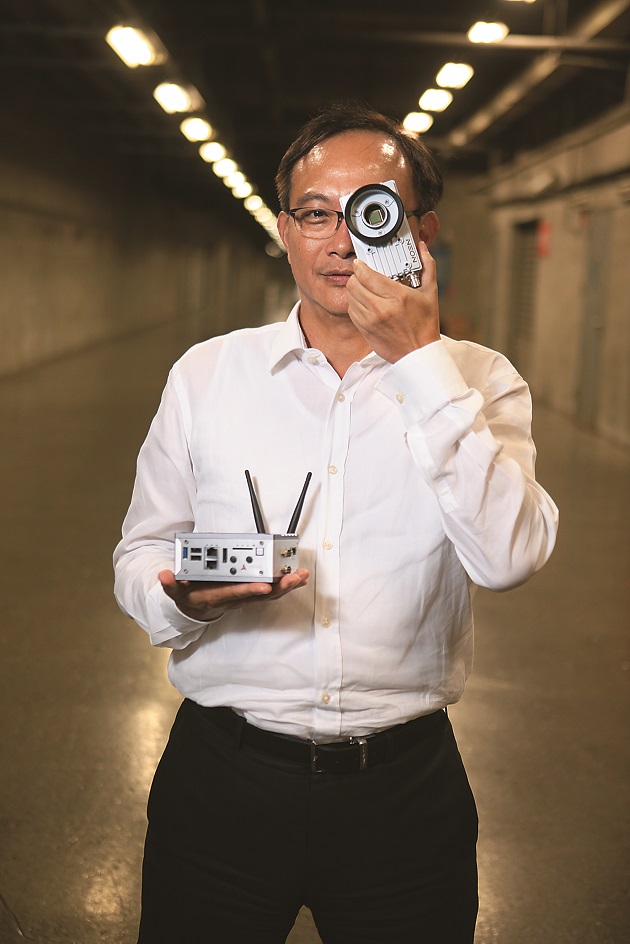 Adlink Technology Chairman Jim Liu holds an industrial camera that gives robots vision. In his right hand is a signal receiver and transmitter module that sends what robots see to the cloud.
These industrial computers, the pillars of strength of Adlink's product line, can gauge all sorts of environmental data and control factory equipment, starting and stopping machines automatically depending on specified conditions.
Eventually, Adlink gradually moved from factory equipment to devices for the European high-speed rail system and fire control systems for American military missiles and Israeli tanks.
That may sound easy, but the common threads connecting these different types of equipment are high precision and high reliability. If the temperature is not measured accurately or the device fails and machines are not shut down automatically, the production line can overheat and spiral out of control, triggering fires and even leading to explosions. The consequences can be just as dire with a missile or tank – where the lack of precision or stability means missing the intended target.
Even more challenging, clients place low volume orders with strict delivery and quality demands for highly sophisticated products required to operate in difficult conditions and have long life cycles. In the case of tanks, even a few hundred represent a high volume, and they have to be capable of fighting in hot deserts, severely testing the quality of Adlink's products.
Adlink's High-cost Nerve Center
To deal with client demands for outstanding quality and reliability, Adlink has invested heavily in research and development. Liu took CommonWealth Magazine reporters to the company's R&D department, a modest space of about 13 square meters where three engineers were operating a testing device and discussing what they were doing. If Liu hadn't said anything, there would have been no way of knowing that the testing device costs at least US$600,000 on the market or that the laboratory required an investment of NT$200 million (about US$6.1 million) and four and a half years to put together.
Investing 10 percent of the company's paid-in capital on the laboratory was the price Adlink had to pay to ensure its products' precision and reliability.
"Adlink wants to make products that are at the top of the pyramid. Clients demand quality, reliability and mission critical. Only by meeting these challenges can you widen the gap in competitiveness with others," Liu says.
The high standards of one of the world's leading robot vendors, which buys Adlink's embedded controllers for use in robotics, illustrate the stiff challenge the company faces. The vendor first spent a year and a half testing Adlink's products. After they were approved, it then made 1,600 robotic arms with Adlink's controllers and sent them to factories around the world for field testing. Only after the tests did not reveal any problems did the client begin to formally incorporate Adlink parts in its products.
Holding the fire control computer used in Israeli tanks, Liu says: "Persistence and perseverance is the key to success. This was achieved at a cost of countless hours and expense."
Among Adlink's non-military clients for its robotic arm controllers are world-class robot makers Seiko Epson Group and Toyota of Japan and Switzerland-based automation company ABB Ltd.
Giving Eyes to Robotic Arms
Chun-lung Chang, who heads the Intelligent System Technology division of ITRI's Mechanical and Systems Research Laboratories, says Adlink is the Taiwanese company that has made the greatest strides in the industrial vision control systems field. Three years ago Adlink teamed up with ITRI and its expertise in robotics and software to develop vision guided robotics (VGR) systems.
Though they got a late start compared with industry leader Fanuc Corporation of Japan, their VGR technology features high compatibility and flexibility and can be used in most major robotic systems in the world. In other words, they can sell both robotic arms and vision guided systems.
As part of this cooperative venture, Adlink developed an industrial camera (consisting of a camera and computer) that was nothing like the more common surveillance cameras seen on city streets that deliver rather blurry pictures. Its camera can determine the precision with which a part has been machined or processed, so that when a robotic arm is processing something, it can identify different types of flaws on the spot.
Creating good products requires an amazingly high investment in R&D, and developing this camera alone cost Adlink more than NT$20 million. Adlink's Liu says his company never spends less than 10 percent of its annual sales on R&D, an extremely high commitment compared with the 2.3 percent of revenues publicly listed companies in Taiwan spend on R&D, according to Ministry of Economic Affairs statistics.
ITRI's Chang says robotic arm movements have traditionally relied on commands from people and can generally only go from point to point, but with VGR technology, they have eyes that enable them to perform diverse, low volume tasks and simultaneously handle measurement and checking functions. Rather than waiting for a quality control lab to detect a problem after the fact, robots can now spot flaws as they process goods, leading to the immediate shutdown of production lines to fix the problem before a large volume of defective items have been made.
Liu says applications of the VGR technology are not limited to robotic arms. With coin-operated vending machines, for example, it used to be that you fed coins into the slot and your purchase popped out. Now, the vision identification system and cloud device in the camera installed in the machine can identify consumer behavior and send data such as "Asian, 40 years old, likes to drink fruit juice" to the cloud to be processed by Big Data analytics as a reference for future sales.
Having seen the diversity and potential of Taiwan's IT sector through the lens of his company, Liu believes that industrial computers are right up Taiwan's alley. Competition in the industrial computer sector is not about having a big population or large land area. Instead, Liu says, the industrial computer business puts a priority on value-added, sophistication and small-volume, wide-variety production and requires a high degree of internationalization and smart people with design talent.
As Liu understood long ago, these are all Taiwan's strengths and explain why industrial computers represent an important economic opportunity for the country in the future.
Translated from the Chinese by Luke Sabatier