Japanese POW camps of WWII
Remembering Taiwan's Kinkaseki POW Camp
精華簡文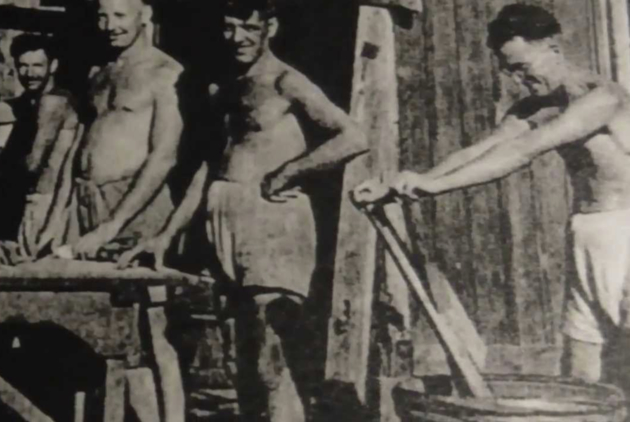 Source:Kinkasecki POW Camp in Jinguashi, Taiwan, photo from Sheila Simkin
Most people visiting the northernmost tip of Taiwan come to see Jiufen or Jinguashi, two of the area's most popular tourist destinations. Few take the time to visit the monument lying just a few minute's walk from Jinguashi marking the site of Kinkaseki, one of the most notorious Japanese POW camps of WW2.
Remembering Taiwan's Kinkaseki POW Camp
By MyTaiwanTour
web only

Indeed, few people are aware of Taiwan's place in history as a place where thousands of Allied prisoners of war captured by the Japanese were sent to toil, to suffer, and, for many, to die.
In honor of these men, we present for Tomb-Sweeping Day an article written by one of our colleagues (translated from Chinese) concerning a chance meeting Robert McAdam, the son of a former Kinkaseki prisoner followed by a short film interview with Mr. McAdam.
Meeting Robet McAdam, Son of Royal Army Ordnance Corps PTE. Robert A. McAdam, Prisoner at Kinkaseki from 1942-1945.
"Stories that you hear while leading a tour are usually pleasant, but not always."
This is one of the more difficult ones.
The British gentleman in this film shared with us the reason that had brought him to the small town of Jinguashi in Northern Taiwan. His story moved us to tears.
We met Robert McAdam in Jianguashi while producing a series of tour guide training videos in the area. While most tourists come to the area for its tourist sites, most are unaware that the area was also home to a notorious World War II POW camp run by the Japanese. It was here that we'd come to film, and while setting up our cameras we met an English couple standing in front of the monument. We asked what had brought them here, and it was then he told us a story that few people knew.
Robert's father had fought in the Second World War, and was captured by the Japanese in 1942. He was brought to Jinguashi, a concentration camp for Allied prisoners of war known in Japanese as Kinkaseki.
His father would spend around two and a half years toiling cruelly in ore mines connected to Kinkaseki, suffering alongside 4344 allied prisoners of war (the names of whom are inscribed in the wall behind him) held in Taiwan. Robert's father was among the lucky ones. He returned home.
This was Robert's second visit to the monument, and the first time he had brought his wife to see the place that had made such an indelible mark on his family. Robert told us that he was proud of his father's fortitude, and that his father never spoke of his experience in the camp. Robert said that he felt it was important that the memory of the camps be kept alive, and that it was especially important that Taiwanese should know the history of a place so close to what has become one of Taiwan's most popular tourist destination. The camp is about a ten minute drive from Jiufen, and while that town is well known, the camp itself – and its history – has mostly been forgotten.
The Ching Ming Festival is a time in which the people of Taiwan hold dear the memory of our ancestors, and so it seems fitting for us to share this story with you about one man who has returned to Taiwan to remember the suffering of his father. This is the story of his journey. What does travel mean to you?
If not for the work of the Taiwan POW Camps Memorial Society, fewer still would be aware. (Please visit their website "Never Forgotten: The story of the Taiwan POW camps and the men who were interred in them" for a far more complete history than that offered by this article.)
Additional Reading
♦ Making Taiwanese History Come Alive
♦ The Legacy of Cambodia's Tragedy: Rebuilding a Scarred Civilization
♦ Even In the Hardest Time, Engage and Listen
---
About Taiwan Scene
Taiwan Scene is the online journal of MyTaiwanTour.
We publish stories introducing readers to the culture, scenery and travel possibilities of our homeland, articles to help travelers make the most of their time in Taiwan, and occasional interviews with movers and shakers from Taiwan's ever-expanding creative scene.
Prolonged exposure to Taiwan Scene may instill in readers a profound desire to experience Taiwan personally. If these cravings persist, please contact us immediately.
Original content can be found at the website of MyTaiwanTour.
♦ Remembering Taiwan's Kinkaseki POW Camp on Tomb Sweeping Day
This article is reproduced under the permission of Taiwan Scene and terms of Creative Commons Attribution-NonCommercial-NoDerivs 4.0 Unported License ("CCPL"). It presents the opinion or perspective of the original author / organization, which does not represent the standpoint of CommonWealth magazine.