Peter Chou Goes for Virtual Reality
Chinese Capital Allegations Cause Concerns
精華簡文
Source:CW
Even as the world stage beckons, suspicions of ties to China's princelings lurk behind the scenes. Why did Peter Chou, the former CEO of Taiwanese smartphone maker HTC, decide to join Digital Domain, a Hollywood-based, Hong Kong-listed special effects company?
Chinese Capital Allegations Cause Concerns
By Liang-rong Chen, Kuo-chen Lu and Yueh-lin Ma
From CommonWealth Magazine (vol. 580 )


In late August, a team of CommonWealth Magazine reporters interviewed Chou, Digital Domain CEO Daniel Seah and Chief Operating Officer Amit Chopra at the tranquil Wistaria teahouse in downtown Taipei. The main reason for interviewing the trio was that Chou is about to become executive director at Digital Domain, Hollywood's second-largest special effects company. Though he is joining the Digital Domain management team, Chou will continue to be in charge of new product development at HTC.

Chou has spent 18 years of his career at HTC, seeing it both thrive and decline. Under Chou's stewardship, HTC became the highest-valued stock in the Taiwan stock exchange in 2011 when its share price skyrocketed to NT$1,300 and its smartphones accounted for a global market share of 15 percent. Following these sunny years, Chou also felt the chill when the HTC share price nosedived below NT$50 in late August. HTC smartphones currently have a global market share of less than two percent.

Eager to take on a new challenge, Chou, popularly also known as the "smartphone top commander," stepped down as CEO in March, handing his post to HTC co-founder and chairperson Cher Wang.

Chou moved on to head HTC's future development labs. There, his main job has been to oversee the development of the virtual reality headset Vive, which is scheduled to hit the market at the end of this year. Against this backdrop, Digital Domain, a proven software and content developer, and HTC can complement each other in terms of technology and markets.

Seah had a hard time pitching his plans to Chou. He tried to persuade Chou to join Digital Domain in 14 rounds of talks held over a period of four and a half months. At the 15th meeting, Seah eventually won Chou over to forge a company alliance in virtual reality, a field that both men regard as highly promising.

But then the situation changed: CommonWealth Magazine has verified that the Digital Domain Group has been implicated in Chinese President Xi Jinping's massive anti-corruption campaign as one of the company's major investors, Che Feng (車峰), has been arrested.

As a son-in-law of Dai Xianglong, the former governor of the People's Bank of China, Che is a typical "princeling", the popular moniker for people hailing from families of high-ranking officials. He is also a major silent shareholder of the company, with a stake of 4.7 billion convertible bonds.

On top of that, Hong Kong's business circles and media have great misgivings about Digital Domain.
One of Three Toxic Stocks?
The Hong Kong-listed Digital Domain is the subject of considerable attention among stock market investors given its fame as a major Hollywood special effects company as well as its technological prowess in virtual reality.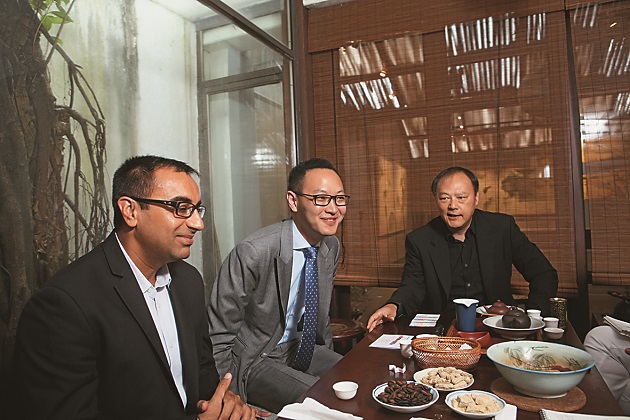 Former HTC CEO Peter Chou (right) has decided to join Digital Domain, teaming up with Digital Domain CEO Daniel Seah (center) and COO Amit Chopra (left) to further develop virtual reality technology.
Yet, between May and July this year, the company's share price plummeted, shedding 90 percent of the company's market value within just two months. With analysts unable to explain the drastic share price loss, Hong Kong's Apple Daily listed the company among the local bourse's most toxic shares, alongside solar cell manufacturer Hanergy Thin Film Power Group as well as the real estate group Gold Financial Holdings, which have both undergone similar share price collapses.
"These kinds of stocks have no fundamentals; there are only rumors moving the prices," Bloomberg news agency quoted William Fung, vice president at Southwest Securities Co. in Hong Kong, as saying.
Digital Domain CEO Seah is virtually a nobody in Hong Kong's media landscape.
A veteran finance reporter in Hong Kong notes that, though Seah may be CEO and chairman of Digital Domain, stock market investors in Hong Kong see him as "merely a figurehead who can be replaced anytime."
Columnist Shirley Yam, a former deputy chief editor for the Hong Kong Economic Times and vice-chairperson of the Hong Kong Journalists Association, once analyzed the shareholder structure of Digital Domain. Interviewed by phone, Yam said, "To be honest, that the Hong Kong market pays any attention to this company is entirely due to the background of Che Feng."
However, the fact that this Chinese princeling has been thrown into jail does not mean that he has ties with Digital Domain. Information published by the Hong Kong Stock Exchange shows that Che's name appears neither within Digital Domain's management hierarchy nor its shareholder structure.
Nevertheless, a merger expert with a Taiwanese accounting firm, who requested anonymity, notes, "Using a front man or convertible bonds to control a listed company is a common trick used by Chinese red capital and princelings who own Hong Kong-listed companies." Given that Che signed a convertible bond deal with Digital Domain in 2013, the expert insists there is reason to be suspicious, claiming, "It seems that Digital Domain is only fronting [for Che]."
We asked Chou whether he was aware that Che could become the company's largest shareholder if he decided to exercise his convertible bonds and convert them into stock. Wouldn't he be worried if someone said this is red capital?
Unfazed, Chou responded, "We are independent. I don't worry at all, because the right to run the company and its direction lies in our hands. What we do is free of interference."
However, the anonymous expert, who has served as the head of major accounting firms, expressed serious doubts about Chou's stance. "These are companies controlled by red capital. I don't know which financial resources Chou wants to rely on to do these things (managing without interference, controlling actual management rights). Unless these people do not want to do the job themselves at all and are willing to leave it to you," the expert said.
---
Following are the highlights of the interview:
CommonWealth: What went through your mind when Daniel Seah (chairman and CEO of Digital Domain) approached you? Which twists and turns occurred throughout your talks? What made you ultimately decide to join the company?
Chou: Since HTC is also involved in virtual reality, I knew how important virtual reality content is. I had many ideas about how to develop the virtual reality content and experience.
When he came to see me, I thought he wanted to discuss developments in that area. However, he wanted me to support him; that's something I hadn't thought about at the time. Because I had no plans to join another company.
Why didn't I have such thoughts? Because I was still pushing forward a lot of important things at HTC, so it was of course impossible. But I thought Dan iel Seah is a fine young man. He's very young but also very diligent, and was able to turn around an American company (from loss to profit) within a short time. That team of theirs is very good. I've always wanted to help young people ---you come to me and I will help wherever I can, so I shared a lot of experiences with them.
The first virtual reality display system in the world was created in 1968, 47 years ago. When I looked at the development of HTC about two years ago, [I realized that] smartphones were, of course, very important, they had a very big market, but we also needed to prepare things for the future.
2016 Year One for Virtual Reality
I feel that virtual reality is going to be a big deal for the next generation. It is not only about hardware; virtual reality is a new viewing experience. Movies, for example, kept evolving from silent pictures to [sound films in] black and white to color movies and later on the many animated movies such as Disney films and the latest films [with special effects] such as Star Wars, Transformers or Avatar.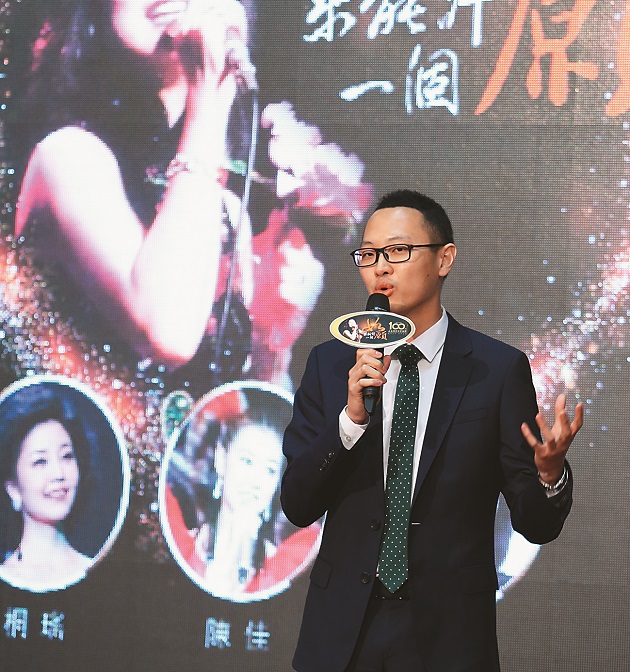 Digital Domain CEO Daniel Seah points out that, thanks to the company's virtual reality technology, late Taiwanese singer Teresa Teng can be brought back to life to sing on stage.
I believe virtual reality is the screen that the next generation will be "viewing," movies, games, entertainment, consumption and even engineering technology all being part of it. It is a very large field. In the future, a lot of innovation will not be purely in technology or hardware…innovation will comprise business models, advertisement, etc. And virtual reality will play an extremely important key role.
Therefore, I think we need to pay attention to that part. HTC needs to secure a very good position in that area in the future. So I concentrate on this part. Many other HTC business activities can be run by Cher (HTC Chairperson Cher Wang) and her team.
I just mentioned that content is very important. I want to innovate and make breakthroughs. Therefore we can cooperate with Digital Domain a lot in the future. They are a good cooperation partner, and we complement each other very well. HTC will not solely cooperate with them in hardware. We might do some platform projects. Digital Domain already has a lot of technologies in that field.
I will, of course, continue over there at HTC, you shouldn't misunderstand this.
Never Quit HTC
Q: Does this mean you will remain at HTC?
A: Of course, I will be at HTC. I won't leave, that's inconceivable. I will never leave HTC.
Q: Does that mean you talked this over with Cher Wang? Does she approve?
A: She is supportive. We agree on the future direction of virtual reality. Moreover, these two companies do not conflict with each other; they are mutually complementary, so that they can cooperate in the future. (Editor's note: Following the inquiries made by CommonWealth, Cher Wang has postponed cooperation between HTC and Digital Domain.)
Q: Have you personally become a shareholder in Digital Domain?
A: I cannot talk about this yet.
Q: Since you stand for the HTC spirit, everyone is taking a keen interest in your role there.
A: My commitment to HTC remains unchanged. I will devote myself to our strategy and products for the future. HTC is also a company that I built single-handedly, and it will be my baby forever. I will always be extremely supportive toward it.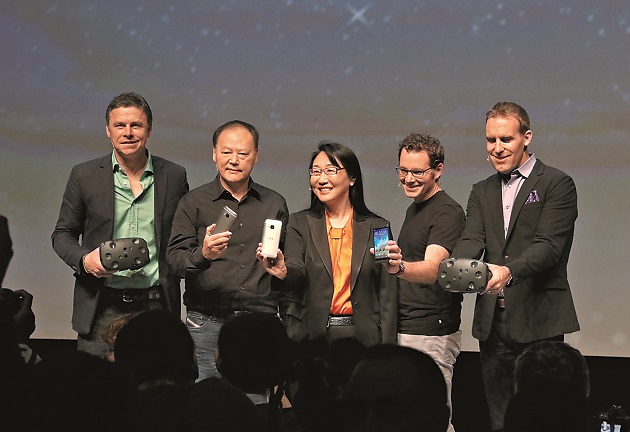 Aside from smartphones, HTC is aggressively expanding into virtual reality software and hardware technology. (AFP)
When we did branding in the past we were criticized by many people. I know there will always be challenges. But many times you need to stand very firm doing what you dare to do, in order to build a future for HTC. Presently, the HTC team is getting better and better. I feel they are very committed. With regard to the future of virtual reality, we also occupy a very good position.
Q: The life cycle for smartphones has become very short. How do you view a smartphone-centered HTC? What is the company's future direction?
A: Every industry will undergo many different changes. There might be changes every two or three years; this is very normal. But the important thing is that you must be able to always find new things, even though the things you have now can be significantly improved, and your current team is making great efforts to make many improvements.
Sometimes people are very eager to criticize, so that the whole thing becomes very negative. How many people berated me back then when I decided to go into branding? They said that the company was on the verge of collapse, it won't work. The situation now is much better than back then. We have delivered a brand, and we are actually much stronger than back then, right? Moreover, we have positioned ourselves very well in virtual reality; we are one of the major leading companies.
Q: What do you mean by 'positioned well'?
A: Presently, our hardware, for instance, is the best. But hardware is not that important; we have learned a lot from our past experience with branding. So now that we are doing virtual reality, we can do platforms and content. We are very excited about virtual reality.
When a special effects company like Digital Domain participates in moviemaking, they can be creative in tandem with the director. They create a lot of technologies and a lot of their own IP (intellectual property). Regarding our future cooperation in virtual reality, they will also delve into this; they will transform into a technology company. We can enable talent from Taiwan to bring their skills into play in this field, this is our true focus.
I believe virtual reality will evolve into an actual reality. Next year is Year One for virtual reality. Many companies have devoted themselves to this field for a long time. Therefore, we will see a lot of good content appear in next year's virtual reality, and it will increasingly feel like actual reality.
Taiwanese Talent Platform
I think that, in the world of virtual reality, everyone is currently at the same level, everyone is at the same starting point. Presently only a handful of companies are able to develop superior virtual reality content, because this requires a lot of knowledge, technology and experience that is different from the past. And we hope to be able to help our young people in Taiwan move in that direction.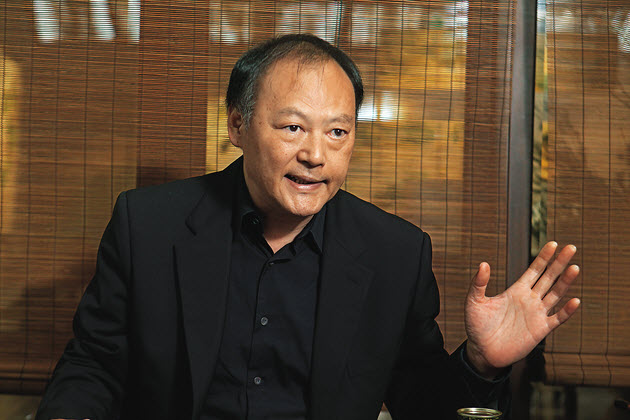 Peter Chou believes that the Digital Domain management team is able to make independent decisions. He hopes to pool American and Taiwanese technology and talent in the future to become a leader in the field of virtual reality.
Q: Do you intend to look for talent or establish a subsidiary in Taiwan?
A: We want to scout for creative talent; we hope to find out with which kind of content we can take a leading role from here. Of course, we will also look for producers, we could also take the technology and professional skills that Digital Domain has over there and build it up here.
Q: Does that mean you will be able to enter the entire [business] ecosystem should you cooperate with Digital Domain? In the past, Taiwanese brands had a hard time and faced many challenges because they had to do everything from beginning to end on their own. What do you pay attention to when mapping out [your strategy]?
A: We do not want to be reduced to being a contract manufacturer; we want to clearly figure out and build values, IP, the brand and the platform from the beginning. This is actually most important.
Q: No one in Taiwan has fought such a tough international battle as you. What did you take away from the experience of fencing with world-rank rivals in the smartphone business for so many years?
A: I think you have to have dreams. You must have the ambition to make world-class things. And you must be optimistic, you must not let yourself be influenced by outsiders and the media; optimism is truly very important. There is one more thing - you need to learn to establish you own values.
Q: After reading a few reports and looking up some information, we are very interested to hear why you want to join Digital Domain.
A: You know, my thinking is very simple, uncomplicated. This is an American company with very good technology. Daniel Seah and his team are great young people. I hope to bring into play some valuable things from America, to establish a platform that allows Taiwanese talent to blossom. This is the right direction.
100% in Control
Q: But you know that should Chinese creditor Che Feng exercise his convertible bonds, he would control 23 percent of Digital Domain shares. Wouldn't you be worried if people said this is red capital?
A: Basically, it is very clear: We make independent decisions. Even if he had a 23-percent stake he would still not be sitting on the board. We also have no contact; we are independent. I don't worry at all, because the right to run the company and its direction lies in our hands. What we do is free of interference.
When you look at a company you look at its strategy, values, profits, and direction. We are 100 percent in control, there is no interference whatsoever. Presently the company structure, the director votes are all in our hands. People are being too sensitive.
Translated from the Chinese by Susanne Ganz