Dadaocheng Back in Business
Taipei's New Hotspot for Young Entrepreneurs
精華簡文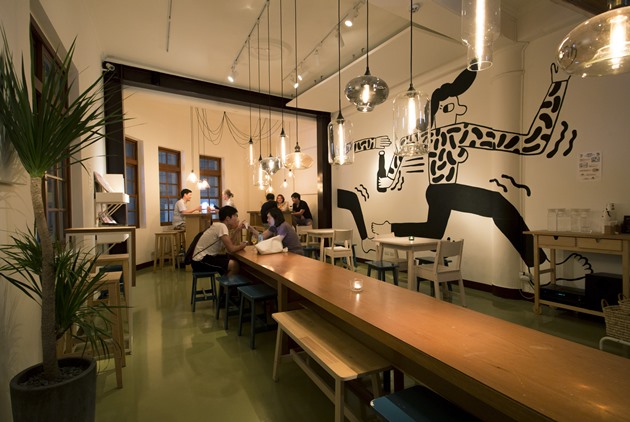 Source:Justin Wu
The once depressed Dadaocheng in western Taipei recently replaced Beitou's hot springs as the third most popular destination in the city for overseas visitors, buoyed by innovative new shops and specialty bars. But more needs to be done for the area's revival to be complete.
Taipei's New Hotspot for Young Entrepreneurs
By Felice Wu
web only

Eleven p.m. on a Thursday night. The glare of a yellow light and the birch-colored bar cast a shine in this small drinking hole. A middle-aged couple sits on high-legged chairs near the doorway, sipping beers from tall glasses. Two French tourists sit by the bar, studying the 24 specialty beers listed on the board, seemingly eager to give them a try.
Surprisingly, the bar is not found in the highly affluent and cosmopolitan eastern part of Taipei but rather in century-old Dadaocheng, the hub of old Taipei.
Dadaocheng had fallen into disrepair, but creative and artistic shops, venues and restaurants with attractive designs began popping up in the area around 2012, and specialty bars featuring artisanal beers, new cocktails and other offerings have emerged in the past two years, injecting new vitality into Dadaocheng's night life. (Read: Taiwan's Cocktail Scene Unveiled)
As Dadaocheng has evolved into a hip hangout, traditional merchants in the area, such as Chinese medicine vendors and rice and grain distributors, have also sought to take on a new look, developing products that cater more directly to consumers. The commercial district has even teamed up with the city government to hold special activities and set off an area open only to pedestrians to draw visitors.
So how has this cradle of Taipei history that was largely ignored as the city's center of prosperity moved east emerged from its recent dilapidated past to become a flourishing hub for young entrepreneurs and other commercial activity?
Connecting with Customers in Dadaocheng
Specialty bars are among the hot startups enlivening this old riverside area in recent years. At the end of Nanjing West Rd., a small shop gives off a warm light, its reflection casting a glow on the light green Baroque building. This was the official residence of Lin Wei-yuan, a fourth-generation member of the powerful Lin clan during the Qing dynasty and is now the Taiwan home of Danish microbrewery Mikkeller.
"Dadaocheng is the window through which we connect with the world," says Yuhang Lin, the head of Mikkeller Taiwan.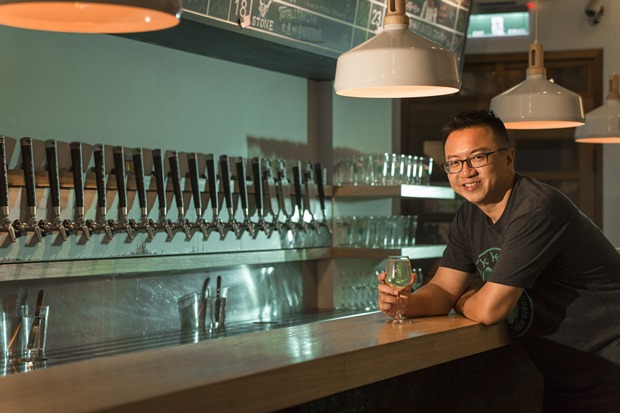 Mikkeller Taiwan's founder Yuhang Lin says many old-timers visited his bar when it opened, with some recalling that their elders worked at the old British consulate in Dadaocheng. (Source: Justin Wu)
Unlike international coffee chain Starbucks, which stresses standardization and "repeatability," Mikkeller's founder in Taiwan embraced a local flair, selecting a design steeped in local color and locating the company's first outlet in Dadaocheng, which truly represents old Taipei. The distinctive architectural style complemented by a warm wooden interior has attracted many overseas guests. In the two years the place has been open, foreign tourists have accounted for 30 to 40% of its customers.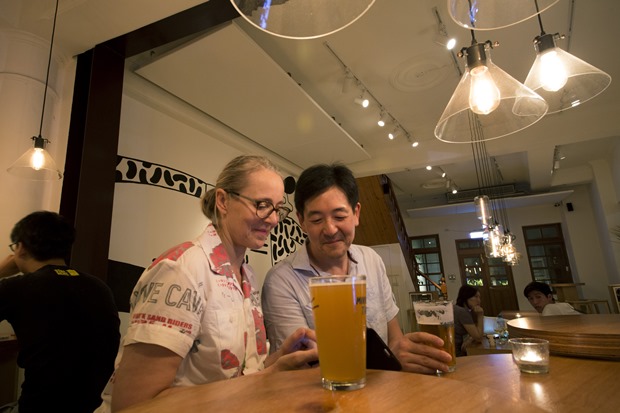 Dadaocheng has replaced the Beitou hot springs area as Taipei's third most popular attraction among overseas visitors. (Source: Justin Wu)
Leases in this older, western part of Taipei are relatively affordable, an important incentive for young and middle-aged entrepreneurs to move in. But the 39-year-old Lin notes that while the Mikkeller space costs less than NT$910 per square meter per month, getting going can be difficult. It took 18 months before the Mikkeller outlet started making money.
By comparison, rents in affluent eastern Taipei can go as high as NT$3,000 per square meter, dictated strictly by commercial conditions. On Dihua Street in the Dadaocheng neighborhood, however, landlords tend to choose their tenants. Lin was lucky to find a landlord who shared his outlook and was international-oriented, leaving him less worried about the rent.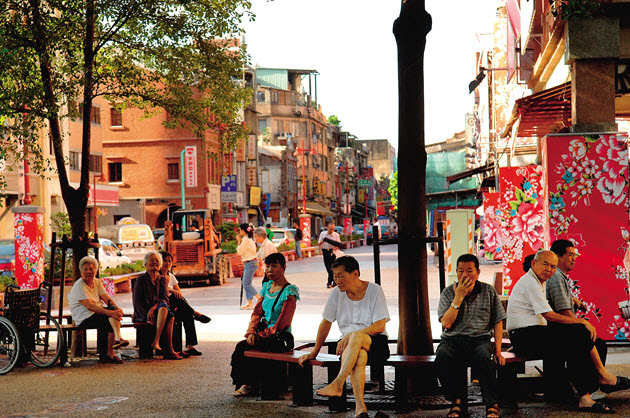 Read: Taipei's New West Side Story (Source: CW)

Pushing People Away on Weekends
Dadaocheng's retro feel and calm, low-profile vibe has also proven attractive to the area's combination café-bars. One is located behind the black doors fronting a building in Lane 362 of Minsheng West Road. Following a small courtyard and heading up the stairs, one finds virtually hidden on the second floor a Western-style bar featuring a deep wooden color named Bar City North.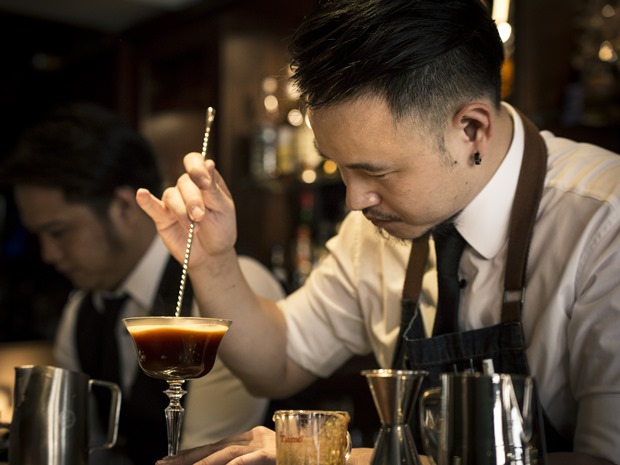 Bar City North has drawn many customers with its relaxed, low-key style. (Source: Justin Wu)
"We are all old souls," says 34-year-old barista Chen Mu-Chan, who has considerable experience starting up new businesses. His business partner and top-notch mixologist, Tu Lung-hao, worked in Tokyo's Ginza District for two years, and the two favor a relaxing atmosphere with plenty of character. The two joined to open the shop in Dadaocheng just over a year ago through the introduction of Chen's entrepreneurial mentor and Sedai Group founder Jou Yi-cheng.
Without having to pay rent, Bar City North turns a steady profit even in its somewhat hidden location. In just two hours on a Thursday afternoon, the bar had over 10 customers, most of them under 30. Tu says the shop only has room for 20 customers, and they often have to turn away an average of 40 or more people on weekends because of the space limitations.
According to Chen, the bar currently does not pay rent, instead handing over a percentage of the profits to the landlord. Much of the décor and many of the objects giving the place its distinctive feel, such as an old grandfather clock and lamps, were provided by Jou.
Jou, in fact, has been one of the instrumental figures in Dadaocheng's revival as a place for people to visit. In 2011, the Sedai Group rented the century-old building where the Watson's pharmacy was located and offered the space on the building's three floors to different entrepreneurs, calling it the "Art Yard." After that, several similar places popped up in the Dadaocheng area with the support of the Sedai Group, which provided not only space and equipment but also startup advice and talent recruitment and training. The group's help is aimed at getting young entrepreneurs to plant roots in the community.
Young Entrepreneurs Spark Innovation
Feeling the vitality injected into the area by the influx of entrepreneurial energy, traditional merchants and wholesalers along Dihua Street have begun taking innovative steps to cater to consumers as well. A third-generation vendor of the dried goods the street is famous for is now selling mullet roe ice cream, while a traditional Chinese medicine shop sells herbal teas with Chinese medicine and sweet and sour plum juice mixed with tequila.
Chen Shih-che, an advisor to the Dihua Commercial District Development Association, says that when shop owners look to work with the younger generation, their hope is to develop new products and strengthen services for retail customers to help re-launch their products into contemporary life. (Read: Decoding The Art of Old-Time Doors and Windows)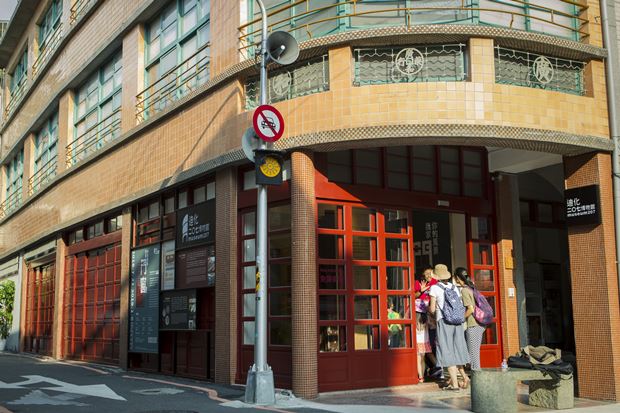 Dadaocheng has replaced the Beitou hot springs area as Taipei's third most popular attraction among overseas visitors. (Source: Justin Wu)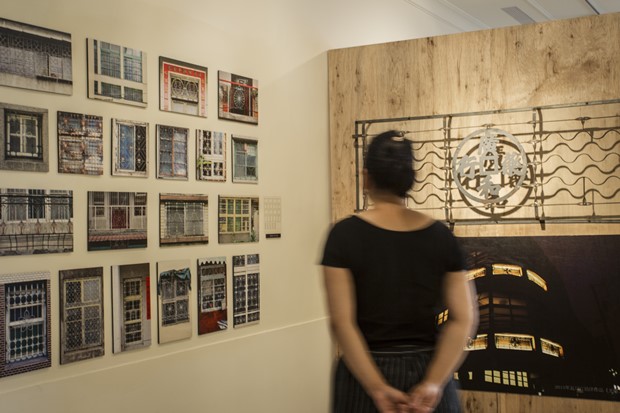 The Dihua Street Museum chronicles the grassroots culture that has survived in old Taipei to this day. (Source: Justin Wu)
But still more needs to be done to bring Dadaocheng and the Dihua Street district all the way back. They are still working on cementing a consensus on how to approach the future, and if they want to promote a real rebirth of the area, it will require a greater focus on local attractions.
The City Government's Key Role
Taipei City Mayor Ko Wen-je is planning to turn Dadaocheng into the city's fifth wall-less "city museum," but the key challenges will be fully reviving local businesses and leveraging the community's inherent vitality.
Many new entrepreneurs entering the area believe that Dadaocheng's appeal derives not only from its old architecture but also the residents and businesses that have remained there to this day. Yu Tien Ming, the head of the Toa Tiu Tia (Dadaocheng) Creative Urban Blocks Development Association whose family has been anchored in the community for more than a century, argues that many people are willing to contribute their time and effort. But for those contributions to be meaningful, the needs of the area must be taken into account for any makeover to be meaningful and sustainable.
As Dadaocheng arouses the interest of more commercial interests and tourists, authorities must consider the local environment's long-term development. Chiu Yi, the founder of in-depth tour company Taipei Walking Tour, says the development of the Dihua Street Commercial District has ignored for too long any discussion on the maintenance of public spaces and the amount of foot traffic the area can support.
Chiu, who has a tourism background, says bluntly that for any initiative to work long-term the government needs to make more of an effort in assessing and planning the area's basic infrastructure and environment to ensure that any placemaking initiative does not adversely affect Dadaocheng. Only then will the development any initiative might deliver be sustainable.
Translated by Luke Sabatier
Edited by Sharon Tseng
---
Additional Reading
♦ Five Questions asked by the Taiwan-Curious
♦ How Tseng Noodles Made It into The Ramen Rater's Top Ten
♦ In Appreciation of Taiwan's 'National Dish'—Braised Pork Rice