Preparing for a Brewing Storm
The U.S.-China Trade War Showdown
精華簡文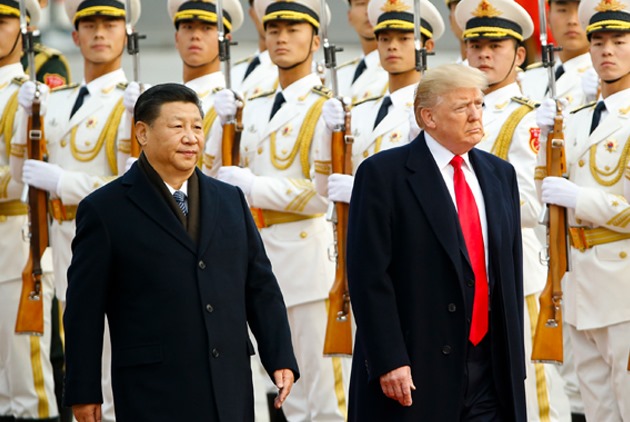 Source:GettyImages
Forty years after establishing diplomatic ties, the United States and China are caught in an intensifying trade war that has elicited different strategies from the two sides. Are the world's two biggest economies ready to engage in a "new Cold War"?
The U.S.-China Trade War Showdown
By Shu-ren Koo
From CommonWealth Magazine (vol. 659 )

On a crisp autumn day in Beijing at the end of September, the blue sky and white clouds have finally reappeared over China's political nerve center, the result of a policy to cut production and pollution in the city.
International media may be casting the spotlight on the trade war between the United States and China, but in conversations on Beijing's streets and even in the reporting of Chinese media, there is little to suggest a country on a "war" footing. Life in the capital, it seems, is business as usual.
But in the Chinese Academy of Social Sciences (CASS) building next to the Jianguo Gate in the eastern part of the city, the atmosphere is quite different. The trade war has become the focal point of the researchers and research institutes involved in trade and economic issues at the academy, China's most important national-level think tank.
"There especially have been a lot of meetings lately," Xu Qiyuan, director of the Research Center in the academy's Institute of World Economics and Politics, tells a visiting CommonWealth reporter.
"They go on almost non-stop, and there will be another one in a little while," Xu says.
In the big lobby of the CASS building, the gold-plated characters "emancipate the mind, seek truth from facts, keep up with the times, and think innovatively" are displayed prominently on the light-gray marble wall.
The slogan originates from former Chinese President Hu Jintao's speech at the 17th National Congress of the Chinese Communist Party in 2007, in which he asked all Communist Party members to embrace this attitude when searching for a path for China's national development.
Adhering to those words has never been more important to the CASS or China than now because China is under a degree of pressure unprecedented in the 40 years since the United States and China set up formal ties in 1979.
Trade War Escalating into Cold War
The problem for Beijing is that U.S. President Donald Trump is not the only one questioning China; the thread of suspicion runs through the entire American political community.
The Trump administration has mobilized the entire government to launch a comprehensive public opinion offensive against China, and Beijing needs to "think innovatively" to figure out how to counter this mounting pressure, pressure that will not disappear even if the Republican Party loses control of the U.S. Congress in the November mid-term elections or if Trump does not win re-election in 2020.
2018 could be a watershed year for U.S.-China relations as they could be entering a new era of all-out competition between the two powers. The term "Cold War" seems to have been resurrected to describe the standoff, 27 years after it had supposedly been consigned to the dustbin of history when the Soviet Union disintegrated in 1991.
Over the past 40 years, China has risen up to emerge as the world's second largest economy, and whether Beijing wants to admit it or not, the United States has played the most important role in that ascent. It could be said that the biggest external factor in determining China's fate is U.S.-China relations.
Poor U.S.-China relations unquestionably have an adverse effect on China's internal development, and Washington may feel less inclined to push international issues, such as keeping in check nuclear weapons programs in North Korea and Iran.
The bilateral relationship between the two countries over the past four decades has paralleled the stock market, undergoing both ups and downs. It has also resembled a couple that preserves their marriage for the general good even if there are times they fight or don't agree on something.
Cooperation between the United States and China has generally outweighed competition and conflict. Even when serious breakdowns have occurred, such as when a U.S. jet fighter mistakenly bombed China's embassy in Belgrade in 1999, the two sides did not turn away from each other and go to war.
After Trump was elected president, however, the United States suddenly reversed course, starting by imposing punitive tariffs step-by-step on Chinese imports.
In a speech at the conservative Hudson Institute on Oct. 4, U.S. Vice President Mike Pence articulated the many accusations lodged by the U.S. against China over the past year in what sounded to many in the outside world as a declaration of war against Beijing.
Many observers believed that Pence engaged in that kind of rhetoric at that point in time to stoke up the Republican base ahead of mid-term elections in November or to divert attention from the constant chaos in the White House. But whatever the motivation, the harsh rhetoric on China coming from both Trump and Pence reflects a growing atmosphere of "fearing China" or "being suspicious of China" in political circles in Washington, whether among Republicans or Democrats, conservatives or liberals.
Turning Its Back on an Old Friend
"The United States has now come to the point of debating whether or not to completely overhaul its China policy," said Daniel Murphy, executive director of the Fairbank Center for Chinese Studies at Harvard, during a recent visit to Taiwan. "Trump is just amplifying this emotion. It will not be a short-term phenomenon."
The clearest example of the debate being waged in Washington over the need to re-examine China policy was an article called the "China Reckoning" by Kurt Campbell, assistant secretary of state for East Asian and Pacific affairs during President Barack Obama's first term, published in the influential journal Foreign Affairs in February.
The article had two extremely strong and clear messages: First, the United States' China policy over the past 40 years has been a failure.
Campbell wrote that many in U.S. policy circles "shared the underlying belief that U.S. power and hegemony could readily mold China to the United States' liking." But "all sides of the policy debate erred" as "China has instead pursued its own course, belying a range of American expectations in the process."
The second message was that China has become Washington's "most dynamic and formidable competitor in modern history."
Campbell wrote that "China is on the path to becoming a military peer the likes of which the United States has not seen since the Soviet Union," and facing such a strong competitor, Washington needs to do away with the "hopeful thinking that has long characterized the United States' approach to China."
The United States, however, has yet to reach a conclusion internally on how to adjust its strategy toward China or how to carry it out.
The Trump administration's approach seems to be to try and exert as much pressure on Beijing to force it to change or make concessions on its trade, domestic political, diplomatic and economic development models. But up to now, beyond launching a trade war to counter China's decades of unfair practices, the Trump government has been more bark than bite.
All that's been established so far is that Trump is unwilling to go after China through the alliances America has built or multilateral organizations, opting instead to go it alone without an overall strategy or a clear idea of tangible goals.
Using Supply Chain to Hurt the U.S.
"If the United States wants to force China to give up its economic sovereignty and play according to the U.S.'s rules of the games, that would be breaching China's bottom line," says Zhang Yansheng, chief research fellow of the China Center for International Economic Exchanges, a government think tank, who had just returned from a trip to Europe.
In Chinese think tank circles, the emerging dynamic between the U.S. and China is being clearly understood as a competition between two countries that will be a long and protracted fight.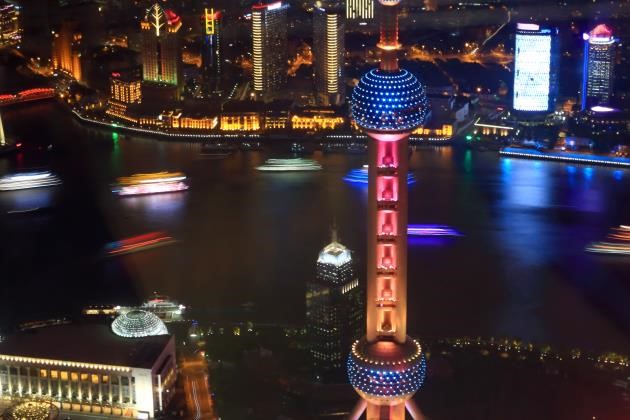 Source: Chien-Tong Wang
"The competition between China and the United States and certain areas of confrontation could persist for a long time. It will inevitably be a fierce competition," says Eric X. Li, a venture capitalist and the founder of a new online media in China, Guancha.cn., during a recent conversation with a CommonWealth reporter at a coffee shop in Shanghai.
Zhang agrees that bilateral ties could be in for a rough patch for a long time.
"I think it could continue for seven years, until the United States realizes it cannot knock out China. But for China, these seven years will be a very complicated, difficult seven years," he says.
Beijing is seemingly prepared for a drawn-out battle, but, similar to the United States, there exists a major internal split on how to fight the battle and deal with America's tactics.
Li, who has been a staunch defender of the Communist Party and critic of American democracy, believes that the constant anonymous comments fed by senior White House advisors to the New York Times indicates the depth of the internal divisions around Trump, making it hard to see the direction in which the U.S. is moving.
As a result, Li contends that for China to take the initiative at this time would neither be practical nor effective, and suggests that Beijing should remain calm and avoid any rash actions.
In fact, calm has reigned since the Chinese Communist Party mouthpiece, the People's Daily, ran commentaries on three straight days in early July criticizing bombastic opinion pieces in Chinese media. There have been few emotional outbursts in Chinese public opinion forums on how to deal with the trade war since the People's Daily's admonitions, and even the nationalistic Global Times has been relatively restrained on the issue.
But regardless of what it says publicly, Beijing is highly unlikely to bow to Washington's pressure and change its development model, and will instead continue to follow its own course.
"China will not do things under outside pressure. If it wants to change or to open up, it will be based on its interests," Zhang stresses. "Could it abandon Made in China 2025? That's absolutely impossible."
What the Chinese government has done is to roll out a series of measures, starting in April, to ease restrictions on foreign companies operating in China, in line with directives to open the economy more to the outside world issued by Chinese President Xi Jinping in his report to the 19th Party Congress in October 2017.
The approach would appear to be Beijing's most obvious strategy to counter the impact of the trade war: attracting more foreign investment to China to build supply chains, helping strengthen China's position in the global supply chain and increasing the degree of mutual dependence between Washington and Beijing.
It also directly counters the Trump administration's ambition to get companies to move their manufacturing to the United States.
It's as though the U.S. and China are a couple that have been married for 40 years but no longer love each other, and Washington wants a divorce but Beijing is trying its best to prevent that.
"That's an accurate analogy because China's advantage is that it has a complete supply chain, which has been the key to turning the U.S. and China into a community with common interests," the Chinese Academy of Social Sciences' Hsu argues.
"The more the U.S. wants to cut off the U.S.-China supply chain, the more China should try to keep foreign investment in China. It cannot use sanctions against American companies as a weapon in dealing with the trade war."
Yet even if China's government did not move to expand its opening and ease restrictions on foreign investors, and even though foreign companies constantly complain about China's government treating them unfairly and that making money there is harder than ever, China's big market remains a powerful lure to overseas companies, who go there one after another seeking new opportunities.
"The Chinese market is too big, and there are still unlimited opportunities. You just have to know what the Chinese people will want today and in the future," says a Chinese executive at a European company.
Playing Both Sides of the Fence
At the end of September, the China International Industry Fair 2018 was held at the National Exhibition and Convention Center in Shanghai's Hongqiao hub area. The exhibition center, which has four halls each bigger than the Nangang Exhibition Center, packed in more than 2,000 exhibitors from the region and around the world, attracting more than 170,000 visitors.
A quick tour of the show revealed that the exhibitors, whether Chinese, Taiwanese, or other companies from around the world, all wanted to cash in on China's development of the four industries of the future – cloud computing, smart manufacturing, robots and new energy.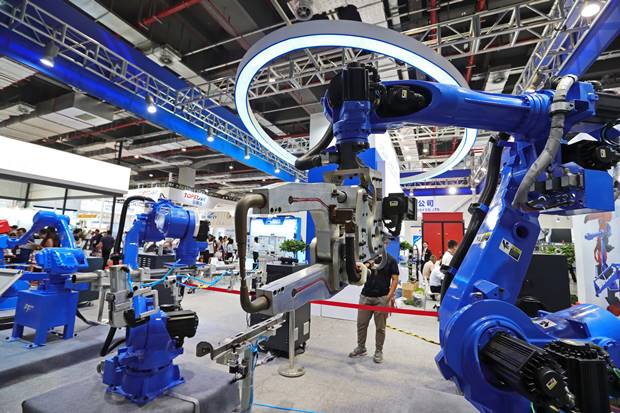 Source: Chien-Tong Wang
Taiwan's two leading smart manufacturing solutions providers, Advantech Inc. and Delta Electronics, were positioned close together at the exhibition, and their representatives were busy introducing their companies' solutions to visitors. According to information provided at the exhibition, Advantech's intelligent management solutions have already found their way into China's wind power and water management systems.
"To Advantech, the Greater China market is our homeland," says Allan Tsay, president of the Advantech Industrial Automation Group in the China region.
The problem is that facing a brawl between two mammoth elephants and having no idea how it will unfold or how long it will last, small "animals" on the ground have begun to think about how to flee and avoid being trampled by the fighting giants.
"The approach foreign companies in China are taking to deal with the trade war, aside from continuing to lobby the American government in Washington, is to divide up the supply chain," says Gary Li, associate director of foreign consultant Apco Worldwide in Beijing.
"The Chinese government is now actively encouraging foreign companies to build supply chains in China, relying on opening up its doors to counter American protectionism," Li says.
Apco Worldwide has clients in the car and chemical industries that have already begun to take action. Though Li could not divulge their names, reports in financial media have made it rather clear that European and American car makers, likely to be among the first businesses to be hit hard by the trade war, have begun to adjust where they produce their vehicles.
Swedish car manufacturer Volvo originally sold two car models in the United States that were produced in China, but to avoid American import duties, it announced in July it would be shifting production of one of the models back to Sweden.
Top Japanese car manufacturer Toyota recently announced that it would increase its production capacity in China by 20 percent while at the same time building an electric vehicle manufacturing base there with the goal of starting production in 2020.
Japanese financial media Nikkei recently reported that America's protectionist stance is becoming increasingly obvious, and Japanese car makers, for whom North America represents a major profit center, have begun to expand production capacity in China and increase their dependence on that market to limit their exposure to the U.S.-China trade war.
Selling Products Means Selling Trust
Aside from avoiding punitive tariffs, separating the supply chains serving the Chinese and American markets has an even greater significance.
"Products' bloodlines will become increasingly important," says Bob Hung, general manager of Taiwan and Hong Kong for software security company Trend Micro Inc.
Through his involvement in the internet security field, Hung is well-positioned to appreciate the impact of intensifying geopolitical competition. Trend Micro's business in China was spun off long ago to become an independent, unaffiliated company.
The United States government has recently banned purchases of information security software from Russia and mobile phones made in China, Hung said, citing a Gartner report, which reflects the increasing distrust major powers have in each other's products, especially in the information security field.
But Hung stressed that in the "internet of everything" age, information security is not just the business of software providers; it's something no industry or company can avoid. In the future, the decisions of all companies will have to take into consideration whether their own products and services and companies upstream and downstream in the supply chain will be trusted in this highly competitive geopolitical environment.
And Taiwanese companies that have been in China for 30 years will be no exception, as they seek to maneuver in the murky waters of a trade war that shows no sign of a quick resolution.
Translated by Luke Sabatier
Edited by Tomas Lin