From GATT to WTO, Taiwan's Global Chess Match
From GATT to WTO, Taiwan's Global Chess Match
By Amber Lin
CommonWealth Magazine


Chiang Pin-kung, Administrative Deputy Minister of the Ministry of Economic Affairs (MOEA) boarded a 10:00 a.m. Korean Airlines flight scheduled to land in Seoul at noon. Immediately upon landing, he obtained a new boarding pass just in time to board a 1:50 p.m. Japan Airways flight from Seoul back to Tokyo, right back to where he had come from that same morning.

Making his way past a dozen passengers in First Class, he took his seat in the second row, which "just so happened" to be right next to the special assistant to the secretary-general of GATT (the General Agreement on Tariffs and Trade), and said hello to Hsu Ko-sheng, director general of the Bureau of Foreign Trade.

Directly in front of Chiang, in the front row of First Class, sat Minister of Economic Affairs Chen Li-an and Arthur Dunkel, director general of GATT.

This two-hour "chance meeting" was the first time officials from Taiwan had encountered high-level GATT officials since Taiwan's withdrawal from GATT in 1971. Prior to that time, as both Beijing and Taiwan simultaneously maneuvered to gain entry into the international trade body, Dunkel had gone out of his way to avoid contact with Taiwanese officials.

The secret mid-air meeting had been carefully arranged by Chen Jui-lung, head of the Taipei Trade and Investment Office in Zurich, along with an unnamed Swiss advisor. Together they managed to throw the media off their scent, which prevented the added stress of Beijing's protests.

Chen Li-an and Chiang Pin-kung seized the opportunity to express in no uncertain terms to the distinguished personage next to them that Taiwan, already the world's thirteenth-largest trading nation, was determined to re-join GATT, and asked that he support that bid.

"Mainland China is the one and only legal government of China. Taiwan's entry must be sponsored by China," stated Dunkel flatly, as cautious as ever, even face to face. In spite of Dunkel's reiteration of GATT's official ambivalent stance, Taiwan would not relent.

And six weeks later, on New Year's Day 1990, Taiwan formally submitted its application to GATT's secretary general.

Taiwan's bid for GATT membership, spearheaded by the Ministry of Economic Affairs, had a Top Secret codeword - Lucky Dragon. This operation marked Taiwan's first bid since its withdrawal from the United Nations in 1971 and the severing of relations with the U.S. in 1979, set against harshly unfavorable diplomatic circumstances, to return to an international body through trade diplomacy.

From the first exploratory studies in 1986 through formal induction into GATT in 2002, from the martial law era to Taiwan's first handover of power to an opposition party, the move had been 15 years in the making, involving 15 Bureau of Foreign Trade directors and over a thousand staff members from various government departments.

"Taiwan was in a poor position at the time, yet everyone pooled their efforts, and several hundred people at different offices across our humble little Ministry of Economic Affairs came together," recalls a nostalgic Chiang. In those days there was a hopeful aura about Taiwan, which had just begun to interact with China. Amid their determination to go out into the world, no one even considered another road.

On the morning of January 1, 1990, Chen Jui-lung personally drove the GATT membership application from Zurich to the GATT headquarters in Geneva. His excitement getting the better of him, he completed a drive that usually takes nearly four hours in just over two.
Taiwan submitted the application as a developed country under the title of "the Separate Customs Territory of Taiwan, Penghu, Kinmen, and Matsu (Chinese Taipei)."
However, no one could have anticipated the long wait that was just about to begin.
Normally, the agency processes an application immediately after it receives a country's submission. However, due to the unusual circumstances of both Beijing and Taipei seeking admission at the same time, along with pressure from the Beijing regime, the GATT Secretariat decided to table Taiwan's application.
Nevertheless, the government persisted with lobbying efforts at various trade gatherings, with Vincent Siew, Chiang Pin-kung, and newly appointed Bureau of Foreign Trade director general Hsu Ko-sheng frequently personally making the case for Taiwan's entry into the international body.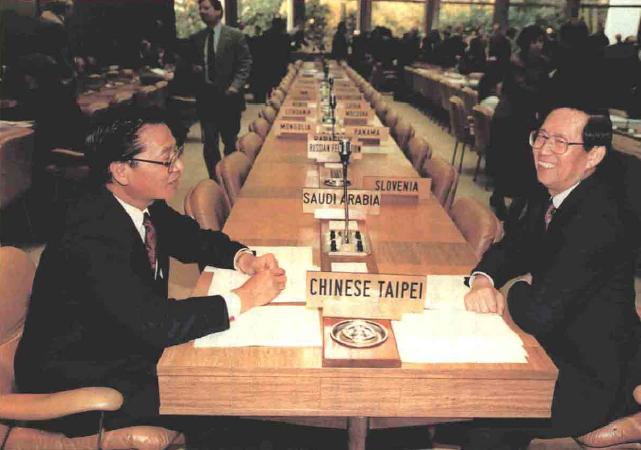 Chiang Pin-kung (left), then Administrative Deputy Minister of the Ministry of Economic Affairs, and Hsu Ko-sheng (right), then newly appointed Bureau of Foreign Trade director general (Source: CW)
After Beijing's demands that the Secretariat summarily reject the application fell on deaf ears, it settled for demanding that Taiwan follow the Hong Kong model. However, this approach was not aligned with the interests of other member countries given Taiwan's trade status, and it received little support.
Eventually, Beijing revealed its bottom line: China must become a member before Taiwan.
After an interminable wait of two years and nine months, GATT finally established a working group in September 1992 to formally review Taiwan's submission for membership.
Once the application had been processed in 1992, Taiwan entered a prolonged period of negotiation as an observer member. Finally, after 240 sessions, an agreement was signed with 30 member nations, and Taiwan became a full-fledged member of the World Trade Organization (WTO) in 2002. A full decade had passed over that time, during which GATT had been succeeded by the WTO.
In the effort to tackle negotiations, apart from the existing special projects committee and strategic committee, eight government ministries and departments, including the Ministry of Economic Affairs, the Council of Agriculture, the Ministry of Finance, the Central Bank, the Ministry of the Interior, the Ministry of Health and Welfare, the Government Information office, and the Ministry of Foreign Affairs, each established a GATT negotiations working group, headed by Minister of Foreign Trade Hsu Ko-sheng as the chief negotiator.
With the subsequent addition of a trade negotiation legal counsel team composed of scholars and experts, the GATT membership working team fell into place.
During over a decade of personnel coming and going, the Bureau of Foreign Trade was the heart of the negotiating machine, with each successive minister of foreign trade acting as the chief negotiator.
Immediately upon the acceptance of Taiwan's application for entry in September of 1992, the team received a flood of over 470 questions posed by different countries. This drew attention to the vast gap between Taiwan's trading structure and that of the international community, necessitating significant modification of domestic regulations.
This harmonization of local laws with international regulations was a major undertaking. Of the 30 signatories that expressed willingness to negotiate directly with Taiwan, the United States, Japan, the European Union, and South Korea were the most difficult, with items such as beef, rice, automobiles, tobacco, and liquor among the stickiest issues, putting tremendous pressure on the Industrial Development Bureau, the Council of Agriculture, and the Ministry of Finance.
"You need to be well versed in the various tensions and demands between different countries, making it like playing a complicated game of chess," says current national policy advisor Ho Mei-yueh, former chairperson of the Council for Economic Planning and Development and the lead negotiator for industry at the time. "Don't get the wrong idea; I'm quite a fierce negotiator," says the petit Ho with a laugh, a smile and a gleam in her eyes.
Between 1993 and 1998, negotiating as deputy section chief of the Industrial Development Bureau to deputy bureau director, Ho recounts that automobile negotiations proved the most difficult. Japan leaked word that it wanted Taiwan to open up a quota of 50,000 automobiles to Japanese cars, but Taiwan's bottom line was 7,000, yet once the story hit the papers, Taiwan's auto industry went ballistic. Ho responded by approaching Lin Hsin-yi, president of the automobile industry trade association, to talk. Taking her notebook out and opening it up, she explained the numbers and strategy at hand.
"I told him: If you think I haven't done enough, then go ahead and ask the minister to get someone else. We've been involved in these negotiations, away from our families the whole time." To this day, Ho still regrets that six-week period away from home when she was not around to be with her children.
GATT formally shut down and became the WTO in 1995, and China's negotiations were well ahead of Taiwan's. This put officials on the front line under tremendous pressure, forcing them to step up their efforts to try and meet the government's hopes to join the WTO by 2000. This placed the two weeks of negotiations with the United States in March 1998 front and center as the crucial final round.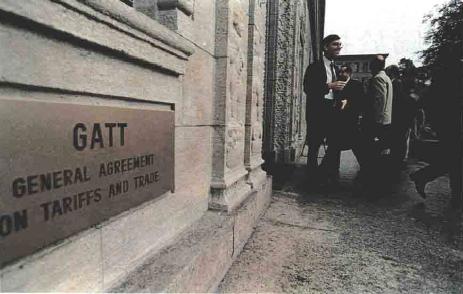 Founded in 1948, the General Agreement on Tariffs and Trade was the precursor to the World Trade Organization (Source: Lin Li Fang)
The Taiwan side had thought agriculture would be the biggest stumbling block to our candidacy, but it ended up being automobiles and rice wine that took the longest time.
The state-run tobacco and liquor monopoly system instituted in Taiwan following World War Two was a key focal point for the European and American sides during negotiations. In order to prepare for Taiwan to open up imports of distilled spirits like whiskey, under the WTO's parameters of citizen parity, Europe and America demanded that rice wine, a common ingredient in Taiwanese cooking, be assessed in line with distilled spirits. Despite the best efforts of Ministry of Finance officials, they failed to convince their counterparts that rice wine and distilled spirits were like comparing apples and oranges, and the price of a bottle of rice wine in Taiwan was set at NT$180.
Even though Taiwan managed to secure incremental increases to that level, it led to widespread hoarding.
That particular negotiation had the biggest potential impact on the people's lives, and it was only defused when the opposition Chen Shui-bian administration, elected in 2000, responded by offering rice cooking wine with added salt to take the brunt of the price increase.
On the bright autumn day of September 18, 2001, against the lush pastoral beauty outside the floor-to-ceiling windows of the conference room at WTO headquarters in Geneva, five gavel strikes signaled formal approval of Taiwan's membership in the WTO.
Exactly a dozen years after Taiwan submitted its application on New Year's Day in 1990, Taiwan became the one hundred and forty-fourth full member of the WTO on January 1, 2002, just days after China. This marked the first and only occasion since Taiwan withdrew from the United Nations in the 1970s that it had overcome all obstacles to become a formal member of a multilateral international organization.
Quite a few of the individuals who personally took part and witnessed those events observe that the only true bi-partisan issue to ever receive the full support of society since Taiwan's democratization and development of a two-party political system was this battle to join the WTO.
From the start of negotiations until their conclusion, Taiwan lowered average tariffs from 30-40 percent to 4-5 percent. Soon merchandise and services began flowing into people's lives, heralding Taiwan's entry into the era of globalization.
"After joining the WTO, the government will face dual pressure from Taiwanese businesses and foreign investors alike, bringing about cross-strait trade negotiations sooner," said Tsai Ing-wen in 1994. Then the chief legal advisor to the negotiations, she made these remarks in an exclusive interview with CommonWealth magazine.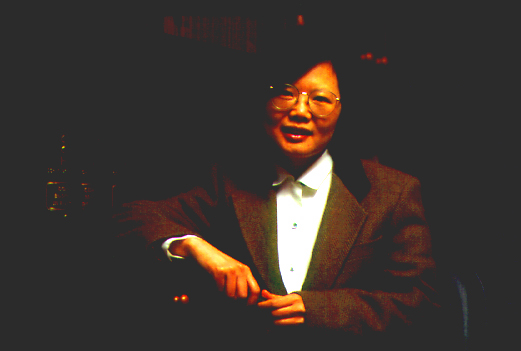 Tsai Ing-wen in 1994, then chief legal advisor to the negotiation, during an exclusive interview with CommonWealth Magazine (Source: Kuo-Tai Liu)
In 2002, during a public speech in her capacity as minister of the Mainland Affairs Council, Tsai stated that, following the entry of both China and Taiwan to the WTO, Taiwan could leverage China's market and resources to raise its competitiveness.
On the other hand, it could also act as a magnet, accelerating the outflow of Taiwanese industry, capital, and manpower, raising unemployment in Taiwan. She anticipated that the government would be forced to confront such issues when stepping up the pace of cross-strait trade.
"Back when we were young, all we talked about was the United States, and international relations were limited to the American experience. However, after joining the WTO, rigorous thinking from a holistic perspective is necessary to understand how to leverage political relations with different countries, and to persuade domestic pressure groups."
Former Minister of Economic Affairs and minister without portfolio, John Deng, says Taiwan must seize the opportunities at hand and continue moving forward. "International relations have always been a balancing act. The WTO is an important opportunity, and we'll continue to stand by it," he says.
About GATT
Founded in 1948, the General Agreement on Tariffs and Trade was the precursor to the World Trade Organization. Having witnessed the trade protectionism of the 1930s lead to the Great Depression and eventually the Second World War, nations advocating trade liberalization in pursuit of shared prosperity and peace established a multilateral mechanism to administer the affairs of international trade, a classic product of the post-war Bretton Woods order. The WTO (World Trade Organization) was formally established in late 1994 following the Uruguay round of global trade talks, replacing GATT to become a global United Nations of trade with a formal organizational structure. The Republic of China, one of the original members of GATT, was demoted to observer status in 1965 before fully withdrawing from the agreement in 1971.
---
The original article is a sneak-peek extract from the following book, which will be published by CommonWealth Magazine on Dec. 25, 2018.