Watchout Cofounder Zuyi Lin
Social Activist with a low Profile
精華簡文
Source:CW
Although Zuyi Lin masterminded the Appendectomy Project, a campaign to recall underperforming lawmakers, he shies away from serving as figurehead to Taiwan's growing civic action movement.
Social Activist with a low Profile
By Yi-huan Du
From CommonWealth Magazine (vol. 575 )


In early June, the parliamentary monitoring group Watchout, which fights for transparency in government, went public with the admission that its CEO Liulin Wei had mismanaged the group's finances. Liulin, who allegedly tranferred NT$7 million raised through crowdfunding for a legislative oversight program into his own account, was dismissed from his post at Watchout. In this moment of crisis, Zuyi Lin, a Watchout cofounder, stepped forward to face the media.

The Appendectomy Project championed by Lin was founded with crowdfunding money as well. However, an accountant signs off on every single item in the account book. Every item is posted online in great detail so that even an expense of NT$15 for an eraser is listed. For Watchout, which has yet to establish a transparent accounting system, Lin was a savior.

With his round glasses and university student appearance, Lin looks like a young boy in the body of an adult. The impression is reinforced when he laughs with his whole body, shoulders shaking. Despite Lin's aversion to stardom, his name has meanwhile become a household word within social activism circles.

What do people associate with the name Zuyi Lin? The spokesperson for the Citizen 1985 Action Alliance? Or the cofounder of Watchout? Is he the key person behind the fundraising campaign for the March 18 student movement's newspaper advertisements? Or a certain Mr. Lin from Taipei, who leads the volunteers behind the Appendectomy Project?

You could associate all these roles with Lin. However, you might not know that he is also the cofounder of two startups that, less than three years after their launch, have already broken even or begun to turn a profit. He also serves as chief financial officer at Social Enterprise Insights, Asia's leading social enterprise platform, has written three professional finance books, and lectured at the Taiwan Academy of Finance and Banking. On top of that, he is editor-in-chief of the PTT official fan club.

While social activist and company boss are two personas that seem difficult to reconcile, Lin combines them in one with ease.
Social Responsibility
For Lin, the motivation behind his different ventures is the same: "Exert a positive influence on society." Lin founded Dr. Finance, a financial consulting and training company, because he observed a widespread lack of financial planning among ordinary people. Taiwan's society is aging rapidly and has one of the lowest birthrates in the world. As a result, the middle-aged "sandwich" generation faces an increasingly heavy burden from raising children and often also financially supporting struggling adult children and aging parents. Lin felt the need to provide professional financial advice to help people prepare for coming financial pressures.
He switched roles from company boss to social activist in 2013. Lin, then editor-in-chief at the PTT fan club, noticed that as a growing number of the bulletin board system's traditional clientele--students--entered the workplace, they began to develop an interest in social and political issues.
"Before they would chat about celebrity gossip, but now it's totally different," remarks Lin. "Moreover, as the editor-in-chief of the PTT fan club, I felt a responsibility for making our society better because the articles that I selected would be widely read."
Subsequently, two incidents in 2013 that cast the government in bad light sparked enormous public outrage and debate on the Internet, making Lin realize how powerful netizens can be. In the first case, the Miaoli County government destroyed crops two weeks before harvest in Dapu village to make way for an industrial park. The second incident was the death of conscript Hung Chung-chiu under suspicious circumstances while in military detention. These events bolstered Lin's belief that one must "save one's own country," sparking him to step out from behind the scenes to get fully involved in social activism.
A New Path
Lin's masterpiece is the Appendectomy Project, which was launched last year. Through an online voting campaign, the project picked Taiwan's three most poorly performing lawmakers and launched a signature drive to oust them from office via recall.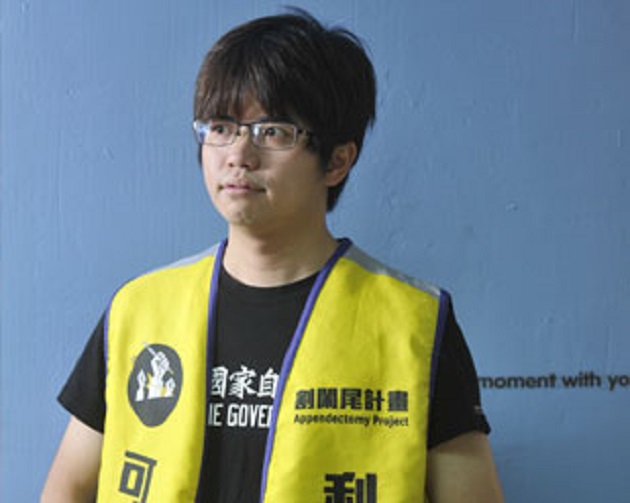 Wearing a yellow vest, Lin crisscrosses Taipei to draw attention to the Appendectomy Project.
The Appendectomy Project starkly differs from other social activism groups in that it does not have a prominent leader. Despite its lack of celebrity figureheads, the project has the potential to retain its stamina in the long run. It is still going strong more than a year after its launch.
In order to ensure a flat organizational structure, the Appendectomy Project does not have a formal decision-making body. Anyone who attends a meeting has the right to take the floor. Aside from a spokesperson who represents the project in interaction with outsiders, no posts and ranks have been created within the group. Lin acts as spokesperson, but he appears in public under the pseudonym "Mr. Lin from Taipei" and wears a surgical mask and cap to disguise his identity. While this causes a headache for journalists, who are generally expected to attribute their information to named sources, it is typical for the project's decentralized approach.
Given the project's scale, Lin could potentially become the social movement's shooting star if he issued a clarion call for action. Has he never been tempted to take up the banner? Lin admits that he has toyed with the thought. However, in the end he felt that the caus
e is more important. "I hope that everyone feels that the recall is everyone's business and not just Zuyi Lin's job."
Chien Miao-rung, who volunteers with the project, notes, "Appendectomy is a decentralized organization; Zu-yi provides a direction for our enthusiasm; it's not that we don't dare to differ with him." Chien explains that Appendectomy is an organization that moves forward by itself. Whoever comes up with an idea briefs the others about it and puts together a team that helps implement the project. There are no "higher ups" assigning tasks.
What kind of person is Lin outside of work? No matter whom you ask, his social activist comrades-in-arms, supervising professor or company colleagues, their answers all boil down to one statement: "Zuyi Lin is an honest man."
Lin's colleague Wu Yu-hsuan observes that "Regardless of your social or financial status, he will always consider your needs; he is very sincere." Wu first met Lin when she took a free trial class in finance management at Dr. Finance because her family was in financial difficulties. However, she could not afford further classes. When Lin heard about this, he decided to let her participate in the course for free. Eventually, Wu joined Lin's company.
Chien reveals that newcomers at Appendectomy sometimes have no idea how to contribute to the project. Lin always takes the time to chat with novices and finds ways to ease them into the team. "No matter how busy he is, he will answer all questions with great patience. When you talk with him you feel immediately included," she says.
Looking Forward to Work
Another personality trait that impresses those around Lin is his passion for whatever he does. Sunny Lin, who recently became Lin's wife, describes her husband as "very energetic, like a hot wheel car that never stops."
As a start-up owner, Lin is already very busy. How does he juggle his company and all his other commitments?
Lin admits that he is sleep-deprived, as a day has only 24 hours. "I hardly ever have a good night's rest; sometimes I get only three or four hours of sleep. Since the launch of Appendectomy I have not had any spare time," notes Lin with a wry smile. At one point, he was so exhausted that he was put on a drip in a hospital. But he still kept working from his hospital bed.
Taiwanese screenwriter and political commentator Neil Peng remembers how he canvassed support for the recall campaign in the streets together with Lin late last year. Lin suddenly handed him the microphone saying "We will soon pass my house, so it's your turn to talk. I am afraid my parents will hear my voice."
Peng initially thought that Lin's parents were opposed to the campaign. As it turned out, Lin was scheduled to have his marriage registered the following day and feared his parents would get upset because he was still collecting signatures instead of focusing on this important family event.
Doesn't he ever get tired? "Going to work is what I look forward to most," declares Lin, looking content despite his exhaustion. Being able to work hard with others for one's own ideals is such a great thing, he says.
Ultimately, the recall campaign failed to attain the required vote threshold. However, the Appendectomy Project will not cease; it will ask candidates for next year's legislative elections to sign a pledge for lowering the bar for votes on recall motions.
The group plans to launch another recall campaign in 2018, halfway through the legislators' four-year-term, giving them a "mid-term test." They want to wrest the right to recall elected representatives or civil servants into the hands of the electorate.
Lin is seen as the epitome of young Taiwanese who care about social issues. Faced with the strict requirements for recalls, young people looked up from their electronic devices to take action and tell society that they are no longer indifferent to social ills or disinterested in politics. With growing social activism among young adults, it could be only a matter of time before the obstacles in the way of the right to recall are cleared away.
Translated from the Chinese by Susanne Ganz