Tsai Government in a Pickle
2019 State of the Nation Survey
精華簡文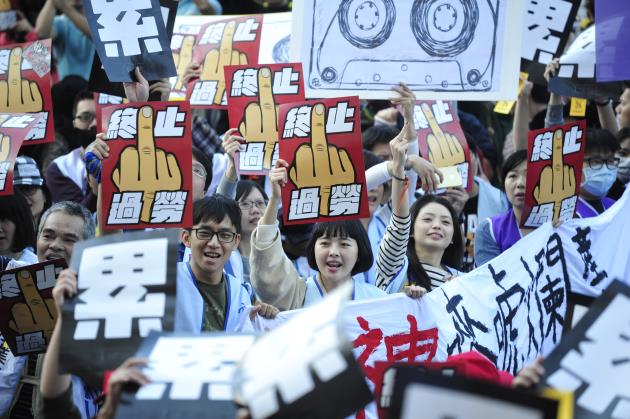 Source:Kuo-Tai Liu
Despite steady economic growth, perceptions of Taiwan's wealth inequality and deep pension cuts have undermined support for President Tsai Ing-wen's government. Can it do anything to regain public confidence a year before the next presidential election?
2019 State of the Nation Survey
By Fen-chieh Wu
From CommonWealth Magazine (vol. 664 )


"The economy, the economy, the economy. I repeated it three times because it's so important," sighs a frustrated Huang Hsin-fang, a woman in her 60s whose husband and father were among the civil servants, teachers, and military servicemen who were hit by pension reforms that took effect in 2018.

Many public employee families, in which fathers and mothers had their pensions cut and the children are having a hard time earning a decent wage, are looking nostalgically back at the Kuomintang (KMT) era of the past, when it felt like they were rolling in money.

Even though that era of high growth is long gone, the lack of growth momentum in Taiwan and the erosion of public confidence in the government's ability to steer the economy effectively is a major headache for the Democratic Progressive Party (DPP).

Rebellion of the Sandwich Generation

With the next elections for the presidency and national legislative seats roughly a year away, what can President Tsai Ing-wen's DPP administration do, if anything, to regain popular backing? It will likely have to start with the economy.

From the moment the KMT's nominee in the Kaohsiung mayoral race, Han Kuo-yu, struck a chord with voters and triggered the "Han Wave" with his assertion that Kaohsiung was "old and poor," the economy emerged as the main theme of the 2018 elections for local government offices held around Taiwan on November 24.

CommonWealth Magazine's 2019 State of the Nation Survey reflects the depth of the public's disappointment in the government's handling of the economy that helped the opposition KMT, including Han, score a resounding victory in the polls.

Anxiety over the general economic climate and a lack of faith in the economic transformation being led by Tsai have driven public dissatisfaction with the government, and the backlash has been strongest among those in the 40-59 age bracket.

Overall, 77 of the survey's respondents voiced dissatisfaction with the economy, nearly six percentage points higher than in 2018. (See table below)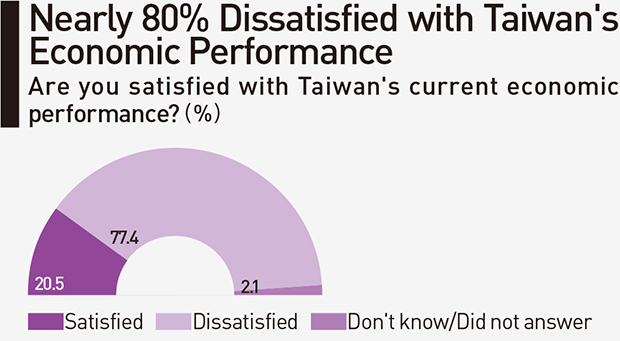 Also, nearly 80 percent of respondents expressed dissatisfaction with Tsai's performance in 2018, up 10 percentage points from a year earlier. The dissatisfaction among those aged 40-49 rose the most year-on-year, from 66.8 percent last year to 85.6 percent this year. (See table below)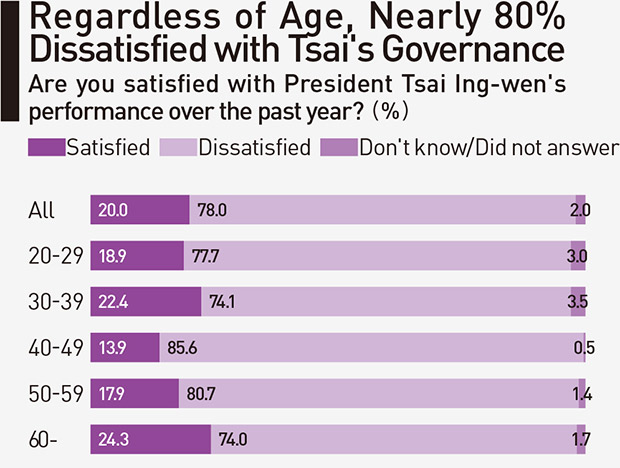 The challenging economic climate only deepened the angst felt by middle-aged respondents, who form the backbone of Taiwan's economy.
"This group feels the pressure from work and family the most," says DPP Legislator Lo Chi-cheng. Taiwan's 40- to 59-year-olds have to shoulder the burden of supporting and caring for their families at home while facing a myriad of challenges from the emergence of digital technologies at work, leaving them feeling squeezed and stressed out.
Lo, who turned 54 in November of 2018, characterizes members of his peer group as digital immigrants because they, unlike the younger generation, did not grow up on digital technology and have to learn everything from scratch.
With their voices on public issues not nearly as powerful as those of younger, more digitally adept, groups, they suddenly found themselves "passed over by society and under pressure," Lo says, and after having been stifled long enough, they reached their breaking point and vented their dismay in November's elections.
Beyond just being dissatisfied with the general state of the economy, the vast majority of respondents (75.1 percent) had no confidence in the economic transformation being engineered by the Tsai administration. That feeling was especially prevalent in the 40-59 age group, with 84 percent of those 40-49 and nearly 80 percent of those 50-59 lacking confidence in Tsai's approach.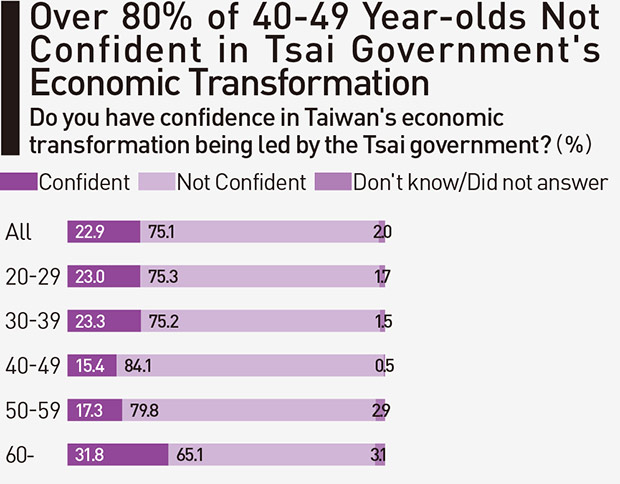 Clearly, the public does not trust the government's ability to invigorate the economy.
Wealth Distribution Concerns Outweigh Growth Gains
It may be surprising then that Taiwan's economy is actually doing reasonably well based on macroeconomic indicators. The country's economic growth rate in 2018 was 2.66 percent, slightly lower than that of a year earlier but relatively high compared with the growth rates seen in recent years. (See table below)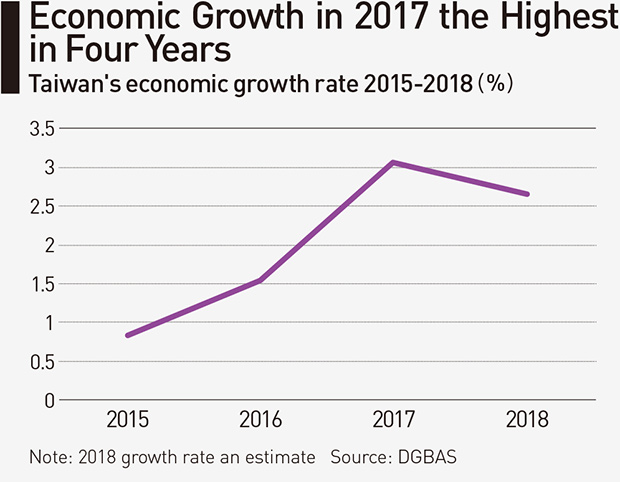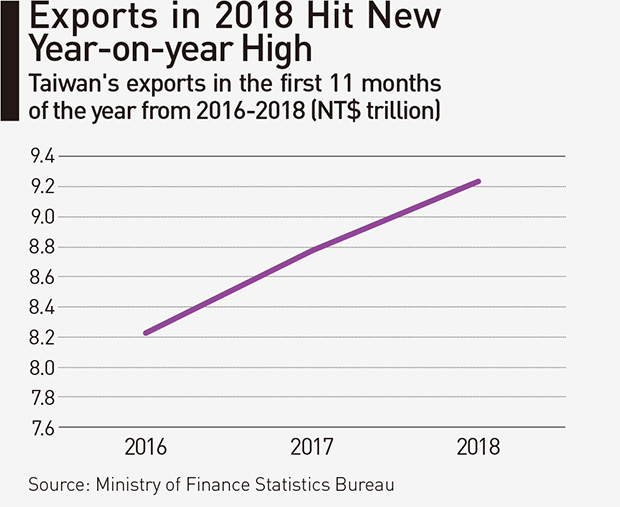 The average person in Taiwan, however, has not felt the benefits from those gains because the growth rate in real terms was not high enough, and the distribution of the benefits and more generally of wealth and income has been uneven.
Chen Tain-jy, an emeritus professor in National Taiwan University's Department of Economics, says that three percent growth is low when compared with Taiwan's high-growth heyday and that the gains of that growth have been more unevenly distributed than in the past.
"The average person may get one percent, but inflation is over one percent, so the net gain is zero," he says.
The concern over wealth and income distribution was also reflected in the fact that nearly 80 percent of State of the Nation Survey respondents lacked confidence in the government's ability to narrow the rich-poor divide.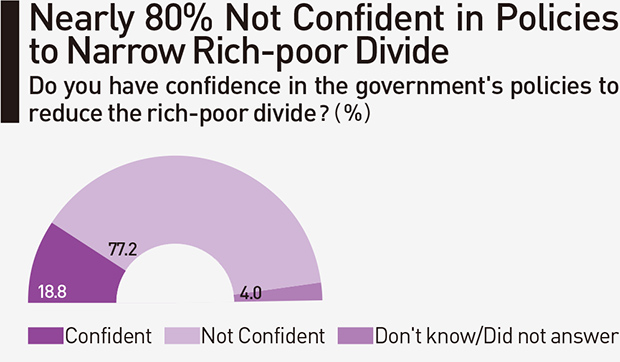 Worth noting is that the lack of confidence in narrowing the widening wealth gap rose noticeably from a year earlier among respondents 49 and under, a signal that the government has not only triggered a backlash among middle-aged citizens but also failed to earn the support of younger adults.
Also contributing to the disconnect between decent economic numbers and the public's economic discontent has been the government's antagonism of several social groups, from public employees to farmers and the economically disadvantaged.
Several analysts saw the DPP's dismal showing in the November 24 elections as a repudiation of the DPP's pension reforms by many retired or soon-to-retire voters, which drove them to mobilize support for opposition KMT candidates.
Playing the 'Class' Card, Converting Farmers' Votes
A particularly surprising phenomenon of the elections was the shift in support away from the DPP of farmers and fishermen, who had traditionally been strongly in the party's corner. Lin Thung-hong, an associate research fellow in Academia Sinica's Institute of Sociology, notes that in cities and counties with disproportionately high agricultural populations, the DPP's vote base clearly eroded while KMT vote totals grew.
Similar examples were seen among other economically disadvantaged groups.
"In the past, the DPP was the voice of the low- and middle-income classes, but now it has been taken down," observes Taiwan NextGen Foundation executive office Anson Hung.
Han Kuo-yu, he says, played the "class" card when talking about agricultural products not finding a market or the travails of farmers, night market vendors and taxi drivers, Hung says.
"He specially focused on relatively disadvantaged classes of people," leading to many voters shifting to KMT candidates, Hung says.
The economic discontent among these groups has even threatened the once shiny aura of Premier Lai Ching-te, who regularly stood out as one of Taiwan's most popular leaders when he was mayor of Tainan. The head of Taiwan's executive branch of government since September of 2017, Lai saw his disapproval rating reach 60 percent in the latest State of the Nation Survey.
These many indicators of dissatisfaction reflect growing skepticism in the DPP's ability to govern.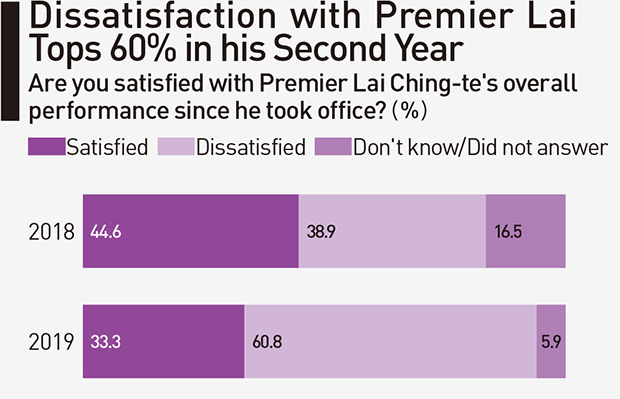 Identification with Political Parties on the Wane
After the November 24 elections, many DPP supporters seemed to go into hiding as the party's support ratings hit a new low. The latest State of the Nation Survey found that only seven percent of respondents identified themselves as DPP supporters.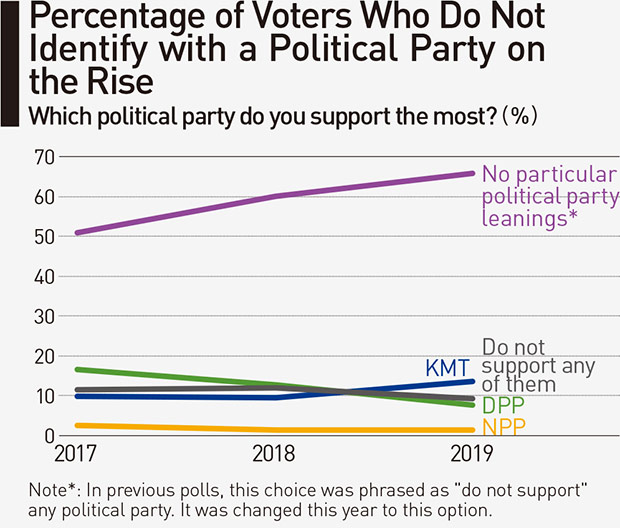 Though the KMT scored a big victory, its support rating did not show an appreciable rise, edging only slightly higher to 14%. That was because 66 percent of respondents identified themselves as not leaning toward any particular political party, a record high.
The shift away from political parties was most obvious among younger respondents, with nearly three-quarters of those aged 20 to 39 not identifying with any one party. (See table below)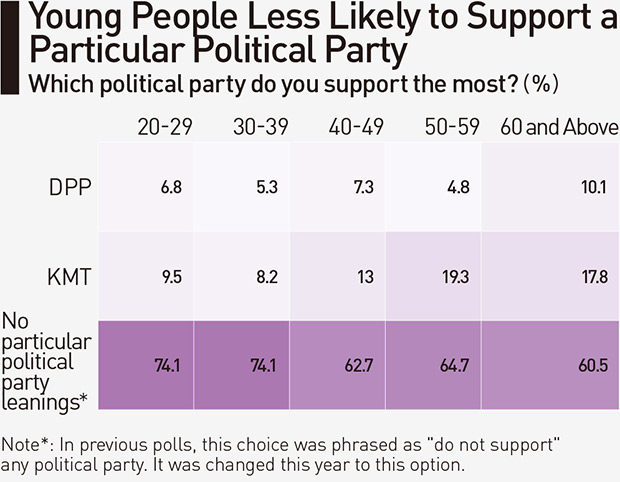 "Today, the younger people are, the more likely they are not to lean toward a political party. All you see on the internet are people cursing political parties, resulting in mistrust of them," says Chen Lu-huei, a research fellow in National Chengchi University's Election Study Center. Younger voters, Chen says, cast ballots based not on whether a candidate is blue (pro-KMT) or green (pro-DPP), but rather on each candidate's character and positions.
The results above show that the public is increasingly less likely to buy into a party's brand, constituting a major warning signal to Taiwan's two major political parties.
But even though Taiwanese citizens cast votes of no confidence against the Tsai administration, the new climate following the elections has given many people renewed confidence in the future.
Less than 20 percent of respondents to the State of the Union Survey felt their economic circumstances would worsen in the coming year, while over 20 percent felt they would improve, the highest since the 2010 survey. (See table below)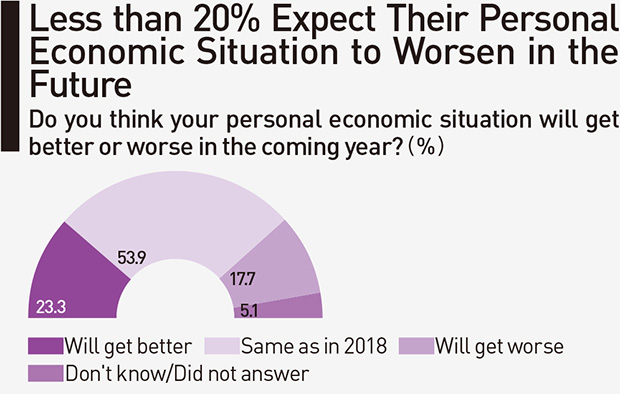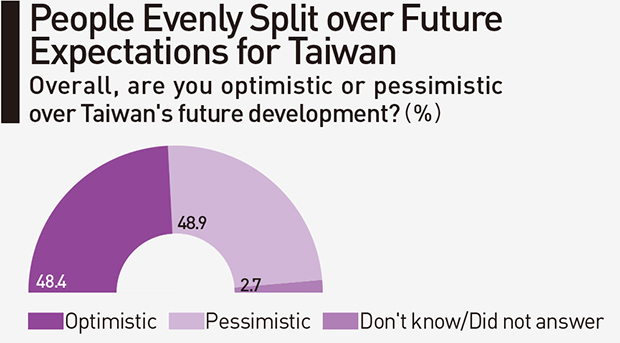 Better Futures for Individuals, but not for Government
A higher number of respondents were also more optimistic about Taiwan's development in the future, rising to nearly 50 percent this year from about a third in years past. (See table above)
Faced with the widespread discontent with political parties, how should those in power win back the hearts and minds of the people?
Redistribution policies that alleviate the wide divide between rich and poor should be at the top of the list. Chen Tain-jy contends that this could happen through changes in tax policy or policies such as the national health insurance system.
"Regardless of whichever party is in power, the inclination toward a welfare state is getting stronger, indicating that the two parties endorse the idea and the people accept it," Chen says
Tourism should be another priority. Not long after Tsai took office in May of 2016, the number of overseas visitors from China plummeted, sparking fears of a suspension in exchanges with China. If the government hopes all of Taiwan's people can feel the benefits of tourism, reducing the gap in infrastructure between urban and rural areas is a must.
Taiwan NextGen Foundation's Hung argues that even though overseas arrival numbers are growing, their visits are concentrated in the Greater Taipei area. Improving the situation, he says, means strengthening transportation links outside of northern Taiwan. "It's something that should have been done but hasn't."
Providing information in a more timely manner and explaining things clearly is another challenge that the government needs to embrace. Citing a recent poll done by National Taiwan University's Risk Society and Policy Research Center, Academia Sinica's Lin says a majority of people thought Taiwan's major source of electricity was nuclear power, while only a third knew it was actually coal-fired plants.
"A big problem is that many people do not have a good understanding of Taiwan's political and economic situation," he says. How public agencies collect and provide relevant and verified information in real time is a problem every government has to address in the information age.
Fresh off an election battering, the DPP must identify and face up to the people's basic economic needs. If President Tsai hopes to vie for re-election, she will have to improve her government's execution and attention to detail, and rely on more transparent and timely information and a softer posture to communicate with Taiwan's citizens.
Translated by Luke Sabatier
Edited by Tomas Lin
---
This survey was conducted by the CommonWealth Magazine Survey Center from November 29 to December 2, 2018 using a Taiwan telephone book as the main sampling frame. The stratified random sample method was used to select home telephone numbers at random, with the last two digits of the numbers randomly substituted. A total of 1,076 valid responses were obtained from people living in Taiwan aged 20 and over. The survey has a confidence level of 95 percent and a margin of error of plus or minus 2.99 percentage points. All data was weighted and adjusted for gender, age, educational background and place of residence.
Survey execution: Jimmy Hsiung, Kai-yun Deng