NT$10 Trillion Empire Dream
Terry Gou Eyeing Smart Cars
精華簡文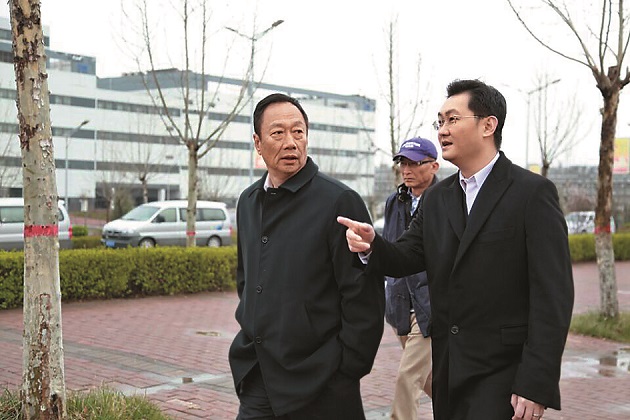 Source:CW
Taiwan's media has been infatuated with Terry Gou's courtship of Sharp. But his real priority is the smart electric vehicle market, a business he sees as essential to his dream of building a NT$10 trillion empire.
Terry Gou Eyeing Smart Cars
By Elaine Huang
From CommonWealth Magazine (vol. 571 )


On the afternoon of March 22, several casually dressed Hon Hai Group executives were waiting in the private plane lounge at Taipei Songshan Airport, their luggage in hand.

Among them were Dai Cheng-wu, Hon Hai Group senior vice president; Ed Wu, Hon Hai Technology Group's corporate executive vice president for cloud & enterprise solutions; and Ringo Lin, general manager of the Foxconn automotive integration business group. They were all waiting for Terry Gou, the chairman of the world's largest contract electronics manufacturer, to fly to Zhengzhou in China's Henan province.

The next day, a picture of Gou and Tencent Holdings Ltd. founder Ma Huateng revealed what they were up to.

Ma flew to Zhengzhou to sign a cooperation framework agreement with Hon Hai and China Harmony Auto Holding Ltd. to develop "Internet-connected smart electric cars."

China Harmony Auto is China's second largest car dealer, and its second biggest shareholder is Foxconn Technology, the name Hon Hai uses outside of Taiwan.

Less than a month later on April 15, Hon Hai's Lin arrived at Frankfurt Airport with many of the core executives involved in the company's electric vehicle program, ready to transfer to a flight to Stuttgart to join with Gou.

Stuttgart is home to Daimler AG's global headquarters and its global R&D center and serves as the nerve center of Mercedes-Benz's development of its autonomous smart car.

Much attention had been given in Taiwanese media to Hon Hai's pursuit of a stake in Japanese electronics brand Sharp, but that initiative had clearly been consigned to the backburner by Gou, who was scouring the globe with his electric vehicle team searching for smart car opportunities.

Gou's aggressive foray into the auto industry was no surprise. The tycoon identified smart electric vehicles as the company's next key business at Hon Hai's annual shareholders meeting in June 2014. The question is, why he would make electric cars such a major priority?
Why the Electric Car Business?
The first group of big Taiwanese high-tech companies that ventured into the electric car field, such as Delta Electronics and Lite-On Technology Corporation, have since withdrawn, and industry standard-bearer Tesla continues to burn cash.
So why would Hon Hai, with a 40 percent share of the world's electronics contracting market, including orders to assemble iPhones and iPads for Apple, feel it had no choice but to jump into the fray?
One major reason is Gou's need to find an engine of growth in the future. Hon Hai saw its revenues grow 7 percent to NT$4.2 trillion in 2014, but that was far from satisfying Gou's ambitions.
"Gou aims to generate sales of NT$10 trillion in as little as five or six years, apparently seeing the auto business as a driving force," wrote Nikkei Asian Review in January.
Another major reason is Apple.
There has been no shortage of rumors that Apple is eyeing the electric car industry. In February, the Wall Street Journal reported that Apple is developing its own brand name electric car, tentatively set as the "Titan," with hundreds of employees involved in the project.
Historically, as soon as big customers identify new business opportunities, Gou jumps in with significant investment to capitalize on the trend.
In fact, Hon Hai was exploring the car industry long before word of Apple's "Titan" leaked out.
Back in 2005, Gou purchased auto wire harness producer An Thai Wire Harness Industrial Co., which many saw as an initial indicator of Hon Hai's ambitions in the high-margin automotive electronics sector.
Gou also recruited talent from Ford and other car companies, with more than 200 people hired at the peak of the recruiting campaign. Ringo Lin, for example, served previously as a vice president at Ford China and is highly familiar with manufacturing processes and quality control.
No sooner did Tesla start carving out a niche for itself in the car market than Gou decided he wanted to do business with the upstart electric vehicle maker.
He hired the former general manager of Tesla Motors' Taiwan branch Lu Hsi-lien to serve as a senior assistant manager, and bought two Tesla cars to display at Hon Hai's automotive R&D facility in Tucheng in New Taipei.
He also established a "Tesla Project" team under the chairman's office and has set up plants for the production of such key electric car components as lightweight stamped parts, power controllers, batteries and charging equipment to help break into Tesla's supply chain.
Gou even had the chance three years ago to try out Google's self-driving car, which has recently garnered considerable publicity.
At Google headquarters in California, the Hon Hai boss sat in the driver's seat of the newfangled car. He was momentarily uncomfortable with the idea of a car "driving itself" and clutched his thighs with his hands.
It was only after he got out of the car that he made fun of himself, saying: "Actually, it's been about 20 years since I've driven a car."
Trying to catch up with the latest trends in the automobile industry, Gou has generated a flurry of activity that at first glance appears dazzling but upon closer review may still lack focus.
"He wants to give everything a try, but he's feeling his way. There's still a lot of uncertainty about this part of the industry," observes a senior researcher at a think tank that studies electric cars.
The Consumer Electronics Show in Las Vegas may be the world's biggest electronics trade fair, but at this year's show in January, the biggest draws were the smart cars touted by major American and European vendors that have emerged as the most important application in the new Internet of Things world. It's no wonder then that Gou has invested so much of his time in the car industry.
Front Shop: Leasing, Sales Platform
Hon Hai accelerated its investment in the smart electric car sector last year. In June 2014, it set up a new venture with China's biggest electric car manufacturer, Beijing Electric Vehicle Co., Ltd. (BAIC BJEV) – Beijing Hengyu Electronic Vehicle Services Co. – to lease electric vehicles.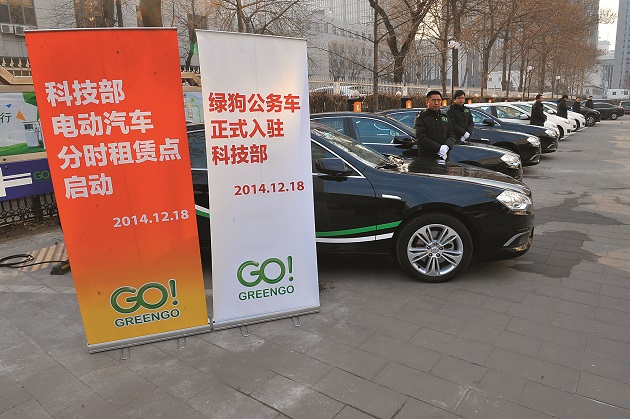 Beiging Hengyu Electric Vehicle Services, a joint venture between the Hon Hai Group and BAIC BJEV, has become China's biggest electric car rental company.
The company, in which Hon Hai has a 40 percent stake and BJEV the other 60 percent, is currently China's biggest EV leasing company.
Then in December, Hon Hai bought a stake in China Harmony Auto, China's second largest luxury vehicle vendor. The Zhengzhou-based company sells many brands of high-end vehicles and electric cars, from Mercedes-Benz and BMW to BAIC BJEV and Tesla.
Gou's two investments in the sector shocked many people because they were both targeted at sales and distribution, which are not Hon Hai's core strengths.
"By entering the market through leasing and distribution, you can come in direct contact with end consumers' needs and usage habits. This feedback and data can then be relayed back to the car maker," says Hon Hai's Lin, who is also the president of Beijing Hengyu, in an interview with CommonWealth Magazine.
When the strategy behind Hon Hai's flurry of activity suddenly became clear, outside observers were extremely surprised that the company was opting for a "front shop, back factory" approach.
Hon Hai's goal behind linking distribution and manufacturing is to go beyond simply making smart electric vehicles and create a platform covering everything from production to service.
The Service Model
Beijing Hengyu's headquarters, located in Yizhuang along Beijing's fifth ring southeast of the city center, has a fleet of more than 1,300 electric vehicles.
In December 2014, the company was commissioned by China's Ministry of Science and Technology to handle its "GreenGO" car leasing program, China's first timeshare car rental program using electric vehicles. The program, based on a B2G (business to government) business model, was designed to solve government-employee demand for public use vehicles.
At present, the Ministry of Science and Technology has 19 charging points and 10 electric vehicles in its parking lot that are being managed by Beijing Hengyu.
Civil servants can use their PC or mobile phone to select and reserve a car. Once the reservation is confirmed, the phone receives a QR Code, which is then used to pick up the car's keys. When the car is returned, the user simply connects it to the charging point to recharge it and returns the key to the "car return" area. The entire process is self-serve.
In the future, Hon Hai will be able to track everything from the purchase or renting of the vehicle and when the car is driven to the amount of power in the battery and the vehicle's maintenance schedule through its rental and sales network backed by cloud applications.
Back Factory: From Parts to the Whole Car
The other part of the smart car puzzle for Hon Hai is, of course, manufacturing. The company has already begun to produce many of the most vital electric vehicle components, including batteries and power controllers, and some of Hon Hai's production has even found its way into the Tesla supply chain.
Gou has adopted an aggressive two-pronged strategy to master the electric car battery – the guts of electric cars that accounts for more than 30 percent of its costs.
In 2009, he purchased an old battery manufacturing facility in Zhunan in Miaoli County from the now defunct lithium-ion battery producer Ultralife Taiwan Inc. and founded UER Technology Corporation. That same year, U.S. President Barack Obama announced that lithium-ion batteries had become a mainstream trend in the development of electric vehicles.
The facility, located across from the Zhunan plant of Hon Hai flat panel subsidiary Innolux Corporation and home to 300 workers, is seen as the Hon Hai Group's R&D center for automated lithium ion battery production. In 2013, Tesla's chief technology officer personally visited the UER Technology plant.
More recently, UER Technology hired J.W. Chang, the former vice president of technology at Apple battery supplier Amperex Technology Limited, to be its general manager to improve quality.
UER Technology CEO R.T. Sun was noncommittal when asked if the move was made with electric vehicles in mind. "The main focus is whatever the group needs," he said.
Gou's other battery strategy was the acquisition of a 10 percent stake in major battery pack maker Simplo Technology Co.
"If Hon Hai wants to make electric cars, it won't be able to do it without me, and I'll do everything I can to help," said Simplo Chairman Raymond Sung earlier this year.
In fact, more than 20 international battery companies have made contact with Hon Hai in recent years, including China's second largest lithium battery producer China BAK Battery, Taiwan Cement subsidiary E-One Moli Energy Corp. and even Sony of Japan.
A Ministry of Economic Affairs official revealed that around 2007, Taiwan Cement Chairman Leslie Koo called on Gou and invited him to invest in E-One Moli Energy, but they could not reach an agreement
Three years ago, Hon Hai weighed the idea of buying Sony's financially troubled battery factory. One of Hon Hai's major clients, Sony was the first company to commercialize batteries, but because of operating and price issues, Hon Hai ultimately decided against the move.
Taken as a whole, Hon Hai's electric vehicle network now covers most of the major components necessary but still lacks car assembly capabilities. "But it is extremely likely that Hon Hai will eventually move into car assembly and manufacturing," observes one high-tech company executive.
Hon Hai's "front shop, back factory" electric car network may seem well rounded, but considerable challenges remain to making it all work.
First, Hon Hai faces the difficult task of adjusting its 3C (computer, communications, consumer electronics) contract manufacturing mentality.
"The most fundamental difference between the 3C and car industries is that the 3C business puts a premium on speed while car vendors demand reliability," says Yang Mo-hua, the general manager of battery pack maker HiTech Energy who has observed the European and American electric car markets for years.
The currently low sales volumes may also be hard to get used to for a company accustomed to churning out millions of smartphones, but the real obstacle to electric vehicles selling in big quantities may be a problem Gou will have trouble influencing: the inadequate battery charging infrastructure found in most locations.
It's a problem Tesla is well aware of. Tesla CEO Elon Musk boldly targeted sales of 20,000 electric cars in China in 2014, but it only sold around 2,000. Aside from the high price tag for Tesla cars, inadequate charging facilities was another major factor in the company's lackluster sales.
And therein lies the problem. One of Hon Hai's Chinese partners, BAIC BJEV, may have been the biggest electric car vendor in all of China and the fourth biggest in the world last year, but it still only sold just over 5,000 vehicles.
In China, government subsidies are limited and the cost of installing charging equipment can be prohibitively high for a private operator, with a high-speed charging station costing RMB800,000 (around NT$4 million). So charging stations are expensive, but without them, consumers are less willing to buy electric vehicles – creating a chicken or the egg dilemma for the industry.
With the market having yet to take off, all Beijing Hengyu can do is continue to burn cash. Ringo Lin says the company has gone through RMB100 million since getting its license to rent cars in June 2014, much of it spent on buying a fleet and installing charging stations.
For Terry Gou to build his NT$10 trillion Hon Hai empire, the electric vehicle market has to thrive. From the looks of it, he may be waiting for a while.
Translated from the Chinese by Luke Sabatier