National Pension Reform
Taiwan on the Edge of a Precipice?
精華簡文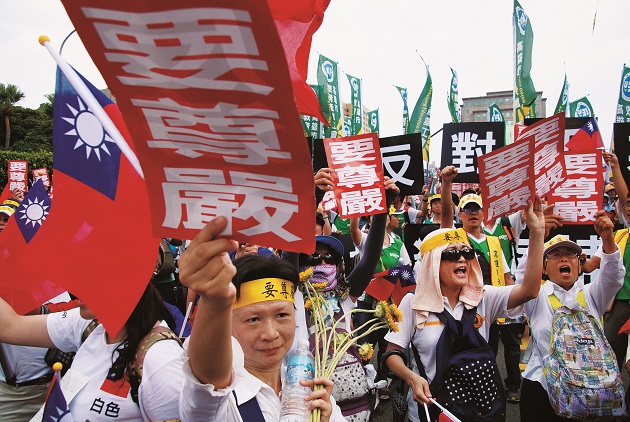 Source:CW
Taiwan's rapidly aging population has made its different pension systems – especially that for public employees – unsustainable. The stakes are high as the country tackles pension reform, and we look at the possible directions the initiative might take.
Taiwan on the Edge of a Precipice?
By Rebecca Lin, Pei-hua Yu
From CommonWealth Magazine (vol. 607 )


Taiwan's pension reform initiative is still being debated, but it has already sparked anger among the country's three main groups of public employees – military personnel, public school teachers and civil servants. That anger was manifested when 140,000 people (according to police estimates) took to the streets of Taipei on Sept. 3 and waved banners reading "Yes to Dignity, No to Defamation."

The simple slogan reflected what many were thinking.

"I'm actually not clear on what needs to be reformed," admits Lin Pei-pei, who has taught at Shang An Elementary School in Taichung since 2012. But when Lin is asked if she feels teachers have been given a bad name in the general discussion of pension reform, her tone immediately becomes indignant.

"Yes. Absolutely. I'm a teacher. My employer is the government, but I have to bear the burden of the views of others who say we're 'eating up' the country," Lin says.

To lead the reform initiative and reach a consensus among competing interests, the government in June established a National Pension Reform Committee consisting of government officials and civic group representatives. Vice President Chen Chien-jen is the committee's convener, and Minister without Portfolio Lin Wan-I serves as its executive director and deputy convener. The committee's 38 members meet once a week.

The meetings are streamed live online and the minutes of each meeting are posted on the committee's website to allow all of Taiwan's citizens to "participate." The committee is planning to hold regional forums in November and a National Affairs Conference on the topic in January 2017.

"In the past, everything was a black box," Lin says in an interview with CommonWealth Magazine, referring to what he described as a lack of transparency in previous pension reform initiatives.

"Now we have a 'whole box' of information," says Lin, who himself was accused of "black box" operations in putting together the committee without much transparency.

"The pension reform committee is made up of representatives of different professions, and civic representatives outnumber government officials. We are also constantly releasing accurate information," Lin says, expecting that the open and transparent process can reduce the possibility of political manipulation.

This campaign is the first in Taiwan to follow a public participation model in which stakeholders discuss a major issue involving public interests and seek consensus.

"This is the most open, most transparent dialogue on public policy in history," says Wang Jung-chang, a lawmaker with the governing Democratic Progressive Party and a member of the pension reform committee. He compares the process favorably to that under the previous administration of President Ma Ying-jeou, which he described as "top down."

But the pension reform campaign, aimed at solving the problems of "inadequate funding, generational inequality and disparities across professions," has triggered outrage even before substantive discussions have begun. Many wonder whether the committee can forge a sustainable pension system amid the acrimony.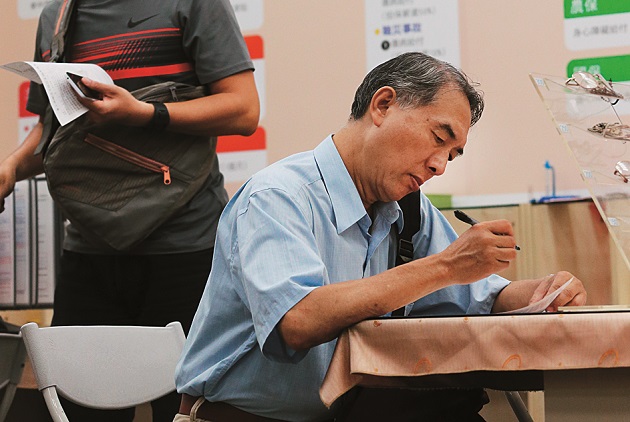 The labor insurance program has been reported to be close to bankruptcy several times, leading many to go to the Bureau of Labor Insurance (pictured) to cash in on retirement before the money runs out.
Ma Ying-jeou's Regret, Tsai Ing-wen's Challenge
In fact, pension reform was the main focus of attention in Taiwan as recently as the end of 2012. That year, then-president Ma ordered the formation of an Executive Yuan task force on pension reform.
"The pension issue is like a train speeding out of control. If we don't make changes, the system will go bankrupt, just like the train flying off a cliff," Ma warned at the time.
Four months later, after 124 public hearings attended by more than 11,000 people, then-premier Jiang Yi-huah proposed a reform plan that he guaranteed would not go bankrupt for 30 years. But because of strong opposition from both public employee and labor groups, the plan was scrapped, and Ma described it as a "regret" before stepping down in May 2016.
Just four years later, the train Ma talked about is rushing toward a precipice at high speed.
The existing pension system for public employees can no longer cope with the huge surge in retirees. According to figures from the Public Service Pension Fund Management Board, the fund's revenues peaked in 2014 at NT$59.7 billion, yet began to be outpaced by expenditures.
Looked at individually, the military pension fund's revenues started falling behind spending in 2011, while that of public school employees ran a shortfall of about NT$400 million in 2013 and expanded to NT$2.9 billion the following year. With payouts of NT$30.6 billion exceeding revenues of NT$27.9 billion, the fund for civil servants fell out of balance in 2015, three to five years before it was projected to in actuarial calculations during the previous pension reform campaign.
Pressure from baby boomers retiring has driven the expanding deficits.
"Time is not on Tsai Ing-wen's side. Time can no longer be wasted," says Hao Chung-jen, a pension reform expert who teaches in Tamkang University's Department of Insurance, referring to Taiwan's new president.
The reason is simple. Taiwan's population is aging at a faster pace than anywhere else in the world. Seniors aged 65 and over account for 12 percent of the population today but that is expected to rise to 20 percent by 2025 – the threshold for a "super-aging" society. Also, Taiwan will face zero population growth by the time Tsai Ing-wen steps down in 2024 if she serves two terms.
What this means is that when the millennium babies born in 2000 start entering the workforce, the last wave of baby boomers will be retiring, a phenomenon former Examination Yuan President John Kuan once described as "wheelchairs replacing baby walkers."
National pension systems are generally founded on the assumption that a population will maintain a dynamic balance. In Taiwan, however, as 300,000 to 400,000 baby boomers retire each year and quickly add to the elderly population, the system is facing a demographic imbalance between generations, and benefits to retirees have already begun to outpace the contributions paid by workers.
Under such conditions, keeping pension funds held by military personnel, civil servants and public school teachers afloat will be nearly impossible, especially as slow economic growth erodes the fund's potential investment yields, and the government will end up being responsible for footing the bill.
"The country can of course stop the fund from going bankrupt, but almost all of its capital would be tied to paying pension benefits, becoming a complete rigid budget," says Tamkang University's Hao. "How would that work?"
The implication is that the longer the delay in tackling reform, the greater the cost to the country. According to Taiwan's official statistics bureau, spending on "social welfare" has gradually risen in recent years and accounts for 23.3 percent of this year's central government budget, more than the budget for "national defense" or "education, science and culture."
Of the total spent on social welfare, about 70 percent, or NT$310 billion, is tied to social insurance programs for public employees, workers, farmers and fishermen, squeezing the funding available to help disadvantaged groups.
The amount needed to fund the pensions of public employees who served under an old benefits system prior to 1995 (when they were given preferential 18 percent interest rates on designated savings accounts) has risen from NT$138.4 billion to NT$147.2 billion and cash-strapped local governments have to put up an additional NT$100 billion for retirement benefits, resulting in budgets being squashed by personnel expenses.
"The problem is now; it's not the future," says Kuo Ming-cheng, a law professor at National Chengchi University and also a member of the pension reform committee.
"Whether it's the government budget or pension funds of military personnel, civil servants and public school teachers, expenditures exceed revenues in all of them. In particular, the fund for junior high and elementary school teachers who served under the old system is funded by local governments. It was bankrupt long ago and has now been moved into the intensive care unit," he says indignantly.
Generational Conflict
The more information the pension reform committee has released, the more it seems a consensus has been built on the need for reform.
"I personally feel it's essential to spend a lot of time discussing this," says Fu Tsung-hsi, a sociology professor at National Taiwan University and another member of the committee who has studied pension systems for 20 years. He believes that transparent information has brought necessary context to the problem, while also allowing the voices of groups with vested interests to be heard and a dialogue to take place.
A survey conducted by an ad hoc office under the Executive Yuan in charge of the pension reform found that, "the percentage of people supporting pension reform continues to rise," deputy convener Lin says, holding out the results for the reporter. Support for reform reached 84 percent in August, "regardless of political affiliation or profession, and even a majority of military personnel supported it."
The real challenge, however, may not be how many people support pension reform but how the system will be reformed.
Liu Ya-ping, the vice president of the National Federation of Education Unions and also a member of the committee, has insisted the country must have integrity and "pay what it promised." A graduate of a teachers college, Liu started as an elementary school teacher in 1987 and he can retire after completing his 30th year on the job next year.
"I bought a piece of land in Jiasian [in Kaohsiung] when I was 30 years old and planned to retire at 50," he says, explaining that he did not have too many material needs and simply wanted to have enough to live on. But as he continued talking, he suddenly became animated: "I've contributed 29 years of the prime of my life, and now to say that the contract is void, can the government do that?"
The new generation, however, is even less willing "to pay more, collect less, and put off retirement."
"We all think this is basically a Ponzi scheme. You need a steady flow of victims to keep the scam going," says Chang Jen-teng, a five-year civil servant who works as a technician in the Taipei City Transportation Office.
He and colleagues his age believe that what they are paying into the system is funding the benefits of current retirees, and there will be nothing left for them to collect when they're set to call it a day.
"If you want to make an adjustment, that's fine. But there has to be clear priorities. The first to be targeted should be those who retired without having to pay a cent into the system," he says.
Chang's mother is a school administrator, and he depended on subsidies for the education of civil servants' children to complete his education at a private university. He feels that if pension reform goes after currently employed civil servants, as has been speculated, that would only create conflict between generations.
It would be better, Chang argues, to start by adjusting the benefits of those covered by the old, more generous, system or a crossover between the new and old pension systems before taking on working civil servants.
"There should be many targets but all moving in the same direction if the pension system is to be sustainable," he says.
Whatever the case, nobody will be spared in this battle in which the country and individuals will all be trying to preserve the gains they've already achieved.
Reform Direction 1
Guarantee Needs, not High Living
"In the future, if a bigger price has to be paid so that the system is sustainable, every generation and group will have to bear some responsibility," National Taiwan University's Fu says.
Because of the distortions contained within Taiwan's existing pension systems, they have not only tied up government budgets but also encouraged the erosion of human resources. Ministry of Civil Service figures show that the average retirement ages for public school teachers and civil servants are 54 and 55, respectively, "because retirement benefits are so generous. The temptation is too great," former Examination Yuan chief Kuan once said.
With Taiwanese society aging rapidly, however, people in their primes need to be encouraged to remain in the workforce, and young people cannot be led to feel there will be nothing for them when they retire, which could undermine their motivation to work.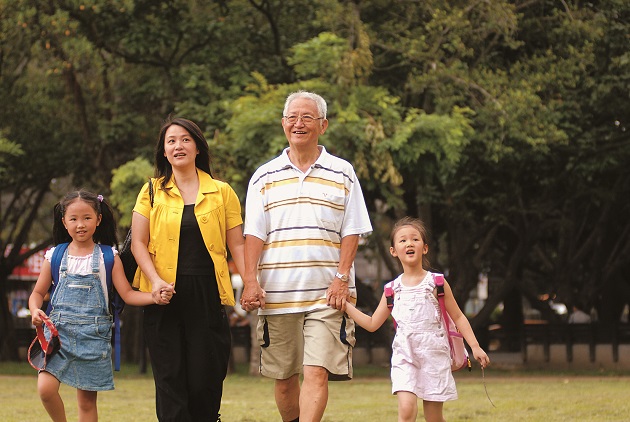 Pension reform has implications for individuals, families, society and the country, and needs a united country to discuss and resolve.
If Taiwan hopes to keep pension payouts from expanding rapidly, it must start with small adjustments to every aspect of the pension system, incuding income replacement rates, eligibility ages, pension contribution rates, the average salary on which benefits are calculated and methods to bridge pension fund deficits. The pension reform committee should discuss approaches for all of these issues and then have the appropriate government agencies plan accordingly.
Simply put, it's time to invoke the basic concepts of a "floor" and a "ceiling." As key cogs in the social safety net, pension systems are designed to promote mutual support within society and give the elderly economic security. A minimum living standard must therefore be established to prevent seniors from falling into poverty.
"There should also be a ceiling that keeps benefits at a reasonable level. We don't want to force young people to abandon the social insurance system," says Yeh Ta-hua, the secretary-general of the Taiwan Alliance for the Advancement of Youth Rights and Welfare who is also on the pension reform committee.
The goal, in other words, should be to provide security but not guarantee a high standard of living.
Reform Direction 2
Make Professional Pensions Self-sufficient
Another structural consideration is that pensions for professionals must become more self-sufficient.
"Military insurance, government employee insurance, labor insurance and national pension insurance are all types of social insurance that have wealth redistribution effects," says Shao Ai-ju, the head of the Department of Risk Management and Insurance at Ming Chuan University and another committee member.
Shao says that while the labor insurance pension system is based on individual accounts, "only the pension fund for public employees completely decouples how much individuals contribute and how much they collect after retiring."
If military personnel, civil servants and public school teachers want to maintain their current level of benefits, they will have to contribute much more than the 12 percent of their salaries they are paying now, according to the fifth actuarial valuation of Taiwan's pension funds conducted in 2013. The study calculated that civil servants would have to pay 42.65 percent, military personnel 37 percent and public school teachers 47.77 percent of their salaries to maintain the same benefits.
But the reality is that under the current public employee pension system, individuals pay 35 percent of the premium and the government, as their employer, pays the other 65 percent. So if the premium rates were to rise dramatically, government spending would soar.
"Is the government capable of footing the bill? Are individuals able to pay more?" Shao asks, her skeptical tone clearly signaling her answer.
The public employee pension system should solve the problem of financial shortfalls rather than rely on the government, beyond its role as an employer, to fill the gap with additional funding, another scholar argued.
"Pension insurance programs should balance their finances independently. When shortfalls occur, benefits and premium rates should be adjusted," stresses Yophy Huang, a professor with National Taipei University of Business's Department of Public Finance and Tax Administration.
Huang contends that the income taxes paid by taxpayers should go toward general budget needs, such as national defense and public infrastructure projects such as bridges and roads. The pension insurance plans for different professions, on the other hand, are differentiated by profession, he says, asking: "Taxpayers are not public employees. Why should they help shoulder the financial responsibility?"
Several experts believe that to make the public employee pension fund sustainable and enable participants to afford it, the income replacement rate must be adjusted. Among their suggestions: change the salary used to calculate benefits from beneficiaries' monthly salary when they retire, as is the case at present, to an average of their monthly salaries over the previous five to 10 years; allow the eligibility age to be adjusted flexibly rather than basing it on "average remaining life expectancy"; and push back the retirement age.
Reform Direction 3
From Separate Systems to Pension Integration
Take a broader view of the problem, the country not only has a responsibility to the military personnel, civil servants and public teachers it employs, but also to all citizens, in particular the younger generation.
Tamkang University's Hao suggested having separate pension systems by establishing a completely new pension fund for people who become public employees in the future. As for the existing system, Hao said there should be a discussion with the government to see how the shortfall will be bridged. If funding is still inadequate, then the matter should be decided through labor-management (public employee–government) negotiations.
"If the new and the old are not split up, the problem will never be solved," Hao asserts.
Seen from a broader structural perspective, however, the possibility of integrating the systems catering to different professionals should also be considered. National Taiwan University's Fu cited a 2006 World Bank study that looked at the pension systems of 158 countries around the world and found that 74 of them covered both public and private sector workers.
"You can have different degrees of protection, but at least the gap between them won't be so big," he argues.
The success or failure of this round of pension reform will in part be dictated by the determination of the governing DPP.
"Ultimately, the ruling DPP government will have to take full responsibility," DPP lawmaker Wang says. More importantly, however, failure may be something that Taiwan simply cannot afford.
Translated from the Chinese by Luke Sabatier