Embracing the Circular Economy
Don't Call Me 'Garbage'
精華簡文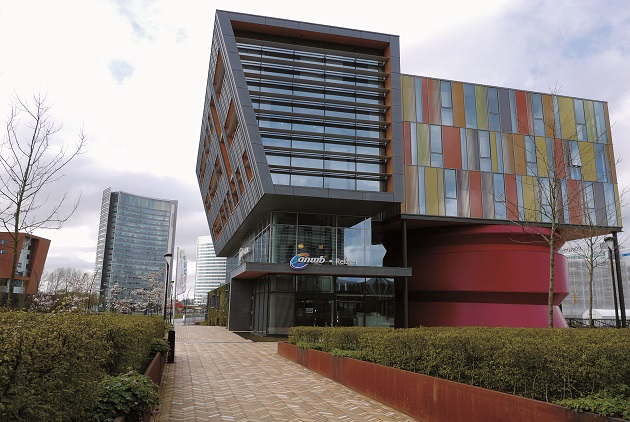 Source:CW
Countries around the world are embracing the idea of a "circular economy" in which resources remain in use for as long as possible and nothing goes to waste. Taiwan was late to jump on the bandwagon, but a few companies are showing the way.
Don't Call Me 'Garbage'
By Liang-rong Chen
From CommonWealth Magazine (vol. 607 )


A single egg sells for a relatively high NT$14 at Taiwan's leading convenience store 7-Eleven, yet consumers still buy the product in droves. The eggs are supplied by Shih An Farm, considered Taiwan's best-known chicken farm.

As one pulls into the facility located squarely in the middle of a big plot of farmland in Kaohsiung's Alian District, what catches the eye are not the chicken coops that can raise up to 700,000 chickens at a time but rather a biogas plant at the farm's entrance consisting of a six-story high desulfurization tower and a massive storage balloon. The NT$350 million agricultural power plant is Taiwan's largest with a 1 MW (megawatt) generating capacity.

The complex provides context for what President Tsai Ing-wen hopes to achieve in office.

"We must not endlessly expend natural resources and the health of our citizens as we have done in the past. Therefore, we will strictly monitor and control all sources of pollution. We will also bring Taiwan into the age of a circular economy, turning waste into renewable resources," she said during her inauguration speech on May 20.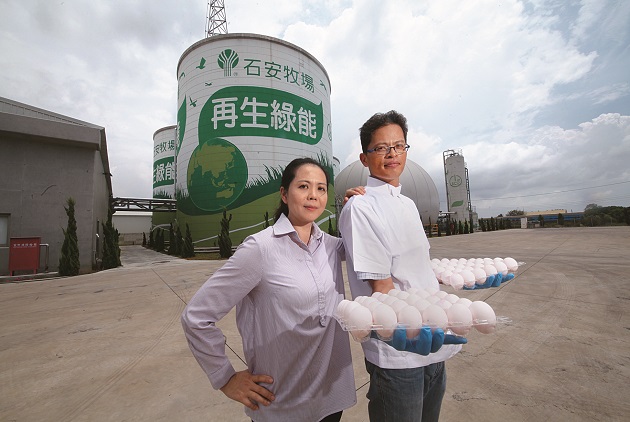 The biggest biogas power plant in Taiwan's agricultural sector, run on chicken manure, has helped turn Shih An Farm into a model of the circular economy concept.
Shih An Farm is one of Taiwan's best examples of the circular economy. Shih An Chairman Hsieh Shih-chuan imported biogas-generating technology from Denmark that takes stinky chicken manure and converts it into enough electricity for over 1,000 households. The system also recycles wastewater, waste gas and waste heat.
Early every morning, conveyor belts carry the more than 30 tons of chicken manure generated daily in the farm's eight huge chicken coops from the coops' floors to the power plant. The manure is then mixed with nearly 100 metric tons of wastewater reclaimed from the farm's egg-washing process, and grit is removed from the dung through sedimentation.
The mixture is then loaded into three six-story desulfurization towers where it ferments for a month. The resulting biogas is stored in the huge high-pressure gas storage tanks and eventually burned to produce electricity.
Nothing is wasted in the process. The exhaust heat from the power generation process is captured and used to heat the gathered chicken manure to help it ferment, while the wastewater left behind from the gas production process is used to produce about 100 metric tons of liquid organic fertilizer a day, which is distributed for free to nearby farmers.
In the future, similar examples of "circular economies" could sprout up around Taiwan with the support of the new government's policies.
The 'Circular Economy' Capital
The term "circular economy" has recently gained currency internationally, and the concept is strongly supported in the European Union, China and Japan. The European Union has been its biggest advocate, with the European Commission adopting a "Circular Economy Package" in December 2015.
The arrival of the circular economy symbolizes the beginning of a new era, one in which all of the bad odors and toxic waste generated by manufacturers can be broken down into raw materials and reused in production processes instead of being dumped into the environment. The concept can also reduce the extraction of virgin resources.
In a circular economy, the useful lives of most electronic products, including mobile phones, television sets and parking lot lights, are extended through maintenance and by replacing components. A new business model of "renting in place of buying" – conferring "product usage rights" rather than ownership rights to consumers – could soon go mainstream and upend the traditional model of stimulating consumerism through mass production.
Amsterdam has been recognized as the city most closely embodying this ideal world.
The Dutch government is keen on making the "circular economy" a new driver of the economy of the future, in part by turning Amsterdam into the "Silicon Valley" and innovation center of the global move toward a circular economy.
When CommonWealth Magazine reporters went to the Netherlands to cover this story, they found the taxi line at Schiphol Airport to consist entirely of quiet, zero-emission Tesla electric cars.
Schiphol Airport plans to emerge as the world's first zero-waste airport driven by the "circular economy" concept by 2030, and it has already begun the effort. Of the components used in the airport's new baggage conveyor belts that were recently installed, 99 percent can be recycled.
"Park 2020" next to Schiphol Airport is the first commercial center in the world designed based on a circular economy concept. The seven-structure complex of office buildings and hotels will experiment with a commercial model offering "building materials for rent." When buildings come to the end of their useful lives, vendors will reclaim building materials so that they can be used to construct the next round of structures.
The designer of this ambitious architectural plan was renowned American architect William McDonough, who gained widespread recognition for the book Cradle to Cradle he wrote with German chemist Michael Braungart.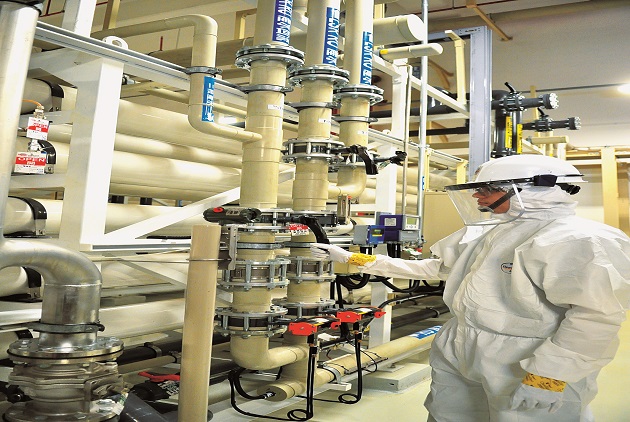 TSMC's environmental goal is to process its wastewater and solid waste into materials that can be used in its production process, achieving the "cradle to cradle" ideal.
The book is renowned one of the bibles of the circular economy movement.
Eight years ago, CommonWealth Magazine invited Braungart to Taiwan to speak to a group of Taiwan's leading business people and explain this sustainability concept that at the time was still unknown to his audience.
Braungart's main message was simple: "No Waste." He urged people to no longer accept the idea of "waste," whether organic or inorganic, and advocated reusing all materials and products over their full life cycle "from cradle to cradle."
Today, "cradle to cradle" has emerged as the guiding environmental principle at one of Taiwan's benchmark companies – Taiwan Semiconductor Manufacturing Company (TSMC).
Good Results in the Electronics Sector
At the global semiconductor equipment trade show Semicon Taiwan 2016 in Nangang in August, one of the main speakers was Arthur Chuang, the senior director of TSMC's 300mm Fabs Facility Division, who attended Braungart's talk in Taiwan.
Chuang proudly told the audience in Nangang: "The recycling of waste is already happening; it's not something that's out of reach."
TSMC once set a goal of recycling 95 percent of its waste by 2020, but the company has already achieved the target. The biggest breakthrough originated with the successful development of spent sulfuric acid regeneration technology. TSMC's etching process typically generates 62,000 metric tons of spent sulfuric acid a year, and it treats that together with wastewater containing ammonia nitrogen created by other processes to produce non-toxic ammonium sulfate. That in turn is shipped to an outside chemical plant to be turned into industrial grade ammonia.
That may sound simple, but in fact taking the waste by-product of two separate manufacturing processes and having them interact to create a production material represented a major breakthrough in environmental engineering technology in Taiwan. It was the result of more than two years of research conducted by TSMC's 200-plus wastewater treatment engineers and earned TSMC's Chuang a National Industrial Innovation Award this year from the Ministry of Economic Affairs.
Yet while TSMC recycled 41 percent of its spent sulfuric acid in 2015, resulting in the production of 15,000 metric tons of industrial use ammonia good enough to be sold to outside chemical plants, Chuang is still not satisfied.
He is hoping to take the process one step further and purify the waste material into electronics-grade ammonia that can be used in TSMC's own wafer production processes, in effect fully realizing the "cradle-to-cradle" ideal.
TSMC is collaborating with Mitac-Synnex Group subsidiary UPC Technology Corp. to develop the technology, and as soon as a huge distillation still ordered from Japan is delivered, it will move forward on the project.
"We will be the first in the world to achieve this," Chuang says with pride.
Chuang, who has led the effort in producing "recycled sulfuric acid" and "recycled ammonia" and become a strong adherent of the circular economy, couldn't help but say with conviction: "maybe in the future we will live in a world of recycled products."
The world he envisions is already taking shape. When it comes to some of the most expensive and sophisticated high-tech machines, for example, such as MRI machines or semiconductor equipment costing more than NT$100 million apiece, "recycled machines" are slowly moving into the mainstream.
Some of this work is even being done in Taiwan. The world's biggest semiconductor equipment vendor, Netherlands-based ASML Holding, has set up an ASML Center of Excellence (ACE) office that houses its machine refurbishing and rebuilding operations.
The facility in Linkou in New Taipei has the highest standard for cleanliness of any machinery assembly plant in Taiwan. In its spacious clean room lit by a yellow glow, young engineers in clean-room clothing garb from head to toe assemble and test three used machines. Sparkling precision machinery components glistened from the inside of one of the three machines that was only half-assembled.
Since 2011, a total of 83 8-inch wafer lithography machines in use for more than 10 years have been flown to Taiwan from all corners of the world and dismantled one-by-one at ASML's Linkou plant. Each machine has had parts replaced and was rebuilt and tested before being delivered to clients around the globe.
The managing director of ASML's Center of Excellence, Tony Chao, explains that a modular design has been adopted for the components used in 12-inch wafer lithography machines over the past decade. That makes it much easier to refurbish old equipment. Now, if clients want to upgrade to a new type of equipment, all they have to do is change some modules in their existing machines rather than buy a brand new machine.
ASML has adopted the strategy because of its commitment to the circular economy and because of the massive size of the machines, "Transporting such a big thing back and forth is not cost-effective," says Chao.
Breaking Away from the Pack
"To develop a circular economy, many new technologies and new business models have to be created so that Taiwan can break away from its fate of always being a follower and imitator," says Charles Huang, the founder of the Taiwan Circular Economy Network and the Taiwan Composting Association.
Waste Recovery Technology Inc., a Taichung-based waste management company with nearly 40 employees, is one of Taiwan's circular economy pioneers developing new technologies and new business models.
Though it's small, the company has proprietary technology to extract copper from the wastewater generated by printed circuit board etching processes. As a result, almost all of Taiwan's printed circuit board manufacturers, including Compeq Co., Unimicron Technology Corp., Tripod Technology Corp., Kinsus Interconnect Technology Corp. and Gold Circuit Electronics, are Waste Recovery Technology clients.
Waste Recovery Technology President Lin Shih-min has a Ph.D. in chemical engineering from National Cheng Kung University. He worked in a division of the Industrial Technology Research Institute while doing his alternative military service, and was responsible for a project to help domestic electronic companies "turn liquid waste containing copper into a resource."
After completing his military service, he started his own business and developed equipment that could recover copper from waste conveniently and very efficiently. Lin patented the equipment in several countries but had trouble selling it to domestic PC board manufacturers, who were skeptical of his technological capabilities.
In 2007, he decided on a major change in his business model, opting to no longer sell equipment. Instead, he made an offer to PC board makers "that they couldn't refuse."
Lin installed his equipment in their factories for free and even sent his own people to operate it, under one simple condition: the proceeds from the sale of the recovered 99.5 percent pure copper, which at the time was selling for US$6,000 to US$7,000 per metric ton and is now at about US$4,000 to US$5,000 a ton, would be evenly split between Waste Recovery Technology and the client.
"I was the first one in Taiwan to do business like this," Lin recalls with a smile.
Before Lin came up with his solution, PC board makers dried the copper-containing liquid waste into a sludge that was described by the Environmental Protection Administration as "hazardous industrial waste." They then paid licensed waste treatment companies between NT$7,000 and NT$10,000 per metric ton to take it away and treat it, and ran the risk that unethical companies would simply dump it and pollute the environment.
With Lin's solution, PC board makers have been able to save the high waste treatment costs, reduced the risk of environmental degradation, and even shared in the sale of the reclaimed copper.
And Waste Recovery Management has done very well as well. It recovers about 1,000 metric tons of copper annually from the more than 30 sets of equipment it has installed around Taiwan, generating some of its NT$300 million (about US$10 million) in annual revenues, which also include sales of machines at home and abroad.
China ahead of Taiwan on 'Circular Economy'
Waste Recovery Technology has concentrated its focus recently on expanding into foreign markets and sells its equipment to Japan, South Korea and Thailand through authorized agents.
But when asked why his company has not made inroads into China, which is the world's biggest producer of PC boards and has several Taiwan-invested factories, Lin's complexion tightens up.
China made the "circular economy" a priority as far back as its 11th Five-year Plan (covering 2006 to 2010), and with the strong backing of government policies, waste recycling technology in several domains has caught up with or surpassed that available in Taiwan. Waste Recovery Technology found that it had fierce competition in its field of specialization in China.
Lin is even considering cooperating with a Chinese company that can recycle the developer solution used to make PC boards to the point that it doesn't have to be sent to a contractor to be treated.
"Only China has this technology. Even Japan and the United States do not have this capability," Lin says. "You really cannot underestimate them."
In a special edition on the "circular economy" published in March 2016 by the prestigious journal "Nature," one of the articles titled "Lessons from China" stated point blank that "China has led the world in promoting the recirculation of waste materials."
According to China's National Bureau of Statistics, the amount of resources used to generate a unit of GDP growth was 34.7 percent lower in 2013 than in 2005, and the amount of waste created was down 46.5 percent.
As the unbridled growth model of the past that forged countless mountains of garbage, heavily polluted soil and poisoned reservoirs changes directions, China has fostered a group of internationally competitive Chinese-style "circular economy" companies.
For example, though the biogas power generation plant used by Shih An Farm used a generator made in Denmark, the company responsible for planning and building the project was a company from Zhejiang province –Hangzhou Energy and Environmental Engineering Co.
One of those who has closely followed and been deeply impressed by this paradigm shift in China's growth model is Chen Wei-wang, the general manager of dye and specialty chemicals manufacturer Everlight Chemical Industrial Corp.
He admits that his company's biggest competitor in China, the world's largest dye maker Longsheng Group, has promoted circular economy concepts and that its process of re-engineering itself has "really given us a big shock."
As early as 10 years ago, Longsheng was selected by China's State Affairs Council as a circular economy pilot enterprise and began bringing in the most advanced waste recycling and recirculation technology from abroad. At that same time, Everlight Chemical's technical people refused to embrace new ideas and new technology, arguing that it was "too expensive" and "not appropriate for Everlight Chemical."
But Longsheng persevered through trial and error and design changes and eventually brought down the unacceptably high price of circular economy technology to a point where it was economically viable, and because of that emerged as the most profitable dye manufacturer in the industry.
"I discovered that our biggest problem is our mindset," Chen says reflectively. "If you go ask people in our plant if the day will come when chemical plants will no longer generate waste materials or discharge polluted water, they will tell you: 'You're out of your mind.' We have to break through this mindset before we can pursue new possibilities."
Concludes Chen: "The biggest enemy in taking on the circular economy is in fact oneself. It's people's minds."
Translated from the Chinese by Luke Sabatier