Minister without Portfolio Chang Jing-sen:
Tear Down New Illegal Factories
精華簡文
Source:CW
Taiwan is littered with factories operating illegally on land not zoned for industrial use. The government has put Minister without Portfolio Chang Jing-sen on the problem, and he shares his plans in this interview with CommonWealth Magazine.
Tear Down New Illegal Factories
By Kuo-chen Lu, Rebecca Lin
From CommonWealth Magazine (vol. 611 )


Factories operating illegally on land zoned for agricultural use have become a common site around Taiwan, and the problem has almost reached crisis proportions. The Council of Agriculture, the Ministry of Economic Affairs and the Environmental Protection Administration are all involved in addressing the issue but come at it from different points of view. It is up to Minister without Portfolio Chang Jing-sen to coordinate the efforts of these agencies and develop a common approach.

In an interview with CommonWealth Magazine, Chang described the problem as a failure of governance, and he pledged to come up with a solution by the end of the year. The approach will likely involve immediately tearing down new illegal structures, centrally managing existing illegal factories, and identifying land with low productivity and making some of it available for future development. He suggests that rural landscapes may change as industrial clusters are given legal status to keep Taiwan competitive.

Below are excerpts of the interview, in Chang's own words.
---
Illegal factories aren't the only structures on agricultural-use land. There are also residences and bed and breakfasts. Within Taiwan's national land planning structure, urban areas are tightly managed, but the management and zoning of non-urban land is mostly form rather than substance.
The number of illegal factories on farmland grows even as the government develops new industrial parks, indicating a clear gap. People who want to build factories cannot find appropriate land because industrial-use land near urban development areas costs as much as land in commercial or residential areas. But the industrial parks developed by the government, such as the Changhua Coastal Industrial Park, are too isolated.
Industrial Parks Too Expensive or Too Isolated
When business owners consider setting up a factory, their first consideration is the cost of land. The cheapest option is to buy or rent agricultural-use land. The second consideration is location. Government-built industrial parks are too far away from population centers, making it hard to find workers. Some factories also have to think about their markets – car repair factories, for example, cannot be located too far out of the way.
In general then, the problem seems to be the ineffective supply of land, especially land for industrial use. So if you want to set up a factory, the easiest way is to look for agricultural land. It works as long as such land is not tightly managed. The best known spots for that in New Taipei are Wugu and Xinzhuang, and further south in the Taichung and Changhua areas, factories have sprouted up on farmland all over the place.
This is the result of government not working. It reflects a failure at all levels, from the central to local governments.
The central government is responsible for national land planning, but this is just a sham – maps are drawn and hung up on the wall, but it's all meaningless. Local governments simply do not have the ability to implement policy, and budgets for tearing down illegal structures, whether factories or residences, are often killed by city or county councils. So the number of illegal structures continues to rise rather than decline. They are being built rather than torn down.
I think the key to restoring order is "effective supply."
There are many types of industrial parks. Coastal industrial parks are suitable for heavy industry, but more urban industry that lacks manpower and wants to be close to its market must be located in an urban development area or a suburban industrial park.
Find Surplus Land, Then Develop It
The problem is, it's not that easy to draw up industrial parks. To effectively supply land, you should first figure out how much land Taiwan has.
Right now, about 810,000 hectares of land is for agricultural use. To maintain 40 percent self-sufficiency of grains, you need about 760,000 hectares. The extra 50,000 hectares can be carefully planned. It's enough land to satisfy the needs of rural industry, rural residences, bed and breakfasts, long-term care facilities and green energy.
If you want to increase food self-sufficiency, there are many ways to do it. It's not just a matter of increasing farm acreage. But if you want 35 percent or 40 percent self-sufficiency, the key is to make a decision. Once a decision is made, then a detailed evaluation of the land must be done and good farmland and areas important for ecological conservation must be set aside. There will still be a lot of land left over. You don't have to be too ambitious and plan big industrial parks of 5,000 hectares or 3,000 hectares in size. What's needed is to effectively plan for whatever extra land there is.
During this round of national land planning, I hope we can find land that is not ecologically sensitive and is currently not very productive and reserve it as land for development in rural villages or suburban corridors.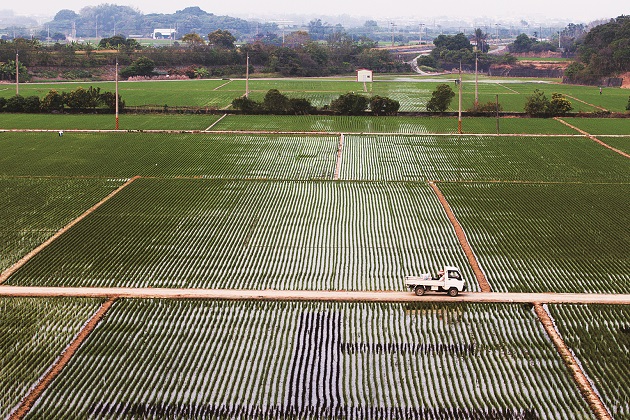 Turning fragmented farmland into a beautiful pastoral landscape depends on the determination of the central and local governments.
After creating a sound system, we will rezone a certain percentage of land for industrial use so that factories illegally located on farmland can have a legal foundation for their business, but there have to be complementary measures to prevent the rise of land speculation.
Look at Changhua County, for example. Open a map of the county, and it looks like a pockmarked face. The Dingfanpo phenomenon in Lugang didn't just sprout up overnight. When I was studying for my Ph.D. at National Taiwan University more than 20 years ago, I did a field study, and the problems were the same then that they are today.
The country does not have an institutional approach to addressing the problem. If a factory pollutes, it gets fined. Once it gets fined, it then sets up shop somewhere else. The Changhua Coastal Industrial Park cannot solve all the problems in the Changhua plains; I want to see how to use the national land planning process to solve this problem step-by-step.
Centralizing 'Dirty' Factories
This problem has a connection to President Tsai Ing-wen. During the two presidential election campaigns she participated in [ahead of the 2012 and 2016 elections], she went to Changhua County many times and thought about how to deal with the problem. We gradually came up with a three-part policy that we have thought about putting in place after taking office [in May].
First, we don't want to permit new illegal structures to be built. Any new illegal structures that are reported should be torn down immediately. That is the responsibility of governing. I discussed the plan with [Changhua] County Commissioner Wei Ming-ku, and he agreed to support the plan, but there have to be complementary measures and the problem of existing illegal factories also has to be addressed.
Second, of the existing illegal factories, the "dirty" ones are to be selected first and ordered to relocate by a fixed deadline. What I mean by "dirty" factories are heavily polluting electroplating factories. The Changhua Coastal Industrial Park reserved some land for the electroplating sector, but it soon discovered it wasn't enough, and that area has now expanded to a third phase and is actively helping vendors solve their problems.
The park has established a central facility for processing waste materials and wastewater, and it is renting land to vendors at the lowest price possible, even lower than what they would pay to rent agricultural-use land. And if a vendor needs to buy new equipment when moving in, the park will provide preferential financing to help the vendor with equipment upgrades.
The third part of the policy is relying on the cooperation of city and county governments. I've asked many local governments how hard it is for them to tear down illegal factories. If the city or county council kills the budget for dismantling illegal structures, the central government can provide the money. But, as long as the heads of local governments show determination, that money won't be needed because if you tear down buildings as soon as they go up, nobody will dare build them anymore. It's a question of will.
We also have to bring "dirty" factories together so that the government can oversee them systematically while preserving the supply chain functions needed by various sectors. Other land could be dealt with through orderly planning, leading to possible changes in Taiwan's agricultural landscape in the future.
The Example of Dingfanpo: A World First
We also have to deal with scattered factories. Because we have already provided new industrial-use land, we have to find a way to get outside factories to move in.
Observers may see this as simply "legalizing illegal behavior," and I can accept the tough criticism, but it's not as simple as that.
First, I've already brought illegal factories into an established area and footed the bill for common development costs such as the area's public infrastructure and restoring the environment under specific standards. Second, whether it's treating waste materials or wastewater, it will be part of the public infrastructure. So how can that be called legalizing illegal behavior? It's just that we haven't torn down structures and had their owners move out.
In the future, these manufacturing clusters won't just be legal, they will have positive functions.
I am turning Dingfanpo into a model area. It doesn't just involve dealing with environmental and land problems but also introducing many things. We want the business development task force under the Industrial Development Bureau to work with academic organizations in introducing certification systems; we want the Ministry of Education to set up special, industry-related classes at nearby technical and vocational schools to solve the talent gap; and we want to invest in R&D, talent development and marketing to make Dingfanpo a world-class hardware cluster. We want to take this approach rather than dealing with it from the perspective of an illegal factory cluster.
That will produce a change in the landscape. After going through a makeover, illegal clusters will no longer pollute because of the installation of an environmental treatment system and basic infrastructure, and that along with talent and technology will turn it into a production and ecological cluster. It just won't look like the Changhua Coastal Industrial Park, but it will still have the highest productivity in the world.
In the future, agricultural-use land will return to be farmland and businesses will be located on land for industrial use. Dingfanpo is an experiment; let's see if it succeeds. I don't know if it will, but if I don't do it, it will never have a chance to become reality.
Translated from the Chinese by Luke Sabatier