2012 Taiwan's Most Admired Entrepreneurs
Paradigm Shift
精華簡文
Source:cw
While semiconductor legend Morris Chang remains far and away Taiwan's most admired businessman, restaurant mogul Steve Day has soared to 3rd place, clearly revealing the service industry's new clout in tech-heavy Taiwan.
Paradigm Shift
By Jimmy Hsiung
From CommonWealth Magazine (vol. 508 )


Who can hold onto top-ten entrepreneurial fame amid a rapidly changing economic and industrial environment? Who are the new role models for a new era?

The results of CommonWealth Magazine's Most Admired Entrepreneurs Survey 2012 are out.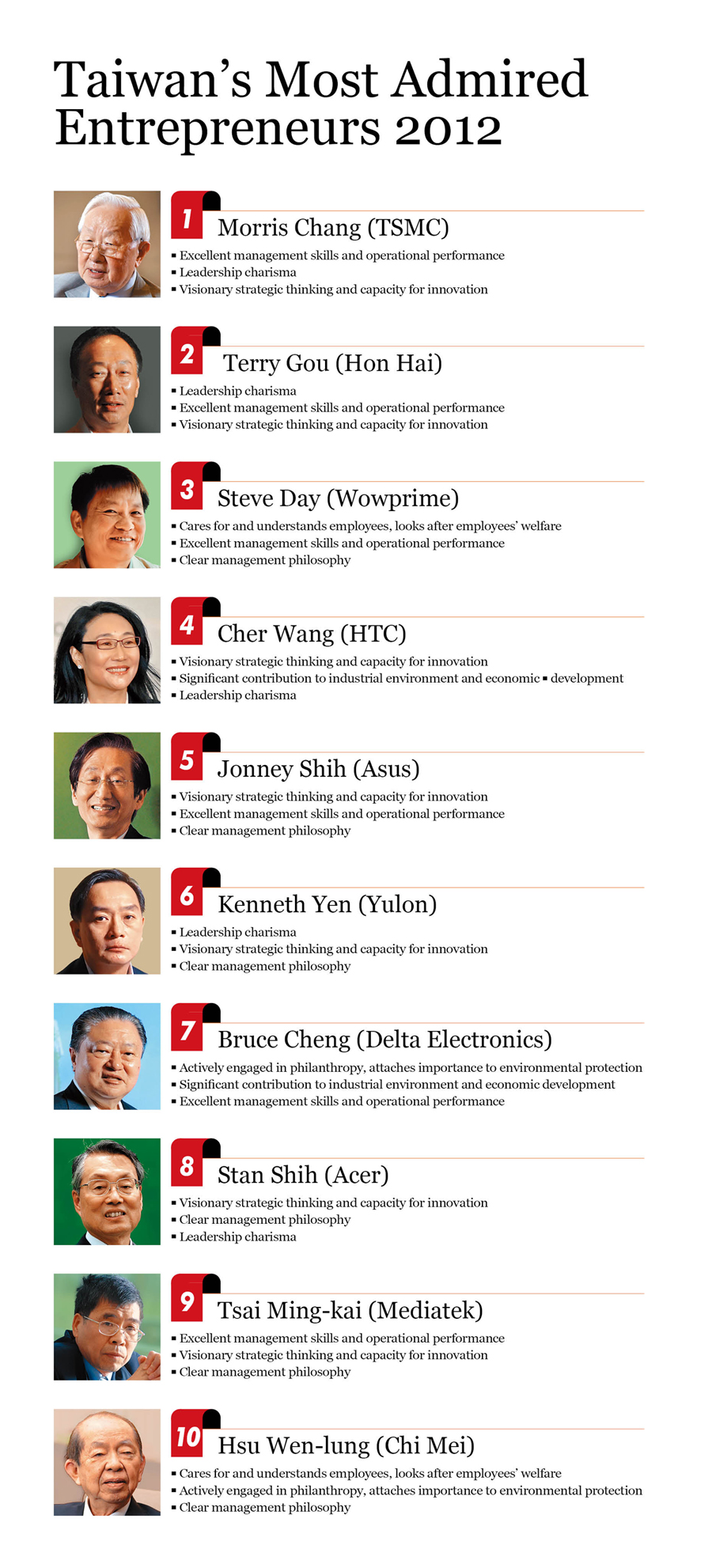 It should not come as a surprise that Morris Chang, chairman of chip maker Taiwan Semiconductor Manufacturing Company (TSMC), is yet again heading the top-ten list of most respected entrepreneurs, with a wide lead that has remained unchallenged for years. For the rating criterion "excellent management skills and operational performance," Chang also leads the pack with a rating of 93 percent.
The greatest surprise in this year's survey is the stellar rise of Steve Day, chairman of Taiwan's chain restaurant empire Wowprime Group, who last year made it into the top ten for the first time, grabbing 9th place, and soared to 3rd place in 2012. His growing reputation seems to embody the meteoric ascent of the service industry.
"What we have here is a paradigm shift that faithfully reflects the current state of the Taiwanese economy," Paul Hsu remarks matter-of-factly. A chair professor at Yuan Ze University's College of Management, Hsu is not the least surprised at Day's sudden prestige.
Hsu believes Taiwan is currently following in the tracks of the industrialized nations, undergoing an economic transition that is bringing the service industry to the fore.
"The ultimate value of manufacturing comes from service too," he says. The value of model figures in the service industry will become increasingly recognized.
Day's rise also shows that the public's expectations toward benchmark entrepreneurs are changing, too.
The survey ranks the island's entrepreneurs based on nine criteria. Day excelled with a 94-percent rating in the category "Cares for and understands employees, looks after employees' welfare," only slightly behind the 95 percent of Chi Mei Group founder Hsu Wen-lung, who won 10th place overall.
Investing in Talent
Huang Chung-hsing, director of the Executive MBA Program at National Taiwan University, believes that economic development needs to reach a certain stage and go through several boom and bust cycles before entrepreneurs can realize that investing in human resources and treating employees well is worth it. At the same time, society at large will also increasingly appreciate such employers.
Hon Hai Group Chairman Terry Gou took 2nd place this year. Gou scored high on "leadership charisma" with a 90 percent approval rate. But he is clearly not seen as an employee-friendly entrepreneur, as just thirty percent believe he "cares for and understands employees, looks after employees' welfare."
In fact, Gou is notorious at home and abroad for his "tough and demanding" management philosophy. But some who are familiar with the Hon Hai Group approach defend Gou against allegations that he does not care about his employees.
"Being very demanding doesn't mean you aren't treating your employees well," contends one Taiwanese CEO who used to work for Hon Hai, speaking in Gou's defense. He believes that Gou's carrot-and-stick leadership style was crucial for making the company the world's largest electronics contract manufacturer.
The company president's stint with Hon Hai as a sales manager has left a deep impression on him. Back then Gou addressed his sales personnel, exhorting them to make all-out efforts to solicit new customers.
"We're already running around seeing customers during virtually our entire working hours," one of the sales managers responded.
"You can only talk about soliciting customers if you also meet up with them on the weekend," Gou retorted unfazed. "Only customers who go out with you on the weekend are true friends." He demanded that the sales agents bring back their receipts to prove that they had wined and dined customers on the weekend.
"Different industries require different leadership styles," concludes this former Hon Hai manager, who left the electronics maker to set up his own company. He is truly thankful for Gou's insistence on cultivating customer ties back then, because he still benefits from these business friendships today.
Half of Top Ten Replaced after 10 Years
Mediatek Chairman Tsai Ming-kai, who crowded out Quanta Computer Chairman Barry Lam, came in second in the category of "excellent management skills and operational performance." A score of 91 percent shows that Tsai's role in turning around the notebook manufacturer is being widely acknowledged.
Moreover, Delta Electronics founder Bruce Cheng, who has been in the top ten for many years, still counts among the most admired entrepreneurs, although he has formally retired as company chairman this year.
Cheng gained the highest scores, above 90 percent, for the two categories "actively engaged in philanthropy, attaches importance to environmental protection" and "significant contribution to industrial environment and economic development."
Cher Wang, co-founder and chairperson of smart phone maker HTC Corporation and VIA Technologies, and the only woman to make the top ten this year, slipped one rank to 4th place, reflecting her company's lackluster performance in recent months.
Wang owes her ranking in the upper half of the top ten mainly to her 93-percent score in the category "visionary strategic thinking and capacity for innovation." However, with a rather low overall rating of 71 percent, she did not perform as well regarding "excellent management skills and operational performance."
"Thanks to Wang's nose for investment, she was able to create several 'stock market kings.' But after achieving a spectacularly rapid rise in the IC market, Via Technologies began to decline just as quickly, and HTC is also on a downward course, which shows that she definitely needs to learn from other admired entrepreneurs with regard to management," notes Paul Liu, president of business consulting firm PricewaterhouseCoopers (PwC) Taiwan.
Every era brings forth its own talents. Remaining in the exclusive club of most admired entrepreneurs is extremely difficult in our economically volatile and unpredictable times.
Just five of the ten entrepreneurs who were celebrated as most admired in 2003 are still in the top ten today – a replacement rate of 50 percent over a decade. That's a paradigm shift, which should serve as a spur for even greater achievements.
Translated from the Chinese by Susanne Ganz