The Race to Core Technologies
Can Taiwan Become a 'Digital Island'?
精華簡文
Source:CW
Several emerging industries have risen up to ride the digital wave, but does Taiwan have what it takes to capitalize? If the country hopes to spawn a "Digital Taiwan," it will have to integrate its strong "hardware" sector with new software.
Can Taiwan Become a 'Digital Island'?
By Sandy Lo
From CommonWealth Magazine (vol. 599 )


Without a huge domestic market or home-grown internet services with an international reach, Taiwan is facing a super-sized challenge: how to forge a "Digital Taiwan."

One company that may offer insight on how the challenge can be tackled is electric scooter maker Gogoro Inc.

Founded in 2011 by designer Horace Luke, Gogoro has created a buzz with its eye-catching design, cool Internet of Things functions and clever battery-swapping stations, and Forbes magazine described it as "what you'd get if you mated a Vespa and an iPhone."

The scooters are now being mass produced, and while Gogoro cannot yet be proclaimed a success, its development story highlights a critical element in building a "Digital Taiwan": software-hardware integration.

"Taiwan is really a 'maker's heaven.' You can basically make anything here," says Luke, the chief innovation officer at smartphone maker HTC from 2006 to 2011. Luke, who raised US$50 million from Reuntex Group CEO Samuel Yin and HTC chairwoman Cher Wang to get the business off the ground, said he considered many places for locating his new business but in the end chose Taiwan.

His affinity for Taiwan's manufacturing environment began when he worked for Microsoft in the early 2000s and dealt with many Taiwanese suppliers while designing the Xbox. He was impressed by their "can-do attitude" and was able to get a level of quality that manufacturers in Shenzhen simply could not meet.

As he was putting Gogoro together, Luke understood Taiwan's strength in hardware and decided to fuse it with Internet of Things concepts that at the time were still on drawing boards. He drew on his contacts from his past to raise funds and used some of the money on high salaries to lure top talent from old-economy sectors. Once the concept and product were ready, Luke created buzz for the brand with the help of his extensive international media connections.

On a deeper level, though, Luke's real ambition was not to produce electric scooters but rather a battery swapping system, driven by his perception of a paradigm shift in the hardware era and the need for software-hardware integration to create value.

The shift has redefined how consumers make buying decisions. In the past, the products churned out by "hardware" manufacturers were "end" products, so when a consumer bought a camera, for example, it was to take pictures. But with the onset of the cloud era vaulting internet services to prominence, electronic products have morphed into internet access devices. Now, when customers purchase a camera, it's to store video and photos.

With consumers treating hardware as little more than a vehicle to achieve an end and finding it difficult to differentiate between hardware brands, hardware products are no longer as highly valued as before, dragging down entire supply chains and affecting bottom lines. In this year's CommonWealth Magazine Top 2000 Survey, more than 56 percent of the 1,350 manufacturers that participated saw their revenues fall in 2015 from a year earlier.
Internet of Things = New Opportunities
Hardware may have fallen on hard times, but can the other half of the promising software-hardware combo – internet and software services – and the hype it has created drive an integration ethos?
"Taiwan's software talent has not taken notice of existing sectors' competitive advantages and lacks industrial experience. So the ideas Taiwan's entrepreneurs come up with are often not suited to this land," Google Taiwan's managing director Chien Lee-feng says bluntly.
Why would international venture capitalists want to invest in something in Taiwan that can be done in Silicon Valley? Chien asks. They want to put their money into projects that a Taiwanese team can do better than a Silicon Valley team.
"(Those projects) would definitely be software that involves some form of hardware and can be directly prototyped here. The Internet of Things will give hardware a new platform and some new opportunities may come from that," Chien says.
Faced with constraints in market size similar to the United Kingdom and Israel, Taiwan needs to concentrate on key technologies, as do those countries. It can then provide that technology to bigger markets in exchange for strategic positioning and gain footholds in those markets by indirectly serving customers through a B2B2C model.
One example is Taiwanese startup Umbo CV, which just raised NT$92 million in March this year and specializes in key "image recognition" technology. The growing use of images from satellites, ground surveillance cameras and drones has put a premium on automatic identification, drawing investment from such tech stalwarts as Phison Electronics Corp. and Wistron Corp.
Founded in 2014, Umbo CV has developed a security camera that not only records images but also uses artificial intelligence to identify objects or incidents in the pictures, such as intrusions by strangers, the gathering of crowds, and fires. The camera can immediately notify public agencies of the potential problems via the internet, and the function gets stronger over time with the support of a "self-learning" AI capability.
At present, Umbo CV is working with Quanta Computer affiliates in Taiwan to manufacture the product, called the "SmartDome" and marketed as a "cloud-first learning camera," and has already sold a few thousand units to the North American market through a distributor there.
"We're only making hardware to be able to sell software. A lot of people ask us why we don't just sell the software. It's because we want to give the customer a complete experience, so we have to be on top of the product as it leaves the factory," says Umbo CV chief executive officer Shawn Guan.
Guan previously worked at security solutions company Nuuo Inc. for six years and was responsible for sales in the United States, leaving him very familiar with the American security market.
He said the development of the camera took longer than expected, and "for six months things were looking bleak" until the company sought out Quanta, which helped overcome bottlenecks in the development and production of the hardware.
"Take the transparent cover of this security monitor, for example. It needs to be very consistent or the identification process will be affected. But this is not just injection molded; it requires special production processes. We looked a long time before finding what we needed because in Taiwan there's only one company that makes this," Guan says.
Selling Software the Goal
Another product marrying software and hardware is a wearable device known as the "GoMore," made by Taiwanese startup bOMDIC Inc. and cited by Time magazine as one of the wearables that made the category one of the 7 hottest trends at the 2015 Consumer Electronics Show in Las Vegas. The company received NT$20 million in investment from hardware makers, including Simplo Technology Co., last year.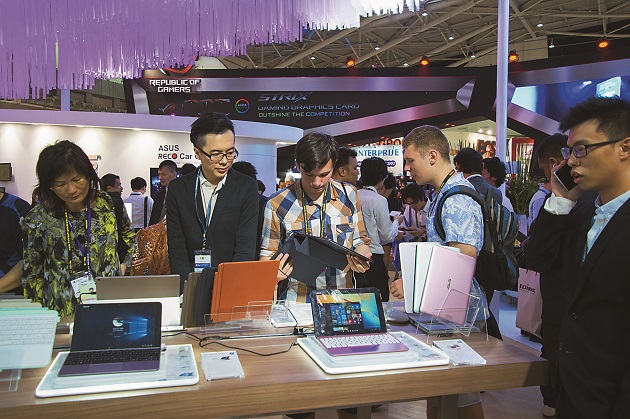 The global hardware sector is experiencing a paradigm shift, and one way it can transform itself is by integrating with the software sector. Some of the results of that integration were on display at Computex Taipei 2016 (pictured).
bOMDIC's key technology is monitoring physiological data and lactate acid. Athletes have previously used devices to deduce their stamina, but GoMore is the first tool that actually quantifies stamina through the collected data. It records ECG signals through a stamina sensor and two electrodes on a chest belt and sends information by Bluetooth to a phone app that provides users with a stamina fuel gauge telling them how much energy they have left.
The company's chief executive officer, Hsin-fu Kuo, says more than a 1,000 GoMore units wearable fitness sensors have been sold in Taiwan, Japan and the United States. It's a relatively small quantity, he admits, but sales volume is not bOMDIC's main goal.
"Having our own brand is to prove that our product and system are both good. Our ultimate goal is to sell the whole system to other branded companies, and there's a chance we'll see results in the second half of the year," Kuo says.
Kuo would not say if the potential partners he was referring to might be global sports brands such as Nike, Adidas and UA (Under Armour) or global sports apps such as RunKeeper and Endomondo.
Umbo CV and bOMDIC do not produce large volumes of their products and don't necessarily use components supplied by their investors, so they offer little benefit to hardware vendors. Where they do have a positive impact is on total solutions providers related to the Internet of Things.
To computer battery pack manufacturer Simplo, bOMDIC's product offers an opportunity to get a feel for wearable and portable health devices, and their power requirements give Simplo the chance to make inroads into the smart medical field and provide complete solutions when customers come calling.
In investing in Umbo CV, Wistron is similarly searching to branch out from its core notebook contracting business into smart home technologies. Simply put, hardware vendors now need to invest in the future by investing in fields they do not understand or have capabilities in.
"The Internet of Things era is approaching and real opportunities are coming, but the challenges are also just beginning. There is no hardware that Taiwan cannot design or manufacture, but we have a much tougher time in the virtual (software) area," says Lu Fang-ming, vice president of the Hon Hai Group.
More Benefits than Meet the Eye
Amid the massive changes taking place in the market, hardware vendors are anxious about transforming themselves and feel a sense of uncertainty about their future development. At the same time, software companies are facing the major obstacles of being too small and having inadequate visibility, making it an ideal time for two sectors to merge.
So what benefits do hardware makers bring when they get involved with new software startups? There are at least two. They can speed up the R&D process, and their global recognition can help the startups' international development.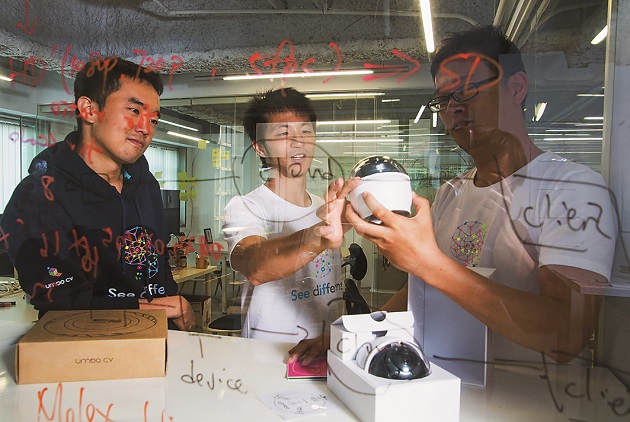 Through the efforts of CEO Shawn Guan (center) and his team, Umbo CV makes security cameras with artificial intelligence-driven identification technology and is a prime example of software-hardware integration.
One example is AirSig, which developed a "sign in air" authentication solution based on a unique software technology. The technology enables users to sign in simply by waving their smartphone in a recognizable pattern in the air, a process the company says is 99.2 percent accurate and almost impossible to replicate by others.
Three months after it was founded in June 2014, AirSig received an injection of NT$60 million from the Hon Hai Group that was even more valuable in terms of prestige.
"Having Hon Hai invest is like getting a formal seal of approval. There aren't many Taiwanese brands that are recognized internationally, and Hon Hai has helped us stand out on an international stage. It's had a qualitative impact," says AirSig chief executive officer Michael Chen.
The support of major investors reflects the maturity and value of a product, and once AirSig had Hon Hai (also known as Foxconn) on board, other big companies such as Google, Xiaomi and Huawei all inquired about possible tie-ups.
Though nothing came of those discussions, the experience and its subsequent impact in getting other vendors interested has paid dividends, helping AigSig exploit the B2B2C model to penetrate a big market. Its authentication technology is used by Chinese company Leomaster Inc. in its privacy security app "LEO Privacy Guard," gaining access to more than 10 million users' mobile phones.
From Gogoro and Umbo CV to bOMDIC and AirSig, they all represent the new wave of software-hardware integration and share several features, including key software technology, tie-ups with Taiwan's strong manufacturing sector and the use of B2B2C models.
Talent Needed for 'Asian Silicon Valley'
Taiwan's new government, which took power on May 20, has proposed five major innovation ecosystems to revitalize the economy. One of them is an "Asian Silicon Valley" targeted at the digital economy, with Taoyuan to be its hub.
National Development Council deputy chief Kung Ming-hsin explained after taking office that the envisioned Asian Silicon Valley will not try to replicate the U.S. Silicon Valley model but rather leverage Taiwan's local manufacturing supply chain, talent, technologies and capital to link up with Silicon Valley and become its partner, creating a new ecosystem.
The Asian Silicon Valley plan's focus on development in a specific location could be problematic, however, because Silicon Valley is less about a particular location and more about a "talent strategy." The U.S. tech hub has remained at the forefront of technology innovation for 30 years because of its high "talent density."
In plotting a digital strategy, the government should get back to the core of any emerging industry – "people" – by concentrating on broader measures such as easing regulations, changing tax rules, bringing in talent, and reforming the education system.
Only by putting a priority on developing these initiatives and focusing on integration to help software and hardware vendors build alliances can the government hope to turn "Made in Taiwan" into "Digital Taiwan."
Translated from the Chinese by Luke Sabatier