Terry Gou Invests in Bio-med Devices
精華簡文
Source:CW
Hon Hai founder and chairman Terry Gou has donated huge sums for the establishment of a cancer treatment center as the company moves into the biomedical engineering industry.
Terry Gou Invests in Bio-med Devices
By Whitney Huang
From CommonWealth Magazine (vol. 572 )


In 2005, Gou's first wife, Serena Lin, died of breast cancer. Gou's younger brother, Tai-cheng Guo, died in 2007 of leukemia. Seeking to overcome his grief by helping others, the Hon Hai chairman instructed his conglomerate to branch out into the field of biomedical sciences. The resulting new business activity has become the new jewel in the Hon Hai crown.

After going through the painful loss of two of his closest family members, Gou donated NT$15 billion to National Taiwan University (NTU) in Taipei in September of 2007 for cancer treatment and biomedical engineering research. Of the total, NT$10 billion was to be used to build a specialized cancer hospital that would be the top such institution in the Chinese-speaking world and on par with world-class hospitals. The remaining NT$5 billion went to fund biomedical engineering research.

Construction work for the NTU Cancer Center, which is slated to be completed by the end of 2017, is in full swing on a site next to the NTU campus.

Not far from the cancer center's construction site, the YongLin Biomedical Engineering Building, which was donated to NTU by Gou's YongLin Healthcare Foundation, was inaugurated last year. Accompanied by Gou, we were granted exclusive access to the biomedical research base. "This is the first time that this facility has been opened to the media," Gou says.

After giving several speeches in Taiwan this March, Jack Ma, the founder and executive chairman of China's Alibaba Group, visited the building on the last leg of his trip. The tour left him deeply impressed.

Ma, who is known for his pursuit of a healthy lifestyle, was surprised to see a speed mass spectrometer developed by Hon Hai in cooperation with NTU and National Sun Yat-sen University in Kaohsiung for the fast testing of food for contaminants. Ma told his host that he wanted to buy one of the spectrometers for his home.

It takes at least half a day if not several days before food testing with traditional mass spectrometers yields any results. When testing for contaminants such as pesticides, antibiotics, heavy metals and plasticizers in food, beverages, toys and other specimens, Hon Hai's speed mass spectrometer is able to deliver results within just five seconds.

Hon Hai currently collects large amounts of data from its three food safety laboratories on both sides of the Taiwan Strait. These data include information on toxins and contaminants as well as analysis data. In the future, the company hopes to design relevant microchips and software to make it possible to shrink the size of the presently still-bulky mass spectrometers, which would allow Hon Hai to market such devices outside the strictly professional user sector.

"Presently this machine is for professional use, but we are preparing to shrink it to a very small size," remarks Gou, who has always set his sights high.

Aside from food safety, Gou has even higher ambitions for the company's expansion into the field of medical therapy. One example is using radiotherapy to fight cancer.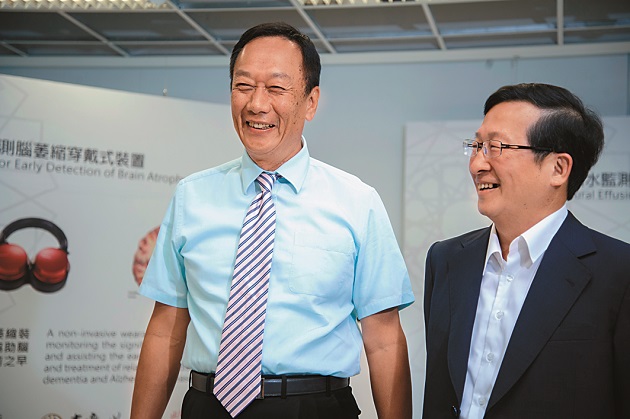 Hon Hai is developing wearable medical devices and mobile healthcare equipment.
The NTU Cancer Center will feature top-notch equipment, including a cutting-edge particle accelerator for proton "pencil beam" therapy, which allows localizing the radiation dose more precisely in the treatment of liver cancer, lung cancer, head and neck cancers as well as cancers in children, thus reducing side effects.
The YongLin Healthcare Foundation spent several billion New Taiwan dollars to purchase a proton accelerator from California-based Varian Medical Systems, the world's leading manufacturer of radiotherapy equipment. YongLin, Varian and NTU have signed an agreement to jointly develop a small-size particle accelerator. "If you don't buy theirs (Varian's) they won't help you develop a smaller one," explains Gou, demonstrating his knowledge of the medical device business.
Gou reveals that this is the business model that he has developed for Hon Hai's biomedical activities: Procuring top equipment from the United States and Japan, among others, and then upgrading it with input from Hon Hai's design expertise and NTU technology to create a new competitive advantage for Taiwanese industry.
Cheng An-lii, head of the NTU Cancer Center, notes that the hospital's present particle accelerator takes up as much space as six baseball courts. The aim is to develop a smaller particle accelerator with a footprint of just 15 meters by 15 meters. "This would mean a market that is more than a hundred times larger," Cheng predicts.
Going Mobile
Aside from cutting-edge medical technology, Hon Hai is also diversifying into wearable medical devices, currently a hugely popular product category, and mobile medical care. However, the focus will be on products for professional users.
Hon Hai's first product is on display in an exhibition room on the third floor of the Biomedical Engineering Building. Mounted onto the wrist of an anatomical human model is a mobile monitor that not only measures and displays all vital signs, but can also transmit them wirelessly.
The wearable device, called ViSi Mobile, was jointly developed by Hon Hai, NTU and Sotera Wireless Inc., a Californian medical device startup. The monitor continuously measures a patient's vital signs, including ECG, heart and pulse rate, blood pressure and respiration rate.
Last year, Hon Hai bought a stake in Sotera Wireless. Other major investors include Qualcomm Ventures and Intel Capital.
Hon Hai has also combined the expertise of its subsidiaries to integrate software with wireless mobile monitoring devices for a mobile nursing station. While doing their ward rounds, medical personnel are able to keep an eye on the vital signs and medical records of up to six patients. When necessary, nurses can immediately contact the supervising physician for advice or to change a prescription.
"Presently this is the only [mobile nursing station] that has obtained FDA and CE certification. It has just been released into the market," remarks Leonard Wu, vice chairman of YongLin Healthcare Foundation and general manager of Hon Hai's healthcare business group.
Wu notes that Hon Hai produces parts for the ViSi Mobile monitor and has won the exclusive distribution rights for the device in the Greater China market. Hon Hai could eventually take over production of the company's medical devices, media reports have quoted Sotera Wireless CEO Tom Watlington as saying.
The Wall Street Journal reported last month that Hon Hai's healthcare business, which was established in 2009, is expected to generate revenue of US$200 million by 2020, a ten-fold increase from the US$20 million in revenue it saw in 2014.
"Hon Hai's expansion into the medical devices market comes as it searches for new growth engines and clients amid rising competition in consumer electronics assembly," the report concluded.
Translated from the Chinese by Susanne Ganz