Cathay United Bank
In Hot Pursuit of 'Asia Cup'
精華簡文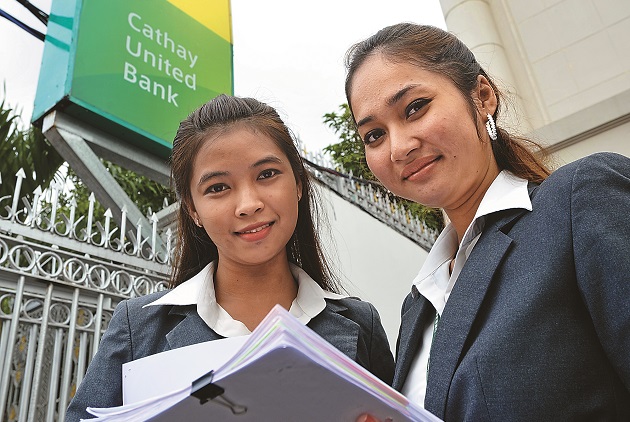 Source:CW
When Cathay United Bank made an US$80 million loan in Myanmar, it stunned financial circles there. What did such a bold move for this traditionally conservative bank say about its ambitions in Southeast Asia?
In Hot Pursuit of 'Asia Cup'
By Yi-shan Chen
From CommonWealth Magazine (vol. 582 )


Alan Lee, managing director of Cathay United Bank, never expected that an ATM machine would repeatedly emerge as the hot topic in casual chats with Taiwanese friends with businesses overseas.

"They are all very happy to see a Cathay United Bank ATM machine at the Phnom Penh airport," he reveals.

This one ATM machine reflects Cathay United Bank's aggressive push into Asia the past three years. In 2013, it acquired Singapore Banking Corporation in Cambodia (now named Cathay United Bank (Cambodia) Corporation Limited) to gain a presence in that country's retail banking market. The installation of an ATM at the airport offered convenience to its customers, but perhaps even more importantly, served as an effective brand advertisement.

"On the streets of Angkor Wat, you can also see Cathay's trees," he says, referring to the Cathay United Bank logo evident on signs outside its branch in Siem Reap.

When Financial Supervisory Commission (FSC) Chairman Tseng Ming-chung increased the cap on the amount domestic life insurers could invest overseas at the end of 2014, it meant these insurers could use premium revenue to acquire overseas financial institutions, subject to FSC approval. Cathay Financial Holding Co., the parent company of Cathay United Bank, was the measure's biggest beneficiary.

Following the Cathay Group's move in Cambodia, Cathay Life Insurance Co. acquired a 20 percent stake in the Philippines' sixth largest privately owned bank – Rizal Commercial Banking Corp. (RCBC) – in late 2014 for 17.92 billion Philippine pesos (about NT$12.55 billion).

Then earlier this year, it invested NT$8.7 billion to buy a 40 percent stake in Bank Mayapada, the 31st largest commercial bank in Indonesia.

Cathay Financial Holdings now has a presence in every member state of the Association of Southeast Asian Nations except for Brunei, giving it the most complete financial services network of any Taiwanese financial institution in the region. Cathay United Bank alone has 1,500 employees overseas, of whom 100 were dispatched from Taiwan.

"(Every unit in) the financial holding company contributes whatever money and effort it has," Lee says, explaining the model of having the group's life insurance unit invest in a bank and the banking unit manage it.

In pursuing the Taiwanese government's "Asia Cup" policy – an initiative to help domestic financial institutions expand into Asian financial markets – the biggest challenges faced by Taiwanese operators involve coping with the differing degrees of market opening in each country, finding the right partner and creating the optimal investment structure.

In ASEAN's bigger markets of Indonesia, the Philippines, Thailand and Malaysia, for example, a surplus of banks exists, and these countries are all eager to reduce the number of banks in their territories, to the point of even holding back licenses for new branches. Authorities allow foreign investors to purchase stakes in existing banks but tend not to give them controlling rights.

In the smaller markets of Laos, Cambodia and Myanmar, Cambodia allows wholly owned foreign-invested banks, while Laos and Myanmar only permit branches.

As a result, Cathay United Bank bought a bank in Cambodia and acquired stakes in existing banks in Indonesia, the Philippines and Thailand while also pursuing branches in those three countries. This flexible strategy has enabled the bank to quickly penetrate the ASEAN market and maneuver around the regulatory restrictions, a strategy crafted around its successful experience in Vietnam.
Repeating the Vietnam Model
Fifteen years ago, Cathay United Bank invested US$10 million to set up Vietnam's first joint venture bank, subsidiary Indovina Bank Ltd., with Vietnam Joint Stock Commercial Bank for Industry and Trade (Vietinbank). Treated as a domestic bank, it has had an easier time setting up branches around the country.
By combining Taiwanese talent and management with the local culture and resources, Indovina Bank was able to hitch itself to Vietnam's fast-growing economy and has seen its equity value appreciate 7.5-fold, making it Taiwan's most successful overseas banking investment in history.
To Cathay United Bank, the pursuit of the "Asia Cup" has always gone beyond targeting Taiwanese-invested businesses in the region, whether partnering with another bank as in Vietnam or going it alone.
In early January, Cathay United Bank's representative office in Yangon, which had been set up less than six months earlier in September 2014, sent shock waves surging through Myanmar's financial circles.
The bank lent Myanmar's biggest privately run bank, Kanbawza (KBZ) Bank, US$80 million (about NT$2.6 billion) to finance public infrastructure and loans to small and medium-sized enterprises. That was a large sum for any lender, considering that neither Myanmar nor its banks have credit ratings.
According to Taiwanese businessmen with interests in Myanmar, local financial circles were instantly filled with admiration for "the very gutsy Cathay United Bank."
"We thank KBZ for having us in their sights, because we are a new market entrant, and it's fortunate to be able to have this kind of partner," says Peter Pan, the head of the bank's representative office in Yangon. Cathay United Bank leases its office space in Yangon from KBZ Bank.
His office now open for just over a year, Pan has been given the mission of getting the government and the business community to take note of Cathay United Bank's long-term commitment to the country and secure licenses to operate branches.
But even if the bank secures a branch license, it will still need to cooperate with one of the country's domestic banks because of Myanmar's large area, Pan acknowledges. Referring customers to KBZ, with its 330 branches around the country, offers them considerable convenience. Cathay United Bank also signed a memorandum of understanding with KBZ to provide it with training and syndicated loans in the future.
The bank has also benefited from having a local partner in Indonesia. Cathay United Bank's representative office there can be found in the Jakarta headquarters of the bank in which it has a stake – Bank Mayapada – located on the avenue known as the city's "Wall Street," Jalan Sudirman.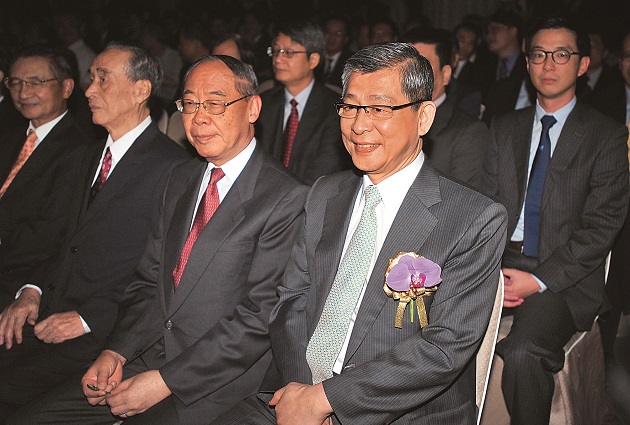 From Indonesia to the Philippines, Cathay Financial Holdings Chairman Tsai Hong-tu and oldest son, Cathay United Bank Chief Strategy Officer Tsai Tsung-han, are constantly looking for investment opportunities.
"I hope that through cooperation with Cathay United Bank, we can turn Bank Mayapada into a top 10 bank," says Bank Mayapada Chairman Dato' Sri Prof. Dr. Tahir in an interview with CommonWealth Magazine.
Dr. Tahir admits to having had discussions with Chinese and South Korea institutions, but he resisted their overtures because they were only interested in a full-scale merger. Not wanting to sell the business, Dr. Tahir only hoped to attract a new shareholder who could contribute technology.
The ethnic Chinese businessman and philanthropist, who says he enjoys Taiwan and often attends mass at a church on Xinyi Road in Taipei when he's in the country, hopes to transplant Cathay United Bank's technology, products, risk control and wealth management capabilities and even its brand to his operations in Indonesia.
A Local Focus
Turning to Cathay United Bank (Cambodia), also known as CUBC, one finds all the trappings of a typical Taiwanese bank outlet – a waiting area, counters, young bank clerks wearing pressed uniforms. But most eye-catching was a poster in English and Khmer offering customers a Samsung S6 smartphone for opening an account.
Why would the bank make such an attractive offer? The first vice president of CUBC, David Chang, explains that Phnom Penh has seen an explosion in the number of new banks recently, creating fierce competition that has forced each bank to pull out all the stops to attract depositors. CUBC has jumped into the fray because of its strategy to go local, with 90 percent of its customers Cambodian citizens.
"We do not limit our customers to Taiwanese businesspeople, for two reasons. First, when Taiwanese customers arrive, they're completely spoiled by banks, so they are not very profitable. Second, outside of high-tech, Taiwanese businesses do not have many financing needs," explains CUBC Chairman Lawrence Liang.
Liang describes today's Cambodia as very similar to Taiwan of 20 to 30 years ago when he graduated from National Chengchi University with an accounting degree. Several problems arise locally that bank headquarters back home could never imagine.
As only Cathay United Bank's second subsidiary that does not use Chinese as its main language, the Cambodian bank has presented a stiff challenge to the organization. To manage a subsidiary, "just in terms of English, people staffing the headquarters' front, middle and back offices need to be able to communicate in the language," Liang says bluntly.
Common Training, Systems across Borders
As a critical source of support for its overseas operations, bank headquarters is constantly trying to recruit senior executives with international capabilities and insists on its employees enhancing their own international abilities, Cathay United Bank's Lee says
The first step is language skills. In the past, only front office people who traveled abroad frequently were thought to need language ability, but over the past three years, product and middle and back office teams also have had to travel extensively.
That's because aside from money, what Rizal Commercial Banking Corporation in the Philippines, Bank Mayapada in Indonesia and KBZ Bank in Myanmar most covet is the technological skills of Cathay United Bank employees, mostly back office people who have relatively little contact with the outside world.
Lee revealed, for example, that in September when members of the Philippine bank came to Taiwan for a visit, they expressed an interest in Cathay United Bank's new Koko wallet app and hoped the technology could be transferred to them.
From the front lines to the back office, pursuing the "Asia Cup" strategy has tested Cathay United Bank's overall international capabilities and talent pool. Lee said proudly that when the bank's branch in the Philippines opened on Oct. 2, the branch manager was an employee from Cathay United Bank's first pool of management trainees who had been groomed by the company for 10 years.
The bank also began three years ago to encourage employees with experience to apply for training for overseas postings.
This year for the first time, Cathay United Bank recruited Chinese nationals – five in all – as management trainees to nurture them for positions in Cathay subsidiaries in China that are still waiting for regulatory approval. There were also overseas Chinese from Vietnam for the first time among this year's 35 management trainees in Taipei.
"We have to take all of this talent and turn it into our talent pool," Lee says.
The bank's human resources managers have therefore had to design a personnel system and training program adaptable to Taiwan and other countries in which the bank operates.
"(If the model is) successful, we can use it in other countries, and the bank will be more willing to invest in R&D and a technology platform for all of Asia," Lee believes.
The process of internationalization has put pressure on all of Cathay's employees to pursue personal growth, but another source of pressure for the bank has been figuring out how to manage risk in Southeast Asia's fragile economic environment.
In Myanmar, for example, the US$80 million loan it made to KBZ Bank earned it priceless exposure, but the move was not without risk. In the second half of August, there was an internal shake-up in the ruling party, with national parliament speaker Shwe Mann being ousted as chairman of the ruling Union Solidarity and Development Party.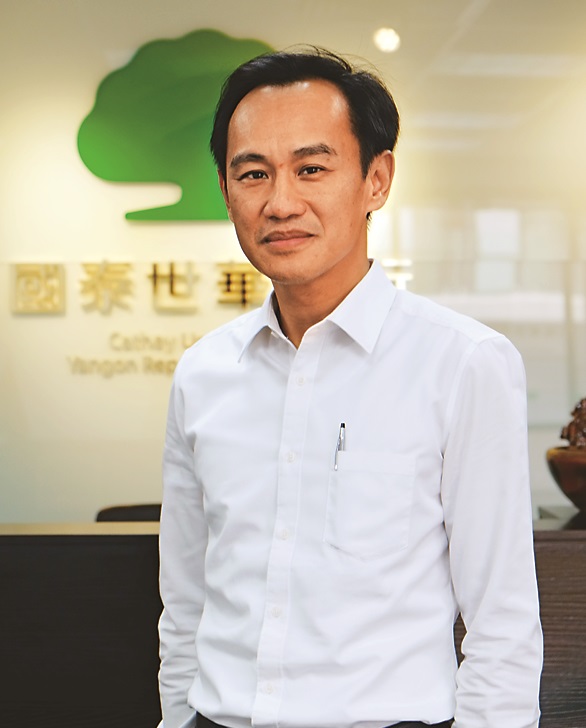 Cathay United Bank's representative office in Yangon has been open for just over a year, but the office's top representative Peter Pan has already made a name for himself there.
This not only stunned political circles but also triggered fears of economic instability and rumors that private financial institutions, including KBZ Bank, were in trouble, leading to small runs on banks. The Central Bank of Myanmar had to step in and provide assurances to quell the speculation.
Southeast Asia's vulnerability to unanticipated political change can leave investors anxious. But Lee accepts that heavy volatility is a fact of life in this market that is generally trending upward, and says careful risk management must be used to deal with it.
"Every investment we make has to be carefully evaluated," he says. "Even more importantly, you have to make sure that in the case of failure, it will only break some bones and not take you down."
Now willing to aggressively expand into Southeast Asia and take on the region's higher risk, the once conservative Cathay United Bank has indeed changed.
Translated from the Chinese by Luke Sabatier