Taiwan's New Strength: Industrial PCs
Advantech the World No. 1
精華簡文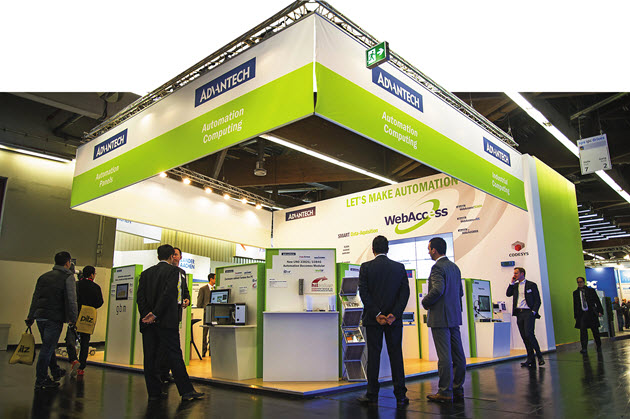 Source:CW
Foreseeing the volatility of consumer electronics 10 years ago, Advantech Co. set its sights on industrial computers. The strategy now has it positioned at the forefront of Taiwan's – and China's–foray into "Industry 4.0" and the Internet of Things.
Advantech the World No. 1
By Liang-rong Chen
From CommonWealth Magazine (vol. 581 )


"We are not afraid of the 'red' supply chain," boasted the 61-year-old chairman of Advantech Co., K.C. Liu, at the company's shareholders meeting this year.

He had plenty of reason to be so confident. After 30 years of trial and error and occasional tumbles, this godfather of industrial computers has eschewed the traditional branding or contracting models and embraced a third development path favored by some high-tech businesses in Taiwan – cultivating an industrial brand oriented toward services that cannot be easily supplanted.

He has also forged a new path forward for Taiwan's struggling computer industry.

Leading electronics contractors Hon Hai Precision Industry (Foxconn) and Compal Electronics and PC vendor Asustek Computer all intend to follow in Advantech's footsteps and move into the high margin industrial computer business that big Chinese vendors have yet to test.

"We have to thank Advantech. They have taken industrial computers and turned them into a basic model," acknowledges Chu Fu-chuan, the president of Hon Hai subsidiary Ennoconn Corp.

Advantech is a source of hope for industrial upgrading in Taiwan, a long-articulated goal that has proved hard to achieve in reality.

When Hiwin Technologies Corp. wants to make robots on its own, it has to talk to Advantech. When machine tool makers in central Taiwan seek to escape Germany and Japan's iron grip on controllers, they rely on Advantech.

Even government policy has been influenced by the company. Faced with slumping exports, a major drag on growth in Taiwan's export-oriented economy, the Cabinet introduced economic stimulus measures early in the year, and declared its intention to transform Taiwan's information and communications industry into a "creator of smart living." It also said it would aggressively promote the commercialization of smart cities and the export of turnkey projects.

The refreshing industrial policy was influenced by an impassioned appeal from Advantech's Liu to President Ma Ying-jeou when Ma visited the company's new headquarters in Linkou.

As a result, government agencies have been chasing around Advantech business executives in recent months, with the Industrial Development Bureau and the Taiwan External Trade Development Council anxiously asking them what turnkey project exports are and how they are exported.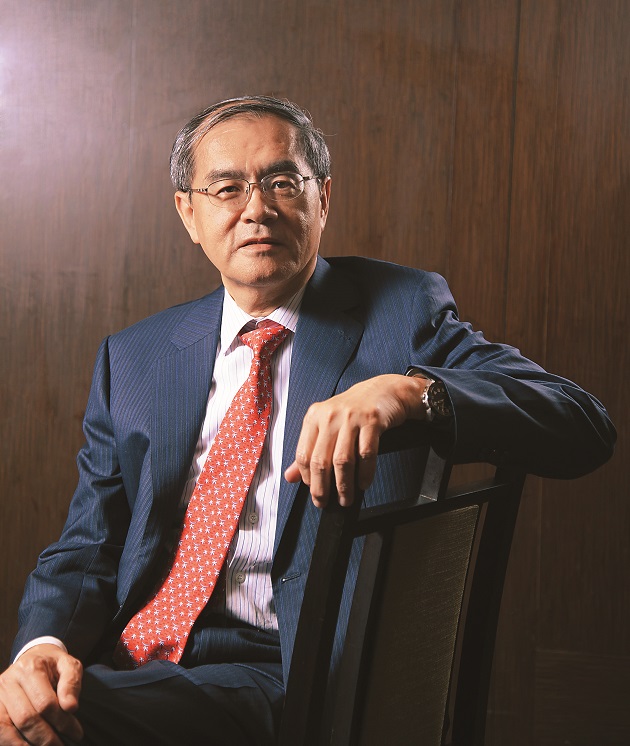 Though Advantech Chairman K.C. Liu makes many speeches in public, he does not like to be photographed, and requests before interviews that his picture not be taken. This picture of Liu is a file photo from a CommonWealth event earlier this year.
"They had no choice because we're the only ones in Taiwan who have real project experience," says Allan Tsay, the president of Advantech's Industrial Automation Group, with a laugh.
This "warlord" who has been deployed in China for more than a decade is always laughing with a huge grin on his face, very much at odds with the grim mood currently prevailing throughout the high-tech sector.
But that's not a surprise, because Advantech's business in his area of responsibility and the company's biggest market – China – is expected to grow 17 percent this year as the Industry 4.0 craze takes flight.
In 1999, at the height of Taiwan's notebook computer sector, Advantech made it into CommonWealth Magazine as a new cutting-edge brand.
Having already built the "Advantech" brand, a typically relaxed Liu said at the time he did not want the company to pursue rapid growth. "In the next century, it will be better to be a good company than a big company," he said.
Standing Behind the Big Brands
A key factor enabling Advantech to develop strong presences in markets around the world is its assimilation of the DNA and experience from foreign companies, especially Hewlett-Packard. Liu, Advantech President Chaney Ho, and many other top executives worked for HP Taiwan, and their approaches reflect their past.
When Ho went to China to plot the company's expansion there, for example, he emulated HP by cultivating a strong network of distributors that provided after-sales service.
Advantech now boasts a service force of thousands of people, one of the main factors underpinning confidence in the strength of its position in the highly competitive China market.
"There's nobody who can compete with Advantech in China. Others don't have this many distributors, and they don't have economies of scale," Ho says proudly.
Just as important to its success is its cutting-edge technology, helping it penetrate the military and medical markets and their extremely high entry thresholds.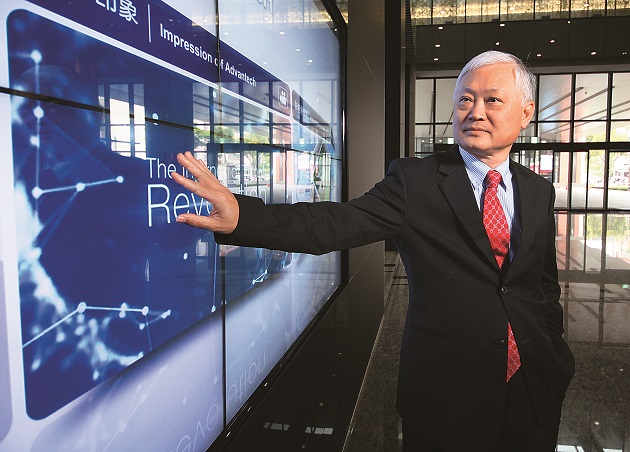 Advantech President Chancey Ho and K.C. Liu were colleagues at HP Taiwan.
Some of General Electric's ultrasound and tomography scanning devices, for example, rely on Advantech's controllers. High-speed computer software and hardware used in the Israeli military's anti-missile Iron Dome system, which must decide in a matter of seconds whether to intercept an unidentified flying object, also comes from Advantech.
The "embedded boards and cases" product line under which these items fall is now Advantech's most important source of revenue and income, accounting for about 40 percent of the company's revenue in 2014.
A few years ago, the dominant player in the field was German company Kontron AG, which was once BMW's computer department. But Advantech was determined to take it on.
The Key Battle that Made Advantech's Name
A special study on Advantech completed in 2013 by Hsiao Ruey-Lin, a professor with National Chengchi University's Graduate Institute of Technology, Innovation & Intellectual Property Management, clearly chronicled this classic battle in industrial computer history.
At the beginning of 2000, Kontron appeared invulnerable. It had a huge technological lead in the industrial computer field and was even able to set the industry's standards. But Advantech adopted an unconventional strategy by deploying "resident engineers" with design capabilities to the headquarters of important state-run companies and GE Healthcare in Shanghai to resolve their technical problems on the spot.
The approach hit the bull's eye and exposed a major Kontron weakness – if its products needed maintenance or a design change, they had to be returned to the company's plant in Munich. Customers did not appreciate the inconvenience but they had no other choice.
"But Advantech's arrival on the scene gave these big companies another option. Advantech's products were 30 percent cheaper than Kontron's, and the company dispatched resident engineers every week to provide service and maintenance," said an Advantech R&D executive when participating in the National Chengchi University study.
"(The approach) slowly earned the professional trust of GE's R&D team, and in the end they invited us to get involved in different types of lower-level medical equipment. To Advantech, that was a major milestone," the executive said.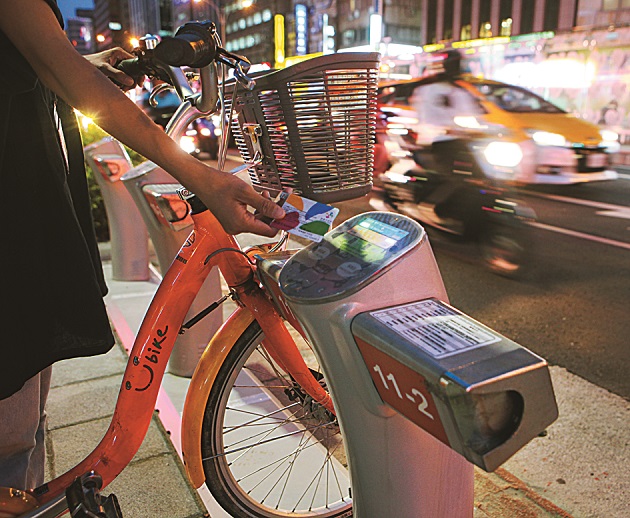 The YouBike's intelligent system was provided by Advantech.
Taiwanese electronics suppliers, including MediaTek and Delta Electronics, have traditionally overcome stronger European and American rivals with an outstanding price-performance ratio and great service, and Advantech was no exception.
It later introduced a series of products that came close to meeting demanding military and industrial standards and could be accepted by clients that slowly carved into Kontron's high-end market. By 2014, it had grown bigger than its German rival to become the No. 1 company in the field.
Getting an Early Jump on the Internet of Things
As Advantech and Kontron were engaged in an intense battle, the company's Chinese business group was rapidly evolving.
In 2006, an important distributor in China complained to Advantech's Tsay, "Why do we sell industrial computers one by one while Siemens sells them in packages?"
The distributor's reference to the idea of selling "solutions" rather than just a piece of equipment spurred Advantech to action, and three years later, Liu announced that his company would begin a transition to "selling systems," providing clients total solutions that incorporated both software and hardware.
At the end of August, Tsay sat down with CommonWealth reporters at the company's Neihu headquarters and went through slide after slide in a PowerPoint presentation of the company's projects that all testified to Tsay's dedication in recent years to selling systems.
One of the clients was China's first nuclear power plant – the Qinshan Nuclear Power Plant in Zhejiang province – which purchased an emergency evacuation system from Advantech complete with motherboards, sensors and transmitters. That led to another 10 nuclear power plants following suit. One project had led to 30 million renminbi (about NT$150 million) in business.
Before the Beijing Olympics in 2008, the city of Beijing installed a large scale energy safety monitoring system that included smog monitoring on tall buildings and boiler safety at heating stations. It was a massive system comprised of more than 2,000 pieces of equipment, and Advantech led the project.Another 20 cities around China later adopted the same system.
There were also projects in an oil field in the Taklamakan Desert and on Line 15 in Beijing's subway system, among many others. Tsay spent more than two hours and still could not get through all of the company's successful projects.
"Everybody is talking now about the Internet of Things and Industry 4.0. We were already working on them six or seven years ago," he concluded proudly.
Becoming a Diversified Industrial Company
The root cause of many Taiwanese electronics companies' woes is the lightning pace at which consumer electronics products change.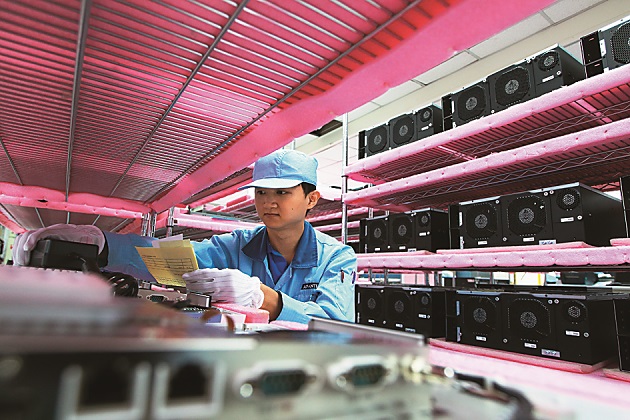 Advantech's production in Taiwan will be expanded to 55 percent. Pictured (lower left) is its Neihu factory, where it makes POS systems and onboard computers for cars.
The main pressure on Advantech executives, however, originates from Liu's obsession with repeatedly restructuring the company's organization and introducing new systems and new business models.
In 2009 during the global financial crisis, Liu called for transforming the company into one that "sells systems." Then Advantech had IBM help it install IBM's well-known matrix management system. Liu was also interested in moving toward IBM's "globally integrated enterprise" concept and "smarter planet" initiative.
But in an interview with CommonWealth Magazine, Liu advocated another model. "We are positioning ourselves as a diversified industrial company (DIC)."
Why a diversified industry company? Liu explains that the model is patterned after GE or Siemens – big industrial conglomerates with diversified product lines and independent business groups.
"We are just imitating the operating methods of GE and Siemens, doing the same thing (they do) in Taiwan's business environment," Liu says.
No examples even remotely similar to this model exist in Taiwan's high-tech sector, but Liu is determined to see the idea through.
At its second-quarter investor conference at the beginning of August, Advantech announced it was spinning off three of its business groups – embedded design, industrial Internet of Things and smart city solutions. In the future, these business groups will each have their own headquarters in Linkou, Xindian and Neihu, respectively, and gradually move in the direction of operating independently.
"Advantech's move to become a DIC is absolutely the right approach," says National Chengchi University professor Hsiao. "If it can use China's nutrients and markets and have a future worth looking forward to, then Taiwan can hope to have a world-class industrial electronics company."
When that day comes, Liu, the Taiwan computer industry's indefatigable pacesetter, will be leading a group on new Internet of Things companies and stand out as the newest source of pride of the country's high-tech sector.
Translated from the Chinese by Luke Sabatier