Charting the World
Does the World Cup Reduce Productivity at Work around the Globe?
Does the World Cup Reduce Productivity at Work around the Globe?
By Laura Oliver
web only

For employers, major sporting events can pose a dilemma: give your workers time to watch the competition and plan for a drop in productivity; or continue with business as usual and risk die-hard fans tuning out.
This year's FIFA World Cup in Russia crams 64 games involving 32 countries into just four weeks. During the opening group stages fans can take advantage of as many as three - and on one day four - games a day. If you're in the right timezone, chances are you can catch one or more during normal working hours.
For workers and football fans in Rio and New York the lure of the World Cup may be particularly problematic for bosses: more than 64 hours of the competition overlap with normal working hours in Rio while 60 hours overlap for New Yorkers, according to this graphic from Statista. Though those in NYC won't be watching team USA, who did not qualify for the finals, Brazil are among the favourites to take home the biggest prize in football.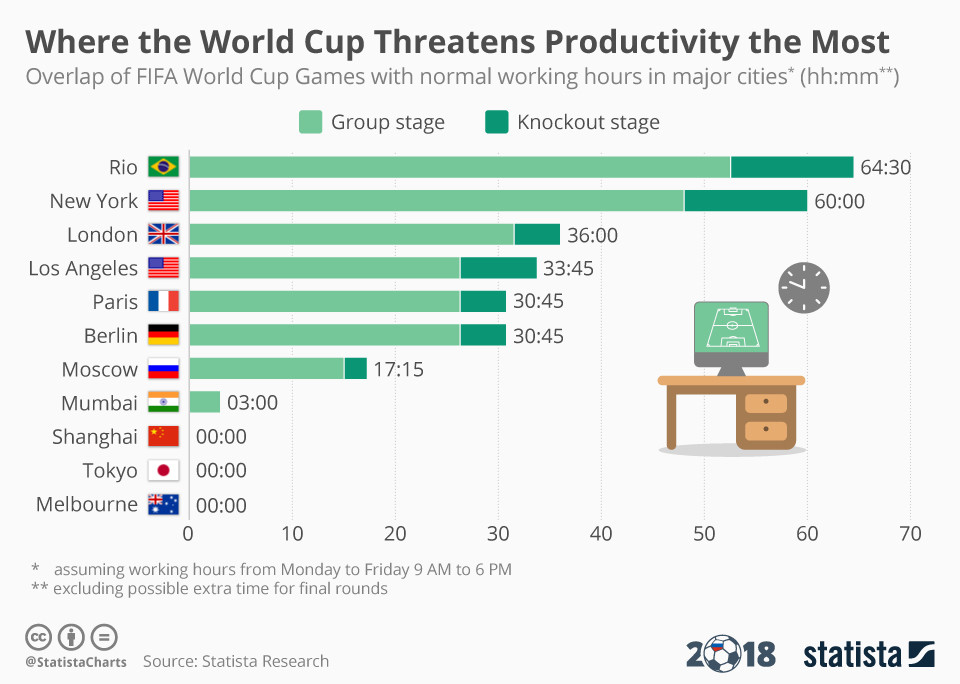 Image: Statista
In London, Los Angeles, Paris and Berlin, more than 30 hours of the competition fall in office hours. In the UK, the Trades Union Congress (TUC) has recommended flexible working be offered to employees, suggesting time to watch the sporting event can make workers happier and ultimately more productive.
"It's important employers do not score an own goal by acting like killjoys," says Frances O'Grady, TUC general secretary.
"To avoid problems they should try and let people who want to watch the games do so, either at work or at home – and then claim back their time afterwards."
Edited by: Shawn Chou
---
Additional Reading
♦ Can Work in the Future be Fair as Well as Flexible?
♦ The Secrets Of The Hidden Champions
♦ Does Hosting a World Cup Make Economic Sense to the Host Country?
Original content can be found at the website of World Economic Forum.
♦ Chart of the day: These are the cities where the World Cup threatens productivity the most
This article is reproduced under the permission of World Economic Forum (WEF) and terms of Creative Commons Attribution-NonCommercial-NoDerivs 4.0 Unported License ("CCPL"). It presents the opinion or perspective of the original author / organization, which does not represent the standpoint of CommonWealth magazine.