From ICs to Biotechnology
MIT Professor-Entrepreneur Leading a Biological Revolution
精華簡文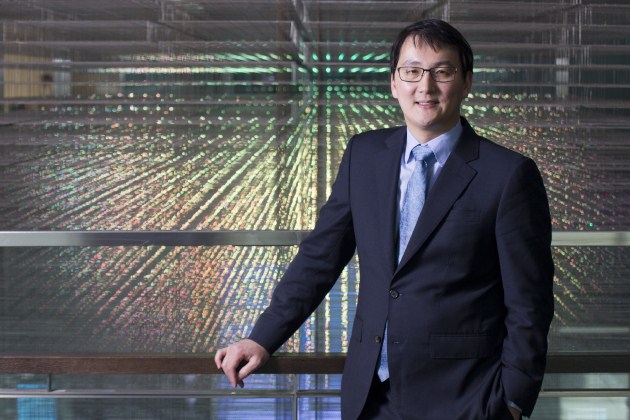 Source:CW
Timothy Lu went to the United States to study electrical engineering, seemingly set to follow his father in the electronics industry. But he decided to follow a different path, and the MIT professor is now recognized as one of Boston's top entrepreneurs.
MIT Professor-Entrepreneur Leading a Biological Revolution
By Amber Lin
From CommonWealth Magazine (vol. 652 )

If you came upon two roads – one promising and stable, the other bumpy and full of uncertainty – which one would you choose? That was the dilemma faced by an overseas electrical engineering student at MIT around the year 2000.
The dot-com boom had not yet gone bust, and this student who loved programming traveled to the United States along with many Taiwanese at the time to study electrical engineering. It was also the era when gene sequencing took off, and two articles on the subject in Nature that shocked the world also drew him in.
"I'm always curious about new fields, curious about what is really possible and what is not. I always want to give it a try," he says, an attitude that led him to switch his academic focus to a completely different field – medicine and synthetic biology. Thus began his journey of exploration into the unknown that also got him started as an innovator across sectors.
He is Timothy K. Lu, now an associate professor of biological engineering and electrical engineering and computer science at MIT. His tone of voice becomes firmer when he reflects on the decision he made soon after arriving in the United States. He could have followed in the footsteps of his father, Nicky Lu, an important player in Taiwan's semiconductor industry for many years and now the chairman of the Taiwan Semiconductor Industry Association. But the younger Lu decided to create a new career platform he could call uniquely his own instead.
From ICs to Biotechnology
The MIT professor sees genetics and biology as the new revolution, ready to take the world by storm and change it as integrated circuits did starting 60 years ago, and he is determined to snatch the opportunity.
Lu describes gene combinations as even more mysterious and random than ICs, but he also believes the two may also have common attributes, and he has sought to apply algorithmic thinking to decode unsolved puzzles.
His ambitions were solidified when he was at Harvard Medical School. Lu found that patients confined to their beds were struck by really bad infections, and shots of antibiotics he gave them to combat super bacteria did little to help.
That experience made him wonder what could be done to help patients not suffer so much and why new approaches were not popping up. Those questions led him to combine engineering, medicine and synthetic biology in search of new solutions.
Because of his work, which involved engineering viruses to destroy the "biofilms" that harbor bacteria highly resistant to antibiotics, Lu was honored as one of the MIT Technology Review's Innovators under 35 in 2010 when he was only 29. Facebook founder Mark Zuckerberg received the same honor three years earlier in 2007.
Today, still not yet 40, Lu has again stunned the scientific community and biology circles with another form of innovation – attempting to use live cells to develop a 3D printer bio-ink that can accelerate the efficiency with which drugs are delivered. The project has relied on big data and IC concepts to modify genes and combat hard-to-cure diseases.
The 3D bio-ink project exemplifies Lu's rare ability among scientists to successfully bridge the laboratory and the private sector.
"I don't want basic research to die in academia," he says, explaining that his goal is to create products that can benefit patients. Lu has already established seven biotech companies in the United States, leading Taiwanese media to describe him as "Boston's hottest entrepreneur." One of the companies he co-founded, Synlogic, secured an investment from the Bill & Melinda Gates Foundation in 2014.
Not Afraid of Failure
Lu acknowledged, however, that cross-sector innovation is anything but easy. First, you have to overcome doubts and constraints while persisting with innovation. When he decided to go for a Ph.D. in synthetic biology, for example, just looking for a laboratory was like running into a brick wall. Compared with his peers focused exclusively on biology, Lu's experiments had less of a foundation, and most professors preferred playing it safe and limiting his field of research.
But Lu still sought a breakthrough, and in the end he found an advisor, James J. Collins, willing to support his ambitions. (Collins would later partner with Lu on some of his entrepreneurial ventures.) That gave Lu breathing room, because though his experiments in his first two years in the Ph.D. program repeatedly ended in failure, he had the resources to keep trying.
"Most people in the sciences fail 99 percent of the time. The way to deal with it is to believe that it's OK," he says, adding that "only through failure can learn the principles behind [what you're studying]" and go beyond the limitations of what you learn from textbooks to unearth new knowledge.
Another perhaps even more important key to sustaining innovation, Lu contends, is "being humble."
"You cannot think you understand everything," he says, an attitude that explains the one requirement he has when selecting lab students or a startup team. "You have to find who are smarter than you. If the people you choose are not better than you, you won't be able to learn from them," Lu says.
It's not surprising then that Lu and his startup teams have repeatedly engineered stunning discoveries that surprise the scientific and biotechnology communities, or that the biological revolution they have invested in remains on the ascent.
Translated by Luke Sabatier
Edited by HanSheng Huang
---
Additional Reading
♦ How to Build the Biggest Cross-strait Event Platform
♦ Fighting Cancer with Precision Medicine
♦ The Explosion of the Data Economy
---