Delta Electronics Inc.
'The Time is Always Right to Do the Right Thing'
精華簡文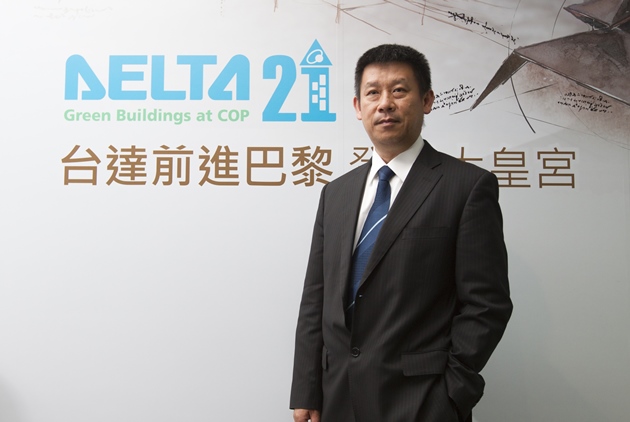 Source:CW
For the third year in a row, Delta Electronics has defended its top spot in the CommonWealth Magazine Corporate Citizen Awards rankings of large enterprises. The electronics company's outstanding performance shows that corporate social responsibility (CSR) is not a question of good timing; the time is always right to do the right thing, i.e. moving forward with the CSR agenda.
'The Time is Always Right to Do the Right Thing'
By Jimmy Hsiung
web only

Having hosted conferences and a green building exhibition on the sidelines of the U.N. Climate Change Conference (COP 21) in Paris in 2015, Delta Electronics recently again turned a new page in Taiwan's quest for environmental sustainability.
Last December, Delta Electronics joined the pioneering group of some 100 global companies with approved science-based targets for greenhouse gas reduction, becoming the first Taiwanese company to set such targets and have them successfully validated.
"Getting approval is very difficult," notes Hu Hsien-lin, adjunct professor at the Institute of Environmental Technology and Management of National Taipei University of Technology. He points out that companies typically pay lip service to reducing their carbon footprint or setting their own climate targets. Delta Electronics, however, made its operations transparent and accepted the challenge of aligning its strategy with the Paris climate goals based on international science-based targets. "They are spearheading the environmental sustainability trend," Hu points out.
It is this pioneering spirit that helped Delta Electronics claim the top spot in the 2018 CommonWealth Magazine Corporate Citizen Awards in the large enterprise category following top rankings in the two previous years.
It takes more than just fulfilling general CSR requirements to make it into the top ten of large enterprises. Crucial in deciding the top rankings is often how groundbreaking and influential individual CSR projects are.

Cutting More Greenhouse Gases
The approval of Delta Electronics' climate targets has not only put a Taiwanese company on the map of the global fight against climate change, but also has the effect of stirring domestic companies into action to follow in their footsteps.
But let us first look at what the Science Based Targets Initiative actually is. The initiative, still little-known among the general public, brings together the Britain-based Carbon Disclosure Project (CDP), the U.N. Global Compact, the World Wildlife Fund (WWF), the World Resources Institute (WRI) in Washington, and We Mean Business, a coalition of companies committed to low-carbon transition.
The grouping encourages companies to sign a science-based target commitment to reducing greenhouse gases, based on the Paris Agreement goal of keeping the increase in global warming to well below two degrees Celsius above pre-industrial levels. These targets are gained through scientific methods and weighted formulas that set realistic emission or carbon reduction quotas for specific industries and specific companies against the global carbon budget.
Presently, 461 companies worldwide have signed such science-based target commitments, including eight Taiwanese companies. In Asia, Taiwan ranks third in terms of number of participating companies, behind Japan with 64 companies and India with 21. In China and South Korea only four companies respectively have committed to science based targets.
However, committing to targets is one thing; actually setting them and getting them validated is much harder. Under SBTI rules, businesses have two years after signing a commitment to work out their individual targets, which must be submitted to the Initiative for review and approval.
So far, only 125 businesses worldwide have gained approval for their science-based targets, including Delta Electronics, the only company in Taiwan or China to make it into this elite circle.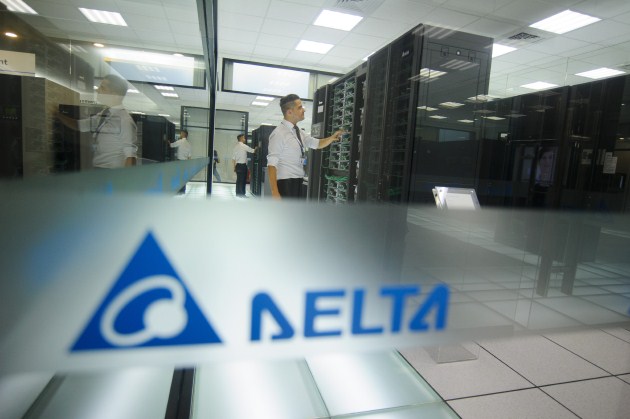 Source: Mingtang Huang
"When I asked my colleagues in 2015 which rights and obligations come with signing a commitment, they told me that there aren't any. So I was very happy to sign at the time," jokes Delta Electronics Spokesperson and Assistant Vice President Jesse Chou, adding, tongue in cheek, that he only later realized that the commitment expires if a company fails to gain approval for its targets within two years.
Chou is, of course, joking. From operations to CSR, the corporate philosophy at Delta Electronics has always revolved around the motto "Conserve energy, protect the environment, love the planet." It was clearly understood that the company would seize any opportunity to go for even higher targets. Yet there were certain concerns whether these ambitions could be met, as Delta Electronics in 2014 had just reached its goal of reducing power consumption by 50 percent from 2009. And now the company would be forced to join the tougher and more rigorous battle of cutting greenhouse gases.
They enlisted the help of the Taiwan branch of international accounting firm PwC, using the International Energy Agency's scenario simulations and SBT methodology to set a target for a 56.6 percent decrease in carbon intensity by 2025 over the base year of 2014.
CSR Goes Hand-in-Hand with Business Operations
Heeding the motto of Delta Electronics founder Bruce Cheng "If we don't do it now, the risk will become greater," CEO Ping Cheng decided to go ahead even though he knew that, once the targets were approved, the company would face a formidable challenge. Noting that Delta Electronics has customarily sought greater tasks and challenges, Cheng points out that the company has always been able to discover new opportunities in the process of lowering risk.
Therefore, the company will more aggressively pursue new energy-saving, low-carbon technologies, revamping production equipment to reduce power consumption and increasing recycling and clean energy usage ratios.
Lin Tze-luen, professor at the Department of Political Science of National Taiwan University and one of the jurors for the Corporate Citizen Awards sustainability category, observes that the past two years have been a quite challenging period for Delta Electronics, as the electronics maker has been going through a leadership succession and transition period. Yet the company did not scale back its CSR measures even though the business community often regards them as costly expenses. "This shows that implementing CSR is part of their business strategy," notes Lin, who doubles as vice chief executive officer of the Executive Yuan's Office of Energy and Carbon Reduction.
Cheng, who took charge of corporate restructuring just last May, is in the difficult situation of steering the company's transformation amid an overall weak business climate. On top of that, the company's share price has suffered since last year, temporarily shedding nearly 50 percent of its value. Without doubt, Cheng has his work cut out for him.
But as Chou points out, despite the difficult environment, Cheng not only refrained from scaling back CSR projects, but kept investing more, deciding to increase R&D investment from five percent to seven percent of revenue.
The most obvious figures are Delta Electronics' donations. In 2016, the company donated a total amount of NT$290 million, accounting for 1.5 percent of profits. Last year, donations increased to NT$336 million, the equivalent of almost 1.8 percent of profits.
"This is because we discovered that what we do and what our investors and customers want to see are increasingly aligned," remarks Chou.
Foreign Investors Acknowledge Focus on CSR
Chou relays an experience he recently had when representatives from a globally renowned equity research firm paid a routine visit to the Delta Electronics headquarters in the Neihu Technology Park in Taipei.
As Chou moved to explain the financial statements in his hand, a new member of the visiting team cut him off, saying: "I am not interested in your financial statements; that's not my job, a whole bunch of my colleagues are doing that." The visitor flatly declared that he was more interested in the company's activities in the field of CSR than in its profitability.
Chou later learned that the research firm's newly added team member was a so-called "CSR analyst."
Chou explains that, a few years ago, influential foreign investor organizations would require that the companies they invested in meet the criteria and benchmarks for sustainable business practices under the Dow Jones Sustainability Index. This meant, for instance, that the CSR Report had to be put on the agenda of the board of directors, that the supply chain be expanded beyond first-tier suppliers, and that a company's social and environmental impact be measured in quantitative and qualitative terms such as social return on investment (SROI).
"Foreign investors now appreciate it if a company sets up its own CSR department so that CSR experts can have direct discussions with the company," Chou explains. That foreign investors have always held a relatively high stake in Delta Electronics can definitely be partly attributed to the company's devotion to CSR.
Having started out as a manufacturer of power supplies, Delta Electronics has meanwhile expanded its core competences to CSR. The company is living proof that CSR is the best interpretation of what makes good business.
---
About the CommonWealth CSR Corporate Citizen Awards Survey
By Elpis Su
The 2018 CommonWealth Magazine Corporate Citizen Awards Survey picked Taiwan's best corporate citizen using international benchmarks and evaluation methods in the four areas of corporate governance, corporate commitments,social engagement, and environmental sustainability.
The evaluation process, which covers CommonWealth Magazine's Top 2,000 Enterprises and domestic and foreign-invested companies recommended by experts, is split into four stages. In the first round, companies that have turned a profit for three years in a row are invited to participate in the survey. In round two, an initial evaluation takes place based on the data provided by the responding companies. In the decisive third round, experts from various fields form jury panels that rank the companies in the various categories according to their performance in the four evaluation areas. In round four, Jury head Lin Hsin-yi convenes a grand jury panel that selects the Top 100 Corporate Citizens based on enterprises' total scores.
This year, companies were grouped into four categories based on annual revenue. Companies with annual revenue above NT$10 billion were categorized as large enterprises, those with annual revenue below NT$10 billion and considerable CSR experience were put in the medium-sized enterprise category, while companies with less than NT$5 billion in annual revenue were designated as "small giants". Foreign enterprises made up the fourth category.
Survey period: May 3, 2018 to August 9, 2018
Survey execution: Jimmy Hsiung, Elpis Su
♦ 2018 CommonWealth Magazine Corporate Citizen Awards Winners
Translated by Susanne Ganz
Edited by Sharon Tseng
---
Additional Reading
♦ Setting Ambitious Standards for Corporate Social Responsibility
♦ Taipei 101: World's Tallest Public Service Platform
♦ 'Little Giant Serves CSR with Volleyball'