Internet of Things Fever
Taiwan Betting on 'Big-Small' Model
精華簡文
Source:CW
Unable to tackle the Internet of Things alone, big Taiwanese electronics companies are building strategic alliances with startups to get in on the ground floor. Few are pursuing the opportunity more aggressively than Acer.
Taiwan Betting on 'Big-Small' Model
By Elaine Huang
From CommonWealth Magazine (vol. 572 )


In the middle of April, Acer founder and honorary chairman Stan Shih was in chilly Berlin to attend the ExA-Summit on the Internet of Things (IoT). A firm believer in the future of this new vision that will bring the Internet into all walks of life, Shih led a delegation of Taiwanese entrepreneurs to the summit organized by an IoT group he helped found – the Wangdao Alliance.

Shih sat among dozens of representatives of Taiwanese and European venture capital firms, European and American car makers, and German telecoms, listening to briefings from roughly a dozen startup companies. To Shih's side was his oldest son Maverick Shih, who is responsible for Acer's cloud business.

The ideas presented by the startups, from medical beauty products, smart home appliances and cloud cams to wearable devices and smart pet feeding gadgets, all relied on application services emerging from the IoT craze.

"I am 70, and I like startups," Shih told the assembled crowd, his background as an entrepreneur drawing him closer to the young group of business people.

The father and son duo have taken on the mission of transforming Taiwan's oldest PC brand by diversifying into the new business Maverick Shih is running: Build Your Own Cloud (BYOC). BYOC is seen as a test of the younger Shih to determine his suitability as Acer's future leader. Behind the two Shihs' trip to Berlin was the hope of creating opportunities for the BYOC initiative.

A few years ago, Maverick Shih invested in Berlin-based Advanced Telematic Systems (ATS), a company specializing in integrated Internet of Vehicles systems. Gerhard Schmidt, the father of Advanced Telematic CEO Armin Schmidt, served as Ford Motor Co.'s chief technology officer and is well connected to the European and American car industry.

"In the Internet of Things era, the car industry will be a major avenue," says the elder Shih, who was exploring the possibilities for Taiwan in the Internet of Vehicles on his trip to Germany.
Acer: The BYOC Alliance
With personal computer shipments posting negative growth and the mobile device wave having peaked, Taiwan's high-tech sector now sees the Internet of Things as its next big growth opportunity. So confident is the elder Shih that he has even set an ambitious target for Acer's new cloud businesses – to contribute at least half of Acer's total profits within three to five years.
The bar may be set high, but the Acer founder clearly realized that his company had to transform itself to survive. The value of "hardware" in the tech ecosystem is on the wane, and with most of Acer's current revenues derived from PC sales, it faced bleak prospects for profit growth in the future had it sat still.
"Taiwan missed out on the Internet era. We have now arrived at the Internet of Things era, where there will be huge emerging demand for personalized devices integrating software and hardware. We can't afford to miss this opportunity again," Maverick Shih asserts.
Zyxel Communications Corp. President Gordon Yang, who also attended the IoT conference in Berlin, explains that "Acer's promotion of BYOC is to help create value for PCs." Zyxel supplies routers and other Internet networking products and solutions, and Yang is also looking for opportunities in the smart home appliance field.
Walking around Berlin, EBM Technologies Inc. Chairman William Pan casually pulls out his smartphone and opens an app showing 24 hours of EKG readings and X-ray images.
"At hospitals, doctors can take mobile devices with them to treat patients at their bedside and use their mobile phone to check a person's medical records," Pan says.
EBM Technologies is one of only three mobile medical imaging software companies in the world to have received U.S. Food & Drug Administration certification and has a client list of more than 2,000 medical organizations around the globe. Its picture archiving communication system relies on Acer's cloud to transmit integrated information on patients' conditions to hospital databases. The system both helps doctors with diagnoses and issues warnings if something appears abnormal.
Similar to the partnership between EBM Technologies and Acer, image sensor manufacturer OmniVision Technologies Inc. makes use of the BYOC platform in making energy-saving, high-resolution imaging products. Silicon Valley startup AppTog has also sought out Acer to develop a mobile programming cloud app that enables anybody to learn how to write programs or analyze Big Data on the cloud.
Acer's strategy is crystal clear: to form alliances with outside startup companies.
"Big brands often have baggage from the past. Startups have technical foundations and are able to quickly find entry points into markets. When startups go on Acer's resource platform, it's the same as getting on a boat and quickly sailing out to sea," explains Robert Wang, the general manager of Acer's BYOC group.
Market research firm Gartner estimates that 50 percent of Internet of Things solutions seen by 2017 will have come from startups in business for three or less years.
Challenging the Big Brands' 'Volume Mentality'
Many of Taiwan's biggest high-tech companies have shown enthusiasm for the emerging Internet of Things but have been slow to take action. Why is that?
"The Internet of Things is not just a new opportunity. It's a huge challenge, because industries are restructuring at an accelerated pace, distribution channels are changing and accurately forecasting consumer behavior and product life cycles is impossible," says AppWorks Ventures co-founder I.C. Jan.
"There is no single product you can sell more than 100,000 or 1 million of, except for Apple and Samsung. Volume and price concepts are completely different," Jan says, explaining that this new world presents a major test for big vendors' high volume-oriented operating models.
Quanta Computer Inc., known for daring to invest in early-stage research and development, has observed the IoT market for two years but found it difficult to take the plunge. One of Quanta's business groups previously had a chance to work with fundraising platform Kickstarter, and two startups eventually backed by AppWorks – smart home appliances maker Sentri and 3D printing company Flux – also sought out Quanta but could not reach a deal. The main obstacle was that their "volume" was too small.
Yet, the Internet of Things has become a global trend, and startups with plenty of flexibility and no baggage offer the big boys the quickest road to success.
AppWorks: The 'Smart Things Club'
In AppWorks' office in an old building on Keelung Rd. in Taipei, young entrepreneurs abound. AppWorks, which has expanded its space from one floor to two, is teeming with entrepreneurial teams because it has emerged as Taiwan's most vibrant startup accelerator.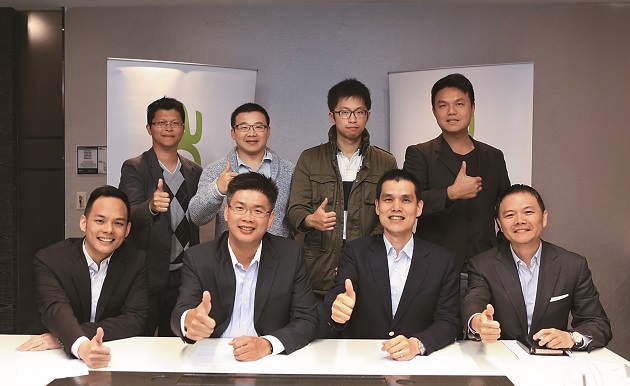 AppWorks Ventures co-founder I.C. Jan (Second from left) hopes to link up the needs of big companies with those of new startups.
Last year, AppWorks set up a "Smart Things Club" (STC) led by Jan to link up the needs of big companies with those of new enterprises. In April, Acer launched a "BYOC Blue Sky Program" to nurture the Internet of Things field and talked with AppWorks about meshing the two companies' strengths to capitalize on IoT opportunities.
Unlike the app developers and Internet startups AppWorks targeted when it began its operations, the Smart Things Club's startups are mostly developing products and services that integrate hardware and software.
"The Internet of Things era will put much higher demands on the user experience than in the PC era. It consists of many different combinations that can meet personalized and localized needs," Jan says.
The number of opportunities created by demand for personalized end-user devices has soared and driven the first wave of entrepreneurial exuberance.
"But startups have a very hard time initially finding hardware makers," Jan says. Taiwan has a competitive edge in manufacturing, featuring stable quality and delivery times, and Jan hopes to bring together big and small operators and match those with complementary needs to create size and scale advantages.
Every time the Smart Things Club meets, representatives of Taiwan's biggest electronics contractors – Quanta, Wistron Corp., MediaTek Inc., and Hon Hai Precision Industry Inc. – along with Acer are present to get a feel for new product development trends. To these big companies with resources, the gatherings offer a good opportunity to unearth new models of cooperation.
Wistron, Hon Hai Looking for Partners
Aside from Acer's model of establishing a cloud platform to build partnerships with smaller upstarts, other big vendors have created alliances by directly investing in startups and providing manufacturing support.
Wistron has very quietly begun to plot its entrance into the Internet of Things world by buying a stake in cloud computing solutions provider Zillians Inc.
Zillians has caused a stir in pet social networks by introducing the "Bistro," the world's first smart pet feeding device that can recognize cat faces. One of these well-designed devices is all that is needed to identify different cats' faces and record the pets' individual eating habits and how much they eat. The device, which has become a hot item in Japan, is tantamount to a 24-hour health manager for pet cats.
When Zillians founder and general manager Mark Sung started his company, he raised over US$100,000 in just three days on a fundraising platform. He recently traveled to Japan to talk to the agent of AKB48 to have the Japanese girl idol group represent his company.
"The first batch of 3,000 units was made by Wistron. To big companies, the investment of a small sum of money can help them get involved in a new field," said Sung, who acknowledged that Wistron had bought a small stake in his company.
Wistron has had trouble getting orders in recent years and posted negative revenue growth, dragging it ever farther behind close rivals and fellow electronics contractors Pegatron Corp. and Compal Electronics Inc. Wistron Chairman Simon Lin is investing in Internet of Things ventures in search of future growth opportunities.
Lin's aides regularly attend IoT enterpreneurship activities to develop contacts with startup enterprises. During the process, they have discovered that these new outfits required small volumes of many different items, opening a new frontier for the normally high-volume Wistron.
Hon Hai Chairman Terry Gou, who heads the world's largest electronics manufacturing services provider, has eyed the Internet of Things field for a long time and been very active recently. In April, he brought many of his business group managers to the Hannover Messe, the world's leading trade fair for industrial technology, to learn more about the IoT-era "Industry 4.0" trend.
In October 2014, Hon Hai bought a stake in cloud computing solutions provider Hope Bay Technologies Inc., whose founder Dr. Ben Jai was previously a senior engineer at Google. Hon Hai made the investment to strengthen its capabilities in the cloud computing and big data fields.
Hon Hai followed that up by buying a stake in industrial designer Hsieh Jung-ya's Gixia Group in February of this year, and then Hon Hai and Gixia set up joint venture SquareX Inc. to target the smart home appliance market. The venture is expected to begin rolling out products in the second half of 2015.
Gou has also made strategic investments overseas, backing the "father" of Google Android Andy Rubin. Rubin, who left Google in 2013, launched hardware incubator Playground Global LLC in April to get involved in the Internet of Things, and the Hon Hai chairman invested US$12 million in the startup. According to sources, Rubin was approached by Hon Hai's "Super Precision Mechanical Business Group."
The Internet of Things has prompted a major shift in manufacturing and service models, and nobody has yet truly secured dominance in the field. "Right now, it's like entering an ultimate fighting octagon. The martial arts skills everybody has mastered are different, but they all get in the ring and fight the way they want to," says Steve Yang, chief strategy officer of SquareX.
Resource-limited Taiwan is searching for a path to success in this global octagon, and hopes that matching big and small companies will be the model that can give it the edge in capitalizing on future IoT opportunities.
Translated from the Chinese by Luke Sabatier