Broadsound Corporation
Striking Fear in Big Ultrasound Vendors
精華簡文
Source:CW
As the only U.S. FDA-approved ultrasound replacement transducer maker, Taiwan's Broadsound Corporation has come to monopolize this niche market, and is now starting to worry global brands. Here's how the company has done it.
Striking Fear in Big Ultrasound Vendors
By Whitney Huang
From CommonWealth Magazine (vol. 567 )


It runs the highest profit margin of any Taiwanese manufacturer; it also has the best technology and most marketable products of any medical device supplier in Taiwan's high-tech field in the past 20 years.

The company is the Broadsound Corporation, operating in relative anonymity as it disrupts the ultrasound equipment business.

Ultrasounds are among the imaging techniques most commonly used by hospitals today, with hundreds of millions of people a year relying on ultrasound exams to check on fetal development or heart function or detect tumors in the liver, kidney, pancreas or spleen.

The ultrasound transducer, which slides over a patient's skin with the help of a gel to capture images, stands out as the critical element of ultrasound devices and the core of Broadsound's business.

It has developed more than 150 replacement transducers that are functionally compatible with the products of major international brands Philips, Siemens, GE, Hitachi and others. These replacement components enable the big brand ultrasound machines to operate without missing a beat, earning Broadsound a 70 percent gross margin.

The company only had revenues of NT$80 million in 2014, commanding a mere 1 percent of the global market for new transducers, but its growth prospects are bright.

That's because the United States Food & Drug Administration announced in September of 2008 that it would allow non-OEM replacement transducers. It later gave Broadsound authorization to sell its products on the market.

Today, Broadsound remains the only replacement transducer vendor in the world to have received FDA approval, giving it a monopoly in this niche market. As a result, Broadsound has run annual double-digit growth in sales and profits and emerged as one of Taiwan's few "hidden champions."

The company's replacement transducers, which are sold to end users for between NT$120,000 and NT$200,000, are now shipped to at least 95 countries around the world.

"Our company's name isn't known at all in Taiwan, but it's well known overseas," says Broadsound Chairman and General Manager Yuan Ying-wei proudly.

So how has this small company with only 45 employees penetrated the high-end medical device long dominated by big Western and Japanese vendors with globally renowned brand names?

An ultrasound machine has a service life of roughly 10 years, but the transducer is considered a semi-consumable part because it regularly comes into contact with patients and lasts an average of about two years before being replaced. As such, the replacement market has been an important source of profits in the ultrasound business.

With ultrasound machines the exclusive province of big multinational players, Broadsound figured, why not plot a different course?

"Making probes, there will always be a demand," says Yuan, who clearly identified the opportunity.
Experience and Technology
Just as importantly, the probes are high-value items.
"Transducers are sold by the ounce. Other parts of an ultrasound machine are sold by the pound," Yuan explains, noting that the value of the probe is roughly the same as that of the rest of the machine's parts combined.
The 59-year-old Yuan, called "Dr. Yuan" by his employees, has a degree in biomedical engineering from Chung-Yuan Christian University and later received a masters and Ph.D. in bioengineering from Penn State University.
Ultrasound machines evolved from military technology, an area of strength at Penn State, which is considered a powerhouse in developing anti-submarine torpedoes. Yuan chose to study ultrasound technology, and he mentored professor K. Kirk Shung, who later emerged as an international authority in the field.
After Yuan earned his Ph.D., he successfully co-developed the "Site Rite" ultrasound imaging system, which helped medical workers pinpoint the location of veins to accurately give shots or place other peripheral vascular access devices.
Medical workers had previously relied on experience to find the right vein for a shot or the insertion of a catheter, but in patients whose veins were not in normal locations attempts sometimes resulted inadvertently in puncturing an artery, causing the patient to bleed to death.
Once the US$8,000 Site Rite device hit the market, it quickly became a big seller.
In 1997, port access needle and catheter specialist Bard Access Systems purchased Dymax Corporation, Yuan's employer and the company that sold the Site Rite system, for US$18 million.
In his early 40s at the time, Yuan decided against retiring after the sale. Instead, his good friend from Penn State University and the director of the Industrial Technology Research Institute's ultrasound research project, Jeng Jiann-hwa, asked Yuan to join him and ITRI colleagues in starting up a new venture.
Broadsound was thus born in 2002, founded on Yuan's two decades of business and academic experience in the United States and the ITRI group's more than 10 years of research experience in the field.
An Arduous 7-Year Journey
Even with the right people, a company needed to target the right market. Yuan boldly proposed that the new venture develop replacement ultrasound transducers, but he faced a challenge: The company's products would need certification before they could be sold.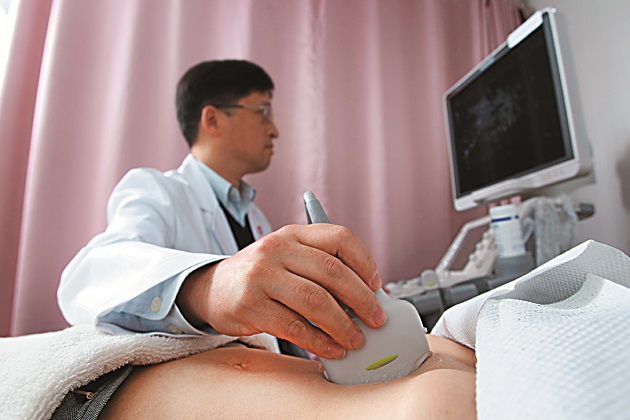 Ultrasound is among the imaging techniques most commonly used by hospitals, and the ultrasound business is fiercely competitive.
Broadsound filed its first application for certification with the FDA in 2007. No specific laws or guidelines on replacement probes existed at the time, and the FDA responded by providing a copy of draft regulations for Broadsound's reference.
"Our morale got a real boost after we saw that," Yuan recalls, explaining that by not outwardly rejecting Broadsound's application, the FDA was tacitly indicating that it saw replacement probes as feasible.
In November 2008, the FDA updated its guidelines on getting market clearance for diagnostic ultrasound devices. It allowed ultrasonic transducers made by non-OEM vendors to sell their products as long as they received 510(K) pre-market approval, meaning that the devices were at least proven to be safe and effective, or "substantially equivalent," as legally marketed devices. With the approval in hand, Broadsound could attack the market.
"We call this guideline the 'Broadsound clause.' That's because only Broadsound has received approval. Vendors from other countries have been left helpless," Yuan explains proudly.
Creating a blue ocean market out of nothing, Broadsound's fate changed. It was finally able to break even after seven years of painstaking toil in developing its products.
During those years when the company was burning through money, Yuan and the company's former chairman Jeng worked a year without pay to save costs. Several of the company's senior employees who had left ITRI "pretty much mortgaged everything they had short of their wives and children," Yuan recalls.
"You want to know what 'drama' is? Once we got this admission ticket (FDA approval), our company suddenly took off, and we were overwhelmed," Yuan said, gesturing as he spoke to emphasize the company's rapid take-off.
Normally, companies like Broadsound operating in "sub-brand" markets live in fear of being sued by big brands for patent infringement. But Broadsound was fortunate. Because ultrasound technology evolved from military technology, related patents had long since expired, leaving the company without any patent risk.
To set itself apart, Broadsound has deliberately given its own-brand ultrasound probes different appearances from those made by the original manufacturers.
"We want other people to know that we are not a knockoff. We are a typical 'me better,'" Yuan asserts.
Fully confident in its products, Broadsound has adopted a satisfaction-guaranteed strategy that allows unconditional returns from clients who are not satisfied, allowing its worldwide distributors to market the company's transducers without worries.
"So far, nobody has asked to return our transducers," says Coral Chiang, key-account manager at Broadsound's marketing division.
The Art of Making Ultrasound Probes
"Making transducers is an art form. It's not simple. Broadsound is very technology-oriented. The only word I can use to describe it is 'craftmanship,'" says Su Ming-chour at Chang Gung Medical Technology Co., admiringly.
Broadsound has followed a steady course in nurturing its core competencies and developing a diversified line of products.
Aside from continuing to roll out replacement transducers, Broadsound has also created more than 50 transducer models on an ODM (original design manufacturer) or customized basis for ultrasound systems vendors in around a dozen countries, including Taiwan, England, France, Russia and Israel. It has sold over 1,300 of these customized transducers.
In addition, Broadsound has entered the aftermarket to offer maintenance services and rolled out an automated testing system for ultrasound transducers. In 2011, it began developing and producing complete ultrasound machines.
Taking on GE
Major ultrasound brands now realize that Broadsound cannot be underestimated and have started taking action to counter the upstart Taiwanese company.
Some brands are warning, for example, that they will no longer service the ultrasound equipment of clients who switch to "sub-brand" probes, hoping to protect their parts business. Other major ultrasound machine vendors are offering free ultrasound accessories to maintain client loyalty.
In 2013, General Electric announced it was getting into the after-sales service market, offering ultrasound probe testing and maintenance services. The company's test instrument was patented in the United States, forcing Broadsound to first pursue its maintenance business ambitions in Europe.
"Repair and maintenance is this year's main battleground," Yuan declares.
Despite the obstacles, Yuan remains extremely optimistic because he believes that the big brands' incursion into after-sales services will only help elevate Broadsound's visibility.
His only source of anxiety is how to find talented individuals with an international perspective that can help the company expand into markets around the world.
As Yuan says ambitiously: "We still have a big fight ahead that we intend to win."
Translated from the Chinese by Luke Sabatier