2013 Top 2000 Survey
Taiwan's Top 50 Performers
精華簡文
Source:CW
Several relatively obscure companies serving Taiwan's domestic consumers defied the economic malaise of 2012 to join high-tech enterprises among the year's top performers.
Taiwan's Top 50 Performers
By Jin Chen
From CommonWealth Magazine (vol. 522 )


Economic forecasters spent 2012 repeatedly "revising downwards" their growth projections, an indication of how stagnant Taiwan's economy was and the difficult environment businesses faced.

But despite the economic morass, CommonWealth Magazine has identified 50 winning companies that are boldly confronting the challenging environment, bucking the trend, and attaining success. To filter out Taiwan's "Top 50 Performers," we assessed companies' overall financial performances, both long- and short-term, in combination with their levels of stability and growth, based on several indicators last year and over the past three years: revenue growth, after tax net profit, net profit growth rate, and return on equity. (See Table)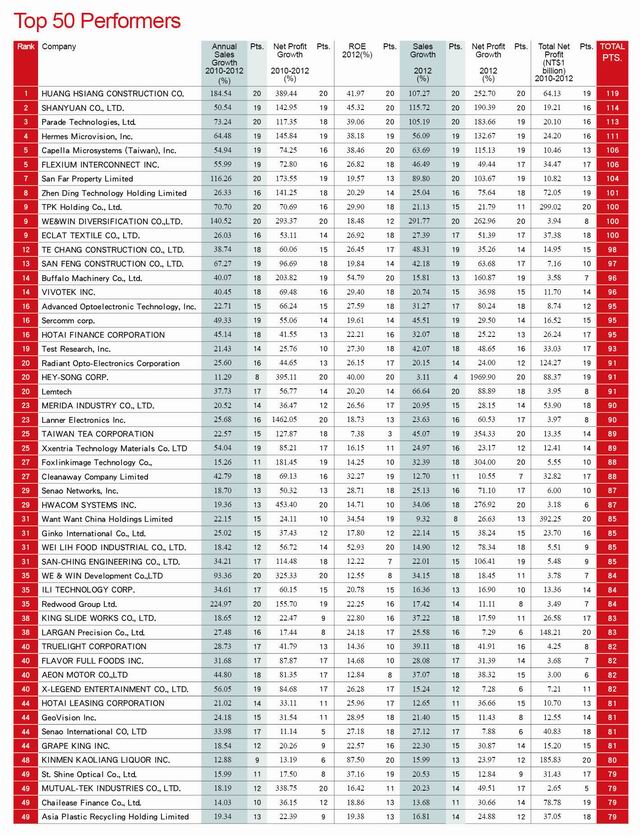 Perhaps unsurprisingly, the list was dominated by vendors of key components in the high-tech sector, but it also included a remarkable diversity of sectors, encompassing various levels of domestic demand, from textiles to food, entertainment, transportation and construction.
In the past few years, companies in the Apple supply chain soared to new heights on the back of the consumer electronics giant. But as Apple's net worth fell, the fortunes of its suppliers dimmed as well.
Contract manufacturers that mastered key technologies, however, remained among Taiwan's top performers, including touchscreen producer TPK Holding Co., flexible printed circuit board maker Flexium Interconnect Inc., backlight module specialist Radiant Opto-Electronics Corp., and camera lens maker Largan Precision Co. Flexium made the Top 50 for the third straight year, and its prospects may even improve further in the second half of the year when Apple introduces its low-cost iPhone, according to a Nomura Holdings report.
Apple Declines, Heroes Arise
Unaffected by Apple's fading aura, some companies in the "non-Apple camp" have become the envy of the industry. Ili Technology Corp.'s touch ICs have penetrated the Samsung and Dell supply chains, and optical sensor IC specialist Capella Microsystems (Taiwan) Inc. counts Samsung, HTC, and Chinese smartphone brands among its customers. With only 69 employees, Capella generated sales of NT$2.3 billion in 2012, and its workers received an average NT$1.33 million in bonuses.
The smartphone and tablet computer craze wasn't the only phenomenon helping companies vault into the Top 50. Cloud computing has also created corporate stars. Motion technology vendor King Slide Works Co. has benefited from soaring shipments of linear guideways for cloud computing servers, while networking equipment maker Lanner Electronics Inc. has made inroads into the network security market, receiving orders involving cloud security from major international network equipment and security vendors.
This year's Top 50 also includes strong players from the security surveillance and optical fields.
The growth in the IP surveillance market has fueled the arrival of the IP camera age, and the two leaders in this security business – Vivotek Inc. and Geovision Inc. – both joined the club of elites in 2012. In the optical field, contact lens vendors Ginko International Co. and St. Shine Optical Co. cracked the Top 50 for the first time.
The waste management and recycling business also produced some of the top performers. Taiwan's biggest industrial waste management enterprise, Cleanaway Co., has cleared profits equal to its paid-in capital each of the last two years. Asia Plastic Recycling Holding Ltd., headquartered in China's Fujian Province, registered in the Cayman Islands and listed in Taiwan, also made it into the winner's circle by recycling more than 50,000 metric tons of plastic waste a year and selling the end-product.
Venerable Companies Back on Top
Though high-tech companies inevitably figure prominently in the Top 50, enterprises closest to people's daily lives in the food, construction, textile, vehicle and entertainment sectors were all represented as well.
Over the past two years, restaurant chains were the hot commodity, but they were replaced on this year's list by food processing companies. Beverage maker Hey Song Corp., instant noodle producer Wei Lih Food Co., sesame oil and product specialist Flavor Full Foods Inc. and Kinmen Kaoliang Liquor Inc., among Taiwan's most venerable companies, all revived themselves to return to the ranks of the elite.
The one textile company that made it into the Top 50 was Eclat Textile Co., an enterprise in a sunset industry on whom the sun has been shining of late. Its innovative flexible knit and functional fabrics for sportswear and apparel have helped it make the cut two years in a row.
In 2012, the government took measures to curb property speculation, but that did not dim the enthusiasm of developers to launch new projects. According to My Housing magazine, developers put NT$1.26 trillion worth of new housing complexes on the market in the country's three major urban areas, the most in the past 10 years. Led by Huang Hsiang Construction Corp., which introduced super luxury apartments in Taipei's ritzy Xinyi District, the construction industry has been basking in impressive achievements.
The top companies in the vehicle market were makers of two-wheel products. Aeon Motor Co., which got its start by producing utility and all-terrain motorbikes, had always concentrated on the United States as its main market. But a couple of years ago, it got serious about its home market, and in early 2012 brought in superstar Jay Chou as its spokesman. In selling 7,000 motorcycles last year, it is now nipping at the heels of Suzuki Taiwan.
Bicycle specialist Merida Industry Co. spent much of last year expanding its network, helping sales in China grow dramatically. Its revenues and EPS were the highest in the company's history, and those results were quickly reflected on the stock market in 2012, when Merida shares became the highest priced among listed bicycle makers.
The entertainment industry's representative in the elite club was X-Legend Entertainment Corp., which has coped expertly with the dramatic changes in the video game industry driven by the sweeping rise of the tablet computer. It relied on X-Legend's flagship game, "Legendary Heroes," which features the popular concept of time travel, and overseas royalties to deliver strong results, but in an industry where video game life cycles are measured in weeks, whether it can maintain its meteoric growth remains to be seen.
From high-tech component suppliers to producers of products and services that are key parts of people's daily lives, Taiwan's Top 50 performers represent a diverse range of businesses. But they all tenaciously sought to survive and even thrive in a difficult economic environment and repeatedly stood out in battle after battle to emerge among the best performing enterprises of 2012.
Translated from the Chinese by Luke Sabatier