Taiwan's First Big Data Air Pollution Analysis
Uncovering an Emissions Controversy
精華簡文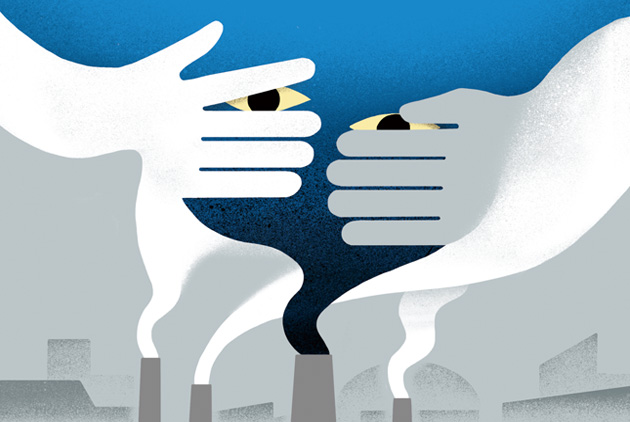 Source:CommonWealth Magazine Vol.667
Pollution data suggests Taiwan's air quality should be getting better. But a CommonWealth Magazine investigation has found that the data may be tainted, with companies using various tactics to hide high air pollution emissions readings. 
Uncovering an Emissions Controversy
By Yuping Kang, Kwang-Yin Liu, Kuo-Chen Lu
From CommonWealth Magazine (vol. 667 )

A gray smog engulfs western Taiwan, setting off red alarms at air quality monitoring stations up and down the coast and hiding from view Dadu Mountain in Taichung, the 85 Sky Tower in Kaohsiung and Dawu Mountain in Pingtung County.
The air quality monitoring results announced by Taiwan's Environmental Protection Administration at the end of every year claim that Taiwan's air quality has steadily improved from year to year, but good luck getting the average citizen to believe that.
Many of them probably feel the same way as Innolux honorary chairman and anti-pollution advocate Tuan Hsing-chien, who wondered: "Why does it feel like air pollution is getting worse? Why is it that a lot of people who don't smoke, don't cook and don't have a family history still get lung cancer?" (Read: LCD Panel Boss Takes Aim at Air Pollution)
The dissatisfaction with Taiwan's air quality was in evidence in November 2018 when Taiwan held nationwide elections for local government offices. People held anti-pollution rallies ahead of the Nov. 24 elections, and the air pollution issue factored heavily in the races for mayor and county commissioner.
Particulates from the coal-fired Taichung Power Plant and other industrial pollution enshroud Greater Taichung, even hiding the power plant's smokestacks, much like pollution data "disappearing" because of legal loopholes and human negligence. (Photo by Chien-Ying Chiu)
What are the secrets being hidden by Taiwan's skies? Why is the data improving, but people are complaining more than ever? Could it be that sources of pollution are being secretly concealed?
To answer those questions, CommonWealth Magazine partnered with nonprofit data platform Data for Social Good (D4SG) on a six-month project that brought together top data specialists for a big data analysis of readings from Taiwan's continuous emission monitoring system (CEMS).
326 Smokestacks Missing Data
The study was initiated to look at the sources of Taiwan's pollution in depth at a time when debate is raging throughout society on whether power generation by coal-fired and other thermal power plants should be cut and whether those plants should be decommissioned early.
We wanted to know how much pollution was being generated by each source, whether excess emissions were bellowing into Taiwan's skies, and whether there were even accurate figures to measure Taiwan's pollution.
Another factor behind the study was the existence of real-time CEMS data for major industrial pollution sources in Taiwan. The EPA began releasing such data in January 2017, enabling the public to monitor spots where pollutants are being generated.
The system covers 326 smokestacks at 111 factories around Taiwan in the petrochemical, steel, cement, paper and energy sectors along with incinerators and power plants that are seen as major sources of air pollution. These smokestacks account for 73 percent of the country's industrial pollution emissions (sulfur oxides, nitrogen oxides).
It takes readings of sulfur dioxide and nitrogen oxide concentrations every 15 minutes, and is directly connected to the EPA so that the agency can monitor air pollution and collect pollution fees.

CommonWealth Magazine and D4SG retrieved 29.3 million measurements collected through the CEMS system from January 2017 to September 2018, and used big data analytics to figure out what they all meant. Each reading comes with a code indicating the circumstances under which the reading was taken and its validity. (Check out the Interactive digital news report)
The findings were startling, uncovering serious gaps in the number of readings from each smokestack. The codes given indicated that readings went missing or lacked accurate values because tests were done during periods of factory maintenance and repairs or when machines were idle because of breakdowns.
Those are all deemed legitimate reasons under standard CEMS protocols for readings to be declared invalid, but the sheer volume of the problem readings have created a headache for local environmental protection departments, which must be wondering if factories are illegally emitting pollutants on the sly.
In all, there were 6.2 million measurements that were coded as "invalid" because of such stated factors as temporary equipment stoppages or calibrations, breakdowns and maintenance of the measuring devices, and were not included in calculations of total particulate emissions. In other words, about a fifth of all data collected just "disappeared" from official records.
Also, of all of the measurements, 182,000 readings showed excessive levels of pollution, but 136,000 of those were deemed "invalid."
In other words, out of every four readings showing higher-than-allowed emissions, three were declared invalid, meaning those smokestacks never officially exceeded pollution standards.
But does that mean that no pollution was emitted when the readings did not produce a value or were coded as invalid?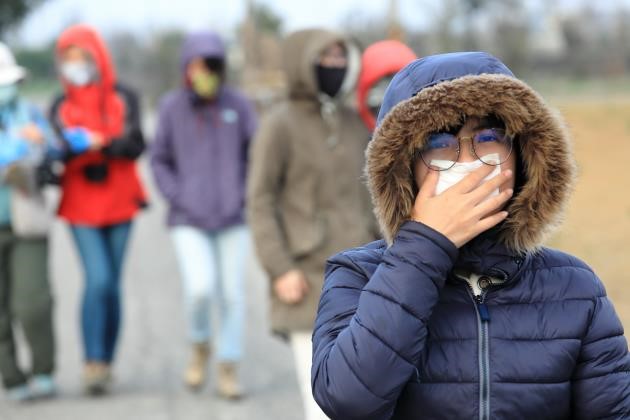 Readings that showed emissions from smokestacks 10 times and even 100 times the norm were "erased" from official records, but the pollutants were nonetheless emitted into the air and absorbed into people's lungs. (Photo by Chien-Ying Chiu)
Data Poorly Explained, Hurt by False Excuses
To find out, CommonWealth Magazine visited locations with smokestacks with particularly high numbers of readings that showed excessive emissions or were changed, including the Taichung City Refuse Incineration Plant and the Chiahui Power Plant in Chiayi County.
Our on-site investigation found that the vast majority of the readings at the Chiayi power plant showing excessive emissions were listed as invalid. The same pattern surfaced at the Taichung incinerator, where emissions readings often eclipsed permitted levels but were coded as invalid, seemingly to make the numbers look better than they should have been.
In the Taichung case, CommonWealth found that sulfur dioxide and nitrogen oxide readings were often 10 or even 100 times higher than the existing standards at 7:45 a.m., but those readings were given a "00" code, meaning that the "source of pollutants was temporarily idle."
To date, Taiwan's Environmental Protection Administration and Taichung's Environmental Bureau, which oversees the incinerator, have been unable to explain the high pollutant numbers or how so much pollution can be generated when the plant is idle.
Kou Hsien-wen, a professor in National Yang-Ming University's Institute of Environmental and Occupational Health Sciences who has long studied the health risk posed by the Taichung incinerator to the health of local residents, says every high reading should be examined and discussed. The idea that these are being discarded as a matter of course represents a major danger to the public's health, Kou says.

CommonWealth Magazine also examined data from Formosa Plastics Group plants and found a pattern of "false breakdowns but real pollution."
One of those was Formosa Chemicals & Fibre Corp.'s third aromatic hydrocarbons plant in the Sixth Naphtha Cracker Complex in Mailiao in Yunlin County. Among 40,000 pieces of data, several readings from April and May 2017 that detected pollution levels exceeding permitted levels were coded as "invalid because of failures in CEMS monitoring equipment."
That immediately led to the question of how a company such as the Formosa Plastics Group, which insists on getting to the bottom of problems and constantly improving, would admit to an equipment failure. The company was eventually fined NT$100,000 by the Yunlin County government because it could not produce the minimum amount of valid emissions data from the CEMS program required by law.
Commonwealth asked Wu Yi-chan, the director of environmental assessments in Formosa Plastics' Environmental Health and Safety Department, about the numbers, and he admitted "it was because the worker handling the tests was not familiar with the law. When he found the numbers were not stable, he coded the test data as a CEMS failure."
In other words, the equipment was fine but it was the worker's fault for calling the readings showing excessive emissions "invalid values." Whatever the reason, however, the pollutants were still released into the air.
This also presents a major challenge to local environmental protection bureaus in trying to figure out whether the moves were deliberate attempts to cheat the system or honest oversights by workers? Proof is hard to come by, so the only option left to agencies is to impose fines for a lack of data or falsified data.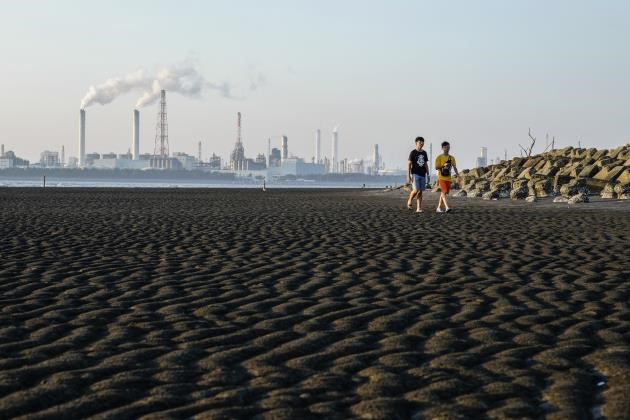 The Sixth Naphtha Cracker Complex on the Yunlin County coast is Taiwan's biggest petrochemical industrial complex. Its collection of CEMS data was hurt ostensibly because operators are unfamiliar with regulations, resulting in untrue and insufficient data. (Photo by Kuo-Tai Liu)
Formosa Plastics also has several smokestacks for which data is lacking or non-existent.
"It's likely due to a problem in the design of the EPA's public transmission software. We've told environmental protection units about this," Wu says.
But Chien Tsung-wen, an assistant researcher with National Cheng Kung University's Sustainable Environment Research Laboratories and an expert on CEMS regulations, does not buy Wu's argument.
"There's no problem with the public transmission system. It's likely Formosa Plastics' own problem," Chien says.
Sadly, the longer authorities wrestle with these issues and polluters find ways to circumvent the system to avoid fines or fees for polluting, the harder it will be to come to grips with Taiwan's air pollution problem and devise solutions that can actually work.
Translated by Luke Sabatier
Edited by Sharon Tseng