PX Mart Opens 1000th Store
What's the Scoop on "Brick and Mortar E-commerce?"
精華簡文
Source:Kuo-Tai Liu
While other retail channel sales were slipping, the supermarket segment stood strong thanks to PX Mart. The resolute decision to introduce fresh produce 10 years ago helped pave the way for the supermarket chain's one-thousandth store and NT$100 billion annual sales. Over the years, they discovered that their biggest competitor does not come from their own industry, but from the busy daily lives all of us lead in today's society.
What's the Scoop on "Brick and Mortar E-commerce?"
By Yichih Wang
web only

The most anticipated event of the first half of the year in the Taiwanese retail industry was surely the opening of venerable supermarket leader PX Mart's one-thousandth store.
The significance behind PX Mart's push beyond the 1000-store mark is that now 80 percent of Taiwanese families can get to a PX Mart within 10 minutes by car. With this, expedience and penetration combine to make a true "convenience store."
Looking at figures from the Ministry of Economic Affairs Department of Statistics from 2000 and 2018, only the supermarket sector recorded significant gains in growth, from 0.3 to 5.9 percent, in contrast to the steep declines of big box stores, convenience store chains, and department stores.
Although e-commerce has taken off over the past eight years, the growth rate for supermarkets has exceeded that off all other brick and mortar retail channels. Further, its sales volume as a proportion of the overall retail industry continues to climb, outstripping that of the US and Japan, making PX Mart its biggest "accelerator."

PX Mart has opened an average of 56 new stores per year over the past five years. It took the chain 16 years to grow from 200 stores to 1000 stores. Although it took nine years longer than 7-Eleven to reach that mark, it also boosted sales volume from NT$20 billion to over $100 billion over that 16-year period.
"It took 7-Eleven over 30 years to break the 1000-store threshold," marvels Chief Operating Officer Hsieh Chien-nan, who joined PX Mart in 2016 after spending the better part of his life working for 7-Eleven.
"To be accurate, supermarket growth has relied on PX Mart alone, Lin Yuan-ching, who heads the retail and distribution division at the Commerce Development Research Institute, states flatly. In contrast to other channels, recording under five percent growth, last year PX Mart achieved nearly 10 percent growth.
Lin Yuan-ching offers, "Seizing consumers' growing desire to go home to eat at the dinner table, PX Mart offers simple ingredients for cooking at home."
PX Mart is attentively addressing the demand for "eating at home plus easy preparation."
Upon entering any PX Mart an entire wall of ingredients for hot pot bases captures one's attention, with anything you could want. In a few months, PX Mart will completely reconfigure this section, replacing it with assorted prepared curry and sauce flavor packets.
Broths Hot Sellers, Fresh Produce Leads the Way
It would be a mistake to overlook the power of this wall in light of sales growth of 26 times for the hot pot broth and fixings section alone over the past four years, raking in nearly NT$200 million last year. The curry seasoning packets are also a potent revenue generator, recording 15 percent growth in sales last year over 2017.
Apart from the hot merchandise sales, it has also moved the needle on peripheral ingredient sales, giving the entire PX Mart chain a strong sales boost.
It might seem as if PX Mart has found new life through its flavor packets and hot pot broth bases. However, the stage had been set for its comeback even earlier.
Before 2008, PX Mart merely sold drygoods cheaper than the others, at a wider scale than key competitor Wellcome. However, company chairman Lin Min-hsiung perceived that just relying on selling drygoods, like toilet paper and laundry detergent, would not be enough to get customers in the door every day.
This reminded him of what Shinya Arai, honorary chairman of the Japanese Supermarket Association, said on a visit to Taiwan: "Drygoods are susceptible to cut throat price competition; supermarkets that fail to incorporate fresh produce are bound to be eliminated from the market."
Giant US-based box store Costco also started out just selling drygoods before gradually introducing produce and baked goods. They noticed that more and more customers were preparing meals at home, and that the demand for purchasing fresh produce had greatly increased. And as long as they came in, they might just end up purchasing an article of clothing.
"A supermarket isn't a supermarket without fresh produce," and Lin Min-hsiung's mind was set on introducing fresh produce to his chain. Little did he anticipate that as soon as he came up with his strategy for selling fresh produce he would be instantly met with resistance from corporate executives.
Their reasoning was practical: high technical barriers to handling fresh produce, high spoilage rate, and especially the general impression among residents of central and southern Taiwan that supermarket produce is expensive, preferring to shop at traditional markets.
Going alone against the tide, Lin Min-hsiung acquired Japanese direct marketing apparel company Summit and purchased the Taipei Agricultural Products Marketing and Distribution Supermarket in succession, while investing heavily to establish fresh produce processing facilities in northern, central, and southern Taiwan. Saying "This is the toughest part - you do it," he assigned his son, Lin Hung-pin, to oversee produce processing operations.
Over the past decade, fresh produce has accounted for 20 percent of PX Mart's total sales volume, yet continues to lose the chain money. "We can't give up on fresh produce. That's our trailblazer," insists Lin.
PX Mart established a marketing department in 2014 expressly to boost fresh produce, which was seen as a growth engine. Upon leading the marketing team to analyze the competitive environment, vice president Liu Hung-cheng was surprised to discover that IKEA was treating the prepared food industry as a competitor, not fellow members of the furniture business.
IKEA's thinking was that prepared food in Taiwan is too convenient and cheap, and that the sort of clientele that eat out for three meals a day are not the kind of people that put much effort into home decorating. "IKEA judged that where customers choose to dine is an accurate indicator of how seriously they take their home life," said an incredulous Liu Hung-cheng. (Read: IKEA Taiwan Posts Record High Food Share)
Consumers' Kitchen Away from Home
Going back to take another look, he found that the biggest competitor to PX Mart's fresh produce business was not supermarket megastores; rather, like IKEA, it was the vast prepared foods industry and people's busy lifestyles.
"If no one cooks, there's no demand for buying fresh produce," says Liu, who set out to "make cooking fun" for consumers.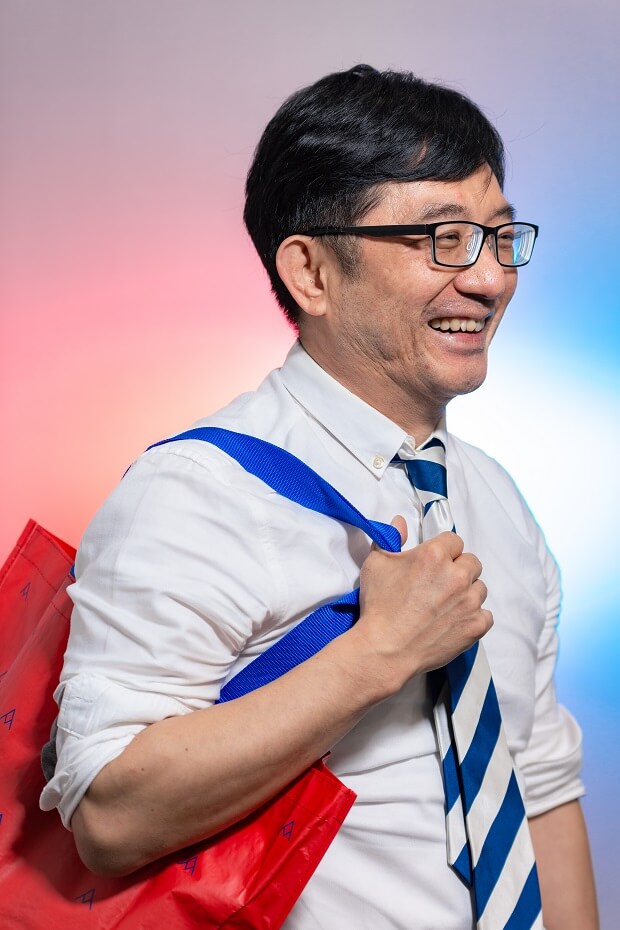 PX Mart VP of Marketing, Liu Hung-cheng, is determined to make cooking fashionable.
(Photo by Justin Wu)
First, they promoted "Wednesday Family Day," exhorting "Dad to go home to make dinner." At the same time, they developed numerous "delicious meal kits," combining fresh produce and other ingredients, already cut and washed so that all one needs to do is pour them into a wok and stir fry them. PX Mart chief operating officer, Tsai Ti-chang, tried it out himself, taking just 70 seconds to make a kit meal - faster even than instant ramen noodles.
This approach came about because preparing ingredients is the most exhausting part of meal preparation. PX Mart positioned itself as consumers' home away from home, lowing the barrier to cooking.
What they did not count on was that PX Mart customers failed to embrace these offerings, resulting in more spoilage than meal kits sold.
Looking closer into why, they learned that typical moms and aunties widely believed that the ingredients in meal kits were of poor quality. Plus, they cost more due to processing costs, lowering their interest in making purchases and causing meal kits to die on the vine.
But this single setback did not divert PX Mart from its mission, turning to Japan for wisdom and guidance.
Meal kits are not sold in Japanese supermarkets, which instead are stocked with condiment packets and prepared broths. "Young Japanese buy flavor packets first, then look at related recipes before buying the ingredients," relates Liu Hung-cheng, who finally realized the biggest pain point of cooking is seasoning.
PX Mart's Second Kitchen takes care of seasoning for customers. With flavor packets in hand, housewives need only purchase the fresh ingredients to whip up restaurant-caliber cuisine. With prepared broth bases, Taiwanese hot pot lovers not wanting to wait in line for restaurants no longer have to use plain boiled water to get their hot pots going.
Cooking meals should be fun, with deluxe cookware to complete the picture. Even if you are not much of a cook, it can still show off the master of the house's taste. Starting in 2015, PX Mart ran a sticker collection campaign, under which the redeemable merchandise was all major international brand kitchenware homemakers prize, but hesitate to purchase on their own.
From Henckels knives, to WMF pots and pans and Jamie Oliver branded kitchenware, to pots and pans from Swiss Diamond, "the Rolls Royce of kitchenware," the chain rolled out five campaigns over the last four years, raking in NT$6 billion in sales, with redemption volume exceeding each brand's global annual sales, causing worldwide shortages. Although in consumers had to wait up to six months to receive their merchandise, they established the habit of cooking daily and shopping daily to earn and redeem points.
Have you read? More on retail industry in Taiwan:
♦ Everyone's Learning to Cook
♦ Top 2000 Survey: Green Energy, Green Economy Avert Decline
♦ 'Consumer Experience' the New Battlefield
Brick and Mortar E-Commerce: In-App Purchase for In-Stock Pickup
With online and offline integration here to stay, Hsieh Chien-nan, widely revered as "the Godfather of Taiwanese logistics," did not plan on engaging in e-commerce, but sought to offer e-service.
His "brick and mortar e-commerce" model, or operation of a real-life platform along e-commerce lines, broke the mold.
Hsieh Chien-nan sought to leverage the existing advantages of PX Mart's network of 1000 retail locations with e-commerce to resolve the inconveniences and difficulties of parking, shopping, and queueing up to check out at physical stores.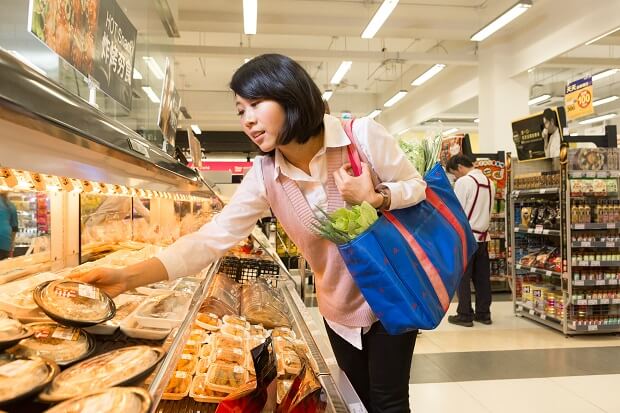 (Photo by Justin Wu)
In his imagination, by setting up real-time inventory updates, suppliers will not lose any sales opportunities, while consumers can use a mobile app to check merchandise stock and make direct orders and payments.
Ideally, retail staff can gather and pack merchandise in advance for consumers and place it in a pick-up area in the store. For elderly customers unable to get around well, or moms too busy to get out, PX Mart is also weighing the pros and cons of offering delivery service.
PX Mart's strategy is to serve consumers within a three-kilometer radius of each outlet. "Retailers that can offer customers merchandise and services close by will win the future," remarks Hsieh.
"Fresh produce is the weakest area for e-commerce proprietors. When PX Mart, with its 1000 stores, becomes a shipping warehouse to distribute items to consumers unable to come to the store, or becomes a physical e-commerce merchant where consumers can make pick-ups, it will mark a major counterstrike by brick and mortar retail," said one e-commerce company president sanguine about PX Mart's next steps.

Chiu Kuang-lung, president of Simple Mart, the next largest competitor to PX Mart, proposes an interesting question: what happens if a consumer at home uses the app to order the last carton of milk, while a shopper in the store grabs it first and checks out before a store clerk can put it aside, while the online consumer gets ready to come in and pick up their order before the supplier has a chance to restock the merchandise?
"Brick and mortar inventory is limited, and another set must be set aside for the e-commerce side. So how can offline keep two sets of books? asks Chiu. As such issues are addressed, it is also necessary to come up with new profit models.
Liu Hung-cheng looks forward to the day when cooking at home becomes popular and PX Mart's e-Service is not just a convenient channel for shopping for produce but becomes a recipe preview platform. This way, consumers can watch an online video before deciding whether to purchase fresh produce.
Not a cook himself, Liu Hung-cheng actually considered not even putting in a kitchen at home. But after shooting commercials last year about three different kinds of families that can save money with PX Mart, he finally had an epiphany about the real value of cooking at home. For a wok on the range brings the home warmth, and a kitchen makes a house a home.
Translated by David Toman
Edited by Sharon Tseng