2018 International Gurus Forum
Can Taiwan Set Course for the 'Blue Ocean'?
精華簡文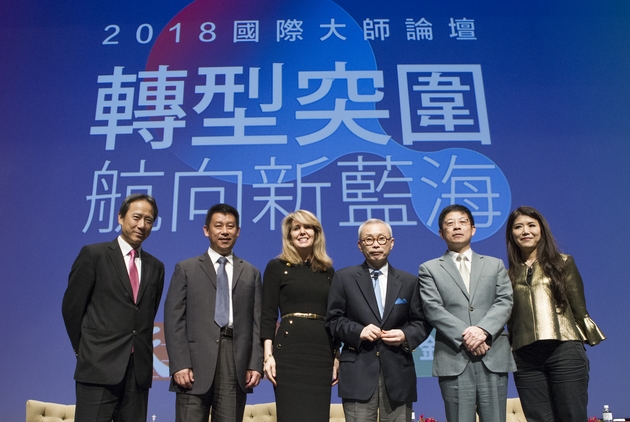 Source:Justin Wu
W. Chan Kim and Renée Mauborgne, co-authors of the worldwide best-selling business book Blue Ocean and two of the world's top management gurus, tell Taiwan: Yes, you can!
Can Taiwan Set Course for the 'Blue Ocean'?
By Pei-Hua Lu
From CommonWealth Magazine (vol. 661 )


W. Chan Kim and Renée Mauborgne were recently in Taiwan to appear at the seventh edition of the International Gurus Forum, co-organized by CommonWealth Magazine and E.Sun Financial Holdings Corporations (E.Sun FHC), which kicked off on November 12.

Like an impassioned revolutionary on stage, W. Chan Kim showed off his oratory skill and a whole bag of physical gestures; meanwhile, Mauborgne was the picture of a gently coaxing mentor, as together they guided an audience of 3,000 Taiwanese entrepreneurs through the salient points of their new title, Blue Ocean Shift.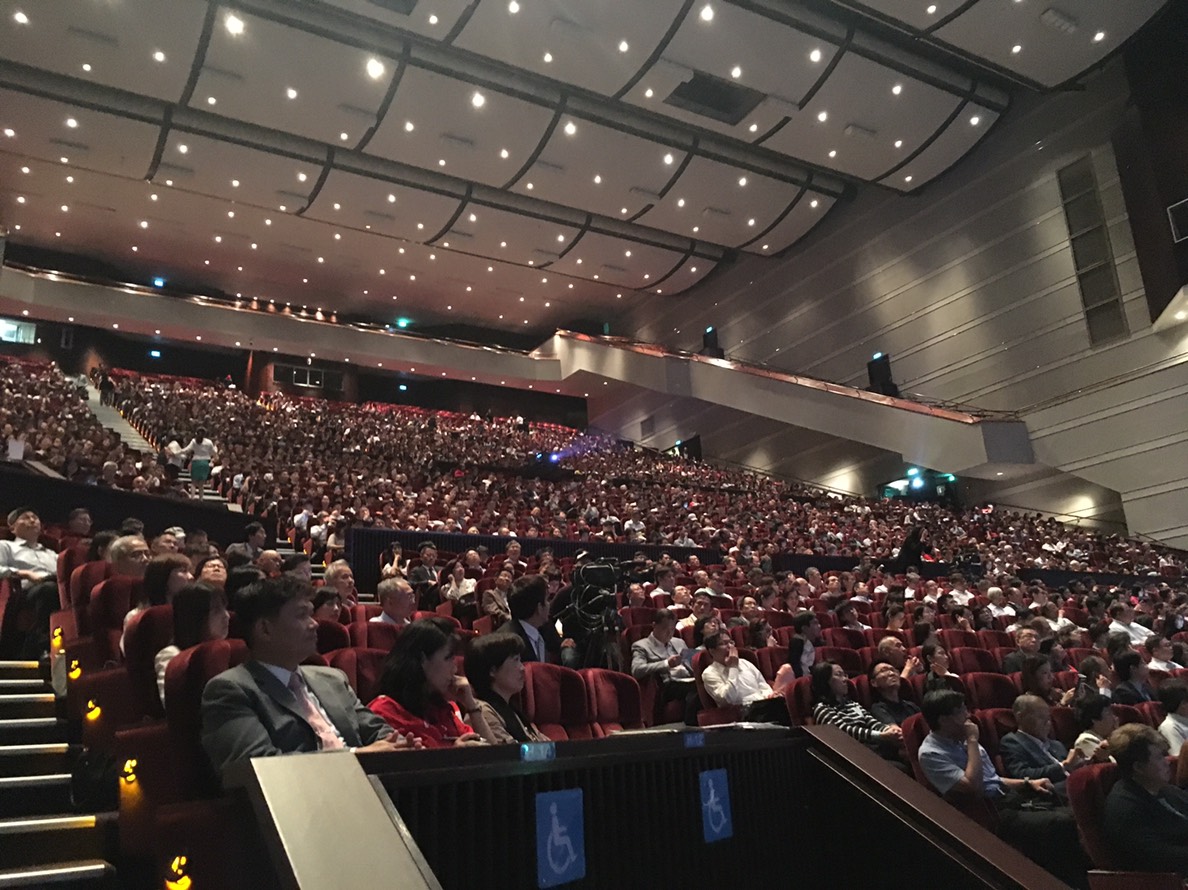 Audience at the 2018 International Gurus Forum (Source: CW)
They believe the first steps Taiwanese enterprises should make are to know that they are not completely lacking, clearly see what they do have, and learn all about the areas in which they do lack. Taiwan should see what it has going for it, namely excellent cost discipline and high caliber professionals; meanwhile, it also needs to acquire the ability to create value.
The authors believe that, from an economic standpoint, the smart machines, digital technology, and globalized production of the future mean increased supply, but with unchanged demand, making the world into a great big red ocean. Accordingly, if enterprises simply concentrate on defeating their competitors, it will be difficult to offer their customers new value, thereby limiting growth.
We distilled five key steps from the co-authors' combined 2.5 hours of lectures:
Insight 1: From positioning within to creating beyond, "the Silicon Valley model only has a 10-percent success rate, so would you encourage kids to start a new venture?" stated W. Chan Kim, inadvertently throwing out a question to the audience. And the answer to this is all too clear.
On the other hand, if we could raise the rate of successes, parents would be much likelier to encourage their children to innovate. And Blue Ocean Shift offers methods for creating beyond existing markets.
Looking back on America in the 1970s, the U.S. media was abuzz with talk of the rise of Japan, as products made by the likes of Sony, Toyota, and Yamaha hit the American market. "The Japanese are coming" thus became the nightmare of U.S. enterprise.
W. Chan Kim recalls that competitive strategy comprised the main tenet of business studies at the time. Under this approach, every enterprise's strategy was to map out its own industry, identify competitors, and further analyze ways to defeat their competitors. Kim describes this as a Red Ocean, which is full of sharks biting and eating each other, thus turning the water red with blood. (Read: Debunking the 'Top-down' Model)
However, both Kim and Mauborgne believe that competition theory is not what enterprise strategy is all about. In 10 years, they have seen the likes of Microsoft and Google recognize that the market can rely on creation rather than competition.
This prompted the duo to write Blue Ocean Strategy, which quickly attracted notice far and wide. And they heard all about how enterprises around the world implemented blue ocean strategy and the problems they faced. These include how to assemble the right blue ocean team, and how people within the organization can identify opportunities without subjecting themselves to constraints.
Thirteen years later, the authors collected information on the the blue ocean transformation of enterprises, non-profit organizations and governments around the world, resulting in the new book Blue Ocean Shift.
"Psychology tells us that, as long as you have the tools, everybody is confident. It's like driving a car, knowing how to get from here to there," relates Kim. The book divides creating a market into five parts, i.e. self-awareness, knowledge of others, imagining future customers, decision-making, and taking action.
Insight 2: Start looking for the blue ocean before the situation deteriorates.
Mauborgne says that when enterprises are in the Valley of Death, the company lacks resources, and staff members are fearful for the future, making it the worst time.
Professor Ji-Ren Lee of National Taiwan University also remarked that companies must incorporate making the blue ocean shift into a part of business operation. Plans must be made in plenty of time to anticipate rapid company sales growth.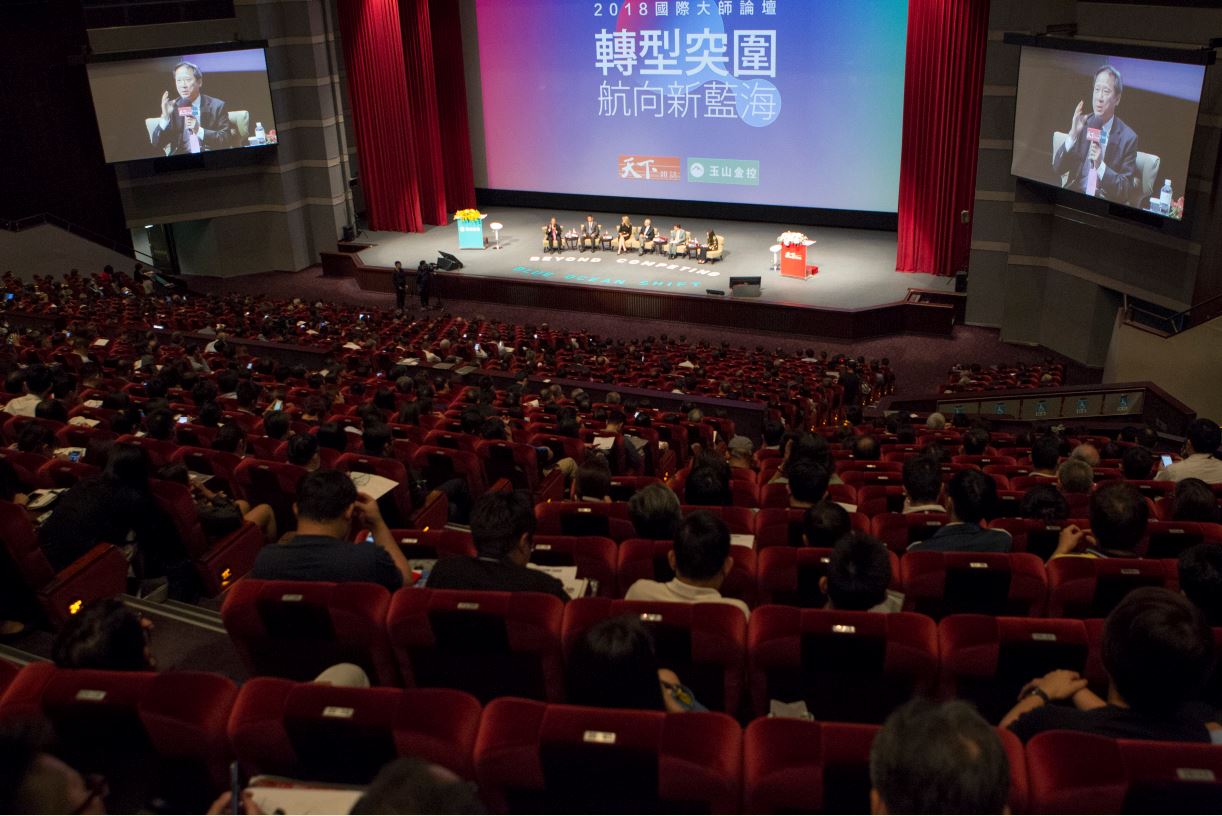 Panelists at the 2018 International Gurus Forum (Source: Justin Wu)
"There's nothing new under the sun. All the new things are created by people, and then copied by other people. And after a lot of people copy, they go overboard with competition, which is when other people create something else. And the cycle repeats," describes W. Chan Kim.
Creating, copying, and competing in the market in an endless cycle means that enterprises must always remain vigilant and plan far into the future.

Actifry, a fryer invented by France's SEB Groupe, can fry two pounds of French fries with just a teaspoon of oil, reducing calories by 40% over conventional fries. Company stock soared with the introduction of this product.
Five years later, when Phillips introduced its own fryer, Kim told SEB not to worry. Having already made their money, they were destined to take another step forward.
Insight 3: Trust senior staff.
Along the same lines, E.Sun Financial Holding Co. president and managing director Joseph Huang and Delta Electronics CEO Bruce Cheng shared their experiences with enterprise transformation. Both of them brought up the recruitment of new talent, the former recruiting technology talent, and the latter looking for software brains. (Read: Behind E.Sun's Historic 'Jiaoxi Meeting')
However, citing her multinational consulting experience, Mauborgne cautioned enterprises not to underestimate the people already placed inside their organizations.
Blue Ocean Shift contains three main tenets: One must have a blue ocean perspective, tools for creating markets, and a humanistic approach. Among these, enterprises frequently overlook humanistic processes.
"Most books that talk about strategy don't talk about people. But it is people who work at companies, and people have both ambitions and fears. If you don't understand human nature and you tell them to transform, they'll pay lip service and agree on the surface while dragging their feet in reality," says Mauborgne. (Read: 'Farewell, Taiwan')
Instead of directly resorting to transformation, it is preferable to let staff members first understand the perilous environment in which they are situated; and rather than issuing top-down commands, it is better to enlist interdepartmental staff to pool their intellectual resources and strategize together.
When everyone has made first-hand discoveries, they are more willing to take on the obligations necessary to see organizational transformation through. And when each individual has witnessed buyers' pain points, it produces positive motivations, thereby engendering change.
Insight 4: Blue ocean strategy does not equate to disruptive innovation.
Many people equate blue ocean strategy with disruptive innovation. This is a common misconception. Shattering this myth, W. Chan Kim says that the key point is not the technology itself, but how it makes life more convenient and enjoyable. (Read: Who Says AI Gurus Ignore Taiwan?)
Technology does not have to be the most cutting-edge AI, Blockchain, or Industry 4.0; rather, current technology can be employed and combined to yield results. (Read: Can Taiwan Find an AI Niche?)
The Sony Walkman combined speaker and stereo technology to turn shoulder-carried boomboxes blasting out in public parks into personal music players that could be enjoyed while riding the bus, the metro, or anywhere else one goes.
Targeting people who previously never played video games, Nintendo designed its Wii as a game center that even grandma and grandpa could learn to enjoy in one day. With the Wii, electronic games became synonymous with fun for the whole family.
UK-based financial technology (FinTech) company, Prodigy Finance, targeted students from top schools. Looking to the future rather than examining the students' past credit history, they resolved the issue of overseas students being unable to apply for student loans.
"Even if a super smart Taiwanese student got into Harvard, he would be unable to borrow money from a U.S. bank, because the bank would require collateral and a guarantor, or would want to look at his credit history in the U.S., which a student who has just arrived from Taiwan would never have."
W. Chan Kim was effusive in his praise of the bank's innovation, saying, "The banking industry has been around for 500 years, yet no one thought of this. Because banks neglected to think of this group of people as potential customers."
Insight 5: Lessons from Amazon.
Blue ocean strategy is not just an offensive strategy, but also an effective defensive strategy.
Amazon, which transformed itself from an online bookseller into a multinational e-Commerce behemoth, effectively applied blue ocean strategy to expand its operational scope, prompting even Mauborgne's mother to marvel. From the start, founder Jeff Bezos's online bookstore fed buyers recommendations every time they purchased a book. And as soon as a transaction was completed, the customer would receive a confirmation in their email. These aspects of their service impressed customers and increased their loyalty to Amazon.
Outsiders looking in at Amazon recall its successes. Yet Mauborgne reminds us of Amazon's litany of failures.
At first, Amazon wanted to compete with eBay, but folded up its tent and went home. It also had ambitions to replace Google as the top search engine, similarly resulting in the closure of A9 Search. It also sought to compete with Zappos through online shoe retailer Endless, which resulted in defeat and ultimately Amazon's acquisition of Zappos. And not wanting to take a back seat to Apple's iPhone, Amazon introduced the Fire Phone, which was soundly trashed in the open market.
Mauborgne relates that Amazon's experience can be summarized to draw two key insights: First, reliance on platforms alone does not mean being able to create a blue ocean. Second, the best way to face the blue ocean competition of others is to become blue ocean yourself. (Read: Survival Guide of a "Small Market" Nation)
Translated by David Toman
Edited by Sharon Tseng