Serving Clients Like Starbucks and Nike, Arthur Huang Makes Recycling Popular
精華簡文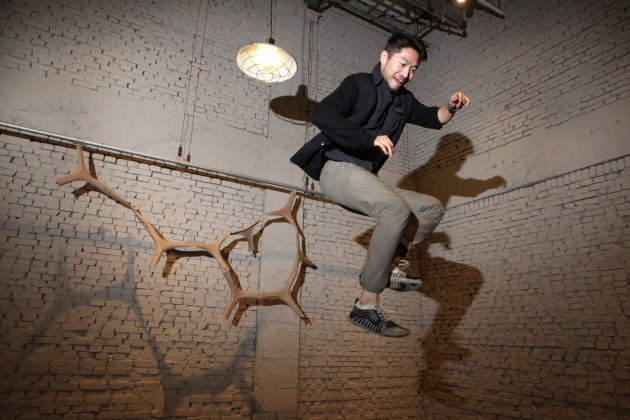 Source:CW
He has turned rice husks into clothing, and kitchen waste into business cards. From furniture at European Starbucks stores to a mobile upcycling unit on the Tibetan Plateau, he is all about exploiting the capitalist production system to make recycling sexy.
Serving Clients Like Starbucks and Nike, Arthur Huang Makes Recycling Popular
By Yueh-lin Ma
From CommonWealth Magazine (vol. 652 )

In the pursuit and practice of the circular economy, Miniwiz, the company founded by Arthur Huang, has given Taiwan a prominent position within a hot global trend.
Thirteen years ago, Huang led a team that, beginning with designs for portable wind-powered generators, constantly developed new materials, secured patents, turned rice husks into clothing, kitchen waste into business cards, made recycled Nike sneakers into fixtures for upscale Nike stores, and used recycled plastic bottles to make the Taipei Flora Expo's EcoARK Museum.
From trendy Nike flagship stores in New York, London, Berlin and Milan to his original furniture brand and Starbucks furnishings, and a movable upcycling system on the Tibetan Plateau encircled by joyful school children, Huang and Miniwiz have a knack for creating mind-blowing things. Not just their astounding R&D and design capacities, but also their completely fresh eye and tremendous ambition are transforming the way people think and act about waste and trash.
"As far as having a positive influence and the future shape of the industry, Arthur Huang is a maverick. He is already a leading figure, but I think he'll be even more influential in the future, and he shouldn't be underestimated," says Jack Tsai, partner in the CID investment group. Huang has identified the opportunities present in the circular economy, and leverages R&D to develop methods to convert waste into new materials with hip looks and fashionable flair. "He is very firm in his value system, and reserves special antipathy for those who would destroy the circular economy," Tsai adds.
In the past, people saw recycled materials as expensive, lacking durability, and ugly. Yet Miniwiz has not only proven that recycled materials can be inexpensive, but also that they are even more durable and even "sexy." And the company's client base, which consists nearly exclusively of Fortune 500 companies, seems to agree, tasking Huang to transform waste into eco-friendly materials. The company's latest product is modular furniture for Starbucks outlets in Europe, for which it has secured a structural design patent. Even more remarkable, all the material is made from coffee cups recycled from Starbucks shops.
"We're a company that creates value, not just added value," says Huang, who pulls no punches and gets straight to the point when speaking his mind in Chinese - perhaps the result of having been educated abroad from a young age. Despite emigrating to the United States at the age of 11, frequent references during conversations to such Chinese literary classics as the History of the Three Kingdoms and the Dao De Jing show his appreciation of the wisdom of the ancients to go with his embrace of youthful rebelliousness.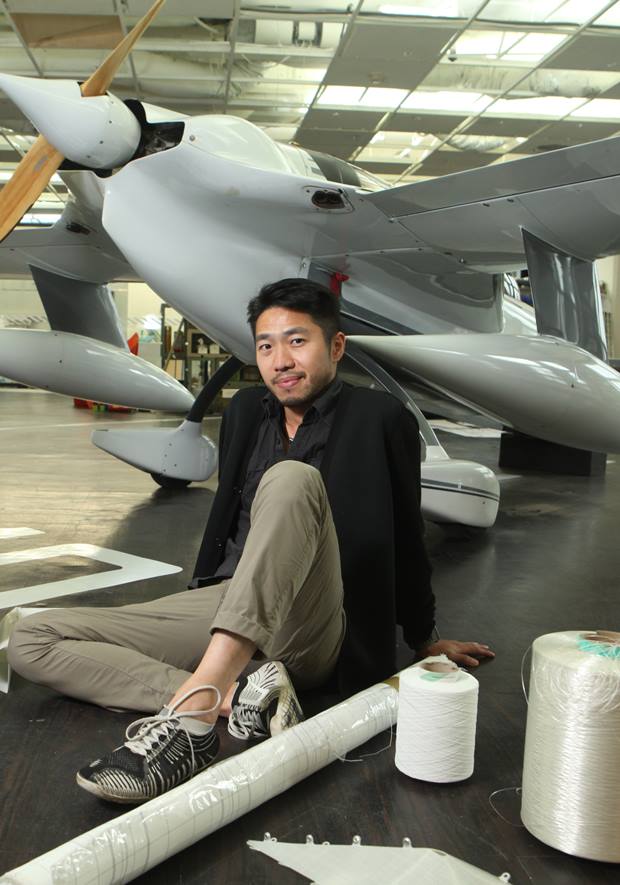 (Image:CW)
"A lot of people don't get what we're doing. We're trying to fool the global capitalist system of production," says Huang, who is looking for ways to make the planet a little better, changing the world a little while people go about happily consuming and enjoying stylish living. Like a true believer, he even chats up strangers at nightclubs about the merits of recycling.
Aligning the Industrial Chain
Considering the essence of each issue lets Huang tackle things from a totally different perspective. The company of nearly 90 staff runs the gamut of expertise from materials to architecture, from structural knowhow to design applications and brand marketing. Miniwiz's research and development places the entire industrial chain in alignment, becoming the company's chief strength. Command over an integrated technology platform allows the company to be open to all kinds of possibilities.
Last year he teamed up with Hong Kong action star Jackie Chan to take the 16-ton Trashpresso, the world's first mobile plastic and fabric waste upcycling treatment system, to the Tibetan Plateau. There, at 4,500 meters above sea level, they gave local elementary school students a hands-on demonstration of how to make waste sustainable. The entire journey was documented by the National Geographic Channel for worldwide broadcast as part of the Jackie Chan Green Hero series.
Although it might seem a bit crazy, the Trashpresso project is tremendously educational. Currently there are two mobile upcycling units: one that has made the journey from Shanghai to Qinghai, demonstrating the upcycling process; and one that tours Europe, appearing at Design Week events from Milan to London.
Perhaps, like his various projects, Arthur Huang keeps blowing people's minds while strengthening his own convictions.
Translated by David Toman
Edited by HanSheng Huang
---
Additional Reading
♦ Taiwan Must Market Itself as a Global Steward of Green
♦ Don't Call Me 'Garbage'
♦ Taiwan's Industrial Waste Crisis:Mining Precious Metals from Sludge
---