A Retrospective
How Much Do the Taiwanese Love to Travel? The Wandering Youths of a Bygone Era
精華簡文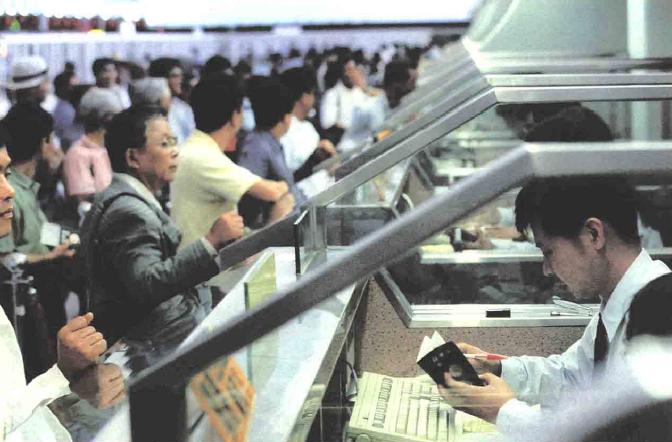 Source:CW archive
The Taiwanese people began spending their vacations abroad after 1979. 470,000 people vacationed abroad during that first year. By 1988, the number was over a million, and it kept on climbing. In 2017, on average every Taiwanese visited another Asia-Pacific country—mainly Japan—more than once that year...
How Much Do the Taiwanese Love to Travel? The Wandering Youths of a Bygone Era
By Yin Ping
web only

I want to take you flying
We will see the world
No fears or tears
Freedom heals the soul
── From "Changsan's Song" by Zhang Zishi
This song was made popular in 1986 by Taiwanese folk singer Lee Shou-chuan. There's a tragic story behind the lyrics: it concerns a Taiwanese man determined to seek his fortune in America. The decision took a heavy toll on his marriage and family. Later in life, he wrote this song for his son. The chords are simple, the dream is not unique, but the song touched the souls of innumerable listeners. In the end, what the man truly wanted was the freedom to travel and wander around the world.
The Taiwanese people began spending their vacations abroad after 1979. Before that, you couldn't get a passport, unless it was a diplomatic passport or a passport of public affairs. Ordinary citizens could apply for a "normal" passport, but such papers were only granted to business owners or sales directors—people with "legitimate" reasons for traveling. (Read: Lifting Martial Law and Opening-up Taiwan)
There was another way to go abroad. That was to go study overseas. To get a student passport, you had to pass exams designed by the Ministry of Education, and then successfully apply for a foreign school, and then show a bank letter proving you had lots of money to your name, enough to support a long stay overseas. Whether you merely borrowed the funds and would empty your account to pay back the loans as soon as you got your passport—the government did not care.
After the restriction on traveling abroad was lifted, the first overseas vacationers were mostly seniors. They had never traveled in their lives and spoke no foreign languages, so they often signed up with tour groups. Many took this rare chance to visit North America or Europe, to gape at all the sights and spend their hard-earned cash in tourist traps.
470,000 people vacationed abroad during that first year. By 1988, the number was over a million, and it kept on climbing. In May of 2017, Mastercard published a report on tourism in the Asia-Pacific region in 2016. The number of oversea visits by Taiwanese tourists surpassed the population of Taiwan. Which means on average, every Taiwanese visited another Asia-Pacific country—mainly Japan—more than once that year. They spent more than 10 billion U.S. dollars. An astounding amount of people and money flowed out of Taiwan.

Tourists, Backpackers, and Wanderers
People from developed nations had more experience traveling abroad than the Taiwanese. Young Americans, Europeans, and Japanese in their early twenties picked up their backpacks and sought out adventure in foreign lands. They often worked for their food and lived like an expat. The hardships of travel taught them valuable life lessons.
In comparison, though Taiwanese loved to travel, they did so passively, often as a member of large tour groups. They were picky about what they ate and where they slept, but other than that a trip abroad was just a slideshow of scenic spots, with very few attempts to understand the local culture.
Savvier travelers actively planned "self-guided tours" with friends, which meant they wrote their own itinerary, but still asked travel agents to help book hotels and flights. But even within such a group of travelers, it was usually the leader who did all the homework. The rest just tagged along—it was basically a tour group, writ small.
One of the reasons young ladies traveled abroad was to attend some concert or party in hopes of catching a glimpse of their favorite celebrities, or to go shopping. Since younger people generally had fewer vacation days, Japan became their favorite destination: it was geographically close to Taiwan, culturally similar, and promised good dining and shopping.
On the other hand, retirees had more free time, not to mention a bucket list weighing on their minds. They preferred leisurely excursions on cruise liners, or a long vacation somewhere far away with a trusted tour group. Every country visited was like a conquest, a check mark on their list of lifelong dreams.
Of course, there were exceptions. Athlete and entrepreneur Kevin Lin (林義傑) bicycled across the Sahara. Cyril Chu (褚士瑩) traveled the world for charity. On distant, unmarked trails, their footsteps echoed a lonely soliloquy, for such brave souls were few and far between.
In 2015, four female entrepreneurs in their twenties made the bold observation that Taiwanese tourists who travel abroad in groups never really "go anywhere". They sit in tour buses surrounded by other Taiwanese; they watch a picture show scroll pass tinted windows without trying to immerse themselves in the local culture. Their Taiwanese mindsets are never changed or challenged. So, the four young women started a company called "Rolling in Life" (滾出趣有限公司) to teach Taiwanese youths how to go outside their comfort zones and really see the world.
They like to say: "The previous generation's way of traveling can no longer satiate the souls of the new generation." But this is not necessarily true. The spirit of adventure and ways of traveling may change as you age, but it doesn't matter which generation you belong to.
Find Your Muse on Lonely Journeys
Believe it or not, even the older generation was young and active once. Lin Hwai-min, founder of Taiwan's famous Cloud Gate Dance Theatre, went to study in the United States after college, eventually graduating in 1972. He wanted to continue his adventure, so before returning to Taiwan, he backpacked around Western Europe, visiting Greek temples and Muslim mosques in Spain. According to him, what he learned during his travels provided him with a lifetime of inspiration.
The same year, Taiwanese writer Sanmao, better known in the West as Echo Chan, was beginning her studies in Spain. A few years later, she married and settled down in the Sahara. She wrote stories about the sands and mailed them back to Taiwan to be published. Her romantic prose conveyed a strong sense of her wandering spirit. Countless Taiwanese baby boomers were inspired to travel by her stories. In 1979, she wrote the song "Olive Tree" (橄欖樹), which became an instant hit:
Ask not of my homeland
My hearth is far away
Why do I wander
Wander far, I wander
She died in 1991. She famously said, "The worth of life is not in its length but in its joy." It was a dissection of her own life.
Lin Hwai-min never forgot the aimless wandering of his youth. It opened his eyes to the world, affected his outlook on life. In 2005, he pooled his resources with funding from sponsors to create the Wanderer Program. This foundation provides money for adventurers under thirty years of age who want to travel abroad on the barest means possible for at least sixty days. Lin calls it "traveling on a dime". (Read: Lin Hwai-min: Taiwan, See Thy Own Beauty)
All by your lonesome in the great wide world, you have time to get to know yourself, as well as the people you meet along the way. Lin feels these are valuable lessons not easily learned in modern society. From his own remembrance, "books are only for reference, real life experience comes from what you see with your own eyes, feel with your own flesh."
From "Changsan's Song":
Let's fly to that far-off place and see
Our world is not so bleak
Let's fly to that far-off place and find
Our world is bathed in light
Such a journey, be it aimless wandering or adventurous questing, is perhaps the true joy of life.
Translated by Jack C.
Edited by Sharon Tseng
---
The original article is an extract from the following book, published by CommonWealth Magazine on Dec. 25, 2018. Find more excerpts in From Constitutional Reform to Democracy and How the '1992 Consensus' Colors Taiwan's Fate.