Chinese Capital Welcomed, but with Caveats
精華簡文
Source:CW
Wealthy Chinese investors have been searching the globe for promising ventures involving established brands and advanced technologies in Europe and the United States.Yet while both regions welcome "red capital" to boost their economies, they see different risks attached.
Chinese Capital Welcomed, but with Caveats
By Shu-ren Koo
From CommonWealth Magazine (vol. 594 )


Around the world, governments welcome cash-rich foreign investors, particularly considering the current global economic slowdown.

However, when foreign direct investment from a single country skyrockets during a short period, policymakers cannot help but be concerned about the possible detrimental effects of such a massive influx of foreign capital and the investors' motives behind their focus on certain target countries.

This is exactly what has happened in Europe and the United States since Chinese companies went on a buying spree over the last two years, merging and acquiring top enterprises there.

Following the 2008 financial crisis, Chinese enterprises took advantage of falling asset prices around the globe to invest abroad, first in Europe and the United States. As a result, by 2015, within just seven years, Chinese overseas investment had more than doubled.

What deserves attention is that last year China became the third-largest source of foreign direct investment behind the United States and Japan by spending US$118 billion abroad. On top of that, China's total outbound FDI is rapidly catching up to the total amount of its inbound FDI received from other countries.

The Intelligence Unit of The Economist predicts that, should Chinese outward FDI continue to grow at the current pace, outbound FDI will outstrip inbound FDI by 2017. That would make China a capital exporter.
World's Factory to Global Employer
This trend shows that China's role within the global economy continues to evolve from the world's factory and a world market to a "global employer." Indeed, one could say that the era of "China-owned" has arrived.
Chinese companies have many reasons to look for investment opportunities abroad. Asset prices in Europe and the United States look attractive, and companies there are in dire need of capital. In China, the economy is slowing down, the Chinese currency, the renminbi, is depreciating, and some market sectors have reached saturation. Further business opportunities arise from the growing number of Chinese billionaires who buy luxury second homes and investment properties abroad as well as the millions of consumption-hungry Chinese tourists travelling overseas.
Chinese real estate developers such as the Dalian Wanda Group, the Greenland Holding Group and the China Vanke Group are all building residential housing in the United States and expect 30% to 40% of sales to be generated by customers from China. All have been holding roadshows in China to promote their projects.
In October 2014, the Anbang Insurance Group bought New York's landmark Waldorf Astoria Hotel, killing two birds with one stone – acquiring prime real estate and making money from rich Chinese travelers staying at the tradition-steeped luxury hotel.
On the other hand, since adopting its 11th five-year-plan for 2006-2010, the Chinese government has been encouraging Chinese enterprises "to go out." Two years ago, Beijing loosened its controls over outbound Chinese FDI by replacing the review-based approval system with a formal reporting system and generally opening up outbound investment except for those industries on a "negative list." This policy encouraged more Chinese companies to seek investment opportunities outside China.
China has also liberalized outbound investment by the financial industry and relaxed restrictions on the repatriation of capital. As a result, a growing number of insurance firms and other financial investors are engaging in foreign mergers and acquisitions.
For Chinese companies seeking to move up the value chain, European and American brands and technology assets are major targets when seeking merger and acquisition opportunities. Earlier this year, China's leading household appliances brand Haier bought up the appliance business of General Electric in the United States. With the deal, Haier gains the right to use the GE brand for appliances for 40 years and will be able to access GE's R&D prowess.
China's rapidly growing, status-conscious middle class covets luxury brands and other prestige symbols of a higher living standard. Eager to tap this profitable market, Chinese companies invest in upscale lifestyle products in the fashion, food, entertainment or tourism industries in Europe and the United States to introduce them into the Chinese market. The acquisition of U.S. movie firm Legendary Entertainment by China's Dalian Wanda Group in January is a typical example of investments that are also geared toward the Chinese market.
Chinese outbound investment exploded in the fourth quarter of last year and the first quarter of this year.
According to Financial information firm Thomson Reuters, from the beginning of this year to mid-March, Chinese investors declared US$81.9 billion in investments in ventures abroad, which is about eight times as much as during the same period last year.
While countries around the globe welcome foreign investment in general, the huge amount of Chinese FDI has left many worried, especially when several large, bellwether corporations are involved.in possible Chinese buyouts or takeovers. The influx of Chinese capital is raising eyebrows and making headlines, particularly in Europe and the United States, where Chinese investors account for two thirds of inbound FDI.
Statistics by the New York-based Rhodium Group, which specializes in tracking and researching Chinese investment abroad, show that Chinese direct investment in the United States grew 30 percent in 2015 to US$15.7 billion. About 90 percent of these deals were mergers and acquisitions.
Protecting National Security
A series of high-profile mergers that fell through in the past years seems to indicate that the U.S. government has been using greater scrutiny in reviewing Chinese investment deals.
The Committee on Foreign Investment in the U.S. (CFIUS), which examines foreign acquisitions for national security threats, is composed of nine federal government representatives appointed by the president.
In its latest annual report, CFIUS notes that China has accounted for the highest number of transactions for the third consecutive year. From 2012 to 2014, more than 20 Chinese deals were reviewed by the CFIUS per year
A typical recent example is the planned sale of Philips' LED-making division Lumileds to Go Scale Capital, a consortium of Chinese private equity investors. In January, Philips announced the termination of the deal, citing the CFIUS's refusal to approve the transaction.
The New York Times speculated that the CFIUS was concerned that China was aiming to produce advanced semiconductors. Gallium nitrite, which is used in LED manufacturing, makes better-performing chips that control radar in ballistic missiles, the paper reported. Quoting an expert, the paper said gallium nitride chips are "classic dual use" and could be used to construct a new generation of powerful and versatile microchips.
China is keen to get its hands on gallium nitrite technology to develop its semiconductor industry. Industry insiders in the United States believe that the Lumileds deal was a wake-up call for the U.S. government.
Washington scrutinizes Chinese investment more closely because the Chinese government holds tight control over many economic sectors, in particular state-owned companies.
The U.S. Congress' U.S.-China Economic and Security Review Commission, which monitors and investigates the national security implications of bilateral trade and economic ties with China, indicated in a recent report that state-backed Chinese companies choose to invest "based on strategic rather than market-based considerations," and are free from the constraints of market forces because of generous state subsidies.
Theodore H. Moran, Senior Fellow, Peterson Institute for International Economics, says that, in a world of rising geopolitical tensions, acquisitions by firms from potential adversary countries will inevitably receive disproportionately intense scrutiny.
Rhodium Group founding partner Daniel Rosen, however, points out that "the recent increase in Chinese CFIUS exposure does not mean greater U.S. scrutiny toward Chinese acquisitions." He concludes that it is largely the result of a rapid increase of Chinese deals in the U.S. and a shift toward technology assets.
In fact, CFIUS is not blocking Chinese acquirers as long as the companies they intend to buy do not have a major market share or involve advanced or sensitive technologies.
In late 2012, Chinese auto parts maker the Wanxiang Group bought bankrupt A123 Systems, a developer and manufacturer of advanced lithium-ion batteries for electric vehicles. At the time, some U.S. Congress members opposed the deal, citing energy security. But CFIUS quickly granted approval in early 2013. Industry insiders speculated that the takeover went through because A123 had already spun off the business units that dealt with the U.S. military. Moreover, in terms of scope or technological prowess A123 did not hold a crucial market position.
In the past two years, CFIUS greenlighted a number of transactions involving semiconductors. Last year a government-backed Chinese consortium led by SummitView Capital acquired California-based chipmaker Integrated Silicon Solutions Inc., and camera sensor chip maker Omnivision Technologies was bought by a consortium of Chinese private equity firms. In 2014, Chinese computer giant Lenovo bought IBM's x86 server business.
"These deals showed that very few inward acquisitions will pose any threat whatsoever. The overwhelming bulk of Chinese investments should be welcomed without hesitation. They will benefit US workers, firms, communities, and consumers.," posits Moran.
Nonetheless, there are some who complain that the CFIUS non-transparent review procedure is causing problems for U.S. enterprises.
The Congressional Research Service said in a report published in February that members of Congress generally hold that the CFIUS's operations lack transparency, and some argue that the United States' national security and economic concerns have changed. CFIUS investigations were seen by some market players as a negative factor "that added to uncertainty and may have spurred firms to engage in behavior that may not have been optimal for the economy as a whole," the report said.
As much as half of the foreign investment acquisition bids that the CFIUS reviewed since 1990 were abandoned by the companies themselves out of concern that the deal would be rejected.
U.S. media reported that Philips suffered steep losses because it failed to anticipate CFIUS opposition to the Lumileds sale. The derailed deal will also make it more difficult for Philips to find an alternative investor.
"It is critical that leaders stand up and make sure that the public debate about the risks and the benefits of Chinese investment is based on facts, not fears," argues Rhodium Group consulting economist Thilo Hanemann. "If fear mongering and populism gain upper hand, Chinese firms may choose more hospitable investment destinations in Europe or Asia to expand their overseas business and generate jobs there."
Fair and Free Competition
In contrast to the cautious and fearful attitude in the United States, Europe seems to throw its doors wide open to China investment.
In the wake of the Euro bond crisis in 2010, when cash-strapped European governments and corporations were under pressure to service their debt, Chinese investors with excess cash on their hands presented themselves as the best solution.
Chinese investment in Europe increased last year to 20 billion Euros, up from 14 billion Euros in 2014, making Europe the top destination for direct investment from China.
Francois Godement, a China expert with the think tank European Council on Foreign Relations, notes that, in contrast to the United States, Europe has opened its market and welcomes Chinese investment. "To renew growth in the European continent, we will need more foreign investment.," he observes.
Still, the significant increase in investment by Chinese state-owned enterprises – the share of such deals jumped to 70 percent last year, up from 62% in 2014 – has raised red flags in the European Union. State-owned China National Chemical Corporation (ChemChina), for instance, bought a stake in Italian tire maker Pirelli and Shanghai-based state-owned tourism enterprise Jin Jiang International Holdings Co. bought the Louvre Hotels Group, Europe's second-largest hotel chain.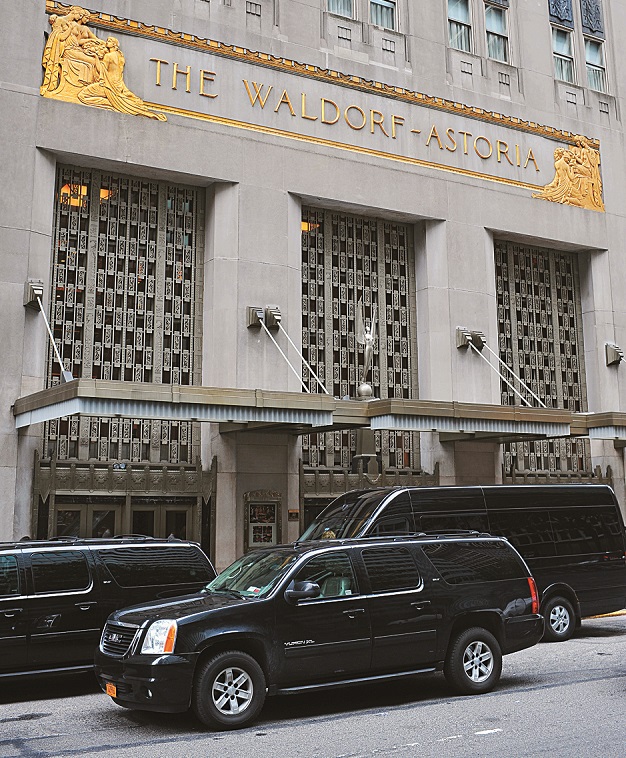 In 2014, the Chinese Anbang Insurance Group took over New York's landmark Waldorf Astoria Hotel, where U.S. President Barack Obama used to stay. Following the Chinese acquisition, however, Obama chose to stay at another hotel when in the city.
In contrast to the Americans, European concerns about the influx of Chinese state-owned enterprises are not because of possible risks to national security but due to the opaque nature of state-controlled enterprises. The lack of transparency in their dealings could undermine the European market order.
The European Commission's competition commissioner is in charge of reviewing foreign direct investment deals in the EU. Investigations focus on whether mergers and acquisitions create a market monopoly or lead to unfair competition. Most recently, the European Commission has turned its attention to the heavy debt burden of Chinese state-owned enterprises.
The Financial Times pointed out that, while Chinese state-owned enterprises may be heavily indebted, they can use their government links to raise funds for acquisitions at preferential terms in what are de facto subsidies. State-backed Chinese investment "challenges Europe's long-standing goal of disciplining subsidies and state aid to ensure private capital is not being crowded out by state-related actors not operating on market principles," write Hanemann and Mikko Huotari of the Mercator Institute for China Studies in a joint report with the Rhodium Group.
In principle, both the United States and the EU welcome Chinese investment. However, since they do not have a specific regulatory framework for Chinese investment, they hope to sign bilateral investment agreements with China to regulate the conduct of Chinese state-owned enterprises. Washington launched bilateral negotiations toward that aim in 2008, whereas the EU only kicked off its talks with China in 2013.
Rosen points out that concerns in the investment destination countries can only be dispelled if Chinese state-owned enterprises act in line with international laws and regulations as well as market practices. "Greater transparency will contribute to improving trust toward Chinese enterprises," Rosen states.
Translated from the Chinese by Susanne Ganz