2016 State of the Nation Survey
Ready to Test a New President
精華簡文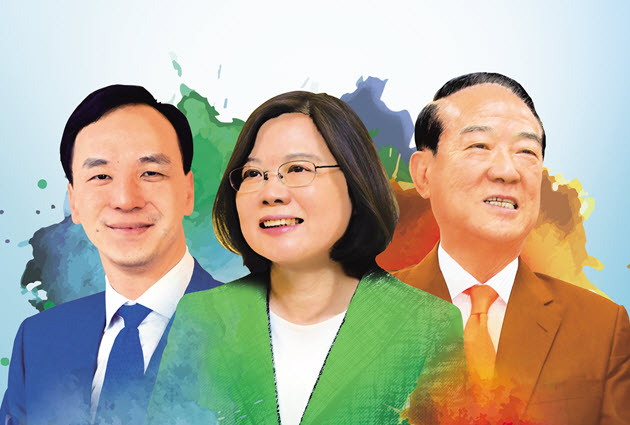 Source:CW
Taiwan will soon elect a new president, and CommonWealth Magazine's 2016 State of the Nation Survey has uncovered the priorities most on the minds of the country's people.
Ready to Test a New President
By Jimmy Hsiung
From CommonWealth Magazine (vol. 589 )


A new year has begun, with a presidential election just around the corner. Taiwanese voters see the choice they will make on Jan. 16 as determining whether the country can rise up again, and they have already laid out the most pressing priorities for Taiwan's next leader.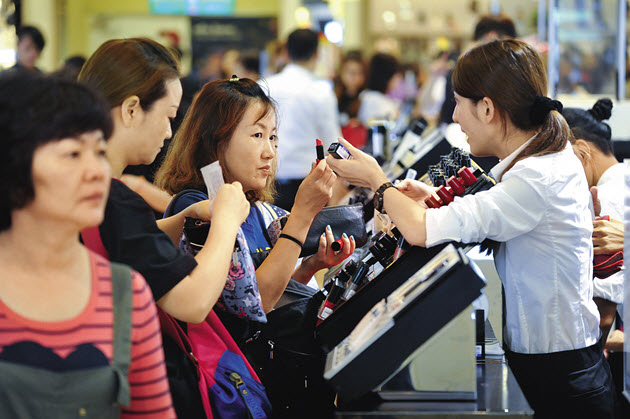 To most Taiwanese, a sluggish economy is the top priority the government must address.
According to CommonWealth Magazine's 2016 State of the Nation Survey, the three biggest threats facing Taiwanese society are "a weak economy" (41%), "political infighting" (32.4%), and the "growing rich-poor divide" (12.2%). (Table 1)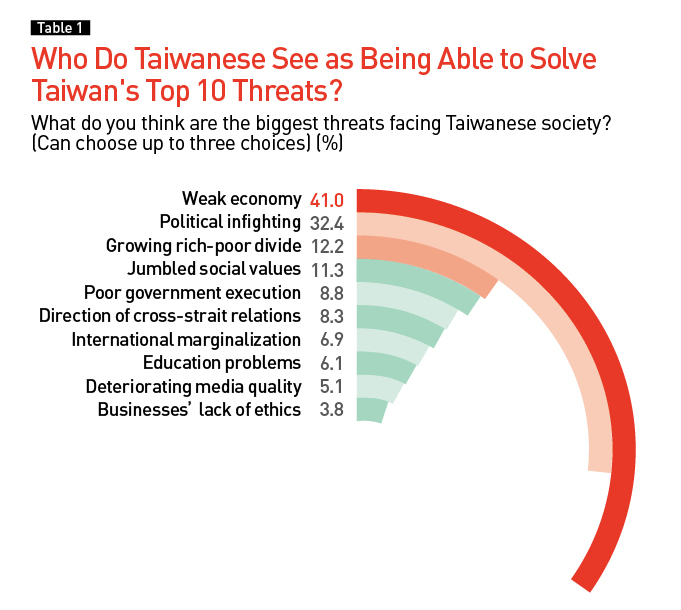 The problems cited as most urgently needing to be addressed presented few surprises. At the top of the list by a wide margin was "strengthening the economy" (45.5%), followed by "improving the quality of education" (16.5%), "narrowing the rich-poor divide" (13.9%), and "safeguarding food safety" (13.4%). (Table 2)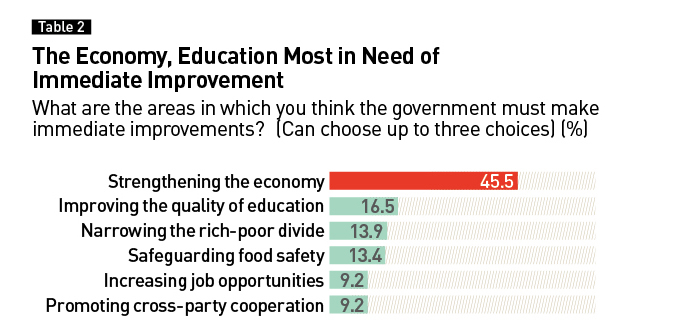 "Whether one's income has shrunk is absolutely what people feel most," observes Wang Yeh-lih, a political science professor at National Taiwan University. He says people have always reacted most acutely and directly to economic woes, and with many in Taiwan having lived under the cloud of stagnant wages and rising housing prices in recent years, "they can't wait to make their voices heard."
Worth noting is that in the 2015 State of the Nation Survey, "improving the quality of education" came in behind "safeguarding food safety" in fourth place among the priorities, but this year it vaulted into the top three most pressing issues.
"The chaos created by the 12-year national education program, the dispute over changes to the high school history curriculum, universities shutting down, the overhaul of technical education" are just some of the problems listed by Huang Ching-hsien, Chief Executive Officer of Cross-Strait Integration Research Center at National Cheng Kung University.
"It's not just parents who are completely lost. Even the general public knows that the education system has problems," Huang says.
The emergence of the education system among the public's top worries also has an important economic component, Huang contends. "Times are tough and some hope to use education to turn their lives around, but now the channel through which that can happen has had problems. So it's naturally become a priority," Huang says.
The top priorities facing the nation now clear, who did the survey's respondents feel was best equipped among the presidential candidates to solve the problems?
Who Can We Trust More?
After asking respondents what problem they felt the government most needed to improve immediately, we then asked: "Which presidential candidate is best able to solve the problems that you cited above?"
About a third of respondents (32.9 percent) chose Democratic Progressive Party candidate Tsai Ing-wen, far more than the number who chose Kuomintang (KMT) candidate Eric Chu (14.5 percent) or People First Party candidate James Soong (12.9 percent). (Table 3)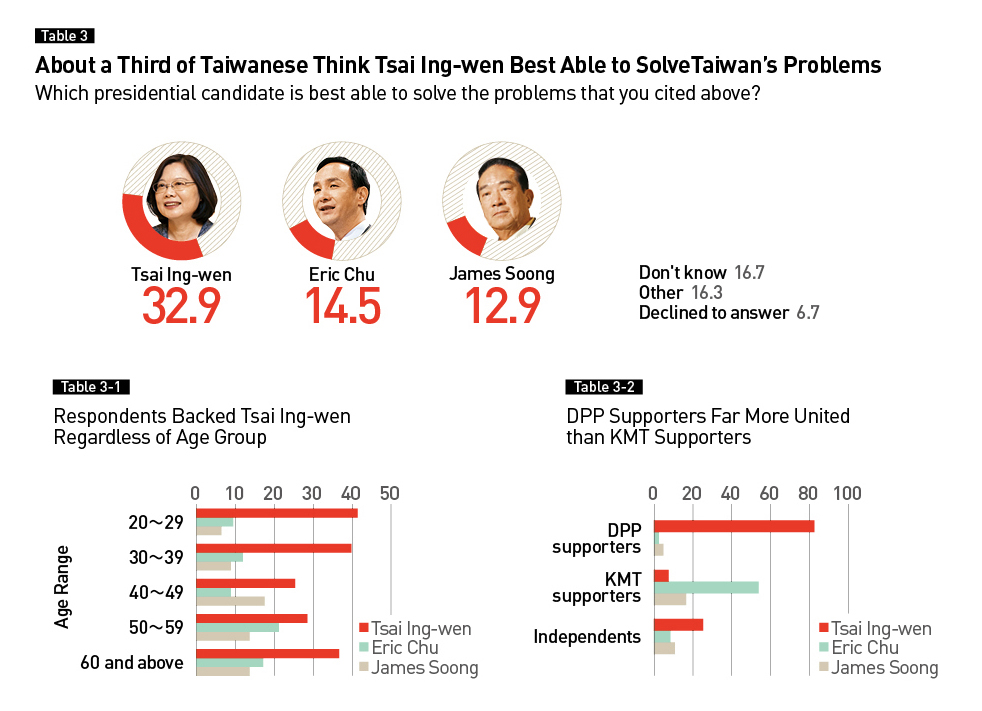 Worth noting was the high number of respondents who answered "don't know" (16.7 percent) and "other" (16.3 percent). Of those answering "other," two-thirds said "none of the candidates are good," 7.8 percent were "undecided," and 2.1 percent said "there's no difference between the three."
In assessing the abilities of the three candidates, the survey's respondents exposed some of the candidates' potential weaknesses.
For example, Eric Chu needs at the very least to consolidate his support among backers of his own KMT. A closer analysis of the survey's results found that among respondents who described themselves as KMT supporters, only 53.5 percent endorsed Chu's abilities. It was an indication that the internal rift that occurred within the party when Chu unceremoniously replaced Deputy Legislative Speaker Hung Hsiu-chu as the party's presidential candidate in October has yet to heal. (Table 3.2)
What James Soong needs is more recognition from young voters. His support among respondents in the 20-29 and 30-39 age brackets was only in the single digits, signaling that his aura as provincial governor from 1994 to 1998 is limited to voters born in the 1970s and earlier. (Table 3.1)
As for Tsai, who has huge leads in most polls and is widely expected to prevail on Jan. 16, her biggest challenge is getting "dissenting" groups to trust her. NTU's Wang cited the example of incumbent President Ma Ying-jeou, whose approval rating may now be in the single digits in some polls, but who received 58 percent of the vote when he ran for president for the first time in 2008 when the DPP was at its lowest point.
In comparison, at a time when the Taiwanese public generally does not trust the KMT, there were still two-thirds of respondents in the 2016 State of the Nation Survey who do not trust Tsai. A key component of that skepticism, Wang says, is that many people are worried about her economic policies and approach toward relations with China, even though she has not touched the unification-independence issue and spent a lot of time discussing her economic and industrial policies.
FTAs a Must, No Matter Who Wins
In fact, based on the results of the State of the Nation Survey and the state of Taiwan's businesses, revitalizing the economy and bolstering confidence can no longer wait. About 80 percent of respondents expressed dissatisfaction with Taiwan's economic performance (Table 4), but that dismay must be taken more seriously than in the past and be considered as an implicit sign of the real distress that exists.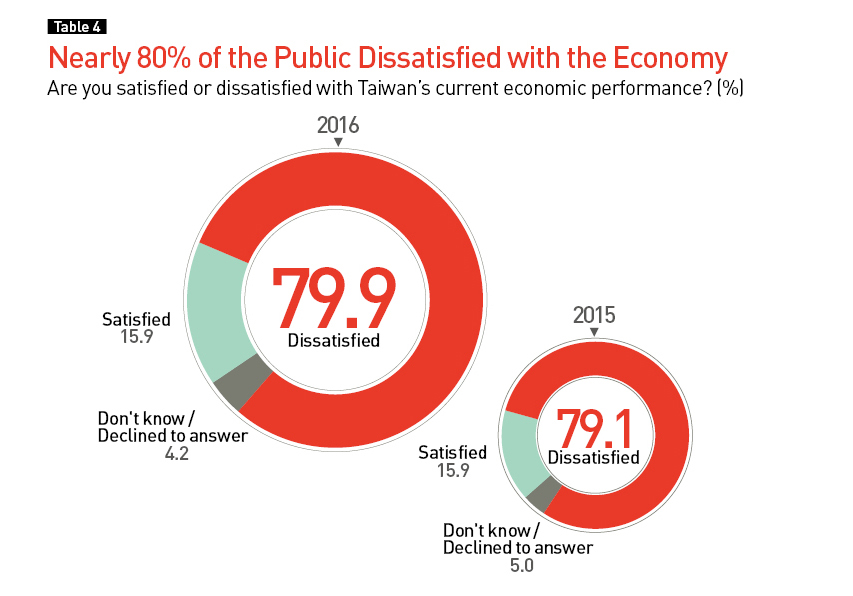 In this year's survey, about 60 percent of respondents expressed pessimism about the future (Table 5), 7 percentage points higher than last year. Only 4.2 percent said they were extremely optimistic, and the proportion of respondents seeing the rich-poor divide as worsening increased to 92.5 percent (Table 6).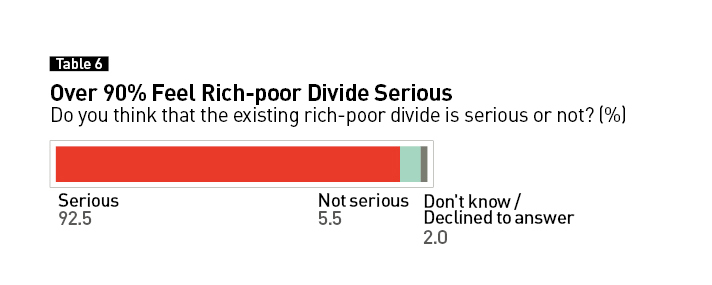 "It is now worse than in 2008 when the global financial crisis hit," sighs Bert Huang, the chairman of Victor Taichung Machinery Works Co., referring to the current state of his industry. The ongoing depreciation of the Japanese yen, a fall in demand from China and steep declines in metal prices have all conspired to erode the export competitiveness of Taiwan's machine tool sector over the past year, he says.
"The overseas companies that used to buy Taiwanese equipment are now buying directly from Japan," he says.
Huang, well-versed on private sector investment trends, says many sectors around Taiwan have temporarily taken a wait and see attitude on investment because of political instability.
"Just take a look at our sector and you'll see what I mean. Our production lines are empty. Small companies are not afraid of the Ministry of Labor and directly put their workers on unpaid leave. Bigger companies are imposing flexible leave. It's really brutal," he says.
So what's the answer? "No matter who gets elected, the ruling and opposition parties need to unite and get FTAs signed. Otherwise, we will be badly beaten by Korea," he says with a sense of urgency.
He also stressed that relations with China need to be managed well or else Chinese customers will boycott Taiwanese suppliers. "We're already sure that next year will be a tough one, but we absolutely cannot continue to idle and see the ruling and opposition parties continue to fight each other," he implores.
Taking Charge on Food Safety
At the end of November when Tsai announced the DPP's slate of at-large legislative candidates, the person at the top of the list was Wu Kuen-yuh, a professor in National Taiwan University's College of Public Health and a food safety expert.
The choice was made based on the party's internal polls. DPP Survey Center Director Achilles Jeng says the public has been dissatisfied with food safety issues for a long time. But unlike the economy and education, which involve structural problems, "food safety is a problem where change can be immediately seen simply through legislative action," Cheng argues.
CommonWealth Magazine included a more in-depth look at food safety in the State of the Nation survey for the first time this year, asking respondents what they felt were the root causes of the problem.
Topping the list was "unscrupulous businesses" (44.4 percent), followed by "lack of enforcement manpower" (26.2 percent), "society's lack of an oversight mechanism" (26.2 percent), "inadequate laws" (22.6 percent), the "judiciary's lack of expertise" (21.7 percent), and "consumers' preference for low prices" (15.9 percent). (Table 7)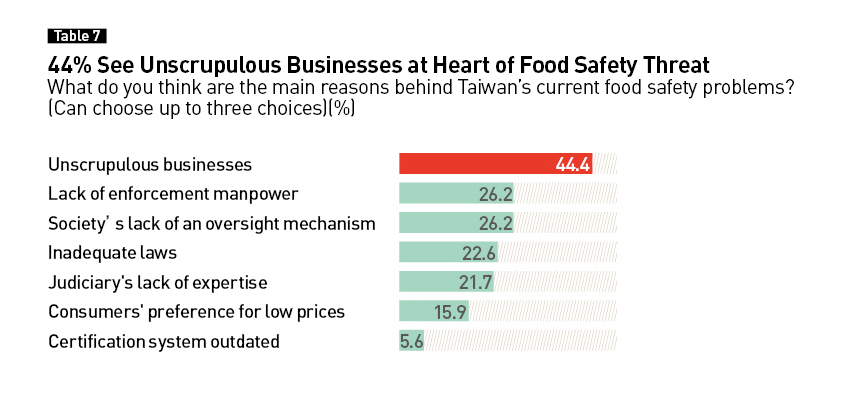 The chief executive officer of NTU's Food Safety Center, Fuu Sheu, said the results showed the public had a reasonably good understanding of the situation, perhaps indicating a newfound awareness "informed" by the many food safety scandals that have erupted in the past few years. He stresses, however, that the problem with "unscrupulous businesses" involves not only ethics but also a flawed industrial order.
"Everybody has complicity in this, and they all know it," Sheu says, citing the case of Chang Guann Co., which used recycled waste oil in its lard oil. The root of the problem, he said, was distributors squeezing the profits of vendors and consumers blindly opting for the lowest prices.
"Although most of the products were not hazardous to people's health, it's clear that Taiwan's laws and regulations must catch up with international norms," Sheu says, especially when revisions to the Act Governing Food Safety and Sanitation in recent years have misled the public into thinking the problem was solved.
"Right now, 90 percent of the sources of food safety issues, such as small restaurants and food stands, still aren't regulated," Sheu says.
End Political Infighting
Among the survey's findings, respondents not only cited "political infighting" as the second biggest threat facing Taiwanese society, but also saw promoting "cross-party cooperation" as one of the areas the government needs to improve right away, tied in importance with "creating job opportunities." The prevalence of populist politics and the dysfunction of the Legislature have led to such disappointment in politics that people's patience has been stretched to the limit.
When asked if they were "satisfied or not with the performance of the current Legislative Yuan," survey respondents expressed even greater dissatisfaction with the lawmaking body this year than last. Only 5.7 percent in this year's survey said they were satisfied, nearly 4 percentage points lower than last year, and those who said they were "dissatisfied" or "extremely dissatisfied" totaled 88.8 percent, up from 81.5 percent last year. (Table 8)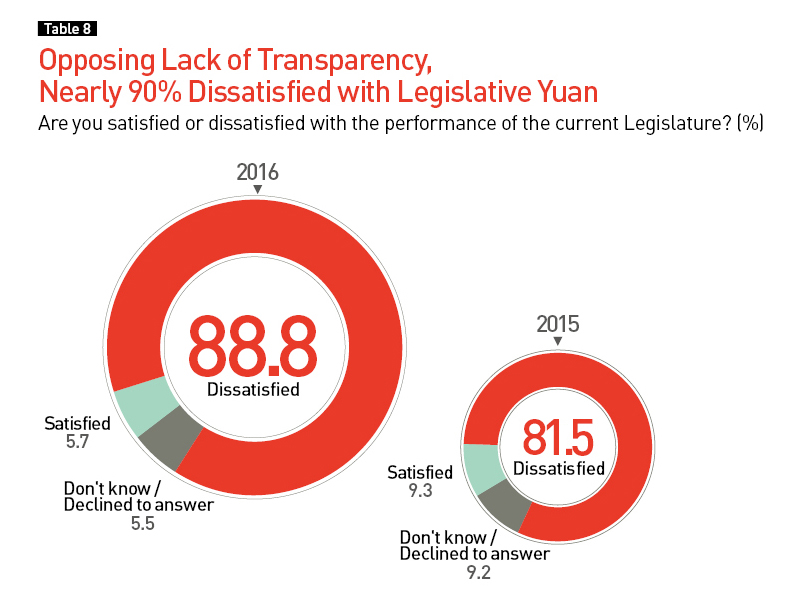 To better understand the unprecedented dismay with the Legislature, the answers to the question "What is the aspect of the Legislative Yuan that most needs to be reformed" are revealing. The top three answers were "the transparency of consultations" (26.6 percent), "procedural efficiency" (19.2 percent); and the "legislator conduct" (17.3 percent). (Table 9)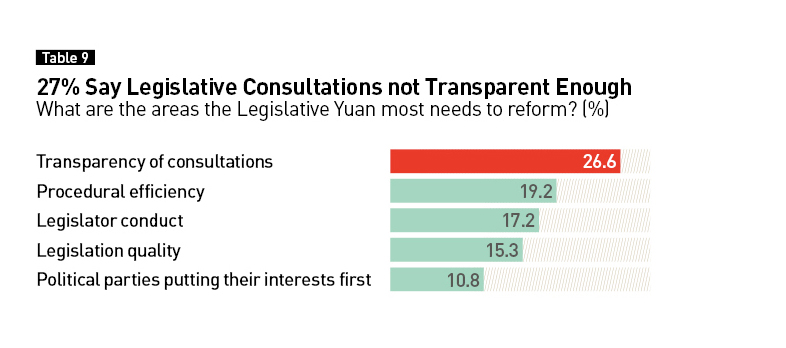 In fact, it was clear from the Sunflower Movement, which was triggered in March 2014 when KMT legislators tried to ram through ratification of a trade-in-services pact Taiwan signed with China in June 2013, that Taiwanese society has already paid a high price for the Legislature's lack of "transparency in consultations." But whether legislators or political parties, the people have not heard any genuine voices of reform.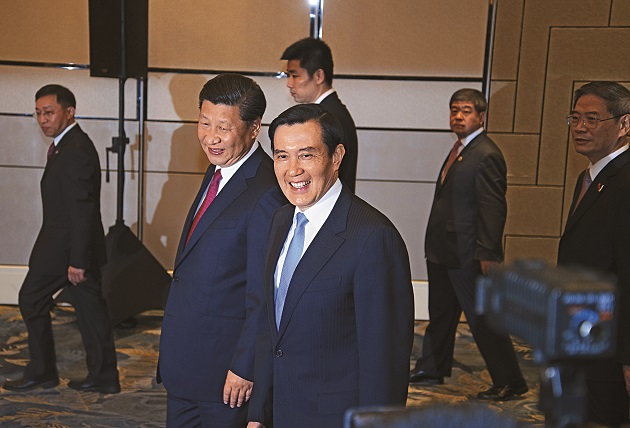 State of the Nation survey respondents thought the Ma-Xi meeting had more symbolic significance than actual tangible benefit to cross-strait ties.
Cross-strait Relations, after the Handshake
Although the direction of cross-strait relations has not been cited among survey respondents' most pressing priorities in recent years as ties have improved, the uncertainty hanging over the future of Taiwan-China ties represents as big of a challenge as other potential threats. Looking back at State of the Nation surveys from 2005 and 2006 when Chen Shui-bian of the DPP was president, cross-strait relations was cited as the second biggest threat behind "political infighting."
NTU's Wang says many people do not trust Tsai, in part because of the tensions across the Taiwan Strait during the Chen era.
In 2015, the highlight in Taiwan-China relations was the meeting in Singapore in November between Taiwan's President Ma and Chinese president Xi Jinping. In the 2014 State of the Nation Survey (conducted at the end of 2013), we asked respondents: "Do you agree with the idea of Ma Ying-jeou, in his capacity as president, meeting with Chinese president Xi Jinping during his current term?"
At the time, 60 percent agreed and 25.7 percent disagreed. A month after the Ma and Xi actually met, respondents of this year's survey were asked: "Do you think that the Ma-Xi meeting was beneficial to maintaining the well-being of Taiwan's people?" A total of 31.6 percent answered "helpful" or "somewhat helpful," while 55 percent said the meeting was not very helpful. (Table 12)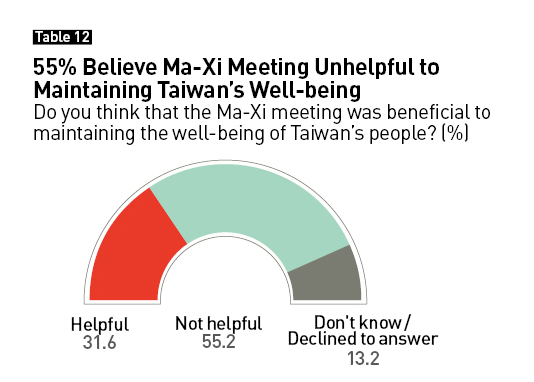 "With Ma and Xi able to meet on an equal footing on behalf of peace, most everybody would have affirmed it," observes Wang.
But under the weight of high expectations before the meeting, people felt afterwards that it was not groundbreaking and did not produce any tangible benefits. That explains in part the change in attitude toward such a gathering from two years earlier, Wang says.
A closer analysis of respondents' attitudes toward the Ma-Xi meeting shows that the older the person, the more likely they were to see the encounter as helpful. Among respondents 60 and over, 32.8 percent felt the meeting was at least somewhat beneficial to people in Taiwan, but only 24.1 percent in the 20-29 age bracket felt that way while 61 percent did not.
Differences in attitudes based on age were also seen on the issue of national identification. In this year's poll, 63.1 percent of respondents identified themselves as "Taiwanese," 6.1 percent saw themselves as "Chinese," and 28.3 percent described themselves as both "Taiwanese" and "Chinese." (Table 11)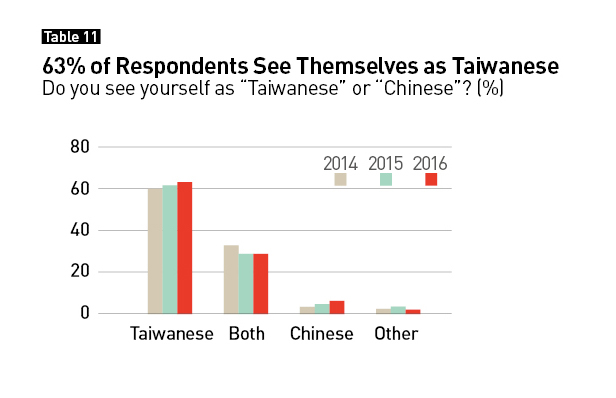 The percentage of those identifying themselves as "Taiwanese" was clearly higher than three years ago as were the number calling themselves "Chinese," reflecting a move to different ends of the spectrum by people who previously felt they were both "Taiwanese" and "Chinese."
Chang Mau-kuei, a research fellow with the Institute of Sociology at Academia Sinica, says even more people describing themselves as both will eventually come to feel they are "Taiwanese." But as for "Chinese" identity, "it is about 5 to 10 percent in Taiwan, and that won't change much," says Chang, who has long studied Taiwan's ethnic relations and national identity.
In Taiwan, saying one is "Taiwanese" has become a politically correct answer, Chang says.
"James Soong says he's Taiwanese. Tsai Ing-wen says she's Taiwanese. But their respective understandings of what that means is not necessarily the same," he says. What's clear, however, is that one no longer finds young people who identify themselves as "Chinese."
In this year's poll, the 20-29 age bracket had the highest percentage of respondents saying they were Taiwanese (74.1 percent) and none described themselves as "Chinese."
In fact, when members of this generation, described by some as being "innately pro-independence," were asked about political relations between Taiwan and China, 56.3 percent leaned toward Taiwan independence and 33 percent favored the status quo. Only 7.2 percent backed immediate unification or "unifying under specific conditions." (Table 10, Table 17)
This naturally pro-independence generation, however, is not necessarily opposed to exchanges with China. When asked what they saw as the best approach to cross-strait trade, more than half of respondents in the 20-29 age bracket (53.6 percent) favored "liberalization under specific conditions," and even 11.6 percent backed "accelerating the pace of liberalization." (Table 16)
Respondents in the 60 and above age bracket, on the other hand, were more conservative on the question of further liberalizing trade between Taiwan and China. On the question about how to approach cross-strait trade, for example, the age group most favoring "slowing the pace of liberalization" (16.1 percent) and "maintaining the status quo" (28.7 percent) was the 60 and over group.
Meanwhile, when asked, "Are you worried that Taiwan's economy is overly dependent on China?" 62.3 percent of all respondents said they were (Table 15), with those in the 20-29 age bracket expressing the highest degree of concern (68.8 percent), followed by the 60 and over age bracket at 66.1 percent.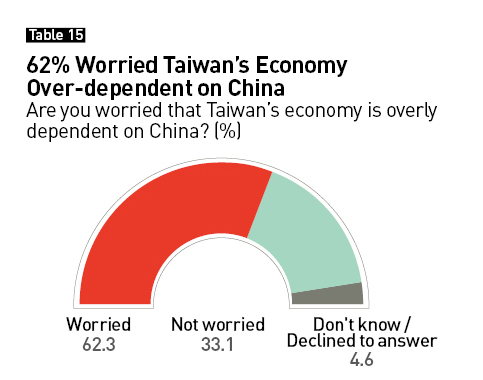 Time to Review Cross-strait Agreement Oversight Bill
This year's State of the Nation Survey delved into another issue for the first time, issues related to legislation on monitoring cross-strait agreements – one of the main demands of the student-led Sunflower Movement.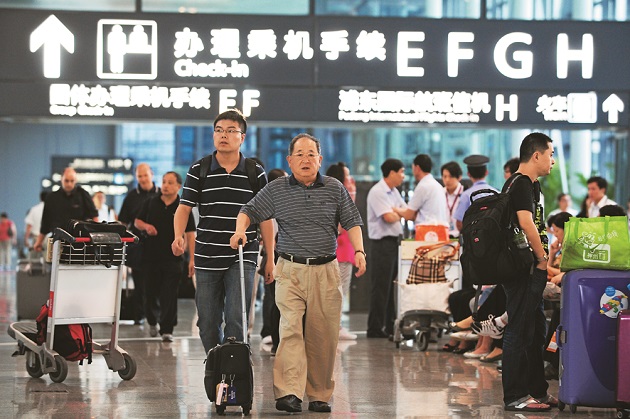 Taiwanese can have a more open attitude toward working abroad.
It was clearly an issue on the minds of many executives polled in the Top 2000 CEO Survey released by CommonWealth Magazine in December 2015. When asked what trends and innovations will have the greatest impact on Taiwan's economy in the coming five years, the top vote-getter among the executives surveyed was the "formation of regional trade blocs such as the TPP and RCEP." That was followed by the "rise of the red supply chain," referring to China's home-grown supply chain to replace imports, the "Internet of Things," and the "virtual economy replacing the real economy."
But the oversight bill, needed to clear free trade pacts Taiwan signs with China and potentially the China-led RCEP (Regional Comprehensive Economic Partnership), seemed to be far away from most State of the Nation Survey respondents' minds. About 90 percent had either not heard of it or did not understand it. Whether or not they understood it, however, 55.6 percent still supported passage of the measure. (Table 13, Table 14)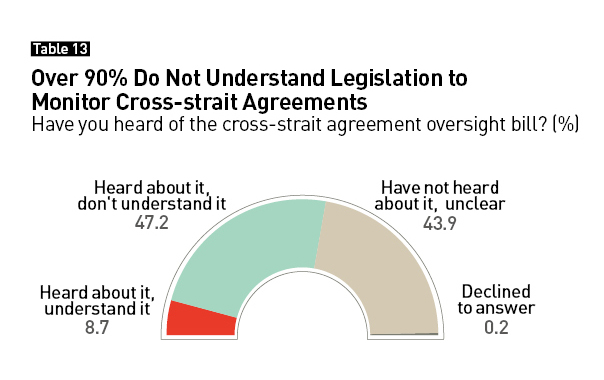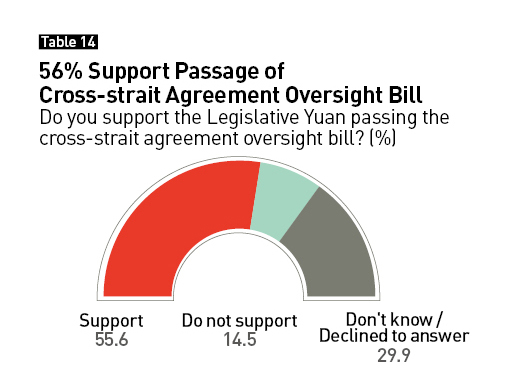 The choices respondents made related to their own work preferences also reflected their leanings on China.
To the question "If you had the chance, would you be willing to work in China?" the result was similar to that of years past, with the ratio of those willing to unwilling roughly 30:70. (Table 18)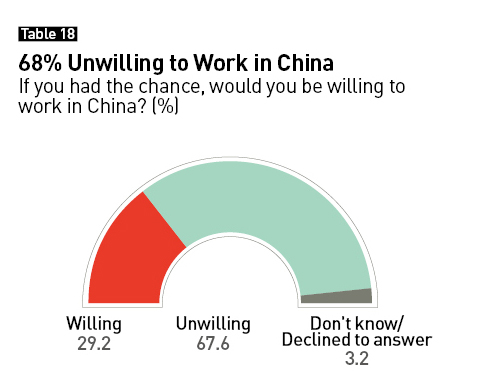 But when the question was "If you had the chance, would you be willing to work overseas (excluding China)?" the ratio was 50:50.
Charles Wang, the general manager of professional services firm Towers Watson, suggests that Taiwanese could be even more open to going abroad.
The globalized economy is currently in a transitional period and when businesses face challenges, opportunities emerge that can be exploited, he believes. Enterprises may seem to be more conservative about hiring people at the moment, but they are in dire need of new thinkers, and "the key is still whether an individual has a more open vision and attitude," Wang says.
Coinciding with this year's presidential election, the 2016 State of the Nation survey has provided the new government with a valuable reference on the issues that concern them the most. The key for the new president will be how to deal with the problems that need to be urgently addressed and effectively implement reforms.
Translated from the Chinese by Luke Sabatier