The Arrival of Globalization 3.0
Taiwanese Textile Industry's New Chance: Ethiopian Farmers + U.S. Machines
精華簡文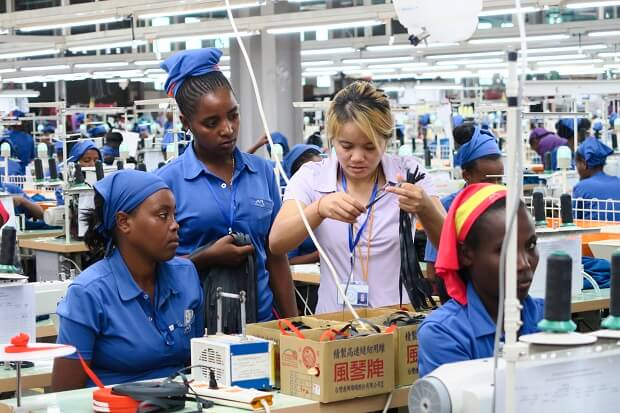 Source:Kaiyuan Teng
Though worlds apart, Ethiopia and the United States are suddenly proven attractive to Asian producers for different reasons. This shift in the global division of labor is opening new opportunities for Taiwan's textile and garment makers.
Taiwanese Textile Industry's New Chance: Ethiopian Farmers + U.S. Machines
By Kaiyuan Teng
From CommonWealth Magazine (vol. 653 )

Set foot in Taiwan-based Everest Textile Co.'s factory in the Hawassa Industrial Park in Ethiopia and one sees 1,400 sewers making clothes for French brand Decathlon and English brand Regatta using fabric from Thailand, Taiwan and China. The factory ships more than 130,000 garments across the Mediterranean Sea to the European market.
Two years ago, the sewers were still farmers, cultivating the land from sunrise to sunset. Today, they sew clothing for international brands six days a week.
A half a globe away in Forest City, North Carolina, a red-brick textile factory that witnessed 100 years of the textile industry's history before being shuttered for more than a decade has been revived. Everest Textile has set up a vertically integrated production line there, capable of everything from weaving fabric to producing clothing.
Everest Textile's network epitomizes the huge relocation of the global textile industry. On one side of the world, it's training Ethiopian farmers to sew clothes; on the other side, it's shipping 450 containers of textile machinery and accessories from Taiwan and China to the North Carolina factory, where all one sees are American women working robots suspended from above to sew clothes for the American market.
With labor-intensive manufacturing in China losing steam, the Trump administration pulling out of the TPP and ready to up the ante in its trade battle with Beijing, and Vietnam's tax-free paradise fading and suppliers there facing constant strikes, the route traveled by a typical piece of clothing is taking a major diversion.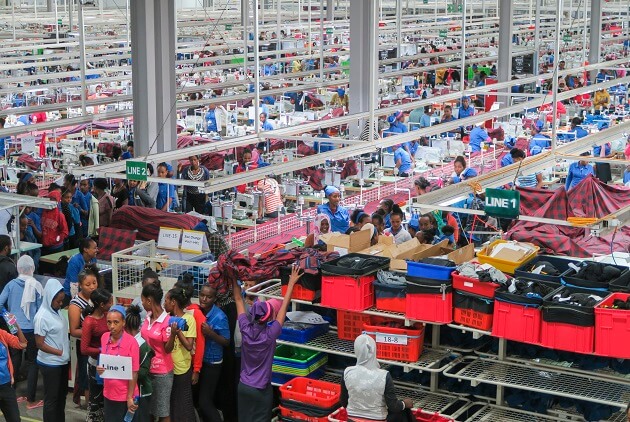 Globalization 3.0, Taiwan's New Opportunity
Beyond Taiwanese manufacturers, apparel and shoe suppliers from Japan, South Korea and China have also set up factories in Ethiopia.
South Korea garment maker Shin Textile Solutions, which counts Nautica, Mizuno, New Balance and Jack Wolfskin among its customers, also manufactures clothing in Vietnam. But it has expanded into Ethiopia in the past two years and is now building a dorm there big enough to accommodate 10,000 people.
"Wages in Southeast Asia are constantly rising, and we have to diversify our risk. So our parent company decided to set up a factory in Ethiopia," says Oh Jeong Hak, the vice president of Shin Textile Solutions subsidiary Shints ETP Garment.
The American south, which is seeing the revitalization of its textile industry, has also begun to attract Asian textile manufacturers. The Tainan-based Everest Textile is just one of them, having set up a fabric production line and a small, automated garment production line there.
It's part of a trend of apparel makers moving out of China. In 2016, 36 of every 100 garments in the world were made in China, down from 39 out of every 100 in 2015 and the lowest ratio since 2010, according to World Trade Organization statistics.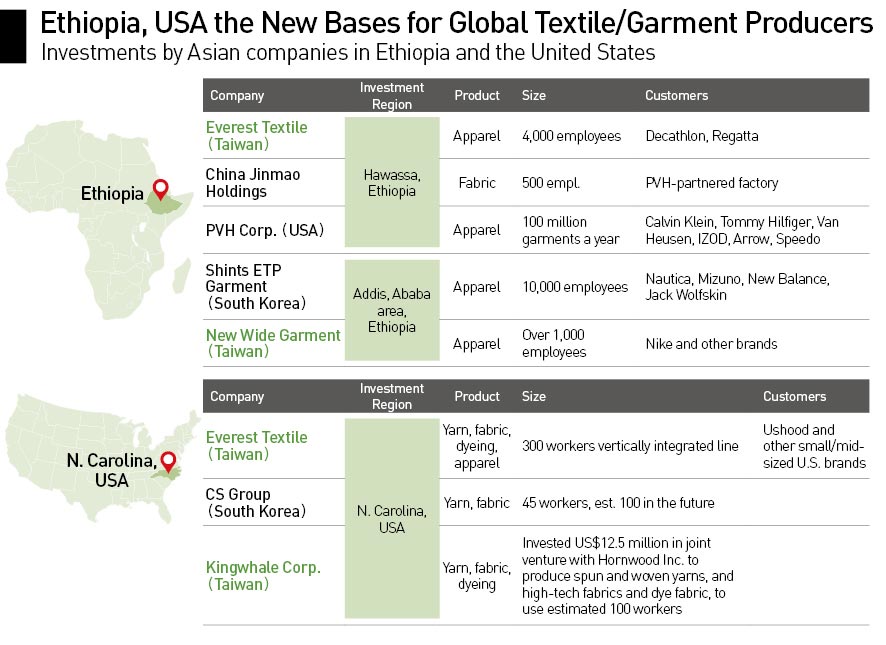 Summary of Asian companies' moves into Ethiopia and North Carolina

Chaney Ho, executive director of IT service management company Advantech Co., believes those numbers reflect the arrival of the Globalization 3.0 era.
"In the Globalization 2.0 era, the world shut down its factories at the same time and then moved to China. In today's Globalization 3.0 era, you have to take your talent, technology and capital to the market to manufacture there, train local talent, and build a local ecosystem. That's the only way to offset the disputes caused by lost jobs or trade deficits," Ho says.
The reshuffling of the global supply chain presents Taiwan with a new opportunity that it is well-positioned to capitalize on, Ho believes.
Taiwan's island nation status has opened the local manufacturing industry to diverse sources of technology, he says, and by relocating production to Southeast Asia and China over the past 20 years, Taiwanese companies have accumulated vast manufacturing and management experience.
"Today, only Taiwanese, Japanese and Korean companies have the ability to manage cross-border supply chains," Ho says.
Even with that experience, developing a presence in Africa, which has almost no manufacturing foundation, or rebuilding a factory in a part of the United States that the textile and garment industry abandoned decades ago has presented a huge challenge.
Following the footsteps taken by Taiwan's textile industry, CommonWealth Magazine took off from Taiwan to continental Africa then traveled to the East Coast of the United States, circling the globe to witness how Globalization 3.0 production bases are changing the face of global supply chains and how Taiwan's textile industry is coping.
♦ Taiwanese Textile Industry's New Paradise
♦ Taiwanese and Local Textile Mills 'Make Stone Soup' Together in Forest City, North Carolina
Translated by Luke Sabatier
Edited by Sharon Tseng
---
Additional Reading
♦ The Unknown Brains Behind The Brands: Who Puts the Performance in Performance Sportswear?
♦ The 'Hidden Costs' of 'Hidden Champions'
♦ From Uniforms to Shoes, Taiwan Is a Major World Cup Player