Everest Textile Co. Ltd.
Taiwanese and Local Textile Mills 'Make Stone Soup' Together in Forest City, North Carolina
精華簡文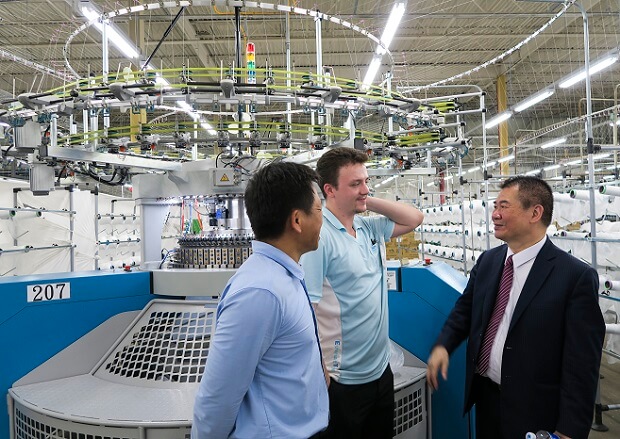 Source:Kaiyuan Teng
Taiwan's textile and apparel industry is taking advantage of new opportunities, since manufacturing in the United States cuts down on costly shipping time, smaller brands gain in popularity, and the global division of labor is reshuffled yet again.
Taiwanese and Local Textile Mills 'Make Stone Soup' Together in Forest City, North Carolina
By Kaiyuan Teng
From CommonWealth Magazine (vol. 653 )

Everest Textile Co. Ltd. President Roger Yeh has set his sights on North Carolina, which as the cradle of the Southern cotton-textile industry looks back on a rich history of more than 100 years in textile development.
As of 1992, the U.S. textile and apparel industries still employed 1,8 million people. However, by 2012 that number had shrunk almost 70 percent to just 580,000 workers, sparking successive U.S. presidents Barack Obama and Donald Trump to vow to bring manufacturing jobs back to the United States.
Everest uses automation, robots and AI technology, and trains American workers. "In the past, it was Hemei textiles; now it's American textiles," remarks Yeh. Hemei township in Taiwan's Changhua County used to be a textile mill cluster.
At the Everest factory in North Carolina, the floor in the dye house where dyes are dosed and dispensed is spotlessly clean. Workers do not need to wear protective masks since all tasks handling dyestuffs and chemicals such as weighing, mixing and pouring, which were previously performed by experienced master technicians, are now carried out by robots.
Workers control all of the processes via a computer interface: The computer automatically sends the source materials to the dye vats, correctly prepared and dosed, depending on the dyeing stage, the heat setting and other parameters.
The plant's weaving machines are also equipped with special features such as sensors to register the duration and frequency of downtimes. "When the weaving machine shuts down, it causes a flaw in the fabric. These data allow us to predict the quality of the fabric," explains plant manager Tien Po-wen .
A visual identification system has been introduced to inspect finished fabrics. In the past, the fabric had to be unrolled for visual inspection by workers. But since the unrolling machine runs at a very high speed, it is very difficult to catch all the flaws with the naked eye and maintain full concentration over a longer period.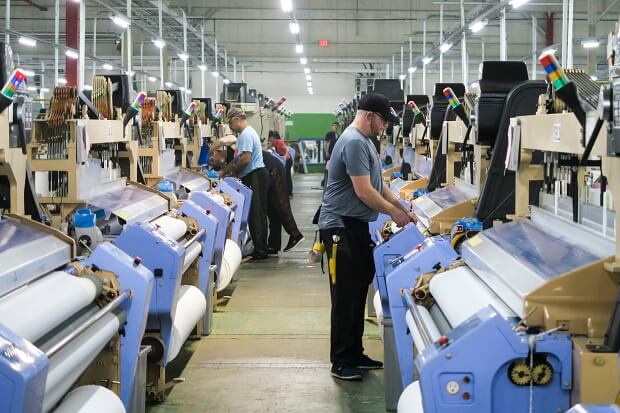 Image: Kaiyuan Teng
Therefore, Yeh had nine lenses installed on the fabric inspection machine, set to predetermined inspection standards, so that not the slightest flaw in the fabric escapes the robotic eyes. During an inspection of the plant, Chaney Ho, executive director of the board of Taiwanese automation systems provider Advantech Co. Ltd., noted that machine vision is an application of artificial intelligence technologies.
Manufactured in Israel, these machines come with a price tag of NT$5 million per piece. But, as Tien points out, given the high labor costs in the United States and thanks to a 50 percent productivity gain, the machines "pay for themselves within seven months."
In the United States, textile workers such as sewing machine operators make an hourly wage of NT$300, and even entry-level staff earns a monthly salary above NT$100,000, so that buying robots is more economical for the company than hiring people. Therefore, Everest also automated the apparel production line, which requires the highest input of human workers, as much as possible, introducing automated hanger systems, digital sewing machines, automatic ironing machines, and automatic pattern cutting. "Without these automated processes, we would have to increase our manpower by 30 percent," says Tien.
New Customers: Smaller American Brands
Traditionally Everest, which also has factories in Taiwan, China, Thailand, Haiti and Ethiopia, counts the world's leading sports and outdoors apparel makers such as Nike, The North Face and Adidas among its customers. Nike representatives have visited the North Carolina factory four times since its inception.
Surprisingly, the North Carolina plant has attracted a new group of smaller American brands. "There are many different approaches. The large brands still order in Asia because of cost considerations. But here in the United States there are many small or medium brands with a diverse, changing portfolio of high-priced products. These brands present our greatest opportunity," says Yeh.
Establishing a factory close to U.S. customers gives Everest a competitive edge thanks to shorter delivery periods and better access to American brand designers. "Shipping goods from Asia by sea normally takes six weeks. We can save the time on ocean freight and also directly communicate with the designers because there is no time difference," says Tien.
Despite being past the official retirement age at 73, Yeh, who built his first textile mill at the age of 27, is still active at the frontline of daily business. "We want to make stone soup together with the local textile manufacturers to connect the local supply chain," Yeh says.
As costs for manufacturing in China continue to rise and President Trump engages in a trade war, manufacturers are forced to play musical chairs to prevent being eliminated. Thirty years ago, Taiwanese entrepreneurs toured the world with a suitcase to sell their wares. This time, they are not only bringing their suitcases but also technology, talent, and capital as they scout the globe for new production bases.
♦ Taiwanese Textile Industry's New Chance: Ethiopian Farmers + U.S. Machines
♦ Taiwanese Textile Industry's New Paradise
Translated from the Chinese Article by Susanne Ganz
Edited by Shawn Chou
---
Additional Reading
♦ Water-free Dyeing Puts Taoyuan on the World Map
♦ From Uniforms to Shoes, Taiwan Is a Major World Cup Player
♦ Who Puts the Performance in Performance Sportswear?