Keelung Wild Bird Society Director Shen Chin-Fung
Debate More Critical Than Referendum Result
精華簡文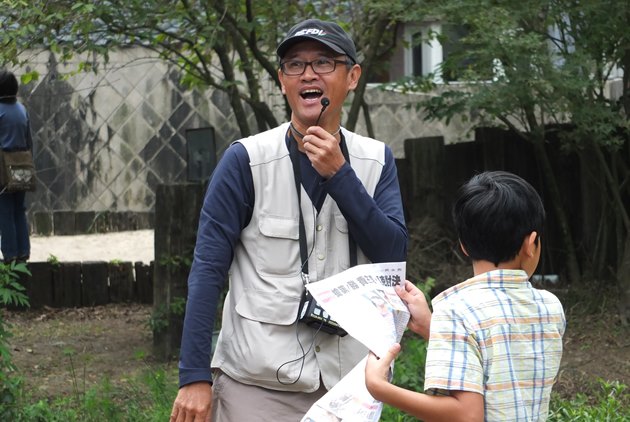 Source:Shen Chin-Fung
Nuclear power is a sensitive issue. While numerous members of environmental groups have adopted a low profile in this area, the Wild Bird Society of Keelung openly supports an interim approach that would use nuclear power to transition to green energy. Below are excerpts of our interview with Shen Chin-fung, director of the Keelung Wild Bird Society.
Debate More Critical Than Referendum Result
By Kwangyin Liu
From CommonWealth Magazine (vol. 654 )

The Wild Bird Society of Keelung is the first environmental group to openly support a referendum on using nuclear power to transition to green energy. Given the sensitivity of nuclear power, environmental groups have only been willing to make their position clear in private. But for me, environmental education is important enough to come out and take a stand.
One major reason is that the passage of the Shen'ao power plant environmental impact assessment. Elephant Trunk Rock in Shen-ao is a prime location for observing wildlife. When I opposed the building of the Shen-ao power plant, people asked me, "Where is the electricity going to come from?" And this got me thinking about energy choices, as I believe that coal-fired power plants are more environmentally destructive than nuclear plants.
Both the anti-nuclear and pro-nuclear camps cite statistics favorable to their respective sides. This results in scattered, incomplete information. I believe that only by passing a petition for a referendum and holding public debate can people truly decide based on objective facts.
To me, the process of debate is even more important than the outcome of a referendum, because videos of debates and written discourse can be used as educational materials. This can help give the next generation a clearer grasp of energy issues without being beholden to political parties.
I hope that everyone will consider the relationship between energy policy and the environment. This is a choice that can impact Taiwan's future.
♦ Air Pollution or Nuclear Power?
♦ An Interview with Minister of Economic Affairs: Phasing out Nuclear Power?
♦ Debate More Critical Than Referendum Result
♦ Taiwan's Energy Transition Can't Afford to Have No Plan B
Translated from the Chinese Article by David Toman
Edited by Shawn Chou
---
Additional Reading
♦ Facing Up to a Hot, Dirty 10 Years
♦ Anxious Skies, Taiwan's New Environmental Battlefield
♦ Green Energy, Green Economy Avert Decline
---