​​​​​​​MiTAC-SYNNEX Group Chairman, Matthew Miau
Air Pollution or Nuclear Power?
精華簡文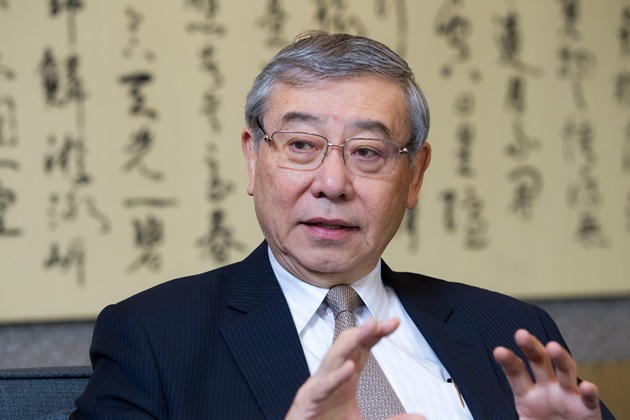 Source:Chien-Ying Chiu
In the tug-of-war between time and pollution, how can Taiwan make the best choice during the transitional energy period? Should the transition to green energy happen via nuclear power or air pollution?
Air Pollution or Nuclear Power?
By Kwangyin Liu
From CommonWealth Magazine (vol. 654 )

Before renewable energy goals are reached, how can sources of pollution be reduced? The following are excerpts from our interview with Mr. Matthew Miau, chairman of the MiTAC-SYNNEX Group.
The whole world is pushing renewable energy, no question about it. This is because one day we'll run out of oil. So our energy policy is in no way an either/or question between nuclear energy and green energy.
Right now we're facing a race of time versus pollution. In other words, before we reach the goals we've set for renewable every, how do we go about reducing sources of pollution?
Now is not the time to discuss whether or not to go the way of green energy, but rather what approach should be used to support green energy. Couldn't nuclear power also be an option? Should the transition to green energy happen via nuclear power or air pollution?

How to make the right choice for the transition?
There are short-range and long-range approaches to energy transition. As for the long range, to reach our objective we must work on infrastructure, such as the Disantian natural gas receiving station.
There are many different ways to transition over the short- or mid-term period before achieving green energy goals. And I believe we've chosen the worst path by adding a new coal-burning electricity plant.
Over the past year, industry has often expressed fears about electricity shortages. And we can't deny that the easiest type of electric power plant to build is coal. People worry whether we will achieve the goal of 20 percent renewable energy by 2025, and if that promise cannot be kept, whether many more coal-burning plants will be added. This has made some people wonder if the timeline for a nuclear-free country by 2025 needs to be reconsidered.
Next door in Japan, a country close to Taiwan, they take a very practical approach to energy policy. When the Fukushima nuclear accident happened in 2011, it brought a halt to over 50 nuclear energy reactors in Japan. However, once it was discovered that there was definitely an electricity shortage recently, the country turned its nuclear energy plants back on.
At the same time, though, Japan has not slowed the pace of its green energy development in the slightest, continuing full bore with development of wind, solar, geothermal, and biofuel energy. Japan strikes me as being quite pragmatic, since it's an energy-deficient country just like Taiwan.
If we had the choice, it would unquestionably be green energy. But Taiwan doesn't have many choices at the moment. Still, does it make sense to put maximum effort into reaching lofty green energy goals? Perhaps this should be discussed.
♦ Air Pollution or Nuclear Power?
♦ An Interview with Minister of Economic Affairs: Phasing out Nuclear Power?
♦ Debate More Critical Than Referendum Result
♦ Taiwan's Energy Transition Can't Afford to Have No Plan B
Translated by David Toman
Edited by Sharon Tseng
---
Additional Reading
♦ Anxious Skies, Taiwan's New Environmental Battlefield
♦ Green Energy, Green Economy Avert Decline
♦ Can Taiwan Transition to Electric Scooters?
♦ Can Japan Go Nuclear-free?