Everyday Fashion
Tokyo Enjoys Life in the Slow Lane
精華簡文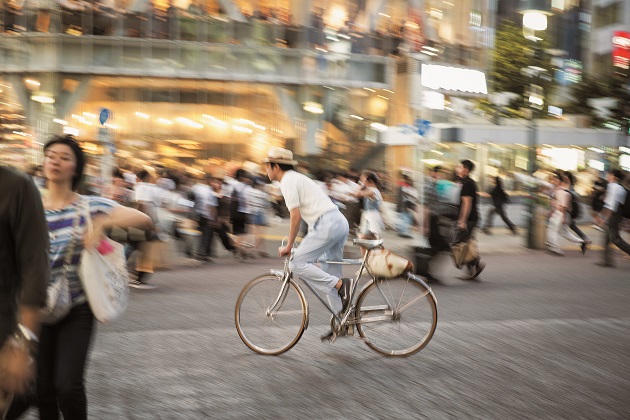 Source:CW
Instead of chasing short-lived western trends, Japanese consumers are seeking a better quality lifestyle rooted in local culture. In the wake of the devastating earthquake and tsunami of March 2011 and amid a prolonged recession, the Japanese have rediscovered the virtue of slowing down and returning to the basics.
Tokyo Enjoys Life in the Slow Lane
By Veronique Chou
From CommonWealth Magazine (vol. 608 )


With the aging of Japanese society, there is a trend underway of moving away from the glitzy and fashionable to high quality, from the uniform to the diverse. Tokyo's fast-paced lifestyle trends are gradually slowing down as its residents rediscover the benefits of life in the slow lane.

"The world is becoming more diverse, I feel there is no [uniform] trend, that's the biggest trend," remarks Nobuaki Shibasaki, editor-in-chief of &Premium lifestyle magazine, wearing a short-sleeved black shirt and casual slacks.

&Premium, which advertises itself as a "guide to a better life," counts among a handful of magazines that have successfully transformed themselves in recent years. With its emphasis on a locally rooted, simple yet elegant lifestyle, the magazine has not only found a loyal readership in Japan but also attracts readers in Taiwan, Hong Kong and the United States.

Shibasaki points out that the social atmosphere in Japan radically changed after the earthquake and the ensuing meltdown at the Fukushima nuclear power plant on March 11, 2011. People were beginning to be thankful for every single day of their lives and started to ask themselves how they could make the best of life. "People no longer cared only about fashionable clothing but also about food, housing, the environment and culture," observes Shibasaki.

When the magazine was revamped in 2013, it defined three principles to realize its goal of providing its readers with a guide to a better life. Intrinsic quality was to replace external beauty. Instead of striving for greater efficiency, priority would be given to inner peace and contentment. The magazine would gradually make its influence felt by tailoring its editorial policy around "organizing each day of your life carefully and confidently."

The NEWoMan department store complex, which opened in Tokyo's Shinjuku District earlier this year, also reflects this new phenomenon. Sayako Nakano, a marketing manager with NEWoMan, told Japan's Nikkei Trendy lifestyle and entertainment magazine, "The latest shopping trend is that many people come to shop for novel products that enrich their lives, and not only for apparel."

In response to this trend, NEWoMan, which is operated by the East Japan Railway Company (JR East), has adjusted the ratio of the clothing and footwear product category to its overall offerings from 8:2 to 5:5.
Slowing Down, Curating Life
Lifestyle curation now counts among the hottest catch phrases in Tokyo's lifestyle retail industry.
Given the explosive growth of information in the digital age, people become fed up with trying to keep up with the pace of an ever faster life. Yo Shitara, founder and president of time-honored Japanese lifestyle brand Beams, observes that many interesting things happen outside the traditional fashion world. "Essentially fashion has power, but as far as young people are concerned, games and apps also have such power."
Earlier this year, Beams opened a new store on a street corner in Shinjuku called Beams Japan. For this flagship store, Shitara and his team curated a wide variety of products that marry western features with the essence of Japanese style. On six floors divided by product category, shoppers can find fashion, food, household items, and culture as well as arts and crafts. Like a window to the world, the shop also brings people together.
Similarly, the New South Gate complex across from JR Shinjuku Station, which was finally completed after 15 years of construction, offers wider concourses and more public space. Outside the New South Gate, landscaped terraces and plazas entice rushed visitors to slow down, take a seat and relax amid greenery.
Architect Chikara Ohno, director of Sinato Inc., who was in charge of planning the New South Area concourse, believes that "As long as people are willing to slow down, railway stations can become an activity center, a place for cultural exchanges." Ohno revamped the area with the idea in mind that it would become "a third place" for people's lives.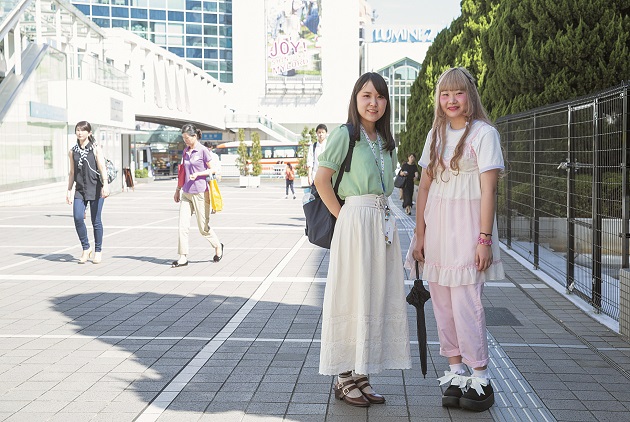 Uniform fashion trends have given way to individual style. In an increasingly diverse world, everyone can freely choose what they like.
The farther one travels from the Tokyo city center, the more pronounced the trend toward a more leisurely lifestyle becomes.
In Jiyugaoka, a residential suburb about 10 minutes by train from Shinjuku Station with traditional two- and three-story houses, modern lifestyle stores and traditional shops line the pedestrian-friendly streets. The local restaurants cater to the health conscious and emphasize local produce.
Far ahead of the recent trend to a more conscious lifestyle, British-born Safia Minney founded Fair Trade Company in Jiyugaoka in 1995 in a bid to promote sustainable living and ethical fashion. Her innovative business model focuses on organic textiles and fair trade across the supply chain. After launching her own fashion label People Tree, the first store opened in Tokyo in 1998. People Tree collections are now sold around the world.
Tokyoites are turning away from a life that is too fast-paced and results in information overload and excessive consumption. Amid the changing times, Tokyo has experienced crisis and opportunity many times. As uniform trends come and go, people are becoming more aware of the true essence of life.
Translated from the Chinese by Susanne Ganz