PRC Students in Taiwan
Shaking Up the System
精華簡文
Source:Domingo Chung
When Chinese students were first allowed to study full-time in Taiwan four years ago, critics feared they would snatch resources and jobs from Taiwanese students. Now that the first class of these students is ready to graduate, have those fears played out?
Shaking Up the System
By Sherry Lee, Chi-Mei Tsai
From CommonWealth Magazine (vol. 570 )


The first batch of full-time People's Republic of China students in Taiwan will be graduating from universities this June.

They will wear graduation gowns and receive their diplomas just like their Taiwanese peers before returning to China to join foreign, domestic or Taiwanese companies there, or continue their studies.

They will leave behind a higher education landscape that has been changed by their relatively quiet penetration of Taiwan's colleges and universities.

At venerable National Chengchi University in Muzha District in the southeastern part of Taipei, six of the eight Ph.D. candidates in the school's College of Communications are from China. At nearby Shih Hsin University, the students in its Ph.D. communication studies program are evenly divided between Taiwanese and Chinese. New students entering the classroom and hearing Mandarin spoken with several different accents can be forgiven for wondering if they're actually in Taiwan or China.

Chinese students' footprints can be found all around Taiwan, evident at 70 percent of the country's public and private universities and vocational colleges. Originally the most familiar of strangers, these students have worked on projects, traveled, and even protested in the streets with their Taiwanese counterparts, forging a first generation of people from Taiwan and China who really understand each other.

Under Ministry of Education guidelines, the number of full-time students enrolled at Taiwanese universities cannot exceed 2 percent of the total number of openings available in any given year. That number, which translates to about 4,700 students, does not affect the number of places available to Taiwanese students.

Although the number of Chinese students in Taiwan has steadily grown, they only number 5,881 at present (Table 1) because of the highly restrictive "three restrictions and six noes" regulations established to protect the interests of Taiwanese students.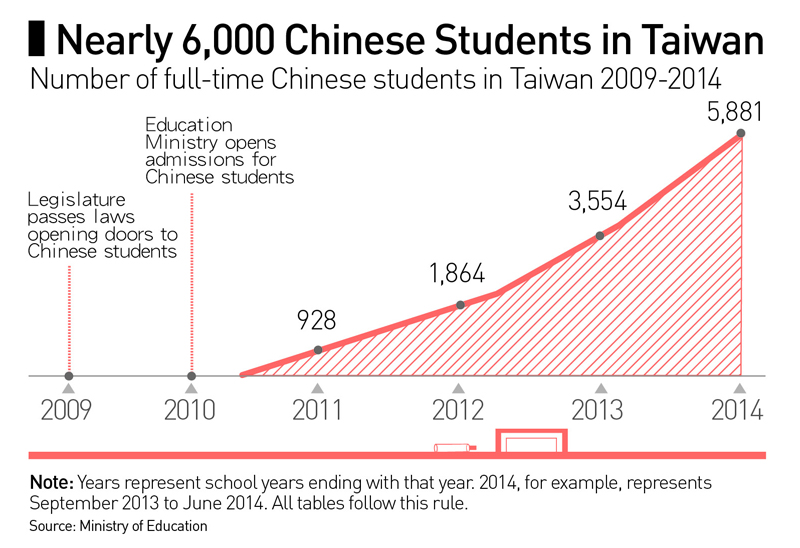 The Education Ministry has also opened a separate door, however, that allows schools to recruit Chinese students for non-degree one-semester or full-year study programs. Last year alone, there were 27,000 of these short-term visiting students in Taiwan, far exceeding the number pursuing a degree.
All told, more than 80,000 full-time and visiting Chinese students have studied in Taiwan over the past four years, an average of about 20,000 a year. Assuming that each of them stays in Taiwan at least a semester and spends an average of NT$150,000 on tuition and fees, accommodation and daily living expenses, they inject at least NT$3 billion a year into the country's economy.
The Strongest 2%, Racking Up Awards
Beyond their growing numbers, the more than 5,000 full-time Chinese students who live together every day with their Taiwanese peers have engendered the greatest change, spawning a new form of coopetition in all areas of learning.
Sporting short hair and black-rimmed glasses, 22-year-old Zhou Jing seems outgoing and full of energy, a long way from the person she was four years ago. Her father, a professor at Zhejiang University, encouraged her to study in Taiwan, but when it came to take the giant leap into her new environment and say goodbye to her father, "I was in a daze and felt like I had lost my entire world," Zhou recalls.
She picked herself up, however, and finished first in her department for six consecutive semesters. Having just completed a tour of the island, Zhou is now preparing for her graduation ceremony in June.
Much like Zhou, Chinese students have reaped many academic honors at Ming Chuan University and similar private universities where they are generally concentrated.
"Of the university's more than 200 scholarships available for the top three students in each department, about 50 to 60 have been grabbed by Chinese students," says Wang Jin-long, the vice president for academic affairs and dean of the Academic Affairs Division at Ming Chuan University.
Over the past four years, Ming Chuan has recruited more than 400 full-time Chinese students, a reflection, Wang says, of the school's high standards.
"Ming Chuan's competitive strengths are its strict attention to classroom attendance and seating patterns that prevent cheating during tests. These are very attractive to the parents of Chinese students," Wang says confidently.
Compared with other foreign or overseas Chinese students in Taiwan, PRC students are chosen from a more select pool. Most of them come from the top 5 percent of Chinese universities located along China's eastern coast.
He Chenyong is a second-year student in National Chengchi University's Graduate Institute of Law and Interdisciplinary Studies who hails from Shaoxing in Zhejiang province. His father is a mason, similar to construction workers in Taiwan who get paid by the day, while his mother works at an electronics company.
Shaoxing has a population of 5 million people, higher than the most populous city in Taiwan – New Taipei. The year He took his university entrance exam, he finished 100th out of 300,000 Shaoxing test takers, earning him a spot at the prestigious Tsinghua University in Beijing.
During his time at the school, He spent a year at National Tsing Hua University in Hsinchu (Taiwan) as an exchange student, and let himself go. "When I first arrived in Taiwan, I was like a bird that had been freed from its cage. I flew all over the place," He says.
After the Shaoxing native graduated in China, he dropped the idea of pursuing a Ph.D. in engineering at Beijing Tsinghua, instead landing 600 kilometers away at National Chengchi University. The decision was not cheap – his annual expenses of over NT$300,000 are about what his parents earn in a year.
Like many Chinese students, the determination to forgo a spot at a prestigious Chinese university to study in Taiwan shown by the slim, 1.80-meter tall He has motivated him to work hard in school and even head the National Chengchi University Mainland Student Association.
"In class, I'm probably the most likely person to ask questions. I'm always asking questions in class and after class, even after all the Taiwanese students have left. But I'm only able to ask those questions because I've studied," He says.
Rekindling Professors' Drive
Taiwanese professors and students have all witnessed the active and dedicated nature of Chinese students, seen in everything from their class participation and homework quality to academic performance and student-teacher relationships.
That dedication is changing the learning environments at Taiwanese institutions.
An analysis conducted by Shih Hsin University found that students from elite Chinese universities had an average grade of 86 points, 10 points higher than the 76 averaged by the student body as a whole.
"If there are 80 people in a class, and 20 of them are from China, the top 20 students will likely be those 20 Chinese students," says Shih Hsin University professor Su Chien-chou. "That's obviously an exaggeration, but it's an idea of how things are."
This drive and determination to perform well academically has also changed teacher-student relations on campuses around the country.
Highly respectful of their teachers, Chinese students have been chosen as class leaders or deputy class leaders, and they also try to sit in the front half of classrooms because of their eagerness to participate. At private universities which have a higher percentage of Chinese students, professors interviewed by CommonWealth Magazine were especially inclined to say that they felt at times as though they were only teaching mainland students.
One professor at Taipei-based Chinese Culture University pulled out an ink brush with his name engraved on it that was a gift from a Chinese student. When this professor started teaching five years ago, the policy to accept Chinese students had just been launched. He was initially apprehensive about the approach because of the major differences in cultures and systems across the Taiwan Strait, but four years later, his attitude has changed.
"In class, they are usually the first to raise their hands and they speak and ask questions enthusiastically. After class, they surround you and ask questions. You may not believe it, but Chinese students are now rekindling my passion for teaching," the professor says.
To Taiwanese professors, these Chinese students are worthy and willing helpers who have become pivotal forces in supporting local professors' research. Over the past two years, the number of Taiwanese enrolling in graduate school has dipped, leaving China as the key source of master's and Ph.D. students. The number of approved Chinese master's and Ph.D. candidates in Taiwan rose from 653 in 2011to 1,712 in 2014.
Tai Wan-chin, vice president for International Affairs at Tamkang University, says his school decided this year to offer Chinese Ph.D. students free tuition.
"The colleges of science and engineering need graduate students. Today, several universities raise funds on the outside to give to Chinese students, hoping to recruit the best ones to pursue graduate degrees in Taiwan," Tai says.
Easing the 'Three Restrictions and Six Noes'
In fact, many of the constraints on Chinese students laid down in the "three restrictions and six noes" have been relaxed as schools compete to recruit students from across the Taiwan Strait. The two "noes" most widely denounced by Chinese students – no work while enrolled in school and no government-funded scholarships – have been largely ignored in the past year. (Table 3)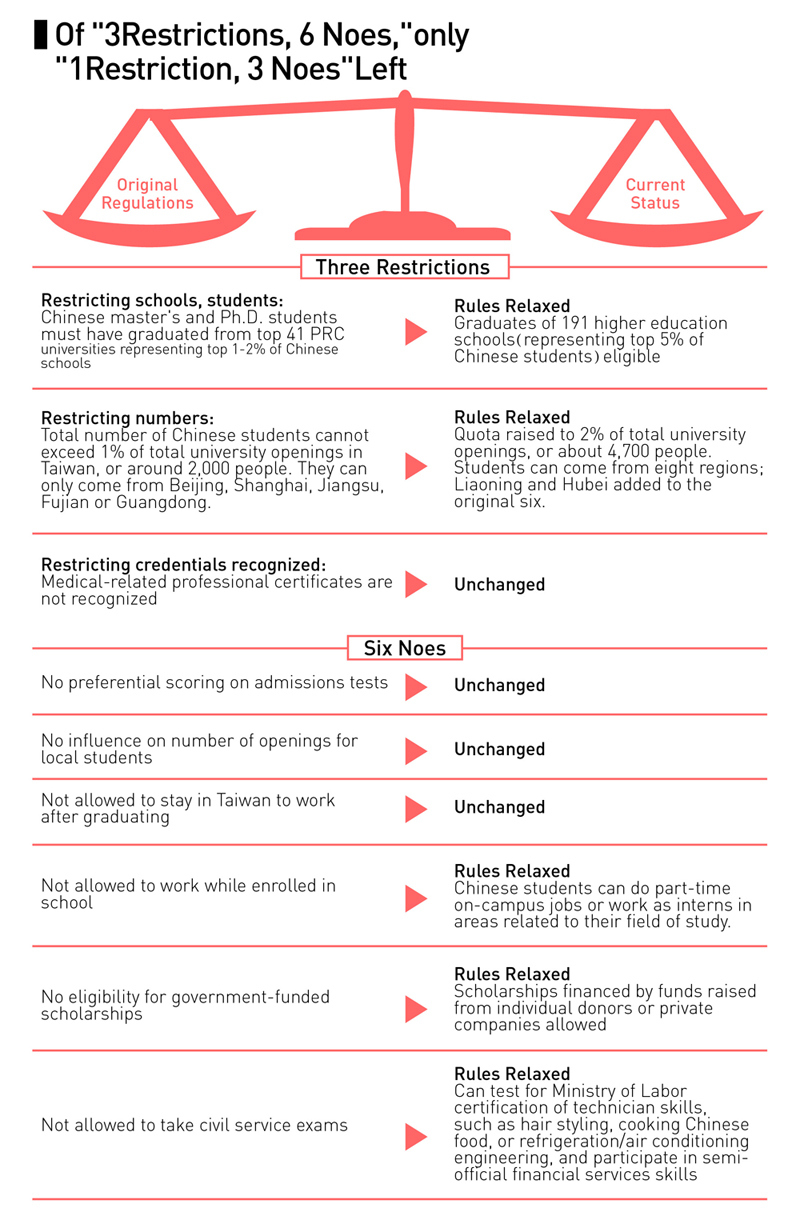 The work restrictions have been relaxed in some cases by allowing "internships" – Chinese students can participate in any "internship" related to their course of study. As a result, they can find opportunities in several Taiwanese companies with interests in China, universities' own training hotels, or Internet media or TV stations. (Table 2)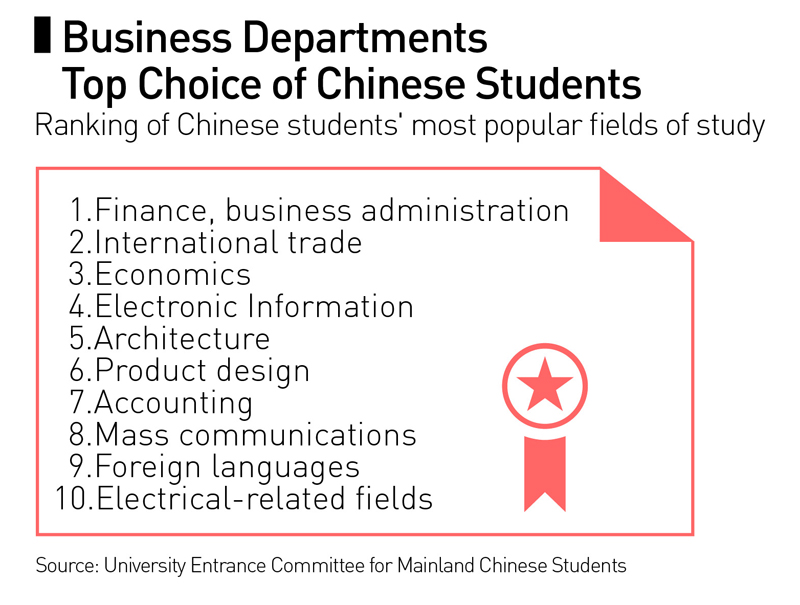 Chaoyang University of Technology has gone a step further, talking to a hotel in Singapore about the possibility of sending Chinese students in its Leisure Services Management Department to the city state for a year-long internship with the hotel.
On the scholarship side, public universities have raised their own funds and private schools have budgeted scholarship funds to use as incentives for Chinese students, and they have also begun using them as teaching and research assistants.
Several Chinese students have also worked as assistants on research projects conducted by the culture, education, and science and technology ministries, but because that would violate the "no government-funded scholarship" restriction, some professors have Taiwanese students register for the jobs as proxies and then turn them over to Chinese students.
One professor at a private university in northern Taiwan admitted to using that method to hire a Chinese student as a teaching assistant.
"This student was recruited by a Taiwanese student. Taiwanese students are happy to act as proxies because Chinese students are willing to learn and put in a lot of effort," says the professor in describing this "unregistered worker" phenomenon. He also exposed how impractical the "three restrictions, six noes" framework has become.
The Value of a Taiwanese Degree
In fact, the United States and neighboring countries such as Japan and South Korea use the same standards in dealing with Chinese and foreign students and aggressively recruit the top students in China to bolster their research credentials and international cachet. Even after loosening the "three restrictions and six noes," Taiwan is still not competitive enough with these other countries.
Tamkang University senior Cai Boyi, a member of the first group of full-time Chinese students in Taiwan, pointed to some of the disadvantages she and her peers face.
"We cannot get scholarships or health insurance. That's a lot worse than the treatment given foreign students. Overseas compatriot students can even get scholarships designated especially for them. This is a place where the policies are unfriendly and the public opinion environment is also unfriendly," she said.
Though she has developed a strong emotional bond with Taiwan and fallen in love with a Taiwanese guy, Cai said Taiwan's policies toward Chinese students made it hard for them to build a strong sense of identification with Taiwan.
Having experienced a four-year journey in Taiwan that has seen their great expectations pierced by some measure of disillusionment, Chinese students have begun to discuss among themselves whether getting a degree in Taiwan was worth it and whether they regretted coming to Taiwan.
There is, of course, no pat answer. But Taiwan's once decisive advantages of inexpensive tuition and faculty with relatively strong international backgrounds are gradually fading amid a global free-for-all for higher education talent.
Chinese student Wang Yunfei, a second-year master's candidate in political science, gives this frank assessment of studying in Taiwan: "If you thought it could get you a job, sorry, but it can't. If you thought that master's and Ph.D. programs would have attractive scholarships, sorry, but no dice."
Yet Wang believes he has benefited from the experience, saying "the cultural ambience and caliber of the teachers here is what I was looking for."
He, the head of the mainland students association at National Chengchi University, sums it up this way. "The environment here is really awful," he says, referring to the "three restrictions and six noes." "But you can learn a lot. But you need to clearly realize that when you go back, the degree won't be of any use."
Degrees from even Taiwan's top institutions, such as National Chengchi University, offer no guarantees for the future. Chinese students who have gone looking for jobs in their home country after earning master's degrees in Taiwan have found some Chinese companies only accepting academic credentials from four Taiwanese schools: National Taiwan University, National Tsing Hua University, National Chiao Tung University and National Cheng Kung University.
Unable to stay in Taiwan to work after getting a degree, they wonder if Taiwanese diplomas will cut it in either academia or in workplaces in China or Asia, which put great emphasis on where job-seekers studied and the quality of the degree they obtained.
Protective Policies Hurting Competitiveness
Taiwan also hoped that introducing strong Chinese students would motivate local students to step up their games, but that "catfish effect" has yet to materialize.
Ho Yi-chien, a Taiwanese second-year master's student in political science at National Chengchi University, says of his Chinese classmates: "They are hard-working and very aggressive. They not only sit in the first row in class, they are eager to participate and dare to answer. In comparison, Taiwanese students have lost a lot of opportunities, and given up their right to speak and express their views.
Asked if the drive shown by the Chinese students has changed how Ho's fellow Taiwanese view learning, Ho says, "Actually, we haven't gotten worse. It's just that we lack courage and a sense of urgency. It's probably because we're too protected policy-wise."
In many countries, higher education and talent policies are closely correlated, but in Taiwan, government policy on Chinese students is completely detached from national talent policies, making it extremely hard to foster healthy competition.
In contrast, Hong Kong has offered a high number of full scholarships and job opportunities to keep Chinese and Taiwanese talent in the former British territory, putting pressure on Hong Kong students and giving them a sense of urgency.
Taiwan native Lin Tse-chun, who is now an assistant professor in the University of Hong Kong's School of Economics and Finance, gives an example of how the phenomenon plays out.
"Before they graduate, my Chinese students go after management associate positions at Citibank, HSBC and Standard Chartered. They are preparing to take your (Hong Kong students') job opportunities. How can you not be scared?"
As in Taiwan, many in Hong Kong complain about Chinese students snatching away higher education resources and jobs from local students, but Lin says that from a broader perspective, Hong Kong has no choice but to do what it can to retain good talent.
Felice Chen, who has taught at Beijing University and National Taiwan University and carries a lot of weight in investment banking circles, told the story of the daughter of a good friend in Beijing who enrolled at a prestigious private university in central Taiwan. Six months into her studies, her parents came to see her but were reduced to tears in their hotel in Taichung when telling Chen what they saw.
"We found that she had not made any progress during this time. Her classmates were very nice, but they just had a good time with my daughter," the girl's distraught mother said. "It was like coming to the countryside of a tier 4 city to study. Our daughter has lost her competitive spirit."
For Chen, her friends' laments sounded a clear warning to Taiwan's higher education system. "Taiwan once had good faculty and cultural advantages, but if you want to export education, you have to build a better brand image and comparative advantages," she says.
While Chinese students like Taiwan's freedom and humanistic qualities and have embraced the creativity and openness of Taiwanese students, they have been surprised by their Taiwanese peers' insularity and easily satisfied nature. They have also been disappointed by the narrow and confrontational perspectives exhibited by Taiwan's media and politicians.
Sun Yini, a Chinese student studying for a master's degree in Taiwan, says Chinese student groups in Taiwan have posted a sarcastic profile on Facebook of what kind of person is qualified to study in Taiwan. "You have to be wealthy because tuition is double what Taiwanese students pay. You have to get good grades, because local universities demand a lot. And you have to be stupid, because you have to suffer, bite your tongue and not protest."
First Wave Ready to Graduate
A major milestone of the admittance policy on Chinese students will come in June, when the first wave of full-time degree pursuers will graduate. Tamkang University and Chinese Culture University have invited alumni with business interests in China to hold seminars with Chinese students and set up job opportunities for them.
"We want to track the paths taken by the first group of Chinese graduates," says Tamkang University's Tai.
Over the past four years, Taiwan has nurtured a group of Chinese who "know Taiwan." Highly ambitious and competitive, they have entrenched themselves on local campuses and in Taiwanese society and changed the learning environment and teacher-student relationships that previously existed at Taiwan's higher education institutions.
After these four years of close exchanges, however, has the influx of Chinese students made Taiwan's higher education system more competitive? Have Taiwanese students felt the "catfish effect" and become more motivated? And can Taiwan's higher education brand provide substantive dividends in the job market or added value to students in the Chinese-speaking world?
As Chinese students prepare to graduate in Taiwan for the first time, now is the perfect time to fully examine Taiwan's policy on their enrollment in local schools. The future paths these Chinese students follow will also stand out as important gauges of Taiwan's higher education competitiveness.
Translated from the Chinese by Luke Sabatier