Taiwan's Independent Coffee Culture
Soft Power, Percolated to Perfection
精華簡文
Source:CW
Taiwan produces relative few coffee beans, but it is a prime destination when Asians want to open cafés, roast good coffee, or grow premium beans. How has Taiwan gained renown as a premium coffee hub in such a short time?
Soft Power, Percolated to Perfection
By Ming-ling Hsieh
From CommonWealth Magazine (vol. 569 )


"Join the masters in tasting champion coffees."

That was the pitch made by a coffee lifestyle workshop in Xiamen at the end of February to get people to register for a "Taiwan Coffee Tour." The workshop promised the opportunity to brew coffee with Taiwan's top coffee maestros and taste and rate different cups, known in the trade as "coffee cupping."

The proposed tour's itinerary started with a ferry ride from Xiamen to Kinmen and then a domestic flight to Taichung. From there, the group was to head to the mountain resort of Alishan to see how Fang Cheng-lun processes his coffee beans and creates his winning roasts, such as his washed Sumatra that earned a rave review from prestigious online coffee guide Coffee Review. They were to be accompanied by coffee estate owner K.M. Lee, whose Alishan coffee finished 11th in the Specialty Coffee Association of America's "Coffee of the Year" competition in 2009.

From there it was on to Taiwan's low-altitude coffee hub of Gukeng. The group was to end its six-day tour in Taipei to experience Fika Fika Café, run by James Chen, winner of the Nordic Roaster competition in 2013, and Gabee, opened by Van Lin, winner of the inaugural Taiwan Barista Championship in 2004.

"Many people want to come to Taiwan," said Kuo Xiao-sen, the founder of the Xiamen workshop. He was putting together a group tour to Taiwan for the first time, but many leading Taiwanese coffee experts have given seminars in China and the diversity of Taipei's coffee shops has attracted hordes of Chinese tourists.

"The mainland has been strongly influenced by Taiwan," Kuo says.

Taiwan only produces about 200 metric tons of coffee a year, a tiny fraction of the 600,000 metric tons produced by Asian neighbor Indonesia, and coffee's history in the country spans no more than a century. But coffee has gained an irrepressible vigor and following in a country where tea has long reigned supreme.
Taiwan's Independent Souls
According to International Coffee Organization statistics, the average Taiwanese consumer bought about 400 more grams of coffee in 2012 than in 1997 (Table 1), and Viva Taiwan Coffee author David Han estimates that the average Taiwanese consumed 1.33 kilograms of coffee in 2013, higher than the world average of 1.22 kg.
Because of Taiwan's limited production of coffee beans, the country's coffee fix relies heavily on imports, which are duty-free. About 400,000 60 kg. bags of coffee are now brought into Taiwan from overseas every year, four times the amount imported annually in the early 1990s.
Raw coffee beans represent the fastest growing imported coffee segment, reflecting the burgeoning desire among Taiwan's coffee entrepreneurs to roast beans themselves and shape their coffee's character and aroma. (Table 2)
In turn, when people enjoy a coffee at a local café, they are drinking fashion, the owner's life and his experiences percolating in every aspect of the shop, from its décor and music to its choice of beans and roasting technique.
"Cafés today no longer use standard loops for their background music. They have their own books and music to demonstrate their uniqueness, making them as independently recognizable as people's faces," observes Gordon Han, the founder of publishing company Souler Creative Corporation, who has published such works as the Coffeeology series and Viva Taiwan Coffee.
There were more than 2,000 coffee shops in Taiwan last year, generating combined sales of more than NT$10 billion (Table 3), according to Ministry of Finance figures. But the market is actually much bigger.
Market leader Starbucks had sales of nearly NT$7 billion alone, and coffee has also emerged as a staple at convenience stores. City Café, the coffee arm of 7-Eleven convenience stores with more outlets than any competitor, has annual sales estimated at NT$10 billion. Then there are canned coffee beverages, instant coffee, and coffee sold at breakfast shops and bakeries and even at body care retailer L'Occitane, household product retailer Muji and furniture vendor Scanteak that bring total coffee sales in Taiwan to an estimated NT$60 billion to NT$80 billion a year.
Café Wang is the CEO of Oklao Coffee Farms Co. Ltd., which does everything from growing coffee in Laos and importing and exporting beans to roasting beans and opening its own stores. Taiwan's coffee culture has gained such prominence, he says, that coffee courses are now required in university tourism and hospitality departments. He himself is teaching such courses in universities, and he has also held 10-day training workshops to develop coffee professionals. People aged 18 to 80 have attended the 30 or so workshops held so far.
Taiwanese now drink coffee in the morning, after lunch, when they're talking business or when they have nothing to do and simply want to pass the time. Those coffee habits have created fertile soil for breeding world-class coffee artisans.
Taiwan's Fertile Testing Grounds
One of them, Fika Fika Café owner James Chen, became the first non-Nordic winner of the Nordic Roaster competition in 2013, and another, 35-year-old Yilan County native Jacky Lai, won the World Coffee Roasting Championship in 2014.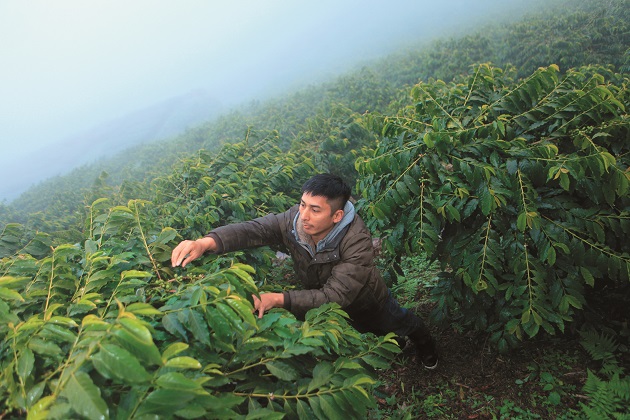 "Coffee Prince" Fang Cheng-lun has developed a passion for growing and processing coffee on his family's farm in foggy Alishan.
Electronics major Berg Wu finished seventh at the long-running World Barista Championship in 2014, and Liu Pang-yu took the World Cup Tasters Championship the same year just a year after completing his military service.
That these individuals from different fields have all shone on the world stage indicates that not only are Taiwanese drinking more coffee, their tastes are more sophisticated than ever.
Unlike in other Asian countries, the many coffee nooks and talented souls popping out from small alleys and lanes around Taiwan embrace cultures from all over the world and compete to innovate; they are why Taiwan now has the greatest allure of any player in Asia's coffee scene.
Taiwan may be a latecomer to the coffee craze, but over the past five years large numbers of Taiwanese coffee innovators have embraced the global "third wave coffee" movement dedicated to treating coffee as an artisanal product.
Van Lin, who in 2007 became the first Taiwanese to compete in the World Barista Championship, contributed his expertise to the StayReal Café opened by Mayday lead singer Ashin and then founded his own brand "Gabee," meaning "coffee" in Taiwanese. The brand has since expanded into China.
Lin says that despite the presence of big chains like Starbucks in Taiwan, there are even more small businesses that do everything from importing and roasting beans to creating their own brews and opening small shops. They compete on creativity and specialized knowledge.
"Taiwan does not love large-scale (coffee shops)," Lin asserts.
Because of Taiwan coffee shops' special traits of being small and distinctive and doing everything in house – the country's coffee culture has become deeply rooted and highly sophisticated in a short amount of time.
Combining the Best with Creativity
Taiwan's "coffee roasting" capabilities stand out as a good example of this. "Uncle Coffee" blogger Hsu Chi-tung, who has toured cafés around Taiwan and Japan, says Taiwan is renowned in the region for roasting beans well, and many roasters have held classes in Hong Kong and China.
When people there want to open coffee shops, it's not surprising their roast coffee beans come from Taiwan.
The high concentration of cafés on the island means each maestro roasts only a limited volume of beans, but they all vie to chase down the world's best coffee beans and experiment with the roasting to get the most out of their brews.
"Any raw coffee beans you can think of from around the world, we have them. Beans from any coffee auction or batch, any country, or any estate, the highest grade or most expensive beans – we have them all," Hsu says.
Taiwan, for example, is one of the biggest customers of Best of Panama coffee auction beans, buying a quarter of the total volume available.
"The daughter of the Panama estate owner has even come to Taiwan," Hsu says with a laugh.
The innovative vibe in the sector has also led local coffee entrepreneurs to stop at nothing to import the world's best beans, coffee machines and roasters.
"Everybody in the business is completely crazy. We practically don't have a life. It's coffee at work and drinking coffee at somebody else's coffee shop when we're off work," he relates. Some of Hsu's peers even spent their honeymoon traveling around coffee estates in Guatemala.
Local Beans Gaining International Exposure
This dedication to exploration and experimentation has carried over to Taiwan's small circle of domestic coffee growers.
It's January in Alishan. There's a chill in the air at an elevation of 1,200 meters, and a low pressure system has shrouded the area in a cloudy fog even as lunch time nears. Tourists in mountainous resort area may not be thrilled, but K.M. Lee, who did well in the "Coffee of the Year" competition in 2009, could not be happier.
"It's best when there's mist. There's enough moisture," Lee says, explaining the finer points of coffee growing to a visitor while carefully examining his coffee trees.
He then tells his workers: "This tree's flowers were yellow when they bloomed. You need to record that to figure out what the problem is and what its impact will be."
Lee manages his coffee farm with an industrial management mentality. He carefully observes how coffee trees planted in different years grow, watching how new branches bifurcate, how well the branches grow and how the tree's flowers are blooming. Those factors will affect when the trees are pruned and ultimately the success of the harvest.
Coffee trees growing in part of the farm sloped in excess of 45 degrees will deliver very fresh and less earthy coffee because water drains quickly, but that also complicates maintaining the crops and harvesting the beans, and Lee has had to install an automatic irrigation system.
He also requires his workers to meticulously record when it rains and the amount of rainfall on a daily basis. Beans grown under different conditions are sent to master tasters and their feedback informs quality improvements.
This scientific spirit is particularly necessary to grow coffee in Taiwan because coffee growing conditions are not ideal. Expensive labor and small harvests make it impossible to compete with major coffee producing countries on volume, putting a premium on quality and sophistication.
"Just looking at the cost of labor to pick coffee, it may cost only US$2 a day overseas but it costs NT$1,000 a day (about US$32) in Taiwan," says Viva Taiwan Coffee author Han.
This spirit of "testing and improving" not only applies to growing beans but also processing them, as local coffee masters concoct different flavors by creatively tweaking the standard "washed" and "dry" bean processing techniques.
Small = Creative
Making one's way along a road enveloped in a cloudy mist that winds around a white-roofed orchid greenhouse and neatly terraced tea fields, one finally arrives at the farm of one of those master technicians, Fang Cheng-lun.
"Small volumes means you can focus on high quality," says the 37-year-old operator of the Alishan Zou Zhu Yuan (鄒築園) who has been dubbed the "Coffee Prince." His aroma roast coffee has earned high scores of 93 (on a scale of 100) in 2012 and 2014 from website Coffee Review, the self-described "world's leading coffee review guide."
Fang actually studied electrical engineering in school, but after he graduated over a decade ago, his father had him return to the family farm on Alishan that was growing orchids and tea. Fang tried his hand at growing coffee, but his inexperience meant he had no idea how to process the beans once he harvested them.
Fang went to extensive lengths, for example, to extricate the beans from their hulls, squeezing and twisting them, running them over with a car, or even putting them in a nylon bag and smashing the bag against a hard surface. To roast the beans, he tried wrapping the beans in aluminum foil and barbecuing them or even stir-frying them in a wok. These quixotic forays into coffee processing lasted quite a while, Fang recalls, but they served a purpose.
"As I fooled around with it, I really got interested," says Fang, who confesses to feeling bored after returning to the family's mountain farm. He found his passion and became obsessed with finding different ways to fully bring out his coffee beans' flavor.
Fang discovered that the "washing" method, in which the outer skin and flesh of the ripe coffee fruit is separated from the beans before drying, produces a clean, simple flavor. The "dry" method, in which the ripe fruit is dried whole before the shriveled fruit husk is removed, preserves the sweetness of the beans and other characteristics.
He also found that fermentation time, the natural enzymes and bacteria used during the fermentation process, and the drying method all influence the end-product's aroma.
Fang's curiosity has spawned constant experimentation and innovation. According to David Han, Fang has focused most of his attention in recent years on developing advanced fermentation methods, such as extracting enzymes from the pectin in the cherry's pulp and then adding it to the washed beans.
That spirit of innovation, Fang says, is partly a function of Taiwan's unique coffee ecosystem.
"Overseas, coffee is produced on a large scale. There are standard operating procedures. There's no time or room for changes," he says.
Taiwan's small-scale coffee cultivation and farmers who are "not controlled," on the other hand, have created an environment more conducive to generating change, he says.
The creativity and advancements seen in Taiwanese coffee circles has helped local coffee gain traction abroad, with domestic brands now selling their products on five continents. Local consumers have also discovered that while coffee may be a foreign beverage, it can be developed with a Taiwanese point of view. That has even extended to the equipment needed to brew good coffee.
Rex Tseng, the 41- year-old co-founder and chairman of coffee brewing scale maker Acaia Co., loved drinking coffee and sought a way to consistently "reproduce" good cups of coffee.
What he found is that coffee brewing has long depended on feel and specialized knowledge, but objective measures such as the amount of coffee used, water temperature and flow-rates can all influence flavor.
In 2014, Tseng raised NT$1.2 million on Kickstarter to create a company that aimed to turn the art of brewing coffee into a science. He fused electronics technology with his family's industrial scale company to develop a smart digital scale and app that accurately record detailed brewing data and methods.
The app makes it possible for users to share their data and analytical charts online for any good cup they brew with coffee aficionados around the world.
The company's digital scale has already earned several accolades, including winning "Product of the Year" honors and the "People's Choice Award" at the Specialty Coffee Association of America's annual trade show in 2014. It has made its way into premium Starbucks Reserve stores and U.S. Blue Bottle Coffee shops that have become fashionable in Japan. The product's app has been downloaded more than 10,000 times.
"From my perspective, Taiwan should use things that available to them to find and develop its own coffee culture," Tseng says.
This intensive exploration into every aspect of coffee, from the coffee tree to the coffee machine, and home-grown ingenuity has transformed a place where tea was once king into a hub of premium coffees. It is a new form of soft power that has coffee aficionados in the region and around the world seeing Taiwan in a new light.
Translated from the Chinese by Luke Sabatier