2017 State of the Nation Survey
Neglected Voices Hound Tsai Administration
精華簡文
Source:CW
President Tsai Ing-wen's administration is having a hard time satisfying socie-ty's expectations. The voices of middle-aged people, residents of remote areas, and those demanding educational reforms must be heard.
Neglected Voices Hound Tsai Administration
By Rebecca Lin
From CommonWealth Magazine (vol. 614 )


With respect to the performance of President Tsai Ing-wen's administration, the CommonWealth State of the Nation Survey results show a widespread lack of confidence in the government. Grouped by age, the 40-to-49 age group in particular indicated low confidence, while respondents across the eastern part of Taiwan and outlying islands were the most dubious about the administration's efforts.

Tsai's approval rating among the general public has dropped precipitously since she took office last May 20. Asked "Are you satisfied with President Tsai's performance since assuming office?", only 32.4 percent indicated satisfaction, while those indicating dissatisfaction rose steeply to 56.1 percent (Table 1).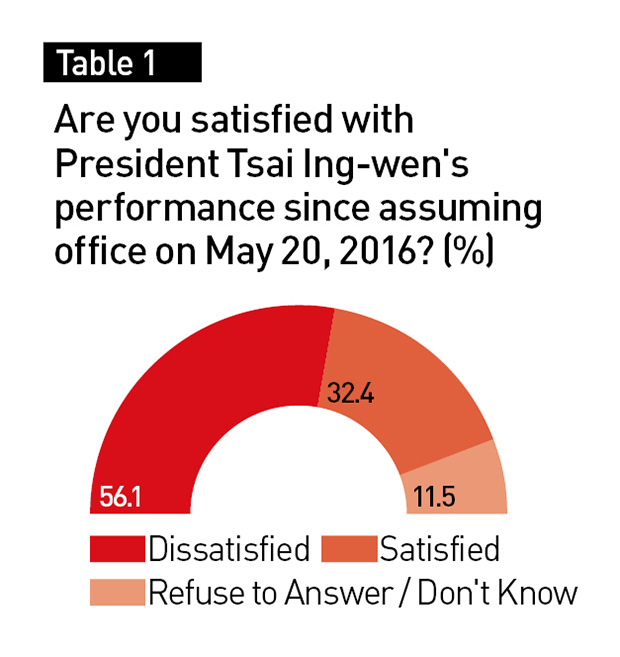 Premier Lin Chuan's satisfaction rating, at 25.9 percent, was slightly lower than Tsai's, while his disapproval rating was also lower than the president's by 3.5 points (Table 2). "The people have perhaps slowly come to realize that the president must be politically accountable," offers Tsai Hsiu-chuan, associate professor of political science at Soochow University, noting that while people are not happy with Lin's performance, they feel that Tsai should also shoulder the blame.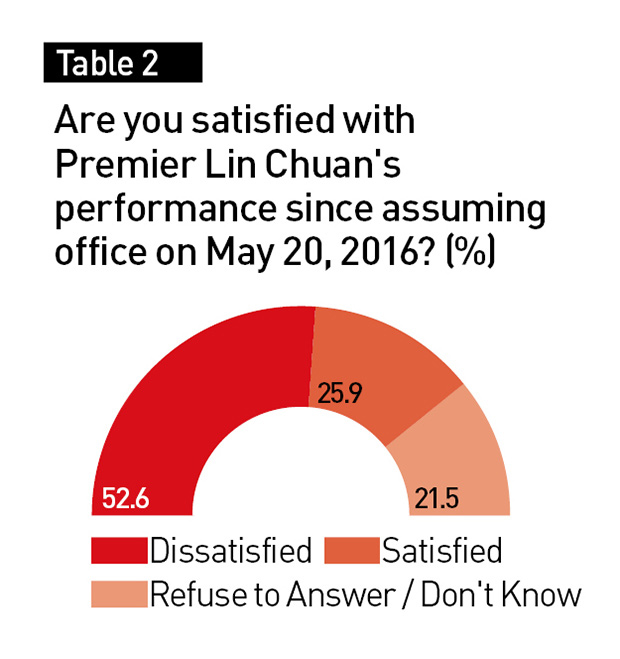 Still, the duo remains reasonably popular among youth, with a slightly higher approval rating than disapproval.
In spite of resistance to the elimination of seven statutory national holidays for private sector employees over the course of amendments to the Labor Standards Act, the 20-to-29 age group still has high hopes for President Tsai, indicating an approval rating of 44 percent, higher than her disapproval rating at 40.1 percent, while dissatisfaction among all respondents over 30 exceeded 55 percent.
The 40-to-49 age group have most notably lost patience with the situation, as evident across several parameters including economic development. Dissatisfaction with Tsai Ing-wen is highest among this group, at around 70 percent.
"This group is experiencing life in transition, and this economic pressure has resulted in their dissatisfaction with Taiwan's current status," explains National Taiwan University sociology professor Chen Dung-sheng, adding that this has in turn eroded their confidence in the government.
Only Catering to Youths?
Professor Tsai interprets this as a clear and unequivocal warning to the Tsai administration, stating that, even if the ruling Democratic Progressive Party (DPP) has the hearts and minds of young people, without broad support throughout the populace it could lose other age groups over the long term. Whether in terms of political parties or government administration, she warns of the perils of catering to any particular demographic or issues.
In contrast, while the Taiwanese public does not have a particularly high estimation of the new national congress's performance since representatives were sworn in last February, approval seems to have climbed back slightly from the abyss (Table 3).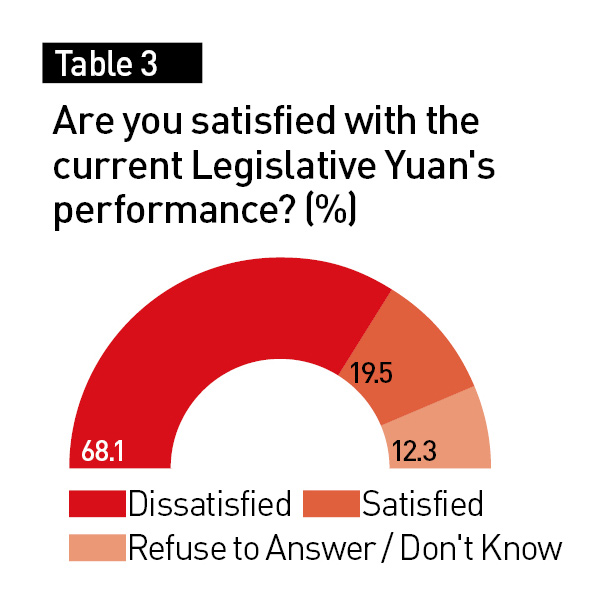 Generally speaking, approval of the Legislative Yuan's performance has risen slightly from 5.7 percent last year to 19.5 percent, with a simultaneous drop in disapproval from 88.8 percent to 68.1 percent over the same period.
"The Congress is by nature a competitive arena for different forces, fraught with conflict, and lacking efficiency. This is a normal situation across various countries," says Huang Hsiu-tuan, director of Citizen Congress Watch. People in Taiwan used to view images of representatives screaming and fighting in Congress on television. Now, as Congress has become increasingly transparent they can view congressional proceedings on-demand, allowing a thorough understanding of how legislators go about interpellation and discussion. Naturally, this has helped change people's impressions.
Those paying attention will invariably notice that the Congress is indeed getting better, as legislators are increasingly professional and serious about reviewing legislation. This in turn helps salvage their image.
Perhaps unexpectedly, when evaluating various aspects of the Tsai administration's performance, higher consensus has emerged over its stance on cross-strait relations.
Under Half Support '92 Consensus'
Asked whether they agree with the Tsai administration's approach to cross-strait relations, marked by ignoring the "1992 consensus" and stressing the status quo, 57.4 percent indicated agreement compared to the 32.9 percent that expressed disagreement. The younger the respondents, the greater their agreement with the administration's position. (Table 4)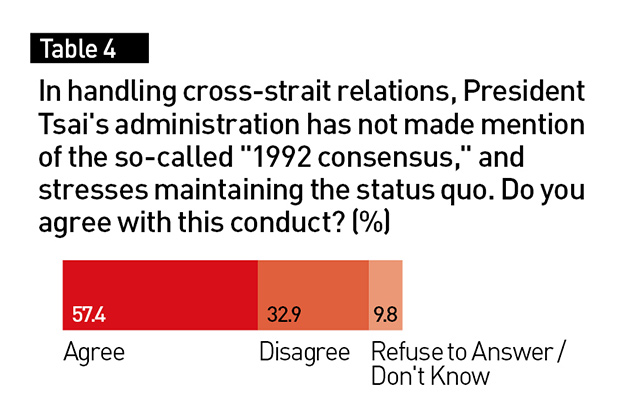 "Past acknowledgment of the 1992 consensus doesn't necessarily do anything for us," says Yen Chien-fa, associate professor at Chien Hsin University of Science and Technology's Department of Business Administration. On the other hand, "Not recognizing the 1992 consensus brings out blustery intimidation from China, serving as a constant reminder to the Taiwanese people of the irrational, unfriendly regime across the strait."
However, National Chengchi University Election Study Center research fellow Chen Lu-hui, says that as Chinese tourists have all but stopped visiting Taiwan, the "status quo" has long been disturbed. On top of this, the recent severing of relations with Taiwan by the small African nation of São Tomé and Príncipe has made cross-strait relations more perilous, and this is a bad thing not just for the Tsai administration but for the entire country, Chen says.
Further, 43.7 percent of respondents supported the administration's promotion of transitional justice and its handling of settling Kuomintang (KMT) party assets, outweighing the 35.3 percent opposed. Support for these approaches was also higher among men than women, and significantly more popular among those aged 39 and under, as well as notably unpopular among respondents 40 and over (Table 5).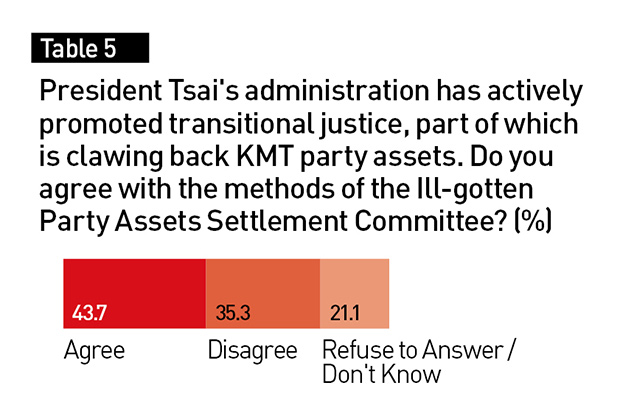 Still, kudos for performance in a select few areas is not enough to salvage public confidence in the Tsai administration.
In response to the question regarding the Tsai administration's ability to achieve economic transformation for Taiwan, 50.2 percent expressed a lack of confidence, outnumbering those indicating confidence at 43 percent (Table 6). Confidence was even scarcer among those asked to evaluate the government's ability to bridge the wealth gap, probing the depths at 20.7 percent while 68.5 flatly expressed lack of confidence in this area (Table 7).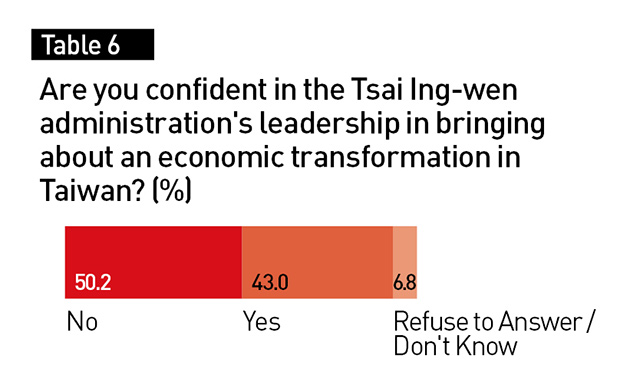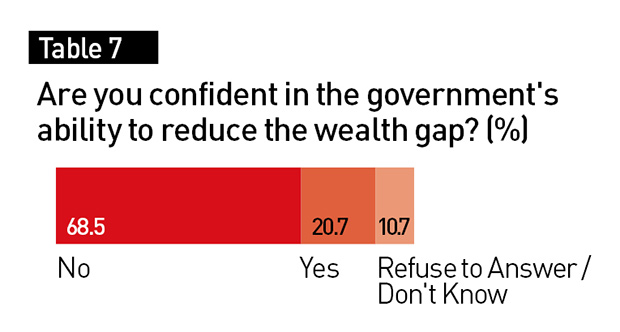 Remote Areas Feel Left Out
In addition to generational differences, regional influences cannot be overlooked.
The proportion of respondents residing in the eastern part of Taiwan as well as outlying islands that expressed a lack of confidence in the Tsai administration's ability to bring about economic transformation was 71 percent, while 80.6 percent were dubious about the government's prospects for narrowing the wealth gap. These results correlated closely with Tsai's approval rating among this group, with just 9.7-percent approval versus disapproval at 84 percent.
"Outlying islands like Kinmen engage in frequent interaction with China, in both work and education," says DPP legislator Wu Yu-chin, a longtime observer of Taiwan's sparsely populated, remote eastern regions and outlying islands. "The government's inattention, and lack of attention to resolving difficulties, is palpable to them. For decades they have supported the KMT. Now, with the change in ruling parties, they are naturally taking out their frustration," she says.
However, perhaps an even more basic question is: Does the administration's performance strike a chord with the people? Clearly, the people have their own views, and they do not see eye to eye with the administration (Table 8).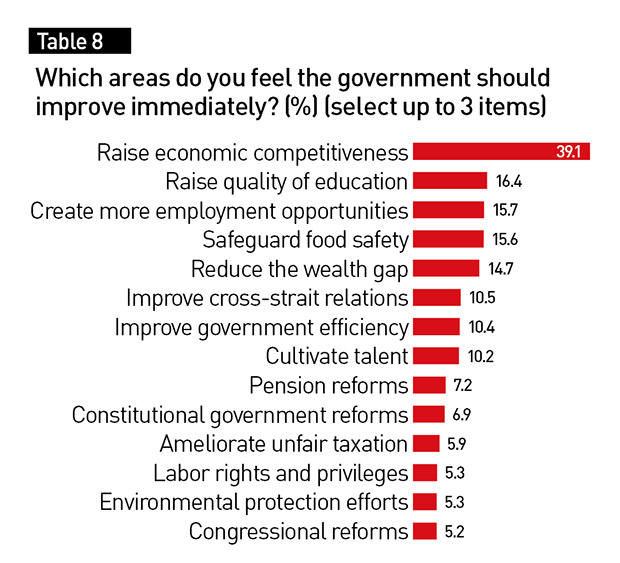 Education Disregarded
In addition to broad interest in "economic competitiveness", "raising the quality of education" ranked second among the public's top issues of concern for the second consecutive year.
"The country has invested considerable resources over the last decade in education. Education forms the foundation for promoting social flow. If there is improvement in people's lives, work, and quality of learning, 'raising the quality of education' wouldn't rank so highly among (the people's) priorities," says an exasperated Chen Tung-sheng. In fact, "raising the quality of education" even outranks "reducing the wealth gap" among the people's concerns, pointing to the need for greater policy efforts in this area.
With a government anxious to promote reforms across the board, "The strategy is correct, but the tactics related to timing and priorities must also be correct, or results cannot be achieved," says Yen Chien-fa, pointing to a litany of programs for which the public has great expectations. In spite of a pessimistic outlook, if the administration can win back public confidence through governing, it will in turn boost expectations toward administration policy, says Yen.
Translated from the Chinese by David Toman