People Tree
Slow Shopping Means More Joy
精華簡文
Source:CW
Fair trade starts at the source. That's why the Japan-born fair trade label People Tree set out to transform the fashion supply chain, making Japanese society realize that buying organic, fairly traded garments brings more joy than pursuing the latest fashion craze.
Slow Shopping Means More Joy
By Veronique Chou
From CommonWealth Magazine (vol. 608 )


An unassuming white-walled shop with arched windows in Tokyo's pleasantly quiet Jiyugaoka neighborhood is the flagship store of the sustainable fashion brand People Tree.

British social entrepreneur Safia Minney established the People Tree label on this spot eighteen years ago. Today, Minney enjoys high respect in the fashion industry for pioneering the idea of bringing fair trade into the supply chain.

People Tree Japan Managing Director Naoko Tanemori tells us that she felt a whole new world was opening up when she heard about People Tree's fair trade ideal. Before, she had thought that only non-governmental organizations would work for a fairer, better world. Tanemori would never have dreamed that it was possible to make fair trade part of one's everyday life. In her case, it has become her professional mission.

"It is products that are sold. But it's the values that are important. When you consume fair trade products you can also help others and feel joy because of that," Tanemori says.
Fashion Solves Problems
People Tree founder Minney was interested in fair trade and social marketing when she moved to Japan with her husband James in 1990 when she was 25, working at British cosmetics and skin care company The Body Shop. She turned her advocacy for fair trade into action in 1997, when she launched the People Tree label to provide like-minded consumers with garments that met their values and to become "part of the solution."
In 2001, People Tree expanded to Britain. For many years she has used collaborations with influential people such as British actress Emma Watson and renowned fashion designer Peter Jensen to promote "fair trade fashion."
In 2014, People Tree began to collaborate with Japanese jeans and denim apparel maker Lee Japan to produce the first pants made from organic denim fabric using traditional Japanese skills and technique, a collaboration that Minney hopes will continue "for years to come."
Minney has been honored as a Social Entrepreneur of the Year by the Schwab Foundation for Social Entrepreneurship, the sister organization of the World Economic Forum, for her efforts to bring about societal change.
Why are ethic consumption, fair trade and sustainable fashion so important?
In her aptly titled new book Slow Fashion – aesthetics meets ethics, Minney points out that the patterns of consumption in the industrialized Western world and the world's two most populous countries, China and India, are threatening to destroy our planet because consumption outstrips the Earth's resources by 1.5 times.
First asking Cambodian and Indian farmers to plant organic cotton, Minney endeavored to inspire change in the fashion supply chain from the raw material end.
Minney hopes to get the message across that the future lies in fashion that is produced in a sustainable, environmentally friendly manner in line with fair trade principles, and not in excessive consumption caused by the constant need to update one's wardrobe. She observes that the collapse of the Rana Plaza apparel factory in Pakistan four years ago has boosted the ethical consumers movement "hugely" in the past four years as there is much greater interest in a transparent supply chain.
The following are excerpts from our interview with Minney:
---
Q: What are currently the biggest challenges to the promotion of fair trade?
A: When I started the fair trade [movement] in Japan 25 years ago, the concept of fair trade, ethical consumption was not well known, although there was a lot of discussion about organic food...
Farmers would ask, what's the point to grow cotton, or make an organic cotton dress, because you don't eat it. At the beginning, it was more like educating people that organic is good for the farmers and the planet, and also comfortable to wear since there aren't any chemicals in it.
Today the challenge is, the economy is bound to the farmers and producers; you have to work through the opposite way of the fast fashion; fair trade means you give a lot of technical training and capacity building. It's very expensive. You also have to help the economic access to advance credit; you need the patience to get cash flow to pay the capital…this is one of the issues that continue to be an issue for People Tree.
Q: Has there been progress overall? Is change happening?
A: The quality compared to 25 years ago is much greater, from organic cotton growing, to tailoring, cutting. With the benefits from People Tree, you can build the community with health care, schools, environment initiatives, and an organic cotton supplier chain.
In the developing world in India, People Tree was the first to achieve organic cotton certification; it brings huge social benefits to the communities we work with...
So we're in a direct partnership; we don't subcontract work to others. In that way, we know exactly how they're working the product, with the fair trade; we can also track if they use child labor, and whether the [labor] conditions are good…
I think more and more fashion colleges and fashion brands are training the designers, buyers, merchandisers about how to design products that are truly sustainable. Last year, the Modern Slavery Act passed in the UK, which means that companies with a turnover of more than 36 million pounds have to report if there's slavery in their supply chain.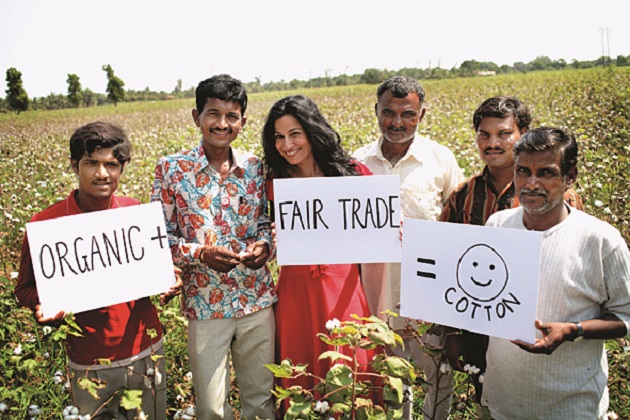 Naoko Tanemori, managing director of People Tree Japan, the first company in Japan to produce apparel and accessories in line with fair trade principles, notes that more important than the products are the values that are promoted with their sale.
Q: Can slow fashion become a solution for the fashion industry?
A: Slowing down the fashion is slowing down our consumption; we're more thoughtful about what we buy, and where we buy from, also why we have to buy new. We really need to press the retailers to think again.
My generation obviously did not grow up in a fast fashion environment. My daughter, the generation in their 20s, all they know is fast fashion. The Millennials also look at the speed, the consumption of fashion, the creation of a need to update their wardrobe. Increasingly they're thinking they're being duped, and they don't feel comfortable with the psychological play of fashion images, the nonstop consumption, so it's genuinely a movement...
It's a global movement, like slow food 20 years ago, slow fashion is beginning its journey, we'll see a huge change in the next 10 years.
Chinese translation/English transcript editing by Susanne Ganz