Stephane Corcuff
'Acquiring' Ancestors in Taiwan
精華簡文
Source:CW
Inside a cluster of decrepit wooden houses dating from the Japanese period, French scholar Stéphane Corcuff came across a wooden ancestral memorial plaque that changed his relationship with Taiwan.
'Acquiring' Ancestors in Taiwan
By Kwangyin Liu
From CommonWealth Magazine (vol. 576 )


It is not unusual for many of the foreign-born residents of Taiwan to settle down and start a family. But Stéphane Corcuff, originally from France and the director of the Centre d'études français de la Chine contemporaine (CEFC - French Center for Research on Contemporary China), has "acquired" Taiwanese ancestors after finding an abandoned tablet.

The author of such books as Light Wind, Warm Sun: Taiwan's Mainlanders and the National Identity Transition, and Neighbor of China: Taiwan's Liminality, Corcuff has lived in Taiwan for over two decades, conducting research and cultivating an identification with Taiwan.

At hearing Corcuff speak Mandarin, people usually say, "You must have lived in Taiwan for a long time to speak such fluent Chinese." Corcuff has been known to retort, "So do you consider me Taiwanese, then?" And many people's response is, "How could that be? You're a white foreigner." And upon hearing that typical reply, he would just smile and say nothing.
Coming Across the "Ancestors"
This past May, we joined Corcuff at the Taiwan Sugar plant in Huwei, Yunlin County, just after a spell of heavy plum rains, and one could not tell from the appearance of the employee housing area constructed from wood over a century ago that a suspicious fire just a week earlier had burned another barracks down to the ground. This fire came exactly a year to the day after a blaze that had destroyed another section of dormitories.
"Fires have claimed four dorm buildings over the past four years," laments nearby resident Tsai Wen-yi, director of the Huwei Xicheng City Development Association. The housing area, originally consisting of row upon row of structures occupying three hectares, is now down to just 10 buildings. And no one seems to know the origin of the fires.
"It makes me want to cry," says Corcuff as he enters a single-story wooden structure. A horizontal support beam has caved in, and the tattered roof looks like it could collapse at any moment. Leaning up against a red iron door that was an entrance through a perimenter wall that no longer exists, he says, "If a fire burns another one down next year I wonder if it will be my ancestors' old home."
To tell this story we must got back to February of 2012, when a series of circumstances developed that Corcuff feels deepened his bonds with Taiwan.
Three years ago during the Chinese New Year holiday, Corcuff accompanied a friend back home to Yunlin. While there visiting the Huwei Sugar Plant with a group of people, he was especially struck by a dilapidated house with a red door.
When he ventured in, his eyes were met with no signs of life, just rubbish and newspapers strewn over the floor. Out of the corner of his eye, he noticed a yellowish brown ancestors' shrine made of wood. The inscription on it read, "Ancestors' shrine of generations of the Tao and Yu families."
Upon seeing this, Corcuff was overcome, thinking "this house had died long ago, yet its heart was still here."
Responsible for "Them"
Within just a few minutes his mind was occupied with the question, "How come nobody comes around to take care of them here? No one pays tribute to them. Where are the children and grandchildren?"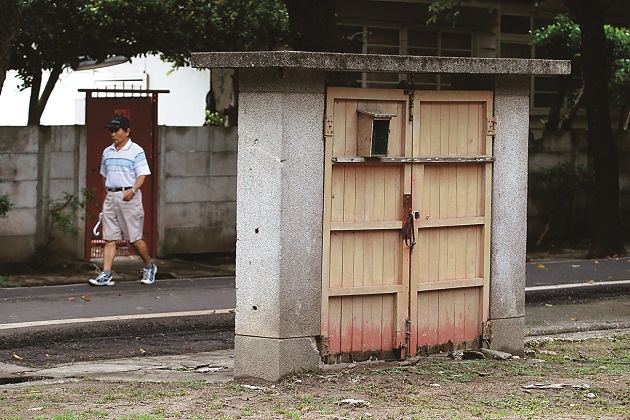 The perimeter wall surrounding Taiwan Sugar's housing facilities for corporate security personnel no longer exists.
Corcuff did not feel the place to be at all spooky, as he knew the high esteem that the ancestors' shrine holds in Chinese culture. "We don't know our ancestors, but we want to do right by them, acting right and doing good in society as we live our lives," he says.
"I believe that since I discovered them I am beholden to them." Corcuff decided to wrap up the ancestors' tablet in some old newspapers in the room, feeling that he "couldn't just let them endure hunger and suffering all alone there."
Corcuff brought the memorial tablet back to his home in Taipei's Hongshulin area. After cleaning off a thick layer of dust, he placed it on a rosewood case. "The first meal I prepared was a locally grown honey apple. I said to them, "You must be hungry. Have this apple, and we'll talk again soon."
What did his friends think of this? A lot of people's response was, "What, are you crazy? You have no idea who they were. What if they were horrible people?" But he pays that no mind. "I took them back with me to a clean home, where I offer them fresh food every day. They're surely overwhelmed with gratitude. How could they ever harm me?" The ancestral tablet ended up residing in Corcuff's home for seven months.
Formally Recognized
In an effort to find out more about the two "ancestral" families, Corcuff visited the Huwei Sugar Plant. The plant management showed him a map of the housing, and he discovered that the house containing the ancestral tablet was a residence for police, and that the family in question left Huwei and moved to Taipei in the mid-1980s. They were then able to verify that the Mr. Tao that occupied the house was a Taiwan Sugar security officer originally from mainland China. Further, the plaque contains two families because the two ancestors' ashes had been placed together at one point.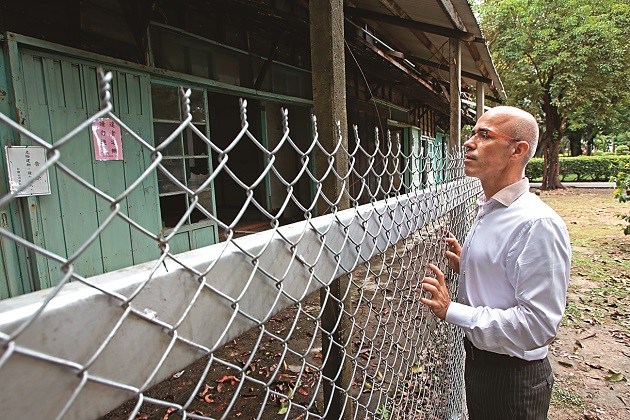 Following a recent fire, the village administrative office put a metal fence around the few remaining company housing facilities.
And from that time onward, Corcuff felt his connection with the Tao and Yu families was closer, as he now knew some of their names.
When Corcuff's work in Taiwan concluded and he had to return to France, he thought about taking the tablet with him, "But they had already endured enough being uprooted from China to Taiwan, leaving their homeland forever. Then I transported them from Yunlin to Taipei, but I couldn't take them even farther afield to Europe, where they would be totally cut adrift," he says.
Corcuff's Qigong teacher suggested he follow the Taiwanese tradition of honoring ancestors by leaving the tablet in a temple. Upon this, on an August day in 2012 prior to leaving for France, he braved typhoon conditions and took the tablet to Shandao Temple in Taipei in hopes of giving it a new home.
"Are you one of their descendents?" asked temple officer Ms. Wang. A perfectly normal question, yet one that Corcuff had trouble answering. All he could do was reply honestly, "No, I'm not. But these two families have no one to look after them. I'm afraid they're lonely, and hope we can conduct a ritual so that they may move on happily to another realm."
Taken aback at first, Ms. Wang felt less awkward after learning how he had found the tablet, brought it home to look after it for seven months, and established an emotional bond with the "ancestors."
After considering the matter, she gave Corcuff a form to fill out, saying simply, "From today forward we formally recognize them as your ancestors." Recalling the moment, Corcuff describes how Ms. Wang's eyes "reddened with tears and her voice cracked as she spoke those words."
Placing the tablet on a shelf, Ms. Wang told him, "Mr. Corcuff, somehow this was all in the cards." Even though it was the first time he had heard the Chinese expression meaning "in the cards," Corcuff knew exactly what she meant.
"I felt such a great sense of relief when I left Shandao Temple, knowing that as their 'descendant', no matter where I go they are in a safe place now, and I can set my mind at ease," Corcuff says.
"I didn't really do anything to help," says the temple officer, who requested to be identified only as Ms. Wang. Declining to say any more about the matter, she only said, "This is his karma. Perhaps he was a member of the Tao family in a previous life, so now he is helping them out. That's fate for you."
"Adopted" by Taiwan?
Formerly not a spiritual person, after "acquiring" ancestors from Huwei, Corcuff did some soul searching and reassessed his beliefs. "It doesn't matter if the soul exists or not, because they are in my heart and I love them a lot. Even though I'm not really their descendant, I'm a 'new descendant' from France. I'm sure they'll watch over me just the same."
Corcuff decided to write down the saga of himself and the "ancestors." On his flight from Taipei to Paris, spanning over 10 hours, he wrote furiously, finishing the story just as the plane touched down at Charles de Gaulle Airport.
He believes the "ancestors" were on his side, giving him a wellspring of inspiration. The resulting book, entitled Une tablette aux ancêtres (An Ancestral Tablet), is currently only available in French, with a Chinese translation set for publication next March.
How does Corcuff's mother feel about him "acquiring" new "ancestors" in Taiwan? "She read the book twice," Corcuff says. "She thought it was a beautiful story and she was touched by it." Is she jealous? "My parents' ancestors are naturally still my ancestors. There is no conflict between them," he says.
The experience has prompted Corcuff to reflect on the relationship between foreigners and Taiwan. "If I love this country, learn Chinese, and identify with Taiwanese culture, can I be adopted by the surrogate mother of Taiwan and become Taiwanese?" he asks. "Even though I'm a foreigner, I moved to Taiwan and took care of the Tao and Yu families' ancestral tablet. Am I in any way still not qualified to be their descendant?"
Regardless of what anyone else says on the subject, Corcuff is confident that Taiwan his new mother(land).
Translated from the Chinese by David Toman
Additional Reading
♦ For Me, Movement Defines Taipei
---
《Call for Stories/Submissions》: Share Your Stories About Taiwan
Taiwanese acclaimed litterateur Yeh Shyr-tau (葉石濤) once said, "Taiwan is a good place for people to dream, to work, to love, to marry and to live well." Do you agree with that?
CommonWealth is now opening submissions about stories, articles, and comments about what you see, what you feel, and what you think of the city you lived in or that of Taiwan. Submissions with fluent writing, special opinion and comparative perspective will be wellcomed. Please submit your articles to cwpr@gmail.com with a brief introduction of yourself and your mailing address.
(By submitting to us, you are promising that the content is original, does not plagiarize from anyone or infringe a copyright or trademark, does not violate anyone's rights and is not libelous or otherwise unlawful or misleading.)