Former India Ambassador to China Ashok K. Kantha
With China, Stay Engaged… and Alert
精華簡文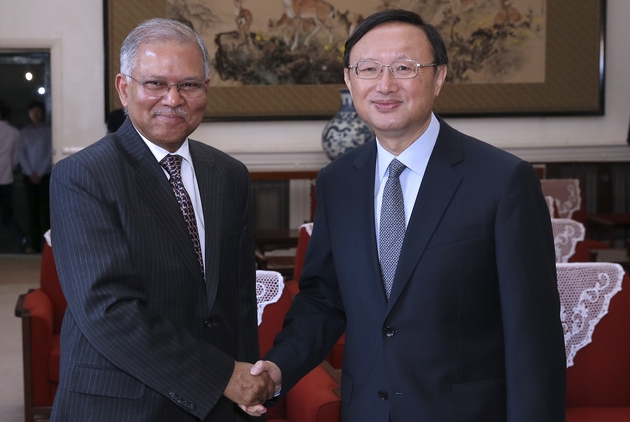 Source:CW
How should Asian countries respond to Beijing's burgeoning economic and political influence? CommonWealth Magazine spoke to India's former ambassador to China, Ashok K. Kantha, to get his insight on how to deal with this rising superpower.
With China, Stay Engaged… and Alert
By Kwang-yin Liu
From CommonWealth Magazine (vol. 663 )

Undoubtedly one of the most important figures in India-China relations in recent years, 63-year-old Ashok K. Kantha engineered several breakthroughs while serving as India's ambassador to China from 2014 to 2016.
In September 2014, Chinese President Xi Jinping visited India for the first time and traveled to Indian Prime Minister Narendra Modi's home state of Gujarat. In May the following year, Modi visited Xi's native Shaanxi province. (Read: India and China Together can Lead the Fourth Industrial Revolution. Here's How)
Kantha is now the director of the Institute of Chinese Studies in Delhi, India's only independent think tank focused on East Asian issues.
An optimist when it comes to relations between New Delhi and Beijing, Kantha has always stressed in interviews or at seminars on ties between the two countries that India and China can rise together peacefully.
That may fly in the face of conventional wisdom that sees the relationship as a hostile rivalry between a tiger and a dragon, but in Kantha's eyes the benefits of cooperation outweigh the downside of competition.
The former diplomat will be participating in the CommonWealth Economic Forum in mid-January 2019, and CommonWealth Magazine caught up with him ahead of the conference to get his take on how countries should handle relations with China, especially as the United States and China face off in a trade war.
If there was one overriding theme to Kantha's message, it was that while the U.S.-China standoff has complicated the geopolitical situation and could lead to changes in supply chains, maintaining relations with China was vital for both India and Taiwan and engagement was a must, but expectations needed to be kept in check.
Trade War's Impact on India
Kantha has studied China for more than 30 years and personally witnessed China's evolution into the world's second largest economy. He recalled that when he met with Xi in 2014 to take his post as India's ambassador to China, Xi unusually welcomed him privately and told him he was on a historic mission.
He describes ties between his country and China as important but highly complex. (Read: 8 Things You Need to Know about India's Economy)
Aside from official exchanges, there have been reciprocal investment arrangements between Indian states and Chinese provinces, and Chinese companies, including Alibaba and Xiaomi, have become quite popular in India in recent years. (Read: Xiaomi Prevails over Samsung in India)
At the same time, cultural exchanges have picked up, with such iconic Indian brands as Bollywood movies and yoga gaining Chinese followings, he said.
But in the current environment, many wonder how trade tensions between Washington and Beijing will affect India and its relations with China.
Kantha believed it was important to understand the differences in outlooks between the U.S. and China. What the United States cares about, he said, is not its trade deficit but rather structural issues, such as non-tariff barriers that include forced technology transfers when American companies invest in China and market access issues.
Based on public statements, there are increasingly clear signs that the United States sees China as a rival, and that it seeks to limit China's development through the trade war, Kantha said, and he believes the resulting regional geopolitical upheaval will affect all countries.

Maintain Ties with China: Pursue Exchanges, but Be Vigilant
Though India hopes to maintain relations with China, Kantha said India is also wary of China's rapidly expanding regional influence, evident by last year's border standoff between the two countries in the Doklam region. He advocated engaging in a constructive way with China while remaining vigilant.
In economic terms, the trade war has led to a changing landscape, especially to local supply chains, Kantha argued. Because the United States and China have increased import duties on each other's exports, it has opened opportunities for other countries.
One example: because China is not buying soybeans from the U.S., it expressed interest at the G20 meeting in Argentina in purchasing more soybeans from India.
At the same time, China hoped India would import more of its agricultural products, but even if India benefits indirectly from the trade war, it does not want to see the skirmish escalate because that would have a negative effect on the global economy over the long term, Kantha said.
India also wants to maintain close ties with Taiwan, especially in the areas of trade and investment, according to the former diplomat.
The "Make in India" program launched in 2014 has attracted considerable investment, including nearly US$60 billion in foreign direct investment in 2017. A growing number of foreign-invested companies have moved into India, drawn by the fact that it is the fastest growing large economy in the world, Kantha said.
The IMF has forecast the country's GDP to grow 7.4 percent in 2019, which would exceed this year's pace of growth.

Close Ties with Taiwan: Foreign Investors Should Take Advantage of India's Population Dividend
Kantha trumpeted all that India's economy has to offer, especially a burgeoning market of more than 1 billion consumers.
He cited two indicators showing the advances the country has made: India has improved in the World Bank's Ease of Doing Business rankings from 142nd in 2015 to 100th in 2018, and the share of people using financial services has risen from 30 percent to nearly 80 percent because of the emergence of smartphones and digital finance.
India welcomes investment from Taiwan, Kantha said, but he had three suggestions for companies interested in the idea.
First, think long-term rather than short-term, he said, because India today is similar to China 10 years ago and still offers a big population dividend.
Second, companies have to be more sensitive to supply chain changes amid the trade war. Taiwan, he said, cannot rely on only a few markets and production bases, and should see India as an essential part of the global market and good investment destination.
Third, because of India's size, it should not be seen as a single market. (Read: Top 10 Fastest Growing Cities in the World)
Kantha believed that if Taiwanese companies can follow those simple guidelines, they should be able to take advantage of opportunities driven by India's expanding economy.
Translated by Luke Sabatier
Edited by Tomas Lin