2015 Greater China Top 1000 Survey
China's New Economy Companies Win Big
精華簡文
Source:CW
In this year's Greater China Top 1000 Survey, new names have taken the top spots in growth, EPS and profits, and China's new economy upstarts have dislodged the old guard.
China's New Economy Companies Win Big
By Lu Kuo-chen
From CommonWealth Magazine (vol. 573 )


China has left behind the era of high growth for a "new normal" of more moderate growth, but many companies continue to thrive despite facing more intense competition than ever. In CommonWealth Magazine's 2015 Greater China Top 1000 Survey, the sales threshold for inclusion rose NT$3 billion to nearly NT$30 billion, and the companies at the top of the rankings for growth rate, earnings per share and profits were all different from last year. (See Tables)

The survey found that ever-changing China has entered an era of transition to a new development model, with a clear line demarcating Greater China companies. On one side of the line are those embracing the "new economy model," the new economic growth formula espoused by Chinese president Xi Jinping, and on the other side are old economy enterprises.

The new and the old may be separated by a single line, but the survey found them to be worlds apart. The new economy companies in the Greater China 1000 survey posted outstanding results, while the old guard showed signs of receding growth, stagnation and even losses.
Who exactly represents the "old economy"?
"China is currently undergoing a paradigm shift," says Gordon Sun, the director of the Taiwan Institute for Economic Research's Macroeconomic Forecasting Center. When one thought of China's economy 10 years ago, Sun says, one thought of China Petrochemical Development Corporation (CPDC), China National Petroleum Corporation (CNPC), China National Offshore Oil Corporation (CNOOC), Baosteel Group Corporation, and the coal companies that created the most "uncouth" nouveau riche of any industry in China.
They all represent the old guard that formed the core of China's traditional growth model by stimulating rapid economic growth through massive investment and the consumption of large amounts of resources and raw materials.
Xi Jinping has declared an end to that era. Chia-hsuan Wu, an assistant research fellow at the Chung-Hua Institution for Economic Research in Taiwan, observes that the industries more likely to be in decline in the Greater China 1000 survey were the energy, petrochemical, steel and machinery sectors, largely because of the plunge in international energy (crude oil and coal) prices. CPDC (ranked 1st overall in the top 1000), CNPC (ranked 2nd), and CNOOC (ranked 26th) all stagnated or posted negative growth in 2014, and the revenues of energy companies slid, adversely affecting the downstream petrochemical sector.
Another reason for the decline has been China's excess capacity throughout its economy, stunting the revenues of steel, aluminum and cement vendors. China's infrastructure development has also come to a standstill, which has hurt sales of heavy machinery used in construction projects.
The negative impact of these trends has been felt not only in China but also in Taiwan, where the petrochemical, steel and cement sectors also stagnated or declined because of the shift in China's development model and its excess capacity.
Jack Chang, deputy director of the Industrial Technology Research Institute's Industrial Economics & Knowledge Center, says the shadow of China's economic planning can be seen in the shifting fortunes of these companies. CPDC for example, still saw sales grow in 2013 from the previous year, but they fell 1.89 percent in 2014. The major player in China's coal industry, China Shenhua Energy Co., Ltd. (ranked 29th in the top 1000), went from growth to a more than 10 percent fall in sales, and China's biggest steel conglomerate, Baosteel (ranked 42nd in the top 1000), saw its pace of decline accelerate. Once the engines of growth of China's economy, these goliaths have become afterthoughts, treated as nothing more than old economy relics.
The survey's results indicate, however, that the "new economy" is thriving and being driven by four main formulas.
New Economy Formula No. 1
A Bigger Internet Targeting Mobile Users
China's first new economy formula is to build up the Internet market and Internet technology, from the traditional Internet to mobile platforms, while continuing to protect its home turf from outsiders. Even notorious Internet rogues have emerged as rapidly growing "star enterprises."
ITRI's Chang said the first thing he noticed in the survey results was the stunning performance of China's e-commerce and Internet giants. Many of them had high rates of sales growth for the second consecutive year, including JD.com Inc. (ranked 65th overall) with 65.85 percent growth, Baidu Inc. (ranked 177th) with 53.56 percent revenue growth, and Vipshop Holdings Ltd. (VIPS – ranked 333rd) and Qihoo 360 Technology Co. (ranked 719th) both seeing their sales more than double.
Chang especially singled out Qihoo 360 because of the strong profitability that accompanied its meteoric revenue growth. In the Greater China 1000 survey, its earnings per share (EPS) ranked in the top 50. Qihoo 360 may have limited capital but it excels at making money, much like Taiwan-based smartphone camera lens maker Largan Precision Co.
But Qihoo 360 got its start by "kidnapping" users' software to grow. Any Internet user who inadvertently clicked on Qihoo 360 software or applications was forced to use the company's products or customer advertisements, which could not be deleted.
But Qihoo 360 typifies Xi Jinping's new economy. China is aggressively encouraging e-commerce operators to shift from the traditional Internet to the mobile Internet and go from serving e-commerce businesses to catering to the average mobile phone user. These operators will likely need Qihoo 360's products to make the transition, which will inevitably bolster the company's revenues.
New Economy Formula No. 2
'Internet Plus' = Huge Potential
The second new economy formula is called "Internet Plus." Li Weiwei, head of Chinese equities at Edmond de Rothschild Asset Management, says this was announced by Chinese premier Li Keqiang as one of China's major development strategies along with "Made in China 2025" after the National People's Congress and Chinese People's Political Consultative Conference met earlier this year. "Internet Plus" is aimed at highlighting the use of the Internet in every Chinese sector, including integrating it with the education, medical, financial and security sectors.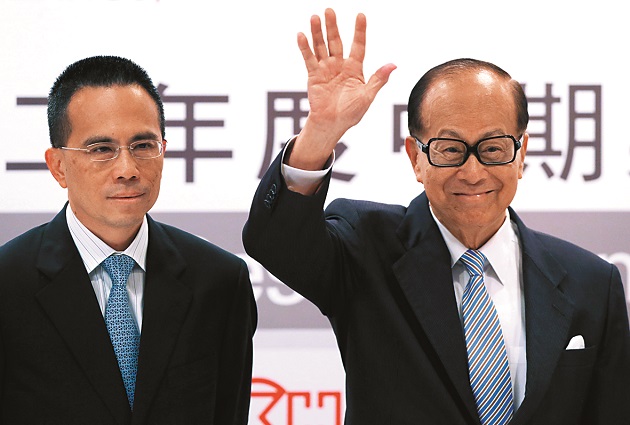 Hong Kong property groups have evolved beyond trading in property. They handle many Chinese infrastructure projects, enabling them to maintain high profit levels.
In other words, China not only wants to shift the traditional Internet to smartphones, it also intends to merge "physical" sectors with the Internet, and anything can be added to the network. The Chinese authorities hope to encourage these trends without directing companies on which elements they should use.
"Ultimately, they want to transform the commercial model from the investment-intensive, high energy and resource consumption of the past to an innovation-based model," the Hong Kong-based Li says. "Internet Plus" emphasizes Internet innovation to push economic reform and compel change in sectors traditionally resistant to transformation, such as the medical, education and financial sectors.
What's interesting, Li says, is that the people best equipped to run "Internet Plus" are IT tech geeks, far different from the previous generation of coal bosses who rule the old economy.
The company ranked 854th in the Greater China Top 1000 survey, New Oriental Education & Technology Group Inc., is China's leading privately run education company and posted double digit revenue and had a profit margin of 19 percent last year. But even a company with such strong fundamentals can still be outdone by a new tech upstart.
Overtaking New Oriental was an "Internet Plus" new-economy company called Guangdong Qtone Education Co., which was listed on the Shenzhen stock exchange last year. The company's main product is its communication platform for K-12 schools that enables parents to follow their children's progress at school on their smartphones. The product, which exemplifies the concept of fusing the Internet with education, has been so successful that the company's shares have skyrocketed since it went public, pushing its market value to 50 billion renminbi (about NT$250 billion).
As a result, the 10-year-old company with annual revenues of less than NT$1 billion and quarterly profits of only NT$25 million now has a higher market value than the 22-year-old New Oriental, which has annual revenues of more than NT$30 billion and quarterly profits of NT$1.6 billion.
Qtone Education's ascent reflected far more than the rise of the new economy. On one level, the market value of China-listed Qtone Education surpassed that of its education rival listed on the New York stock exchange, creating the narrative of an underdog Chinese "A" stock beating well-established Wall Street.
On another level, it signified that properly positioning one's business in the new economy age may be more important than how the enterprise is managed, with effective fundraising or going public the best way to create high "price-to-dream" ratios.
"Even a pig can fly if it can find a place in the eye of a storm," is how Lei Jun, the chairman of smartphone vendor Xiaomi Inc., put it. After Qtone Education's shares took off, the share prices of several other new economy-concept stocks soared.
What Taiwan cannot ignore are the market opportunities and potential represented by China's new economy.
Edmond de Rothschild's Li explains that many economic sectors in China have traditionally been monopolized or dominated by state-run enterprises, with little hope of being reformed from within. China's health care sector, for example, desperately needs reforms, but hospitals are highly unlikely to overhaul their practices on their own. They will need Internet innovation to force reform and use the new economy model to shatter the old establishment.
The opportunities created by this process are potentially huge, Li says, especially in terms of remote (or long-distance) health care and remote education to solve treatment and enrollment bottlenecks.
New Economy Formula No. 3
Raising Funds to Create Chinese Silicon Valleys
The third new economy formula is the Chinese version of the "Wall Street + Silicon Valley model."
Some of the results of the Greater China Top 1000 survey were at odds with those of past years because of the Chinese government's deliberate campaign to lift up "A" shares. ITRI's Chang observes that China's securities industry is the most clearly represented sector in the survey's list of fasting growing companies, precisely because China's government has propped up its domestic stock markets since the second half of last year. Indexes have soared and turnover has set new records, and expectations are that Chinese securities firms will continue to see major revenue growth in 2016.
As the class of middle-aged Chinese women known as the "dama" (大媽) rushed to open accounts to trade on the Shanghai and Shenzhen markets, Chinese securities firms struck it rich. But in terms of the new economy, the trend also brought new funds and energy to the innovation-driven economy, using the strength of capital markets to support innovation and entrepreneurship. The expansion and growth of the capital markets turned Zhongguancun (a technology hub in Beijing) into Silicon Valley and "A" shares into the New York Stock Exchange on Wall Street, forging a new model merging innovation and capital.
New Economy Formula No. 4
Infrastructure + Services = Opportunity
The fourth new economy formula is creating economic opportunity through infrastructure initiatives (such as One Belt, One Road) and the development of the service sector. The Greater China Top 1000 survey found that listed property companies not only did not see their share prices suffer from Beijing's measures to keep soaring housing prices in check, they actually posted sales and profit growth, with the revenue growth rates of some of the companies landing in the top 50 in the survey.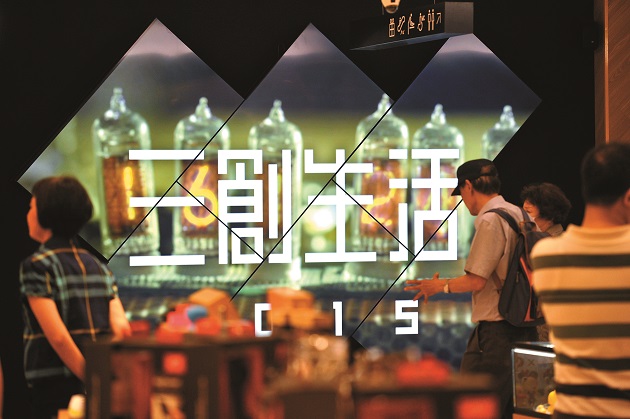 Though the number of Taiwanese companies that made the Greater China Top 1000 slipped in 2015, their overall results were better than a year earlier.
That's because many property operators now have international reaches and integrated services capabilities, including building ports and basic infrastructure and providing sea and air cargo logistical services. Among these new economy operators are three companies whose profit margins ranked in the survey's top 50 – CK Hutchison Holdings Limited (ranked 319th overall), The Wharf (Holdings) Limited (ranked 261st overall), and Guangdong Investment Limited (ranked 918th overall).
In the past, China's infrastructure development opportunities were often seized by Hong Kong and Singapore conglomerates, but that may now be changing.
The Chinese property companies' high growth and high profits indicate that while China may have suspended construction of notorious "ghost cities" and big property developments, it continues to invest in infrastructure projects related to people's livelihoods that improve efficiency, such as ports, wharfs, airports, and water and electricity facilities.
TIER's Sun says Taiwan had hoped to enter this market in China the past but never took concrete action. In the future, as China begins its One Belt, One Road investments, these Taiwanese companies will have to follow Chinese capital in investing abroad. It's a potentially lucrative sector, Sun says, and Taiwan should figure out a way to participate.
Another finding of this year's survey was the recovery of a solar energy sector shaken by the bankruptcies of the world's biggest solar panel vendor, Suntech Power Holdings Co., Ltd., and solar wafer supplier, LDK Solar, in early 2014.
Chang says the new energy sector performed very well overall last year, indicating that China continues to support the new energy sector amid its serious pollution and emission problems. Among the winners in the sector last year were top 50 EPS companies Canadian Solar Inc. (ranked 405th overall), Jinko Solar (ranked 651st), and JA Solar Holdings Co., Ltd. (ranked 582nd), and top 50 growth company Hanenergy Thin Film Power Group Ltd. (ranked 806th).
Though these new energy companies in China may be receiving deliberate support from local governments, Taiwan, which has positioned itself as a solar power development hub, cannot ignore the new energy economy within China's broader new economy concept.
Taking a closer look at how Taiwan fared in the Greater China Top 1000, as the threshold to make the top 1000 in the 2015 survey (based on 2014 results) rose to NT$29.00 billion from NT$26.00 billion a year earlier, only 151 Taiwanese companies made the cut, down from 158 last year and 189 in the past.
Though the number of Taiwanese companies on the list continued to decline, Taiwan Semiconductor Manufacturing Co. (TSMC) rose from 17th in the top 50 most profitable companies to 11th this year, and Hon Hai Precision Industry moved up a notch from 27th to 26th. Taiwanese companies also were present in the top 50 for revenue growth, profit margin and EPS.
TIER's Sun believes that how many Taiwanese companies made the list is not nearly as important as the quality of those companies that made it, especially because Taiwan will be even less able to compete on size in the future as China pushes mergers among state-run giants to form even bigger behemoths.
Chang says that Largan Precision, TSMC and Hon Hai performed well in the survey mainly because they made the entire world their market, an indication that if Taiwanese enterprises hope to grow in the future, they need to use the Chinese market and resources and have to expand internationally.
Another phenomenon observed by Chang was how quickly China's market changes, citing the decline in revenues last year of Tingyi (Cayman Islands) Holding Corporation (ranked 132nd), which operates the Master Kong brand. Instant noodles were once the food of choice of farm workers in China, Chang says, but with the rise of per capita income and a middle class, consumers have put more emphasis on healthy eating and food safety and are eating fewer instant noodles.
Companies that do not stay on top of trends in China's economic development and adapt to market changes are destined to suffer, no matter how massive they are.
Translated from the Chinese by Luke Sabatier
---
Top 50 Companies in Greater China: