One Belt, One Road
Kazakhstan--Young Country, Old Soul
精華簡文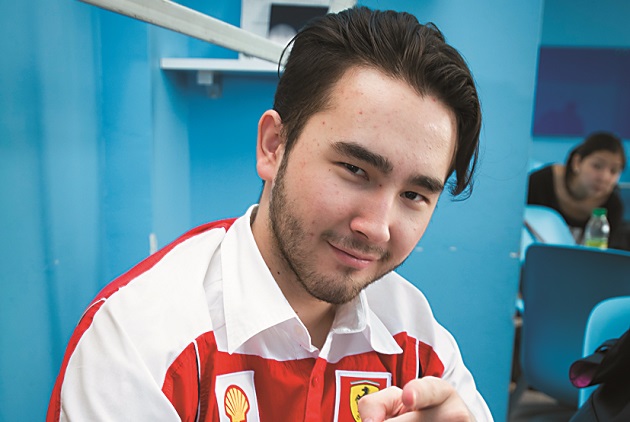 Source:CW
Kazakhstan, the largest country in Central Asia and a predominantly Muslim nation sandwiched between Europe, Russia and China, has unveiled an economic policy to overhaul the country's transport infrastructure in the face of China's One Belt, One Road initiative.
Kazakhstan--Young Country, Old Soul
By Fu-yuan Hsiao
From CommonWealth Magazine (vol. 571 )


It takes a flight of just 80 minutes from Urumqi in northwestern China to Almaty, the largest city in the neighboring country of Kazakhstan.

On the plane, we meet a young man in his late twenties from China's southern Fujian Province. Wearing a fashionable T-shirt and cap, the man resembles Hong Kong actor and singer Nicholas Tse. The man, who did not want to be named, came to Almaty at the age of 20 to "pan for gold" in foreign trade. He exports leather products from China to Almaty via Chinese border crossings in the Xinjiang Uyghur Autonomous Region and sells them to local retailers there. The majority of passengers aboard the plane seem to be the same kind of small wholesalers.

Corresponding visa procedures are not among the five areas for cooperation and coordination outlined in China's One Belt, One Road scheme for a modern Silk Road. For Chinese citizens, the application process for a visa to Kazakhstan is very complex, as it involves multiple approvals and certificates. The entire process can take 20 days. Even after Chinese nationals have obtained a one-year business visa, they need to leave the country once per month, a costly requirement.

The Nicholas Tse lookalike from Fujian has been harassed by officials many times. Once police even confiscated his passport and took him to the police station. Yet he remains undaunted. The young trader has hired two Kazakh people to watch his store because he knows only a few essential phrases in Russian such as "how much is this" or "how much do you want." Russian is widely spoken in Kazakhstan and has official status alongside the national language Kazakh.

Will China's modern Silk Road initiative have any impact on him and his business? It will not bring any advantages at all, he replies frankly. On the contrary, business will become more difficult because wholesalers will be cut out once goods flow freely. "They won't need wholesalers anymore if they can directly travel to the border crossing points to buy goods in bulk," he predicts.
Mighty Neighbors
Although it is early spring, the thermometer has climbed above 20 degrees Celsius in Almaty, temperatures that normally occur only in the summer. The peaks of the Tianshan mountain range south of the city are shrouded in white clouds. On the other side of the majestic mountain system lies China.
Kazakhstan is about 75 times the size of Taiwan but has a population of just over 17 million people. Kazakh-British Technical University professor Yuri Loktionov, who used to teach at the Massachusetts Institute of Technology (MIT) in the United States, jokes that it would take a population of more than 70 million people to "fill out" the country's "big coat."
Kazakhstan ranks among the world's top ten oil and grain producers. It is also one of the world's two largest explorers of tungsten and uranium ore. During the Soviet era, Kazakhstan was an important energy producer for the entire Soviet Union. After the country declared independence in 1991, oil firms from around the globe moved in to acquire stakes in Kazakhstan's oil fields. More than 90 percent of the country's foreign direct investment is concentrated in natural resources and energy.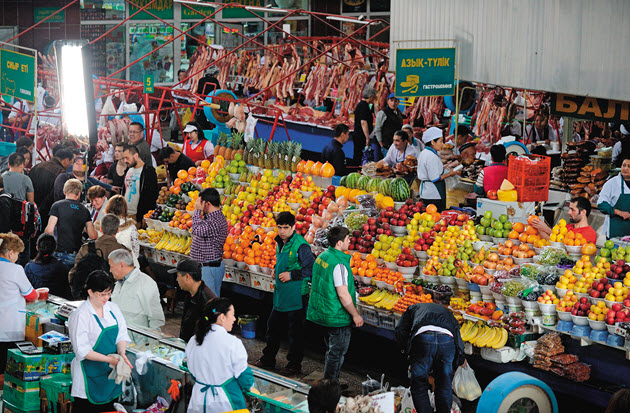 Kazakhstan is different from most predominantly Muslim countries in that alcohol and pork are readily available. Pictured is the Green Market in downtown Almaty.
In recent years, China has invested on a largescale in this Central Asian country, with a total investment in excess of US$10 billion.
Chinese state-owned enterprises control more than 50 percent of Kazakhstan's oil fields. Chinese workers build and maintain railways and highways. China's largest oil and gas producer, the China National Petroleum Corporation (CNPC), runs one fifth of all the gas stations in Almaty.
Like many countries along the Silk Road economic belt, Kazakhstan has mixed feelings about China's growing influence in the region.
China is paving highways, constructing railways, building shopping malls, and developing oil fields in Kazakhstan, contributing to boosting local economic development. Since President Nursultan Nazarbayev encouraged the young people of Kazakhstan to study Mandarin in a televised speech two years ago, the country has been swept by a Chinese-learning craze.
"We used to think going to Europe and America was cool, but now it is China that is really cool," notes Olzhas Nokenov, CFO with technology firm Alser. The 38-year-old executive, who belongs to the Kazakh ethnic group, once worked in Taiwan for two years. He rented a small office in the World Trade Center building in Taipei to procure electronics parts for factories back home.
Nokenov, who speaks some Mandarin, has experienced first-hand that people with Chinese language skills are sought-after in the job market. They can easily make US$200 more per month than their non-Chinese speaking colleagues.
Too many Chinese?
On the other hand, there has been a large influx of Chinese nationals into Kazakhstan, a development local residents view with some misgivings. They call the Chinese Khitan, a term the Chinese perceive as pejorative, similar to the English word Chinaman.
"We very much welcome the opportunities China provides, but we also fear that too many Chinese will come," remarks Nokenov.
It is a fact that the Chinese keep arriving in ever-growing numbers. Liu Jimin, general director of the Almaty Office of China Southern Airlines, points out that his airline operates 35 flights between China and Kazakhstan per week. Meanwhile, the number of incoming passengers from China has increased from some 1,400 people per week to nearly 5,000 people.
He observes that the level of skilled talent among the arriving Chinese such as technicians and engineers as well as high-level management personnel has increased since China proposed its Silk Road initiative. Each of China's state-owned natural resource companies, such as CNPC, Sinopec and the China LNG Group, account for more than 1,000 trips back and forth between the two countries each year.
Kazakhstan is a young country with an old soul. It draws its weight in the grand scheme of a modern Silk Road from the fact that all three ancient silk roads led across its territory. Aside from geological factors, there are political and economic considerations behind China's decision to make Kazakhstan the starting point for the Silk Road economic belt beyond the Chinese border.
Kazakhstan, the largest country in Central Asia, is politically stable. Nazarbayev, the country's autocratic president, has been in power for more than 20 years. The predominantly Muslim nation does not espouse religious radicalism. Stores and markets sell alcohol and pork. Sandwiched between Europe, Russia and China, the landlocked country knows how to be on good terms with all of its powerful neighbors.
Ten years ago, the Taiwan External Trade Development Council (TAITRA) opened a Taiwan Trade Center in Almaty. The center's director, Arthur J.C. Sun, points out that Kazakhstan has already become a middle-income country given that per capital GDP stands at nearly US$13,000. About 60 percent of the population belongs to the middle class. Adults between 22 and 54, who love to spend their money on the latest consumer trends, account for 40 percent of the population.
Our visit to the headquarters of the Sulpak Group, the country's largest electronics and appliances vendor with annual revenue in excess of US$1 billion, falls on the Eastern Orthodox Easter festival. About 23 percent of the country's population belongs to the Eastern Orthodox Church. Reflecting local tradition, a pile of colored Easter eggs and an Easter cake sit on the conference table at the Sulpak headquarters in Almaty.
Sulpak CEO Dmitry Provkin was born in the Russian capital of Moscow and originally worked in Ukraine. About a year ago, he was headhunted to take the helm of Sulpak.
Provkin has noticed that people in Kazakhstan love to tour shopping malls. Whenever Sulpak opens a new outlet, customers swamp the place. Over the past four years, the retail chain has doubled the number of its stores to more than 70, and every single one is making money. The outlet right next to the Almaty headquarters boasts annual revenue of more than US$40 million. It is the most profitable store nationwide.
"We are a big company on the Silk Road, and we look forward to China's (Silk Road economic belt) project very much," Provkin remarks. Presently, transportation and distribution account for 30 percent of Sulpak's costs. Once roads and railways in the region have been connected, allowing for smooth transit all the way from China to Europe, such costs should come down markedly.
Provkin points out that 90 percent of Sulpak products are sourced from China. Shipment by sea takes about one month. Taking the land route shortens the total delivery time to market to two weeks and reduces transportation costs by at least 20 percent.
Taiwanese Efforts
Echoing China's Silk Road initiative, Kazakhstan's government unveiled a new national policy of infrastructure development and economic diversification called Nurly Zhol (Bright Road) in November of 2014. Under the program, Kazakhstan plans to allocate US$3 billion annually from its National Fund for the period from 2015 to 2017 towards transportation, energy and other infrastructure projects such as a highway linking Western Europe with Western China.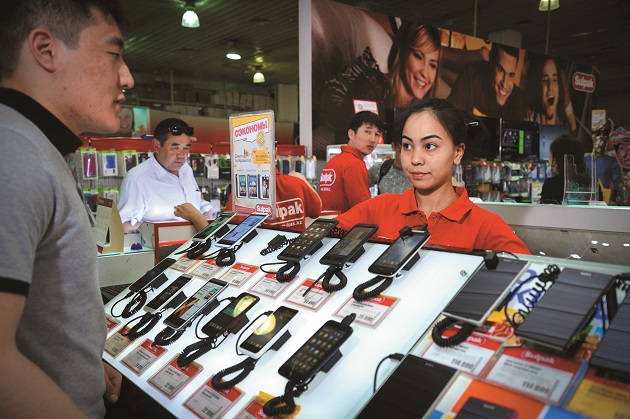 Kazakhstan boasts a young, consumption-hungry middle class. Pictured is Sulpak, the largest vendor of electronics and appliances.
"We are landlocked, we do not have harbors. One Belt, One Road allows Kazakhstan to quickly reach Europe and the sea harbors on the Indian Ocean by road," explains Nariman Abilshaikov, head of the economic analysis office at the National Chamber of Entrepreneurs of Almaty.
It is not just Chinese companies wanting to jump on the Bright Road bandwagon. More than 250 South Korean companies have already invested in Kazakhstan. Yet, so far, not a single Taiwanese company has ventured there.
Cory Hua, project manager with TAITRA's Market Research Department, went to Kazakhstan last year on a fact-finding visit. He points out that Kazakhstan accounts for 66 percent of the island's exports to Central Asia, which means the country has business opportunities to offer. The only problem is that Kazakhstan mostly buys finished products rather than intermediary products because the country is not yet very industrialized. Hua sees some opportunities for electronics products, tool machinery and the service industry.
Borhan Fu, general secretary of the Taiwan Central Asia Cultural and Economic Association, grew up in Kazakhstan and speaks the Kazhak and Russian languages fluently. Fu notes that the local people adore famous brands. If they knew that Taiwanese companies are contract manufacturers for German and Japanese brands, they would see them in a different light.
Fu is very upbeat about Kazakhstan's prospects once One Belt, One Road has become reality. He believes that Taiwanese companies should take advantage of the country's good geostrategic position to sell their goods to the 280 million people living in the eight former Soviet republics that make up the Commonwealth of Independent States.
AK Cent Microsystems is a popular electronics vendor in Kazakhstan. About 60 percent of the chain's products are Taiwanese brands. "Taiwan is very important to us; we have products from Taiwan every week," remarks Ivan, a store manager with a shock of blond hair who looks like a computer geek. He says that the image of Taiwanese brands is not as good as that of Japanese or South Korean brands, but still far better than that of Chinese brands.
From its base in Almaty, AK Cent also markets Taiwanese products in neighboring countries such as Kyrgyzstan and Uzbekistan. The company plans to expand its business activities to other Russian-speaking countries.
For the Taiwanese, the Central and South Asian sections of the Silk Road are terra incognita. As TAITRA's Sun suggested, given that China, Japan and South Korea have already gained a firm foothold in Kazakhstan and the region, Taiwanese companies must make a concerted effort to explore this region at the crossroads of East and West if they want to get a foot in the door.
Translated from the Chinese by Susanne Ganz