One Belt, One Road
Kashgar--Treading An Unstable Path
精華簡文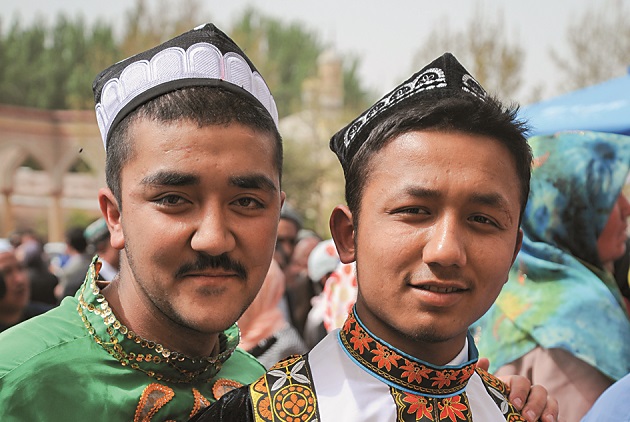 Source:CW
Many unknowns overshadow Chinese President Xi Jinping's vision for the oasis city of Kashgar, near China's westernmost border. Slogans urging people to "maintain stability" are visible everywhere, and visitors have to be prepared for frequent security checks.
Kashgar--Treading An Unstable Path
By Fu-yuan Hsiao
From CommonWealth Magazine (vol. 571 )


In 1273, Marco Polo crossed the Pamir Plateau and made it to the oasis town of Kashgar at the westernmost edge of the Tarim Basin. In his travelogue, the Venetian merchant described Kashgar as the "greatest and finest" town in the region. "The inhabitants live by trade and handicrafts; they have beautiful gardens and vineyards, and fine estates, and grow a great deal of cotton. From this country many merchants go forth about the world on trading journeys," Marco Polo reported, seemingly impressed..

We arrived in Kashgar one April day after flying across the Tianshan mountain range and the Taklamakan Desert. Our arrival coincided with a busy bazaar day. The word bazaar comes from the Uyghur language and means market or trading place. Uyghur peasants wearing Muslim skullcaps were leisurely riding cargo tricycles loaded with sheep or vegetables to the bazaar.

All of a sudden we found one of the street's two lanes cordoned off by traffic cones. Armed police officers were randomly stopping cars to search the trunks. At the bazaar next to a downtown mosque, special police units with loaded weapons surveyed the area with sharp eyes.

Gaotai, a traditional Uyghur neighborhood in the northeastern part of Kashgar's old town, was built centuries ago on top of a cliff. During daytime, the labyrinth of winding alleys lined with tall, decrepit Uyghur mud-brick houses has a distinct traditional Middle Eastern character.

After night falls, East Lake, an artificial water body created in the city center by excavating the Tuman River, reflects the dazzling light from illuminated buildings and bridges. As a result, the locals jokingly describe their city with the rhyming slogan "Zhongdong (the Middle East) in the daytime, Pudong (modern Shanghai district) in the nighttime."

As China's westernmost city, Kashgar's geographic location within the Xinjiang Uyghur autonomous region is special. In terms of surface area, Kashgar is twice as large as Taipei yet boasts an estimated population of 600,000 people. Ninety percent of the city's residents are Muslim Uyghur people.

Throughout history, anyone traveling along the ancient Silk Road would pass through Kashgar. Zhang Qian, an Imperial envoy of the Han Dynasty, and Chinese General Ban Chao, an explorer and diplomat of the Eastern Han Dynasty, both lived in the oasis town, then called Shule, for more than a decade. Once travelers had crossed the mountains to the Pamir Plateau southwest of Kashgar, they could continue their journey on trade routes to South Asia and the Middle East.

Today, Kashgar is also an important stronghold guarding China's western border with five Central Asian neighbors – Kyrgyzstan, Tajikistan, Afghanistan, Pakistan and India. At the same time, the city is a border trade hub that boasts six ports of entry. In China's blueprint for its 21st Century Silk Road initiative, Kashgar plays a prominent role as the "great gateway to the West," namely Central Asia and South Asia.

When traveling west along China's National Highway 315, the desolate landscape of the Gobi desert on both sides of the road is dominated by yardang, keel-shaped ridges carved into the rock by the wind. Hardly any vehicles or people cross the traveler's way. Upon our arrival in Ulugqat (Wuqia) County in the Kizilsu Kirghiz Autonomous Prefecture some 200 kilometers northwest of Kashgar Airport, we spotted a lone shepherd in traditional clothes on a hill tending his flock. The area is home to the Kirghiz nomads, who, like the Uyghurs, are a Turkic ethnic group.
Attracting People with Infrastructure
Ulugquat, at an altitude of 2,200 meters, boasts two ports of entry where travelers must clear for customs: Torugart on the highway between Kashgar and Naryn in Kyrgyzstan, and Irkeshtam (Ilkeshtan) on the Kayi Expressway, which also leads to Kyrgyzstan. Goods are traded through these border points with Tajikistan and the Kyrgyz Republic.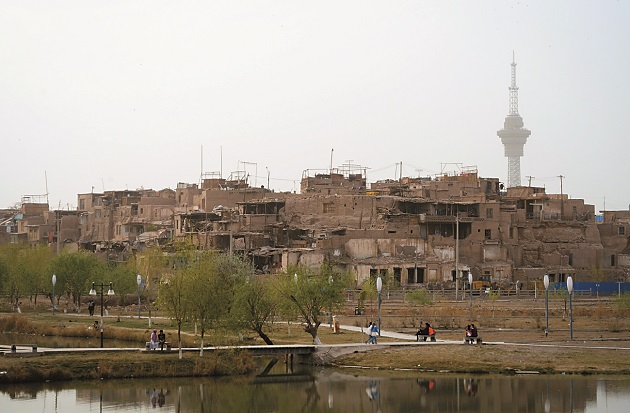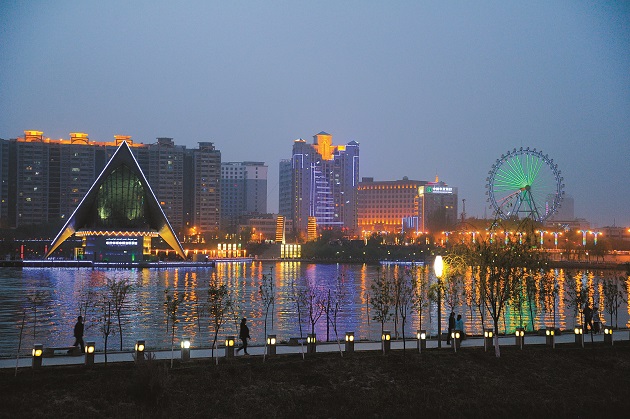 Traditional Uyghur dwellings in Kashgar's old town convey Middle Eastern flair, while the illuminated East Lake is reminiscent of Shanghai's glitzy Pudong District at night.
In Irkeshtam, a major construction project currently underway is being built with the support of Changzhou City in coastal Jiangsu Province. Workers flatten a plot of land in the Gobi desert to prepare the premises for a factory building.
Why would someone build a manufacturing plant in such a harsh, desolate place?
"We'll see once it has been built. It takes a nest to attract birds," remarks Lao Wei, his eyes shining at the thought of unlimited opportunities.
Lao Wei came to Ulugquat County some 20 years ago in search of a living. He opened a grocery store selling daily necessities ranging from bottled water to instant noodles, mobile phone SIM cards and airline tickets. His store is the local version of a 7-Eleven convenience store.
Lao Wei's prediction of great opportunities lying ahead is not unfounded. Xue Li, Director of the Department of International Strategy at the Institute of World Economics and Politics under the Chinese Academy of Social Sciences, says that Xinjiang reaps the greatest benefits from the One Belt, One Road initiative, in particular the region's southern part.
During a recent visit to neighboring Pakistan, Chinese President Xi Jinping confirmed that China would invest US$46 billion in the construction of a China-Pakistan economic corridor. The megaproject includes a network of railways, highways and pipelines for oil and gas that will run from Kashgar to Gwadar in Pakistan some 3,000 kilometers away. "The China-Pakistan Economic Corridor aims to stimulate development in southern Xinjiang," explains Xue.
In 2010, when Kashgar became a special economic zone (SEZ), the promotional slogan for the scheme was "Shenzhen in the South, Kashgar in the North." Kashgar is expected to follow the model of Shenzhen, which transformed itself from a fishing village into a metropolis with a skyscraper skyline in less than three decades. In China, only Shenzhen, Zhuhai and Shantou in Guangdong Province, Xiamen in Fujian Province and the island province of Hainan share SEZ status with Kashgar. Clearly, the central government in Beijing attaches great importance to the city's development.
Maintaining Stability
Despite the central government's ambitious plans, Han Chinese who live in Xinjiang consider Kashgar an extremely dangerous place. Now and again Xinjiang separatists stage bomb attacks or trigger unrest. As a result, corporate investment has slowed down, and the number of tourists visiting the restive region has fallen by 70 percent in the past few years.
A trader who has lived in Kashgar for six years told us that a state-owned company from a southern province invested in the construction of a five-star hotel to boost the local economy, yet the hotel keeps losing money. Another five-star hotel owned by Anhui Province can charge only 100 yuan per night (about NT$500) due to the lack of guests. A luxury hotel built by an investor from Shenzhen is finished, but the owner does not dare to open it for business. "They are worried, and the government worries too," the man noted.
The Chinese government pays a very high price for supporting this western gateway. On top of infrastructure investments, the government spends heavily on measures it says will maintain stability.
In Kashgar, people are frisked by security personnel at their every move, such as when entering hotels, restaurants or bazaars. In the streets, visitors will not find any banners or advertisements trumpeting the 21st Century Silk Road scheme. Instead, ubiquitous signs urging "crackdown on violent terrorist crime," highlight the tense atmosphere and dangers lurking in the city.
The beautiful vision of a modern Silk Road that the One Belt, One Road initiative paints for Kashgar is overshadowed by numerous unknowns as the city itself treads an unstable route.
Translated from the Chinese by Susanne Ganz