Taiwan's Used Clothes Dirty Secret
Clothes You Don't Want, Africa Won't Either
精華簡文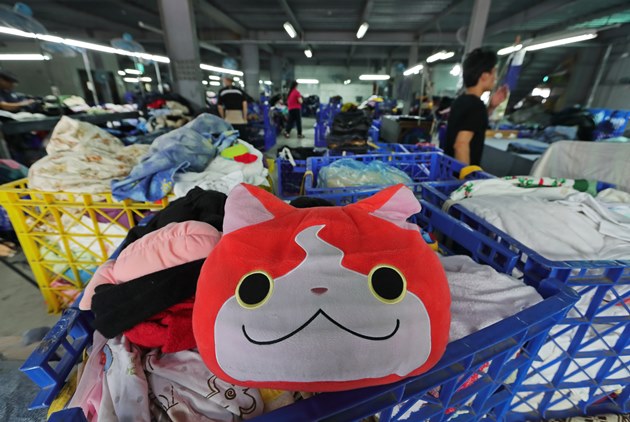 Source:Chientong Wang
Taiwan's waste crisis has hit used clothes. The old clothes that many conscientiously give away often end up being incinerated or sent to India to be shredded into material for carpets. What can be done to deal with this waste dilemma?
Clothes You Don't Want, Africa Won't Either
By Kuo-chen Lu
From CommonWealth Magazine (vol. 657 )


The old clothes that you don't want? Guess what. Africa doesn't want them either.

The six-member East African Community is considering a proposal to reject imports of old clothes and shoes from abroad, starting next year.

At the same time, "fast fashion" – moving designs from the catwalk to stores at breakneck speed – is generating massive inventories of fabric.

Taiwan's mountains of old clothes and excessive fabric have no place to go and will soon become major battlegrounds in the global fight against waste. But unwilling to accept that the inevitable resting place for these textiles will be the incinerator, a group of textile producers in Tainan are creating a new business model they hope will reverse the trend.

On August 8, a court ruling in the city of Zhangzhou in China's Fujian province sent more shockwaves through the global recycling community. Six Taiwanese suspected of smuggling nearly 1,300 metric tons of old clothes from South Korea into China, were found guilty of "smuggling waste" and received jail sentences ranging from two years to six years and six months.

Not only has China banned "foreign garbage" – a reference to waste recyclables from packed with household garbage that are sent to poorer countries for sorting – it has now banned old clothes. Those who ignore the ban are prosecuted under the criminal code and treated as smugglers. (Read: Trouble in the Recycling Kingdom)
That virtually declared to the world that the next battle over waste will be fought over old clothes.
To keep old clothes and excessive fabric from being incinerated, Tainan companies Tainan Enterprise, Hermin Textile and Everest Textile formed an alliance consisting of civic groups, designers, schools, and government research units to save waste textiles.
Strictly speaking, these three companies are competitors, so why are they willing to cooperate? It's because a growing number of countries are refusing to accept old clothes, meaning they will soon have no place to go.
Old Clothes to India to Make Carpets
One example of that is East Africa. Tainan Enterprise Culture and Arts Foundation CEO Yeh Chong-li says that the six countries of the East African Community – Kenya, Uganda, Tanzania, Burundi, Rwanda and South Sudan – have proposed to ban imports of old clothes and shoes to protect their fledgling textile industry. (Read: Taiwanese Textile Industry's New Chance)
The potential impact of such a move can be felt most clearly listening to Wu Chi-cheng, the head of Jiutai Recycling located in Wugu District in New Taipei.
"I've been to the Philippines and Cambodia and seen buildings going up everywhere. Africa is the same. After China went in, China's old clothes went in as well. But with those economies picking up, who still wants to wear discarded clothes?" Wu says.
"The most incredible situation was in Indonesia. To protect the domestic textile industry, the government there publicized the idea that wearing old clothes could give people AIDS."
That's not fake news. In February 2015, Indonesia's trade minister Rachmat Gobel publicly said that wearing secondhand clothes imported from abroad could spread AIDS and skin disease, and he even vowed that his statement was backed up by research.
So where will Taiwan's old clothes be sent in the future? In Wu's case, the old clothes his company collects have been sent primarily to some countries in West Africa, East Africa and Southeast Asia, but their requirements have grown stricter over time, such as not accepting old apparel with school numbers or names embroidered into them.
The old clothes that can't be sold are being sent to India at a cost to the shipper of NT$3,000 per ton. Once there, they are shredded and made into cotton yarn or carpets.
So why do waste collectors put up money to send the clothes to India?
Two reasons:
1) No recyclers in Taiwan process old clothes.
2) Having an incinerator in Taiwan burn old clothes costs NT$4,000 to NT$5,000 a ton, more expensive than sending them to India.
"You can only do what you can. This is a sunset industry. If we can't make it work, we'll simply close," Wu says.
That's a clear warning sign.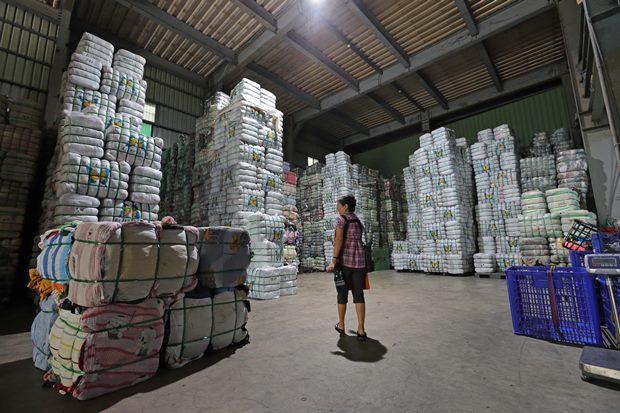 After being sorted and selected, old clothes are bundled to be sold abroad. Only about one-fourth of the clothes are good enough to wear and exported to Africa under the "Taiwan King" brand. Nobody wants the other three-fourths, which is why the clothes recycling business's days are numbered. (Source: Chientong Wang)
"Taiwan generates about 60,000 metric tons of old clothes every year. Social welfare groups take 30 percent of them, and the other 70 percent flow to factories. Of that, half is treated as garbage and incinerated, not only wasting resources but also creating pollution. If we can't export any of that, what will we do?" Yeh wonders.

Fast Fashion's Dirty Secret: Heavy Fabric Waste
Beyond the dilemma with old clothes, there is another unspoken secret: Taiwan is the world's biggest supplier to global fast fashion brands, and fast fashion generates huge amounts of waste.
"In the past, the fashion industry had four seasons a year – spring, summer, fall and winter. Now it has 52 seasons a year. They roll out new products every week," Yeh says.
That business model – constantly pumping out new items to spur buying – has led to overconsumption and waste, but what many don't know is that contract manufacturers are often left holding the bag. Fast fashion brands require producers to prepare large inventories of fabric in many different colors for specific items. If the products sell well, they continue to be produced; if they don't, the contractors rather than the brands have to eat the leftover inventories.
Walking into Everest Textile's factory in Tainan's Shanshang District, one appreciates the predicament faced by Taiwan's contract manufacturers supplying the fashion industry. The company is renowned around the world for its innovation and R&D, creating many new textiles and fabrics every year, but it also has accumulated mounds of excess fabric.
"It's very hard to carefully sort leftover fabric and sell it for a high price," says Everest Textile Vice President Alice Kao. "We normally hold it in inventory for a quarter or at most a year. When we clear it out, we give it to a wholesaler who sells it to countries where prices are lower for the production of cheap clothing."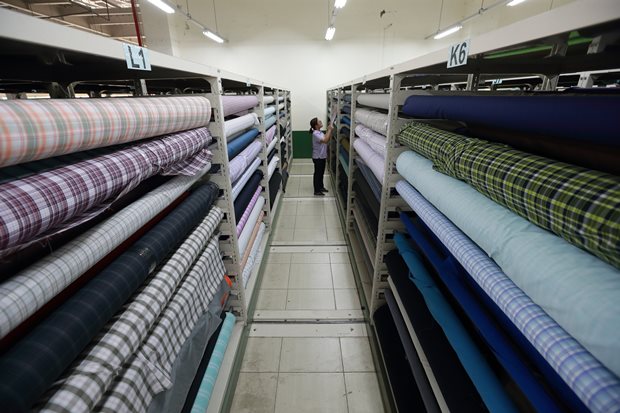 Taiwan is a major contract manufacturer for fast fashion brands, but fast fashion also generates "fast" garbage, and surplus fabric from each season puts heavy pressure on those manufacturers' inventories. (Source: Chientong Wang)
Can the pattern be reversed? Yeh thinks it's still a possibility. (Read: Slow Shopping Means More Joy)
"In business models oriented toward the linear economy, every product has a finite life span that comes to an end in a garbage dump. But in the circular economy, when a product has lost its original functionality, that doesn't mean its life is over. It is simply the beginning of a new purpose," Yeh says.
Old Fabric's New Life in Five-star Hotels
The dramatically changing environment has compelled fabric makers in Tainan to band together to come up with solutions to the problem. One initiative has been to expose Taiwan's designers and design students to Taiwan's good fabrics for the first time.
The two groups rarely cross paths because the business models used by contract manufacturers for export and vendors selling to the domestic market are completely different, Everest Textile's Kao says.
Domestic brands often seek out the company to buy fabric, only to be ignored.
"We don't really ignore them. It's just that the quantity they need is too small," Kao says.
"Our minimum order quantity used to be 50,000 yards, but then Everest Textile President Roger Yeh felt that building a brand in Taiwan is very difficult and decided to continuously reduce the minimum to 5,000, then 2,000 and now down to 1,000 yards."
The first step in connecting contractors with local designers and the domestic market was providing below-market-cost fabric to Tainan University of Technology, Shu-Te University, National Kaohsiung First University of Science and Technology, and other schools, design students and design companies for their own use.
Bod Design founder and director David Wang, for example, went to Everest Textile to select fabric to cover the backs of 200 chairs he was designing for a five-star hotel. Though he could only choose from fabric in stock, Wang says it was a treasure trove, bursting with vitality.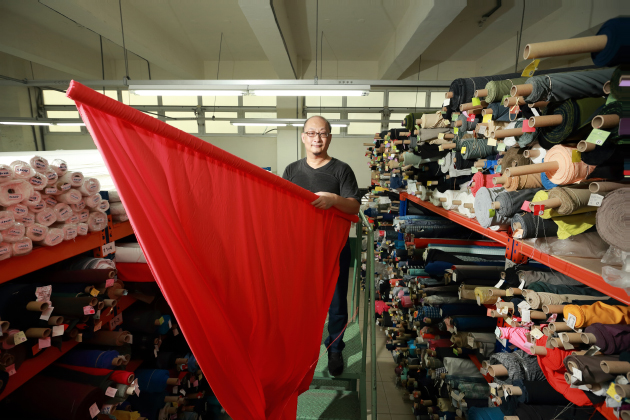 In going through Everest Textile's huge stock of old fabric, Bod Design founder David Wang felt the vitality of new efforts to recycle textile inventories. (Source: Chientong Wang)
The second step is a special van set up by the alliance that comes with sewing machines, a specialist, and old clothes and tours around southern Taiwan to teach groups and local residents how to use excess fabric. When the van visited the Chimei Museum recently, workers taught museum volunteers how to make work aprons and eco-friendly bags. The volunteers turned into seeds who taught others how to bring used clothes or unwanted fabric back to life.
The final step has been to turn Tainan fabric into a competitive, commercial ecosystem by working with the Tainan Foundation of Historic City Conservation and Regeneration to help designers move into old homes or use them to store fabric to sell to those who need it.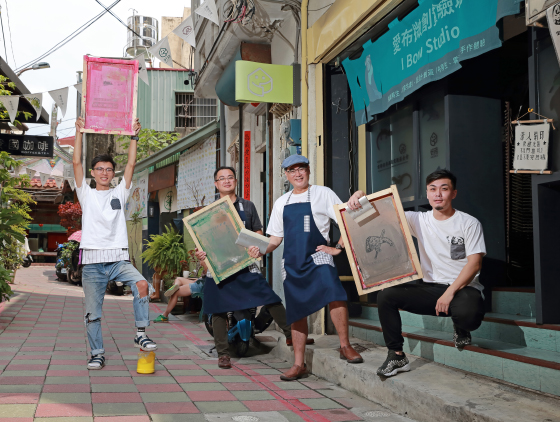 Tainan fabric suppliers, cultural workers and young designers have gotten together to print images of Tainan on leftover fabric and sew them onto clothes and aprons, creating new cultural products in the southern city. (Souce: Chientong Wang)
Foundation CEO Yen Shih-hua says Tainan's fabric culture has a long history, and his hope is to meld contemporary living with cultural history to design products that enable Tainan to tell its own story. Another goal, he says, is to forge a commercial mechanism that has distinctive features and is very competitive.
The program has already drawn the participation of more than 40 small and medium-sized enterprises (SMEs) and organized a popular design exhibition. New merchandise is also hitting the market, as the program helps students at Tainan University of Technology use the fabric from used clothes to develop products for pets.
Though these steps represent only a beginning, an ecosystem is starting to take shape.
As the war on waste extends to used clothes and fast fashion, Taiwan no longer has to wait to be shaken awake on the issue by an invasion of foreign garbage. Instead, it should see crisis as an opportunity and take the initiative to bring new life to garments and textiles deemed to have met the end of their life cycles.
Translated by Luke Sabatier
Edited by Sharon Tseng
---
Additional Reading
♦ The Secret behind Burberry, Coach and Victoria's Secret
♦ From Uniforms to Shoes, Taiwan Is a Major World Cup Player
♦ Taiwanese and Local Textile Mills 'Make Stone Soup' Together in Forest City, North Carolina